Painting with forks is such a fun and easy toddler painting idea.
There is something magical about slipping a lick of paint across a page. Toddlers love painting!
This is an easy set-up painting activity that you can do at home. Fork flower painting transforms a humble fork into a creative stamp.

Fork Flower Painting
There is that old saying about stopping to smell the roses. Well, with this painting idea for toddlers, we are stamping them instead.
We are all about repurposing items from around the home for our crafts and play. To create this simple painting activity, all you need to do is stop by your kitchen.
My little ones love this painting idea as much as the older kids. They love it! Don't be deterred by the simplicity.
Fork Flower Painting is a hit with toddlers and school-aged children alike.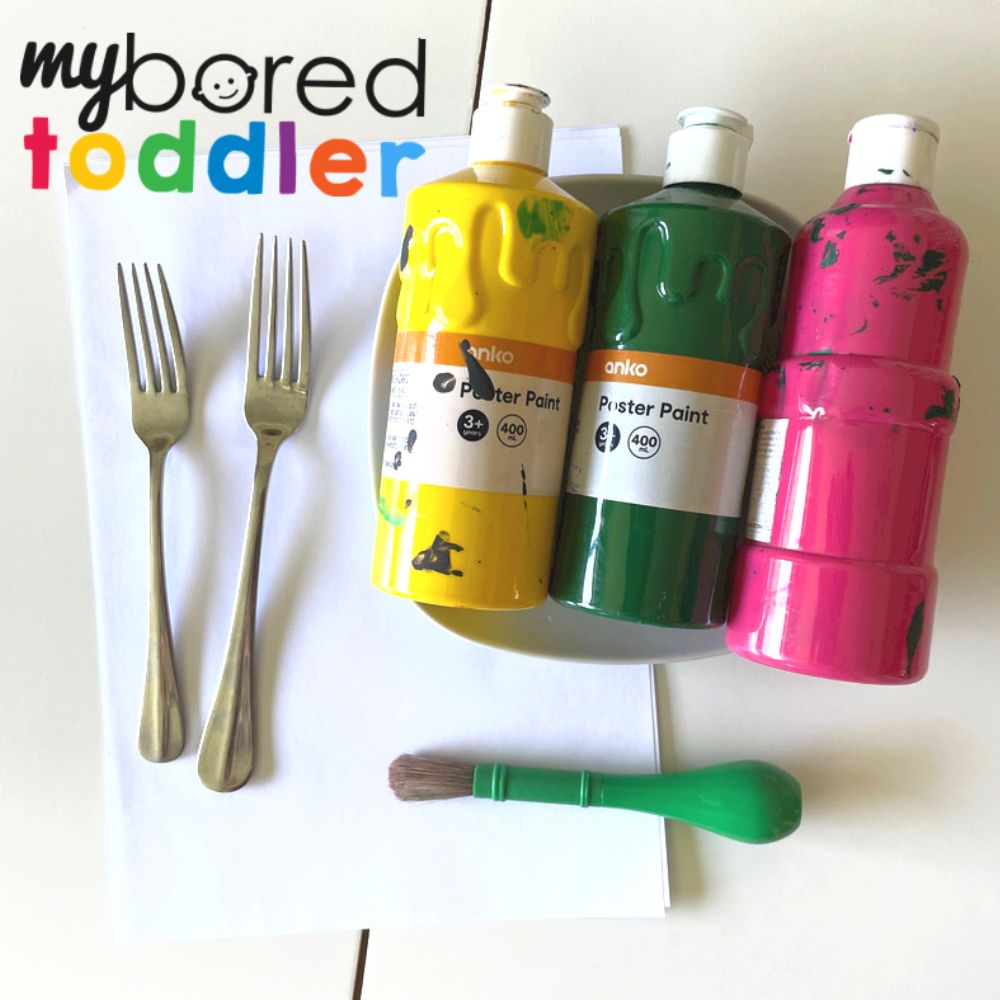 What you need to create a fork flower painting activity:
We used two different coloured paints to practice creating AB patterns. You can choose as many or few colours as you like.
This painting activity can also be done on cardboard too! It's a perfect way to use up some empty cereal boxes.
How to set up Fork Painting Activity:
Painting with toddlers can be an exciting venture. Sometimes freelance painting before a structured activity can be useful.
Other times structure before letting them loose can work better. Either way, what is important is the exploration of the materials and celebrating their creativity.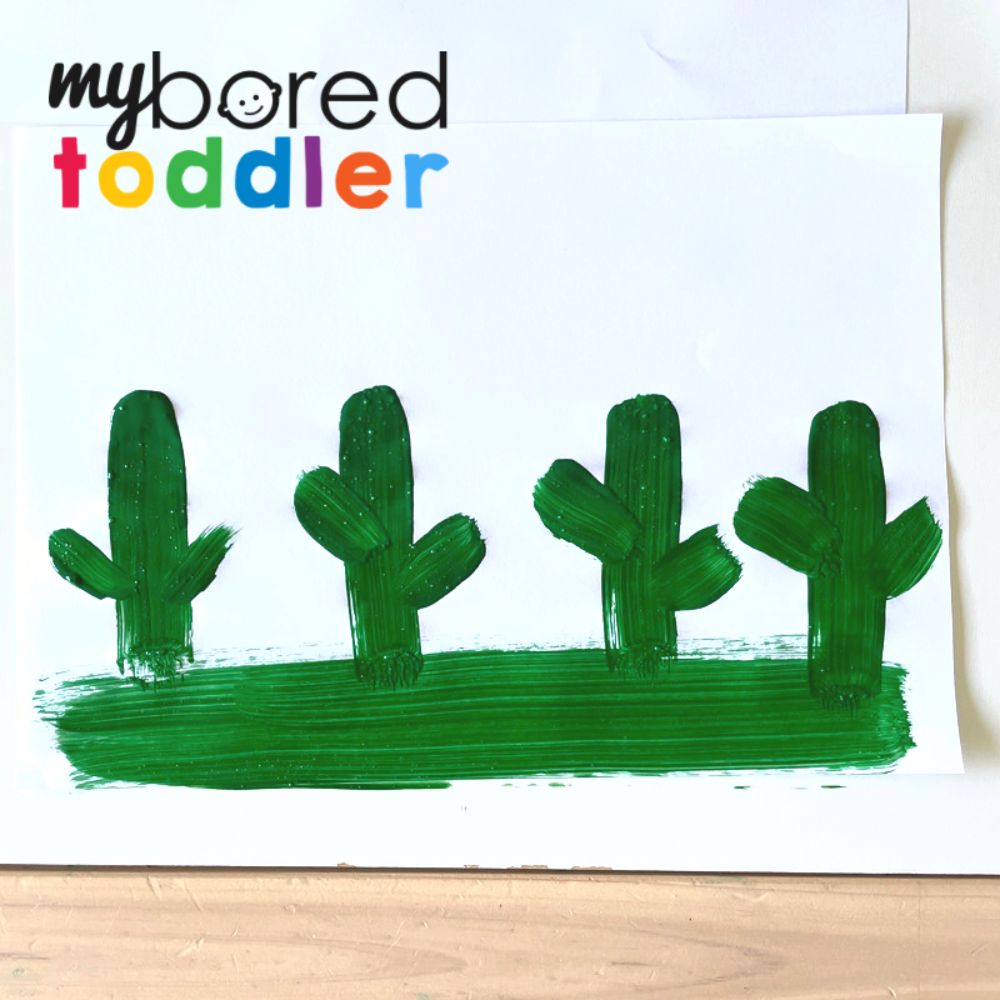 Pour some green paint onto the plate to begin our fork flower painting.
Using the paintbrush, paint across the bottom of the piece of paper to create the grass for the flowers to grow from.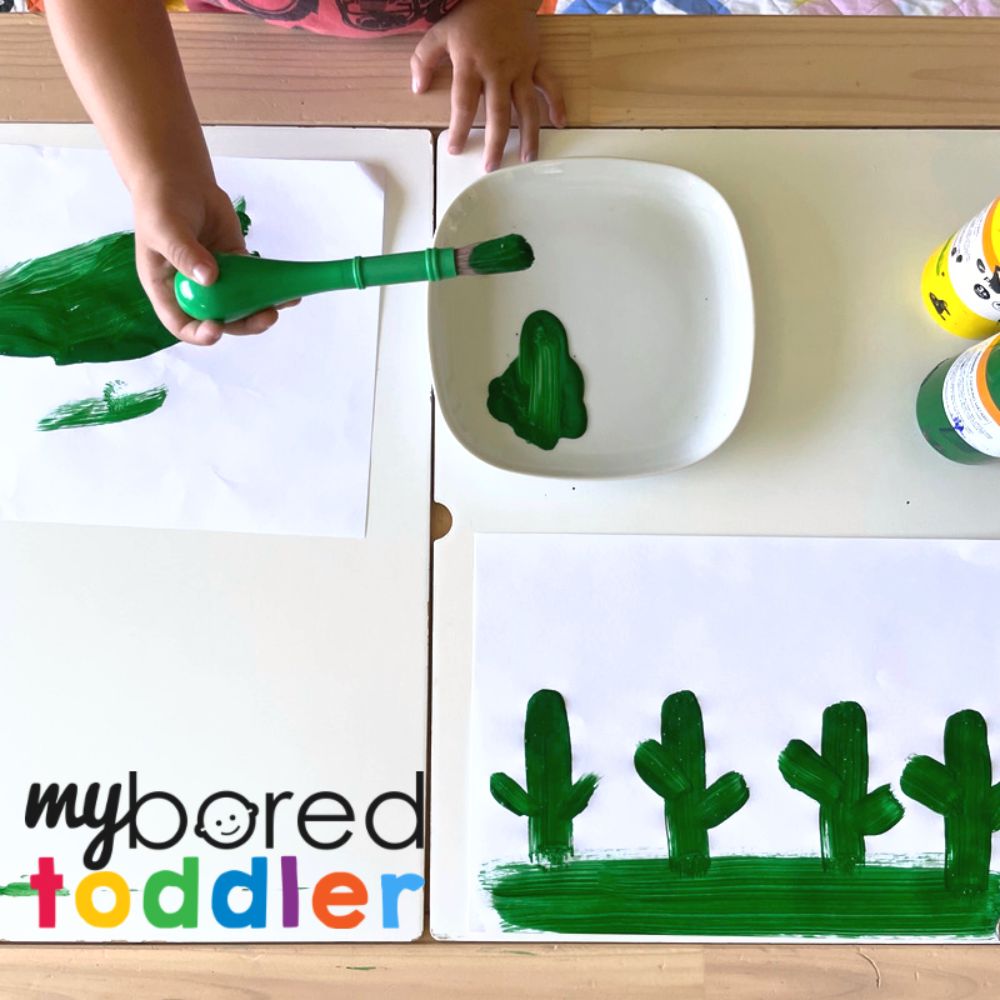 We created four flowers and painted four stems, each with some leaves.
Pour the coloured paint onto the plate. Keep in mind the length of the prongs of the fork. They are going to need to fit within the pool of paint. Waste not, want now; however, a generous slurp of paint will make it easier to load the paint to stamp with the fork.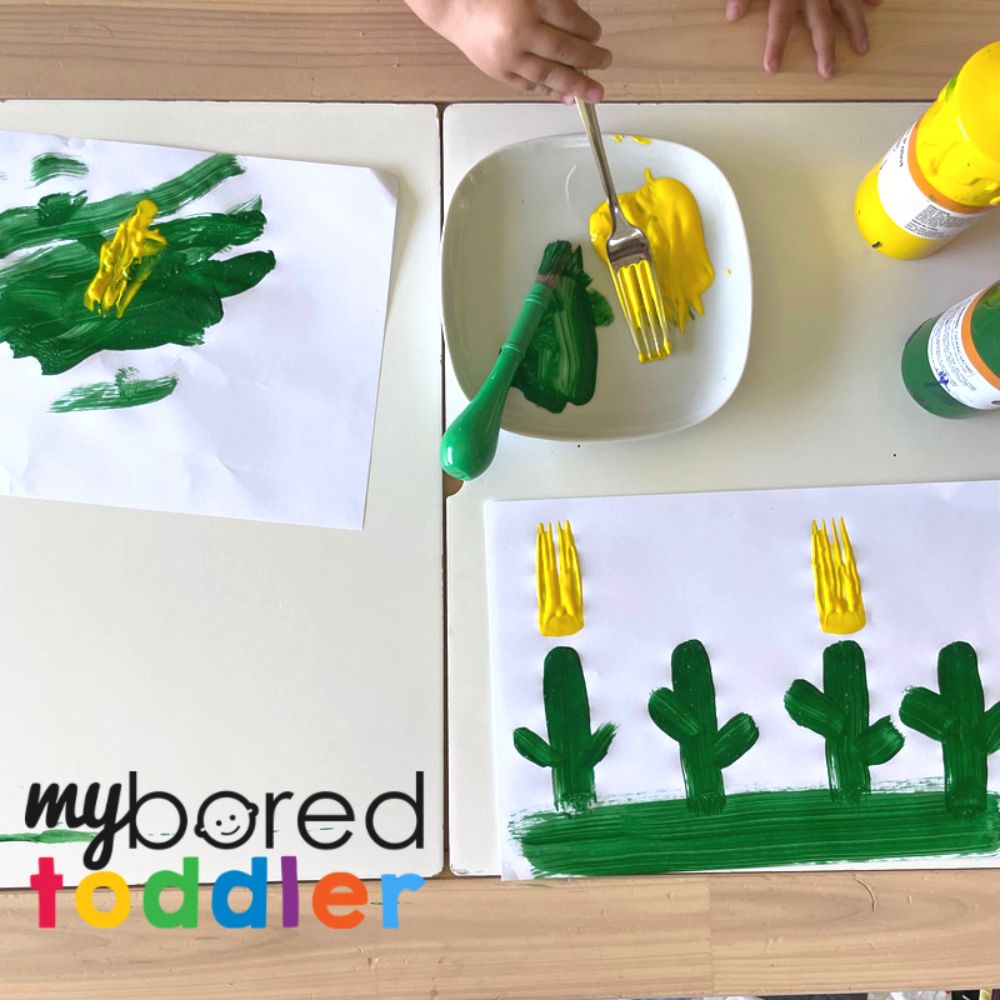 Dip the prong end of the fork into the paint. We used a rolling action to ensure the entire length was covered in paint.
Position the paint-covered fork over the painted stem of the flower. Gently roll the fork over the paper and remove it to reveal a beautiful stamped design.
Fork flower painting is a simple and effective painting idea for your toddler. Use this as inspiration to celebrate spring, Easter, or sprinkle a bit more colour into your day. It is easy to set up, and the end result is so effective!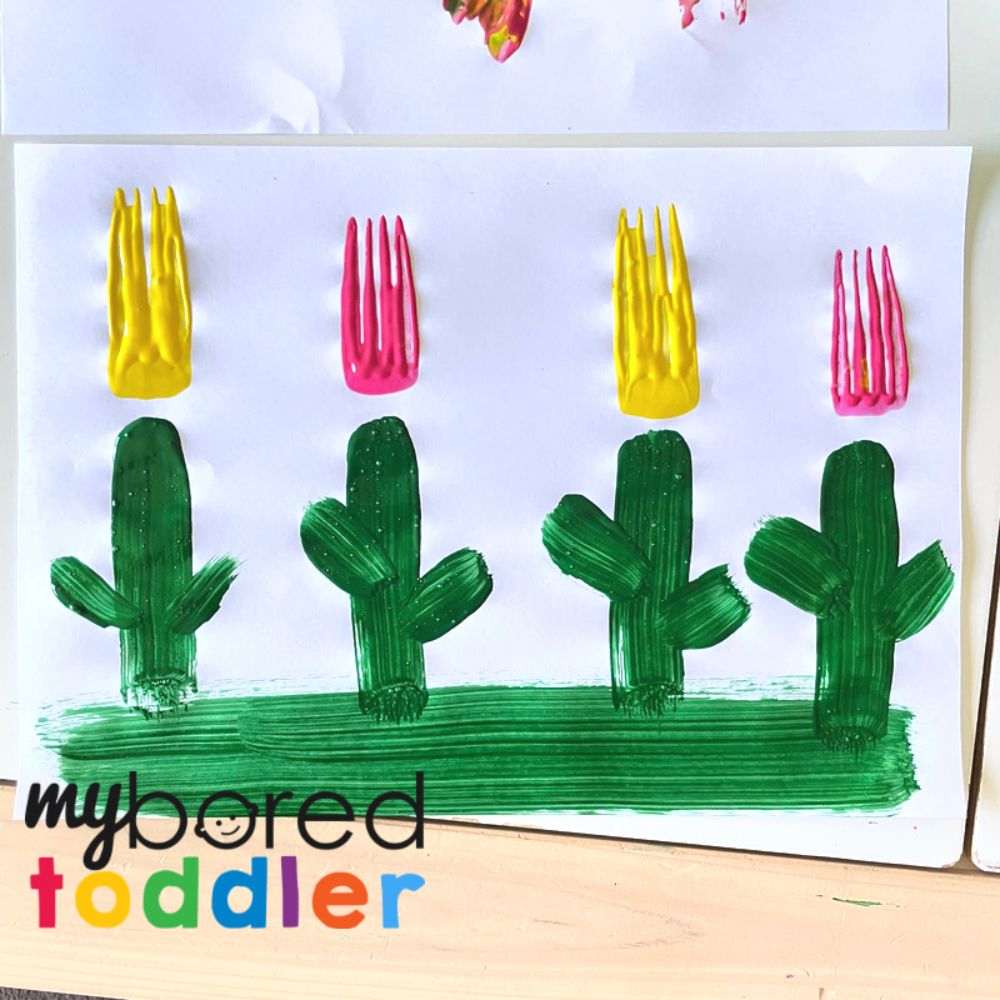 For more fun toddler activity ideas, why not join our Facebook Group or follow us on Instagram – follow @myboredtoddler and use #myboredtoddler.
Follow us for more toddler activity ideas
SOME MORE FUN TODDLER ACTIVITY IDEAS YOU MIGHT ENJOY ARE: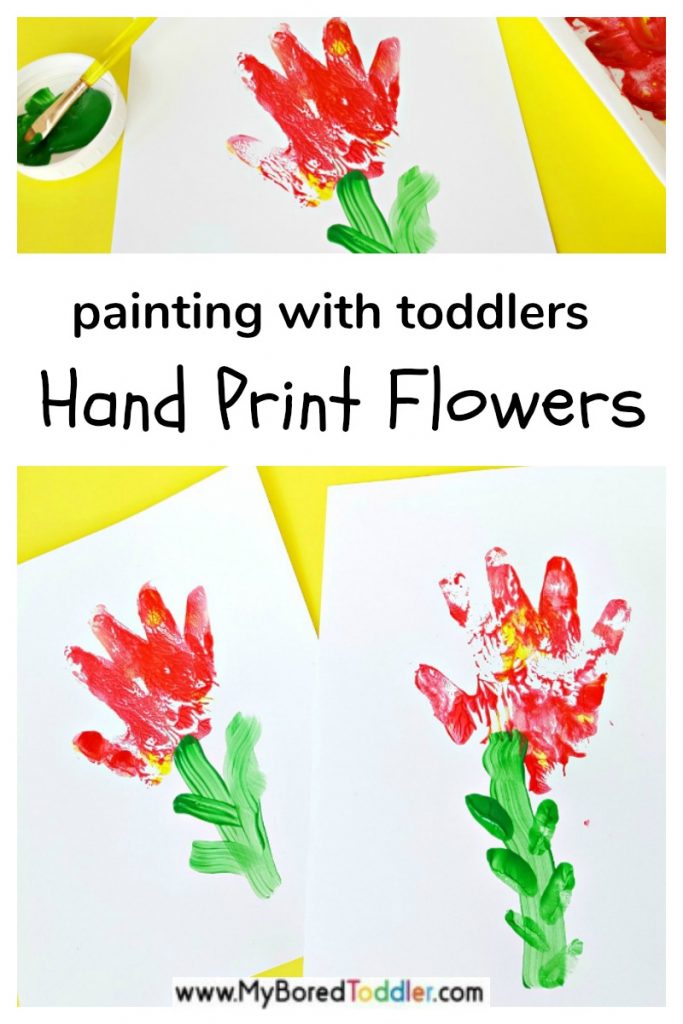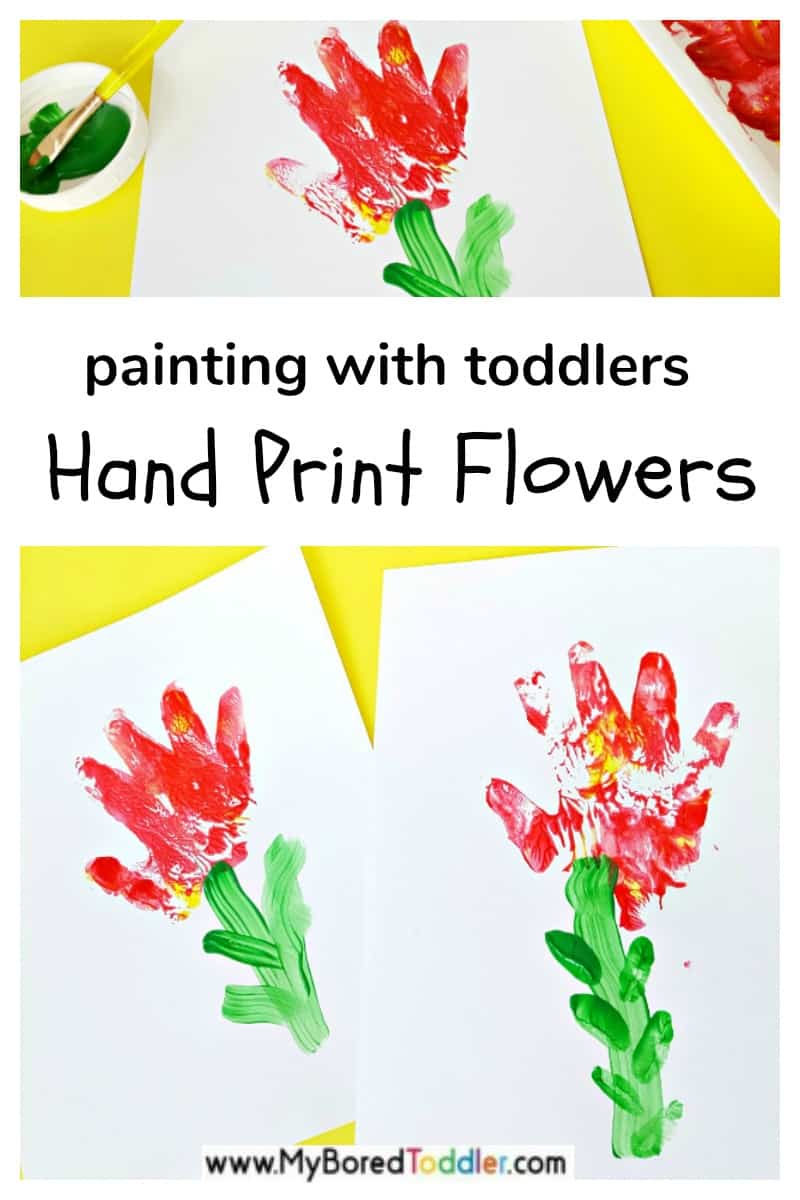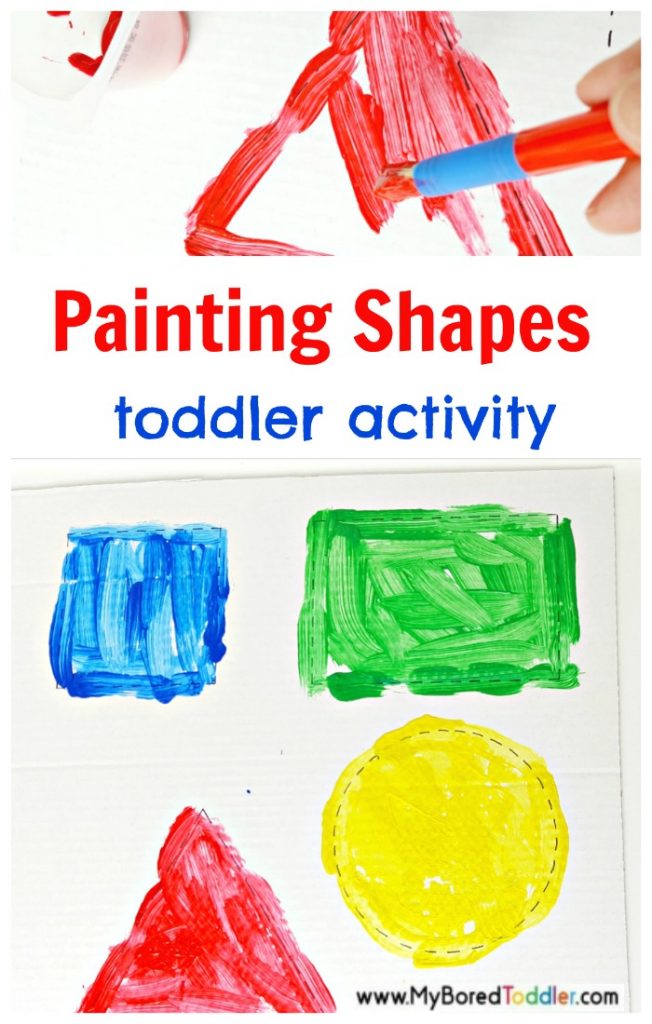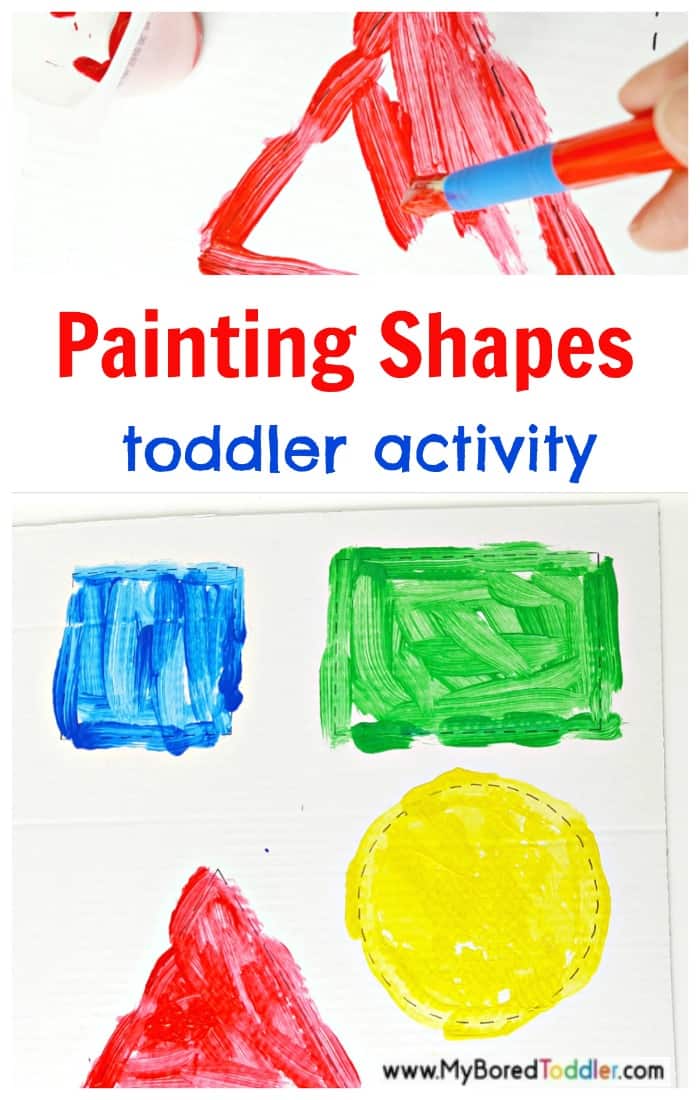 About the Author
Dani is a busy stay-at-home Mum of 3 and an early childhood teacher in training who is passionate about play-based learning throughout early childhood. For educational play ideas that you can do at home and parenting tips visit Play Inspired Mum Check her out on Instagram andFacebook