Fill a sensory bin with pompoms in all the colors of the rainbow for this fun toddler activity. Kids will love making rainbow ice cream cones for all their friends with this creative pretend play.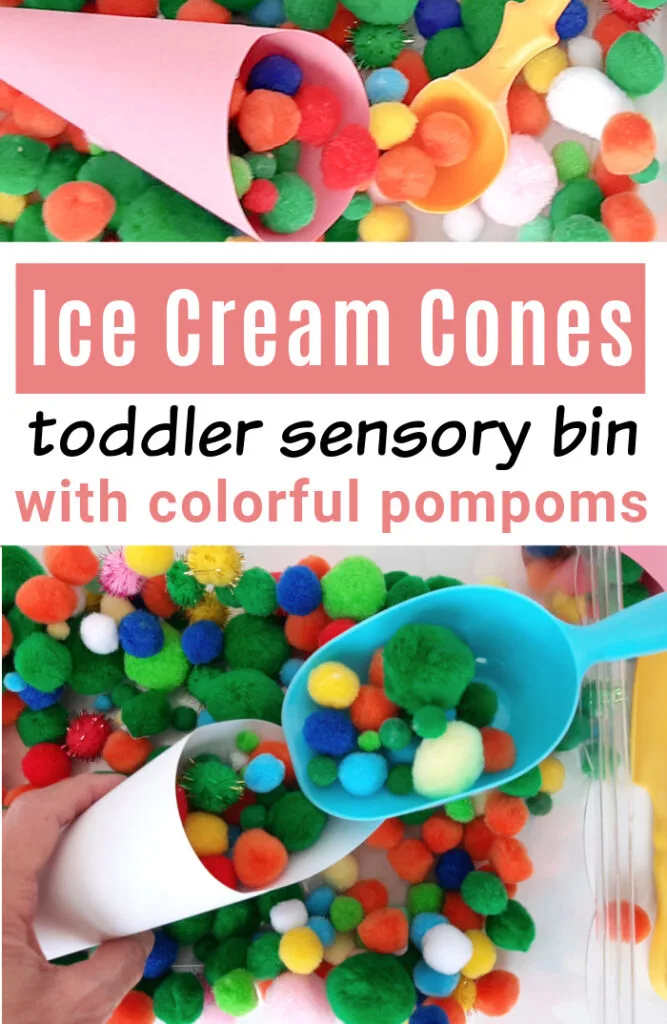 Ice Cream Cone Sensory Bin for Toddlers
Ice cream isn't just for summer! It's a perfect treat for all seasons. It's also a fun theme to extend toddlers pretend play.
Pompoms are especially versatile for kids' activities, including crafts (designing and gluing) and math play (sorting and counting colors and sizes). Pompoms in the sensory bin provide additional hands-on experiences for early learners.
You might find it easier to separate pompom colors for seasonal or themed activities based on color. In this activity, you get to let loose and combine all the pompom colors you have on hand in one place - the sensory bin! Your toddler will love helping with this part of the activity.
(Separating the colors is another activity you can do with your toddler after the ice cream play!)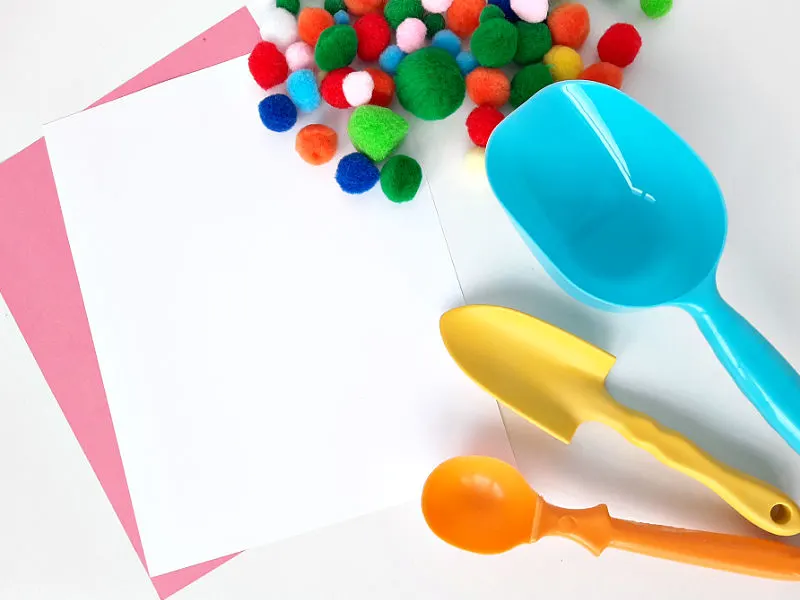 What you need to make an ice cream sensory bin
You don't have to use a full sheet of paper. Cones can be made with a variety of papers of different sizes, colors, and textures.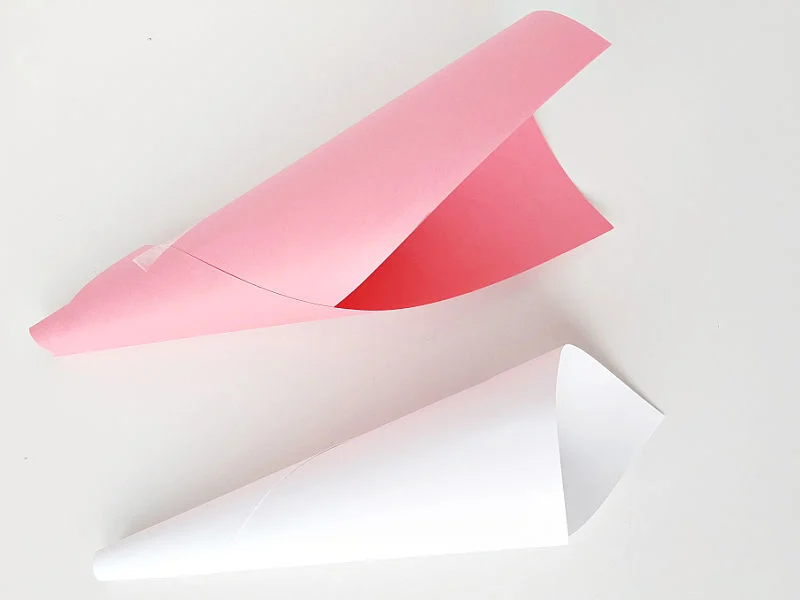 Instructions
1. Roll paper into cone shapes and tape in place.
Different cones will result depending on how you roll the paper: rolling long edges over each other (pink) or rolling short edges (white) over each other.
Trim the excess paper as preferred to make large or small cones.
Plain paper can be decorated with crayons or stickers before rolling the paper to make the cone. You can also use printed paper with patterns and designs for specialty cones.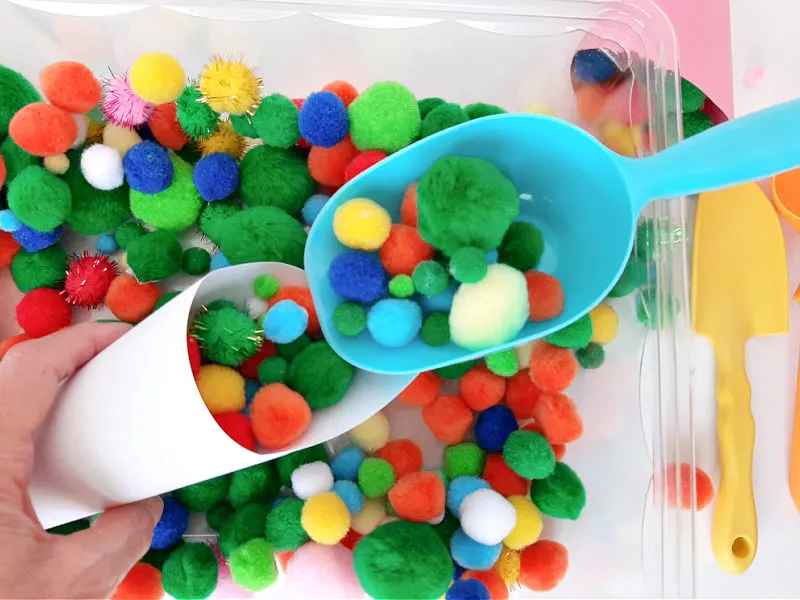 2. Fill a plastic bin or cardboard box with pompoms.
3. Add digging tools and scoops. Add cones.
The setup is done!
Use a scoop to fill up a cone with pompoms. Name the colors and tools as you play, and include counting games or rhyming games.
What rhymes with cone? What rhymes with ice cream?
How many scoops does it take to fill the cone?
What is your favorite color?
I'd like my rainbow ice cream in a pink cone, please!
Kids will want to toss and squish the pompoms as part of the fun. This is great fine motor work for hands and fingers.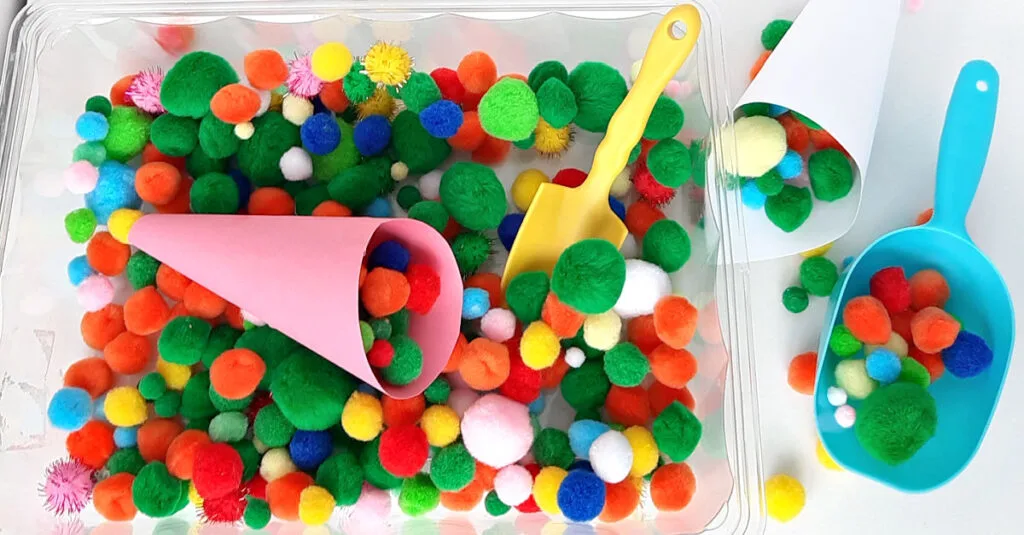 Fill paper cones with pompoms, one for everybody!
Who wants a tasty rainbow ice cream cone?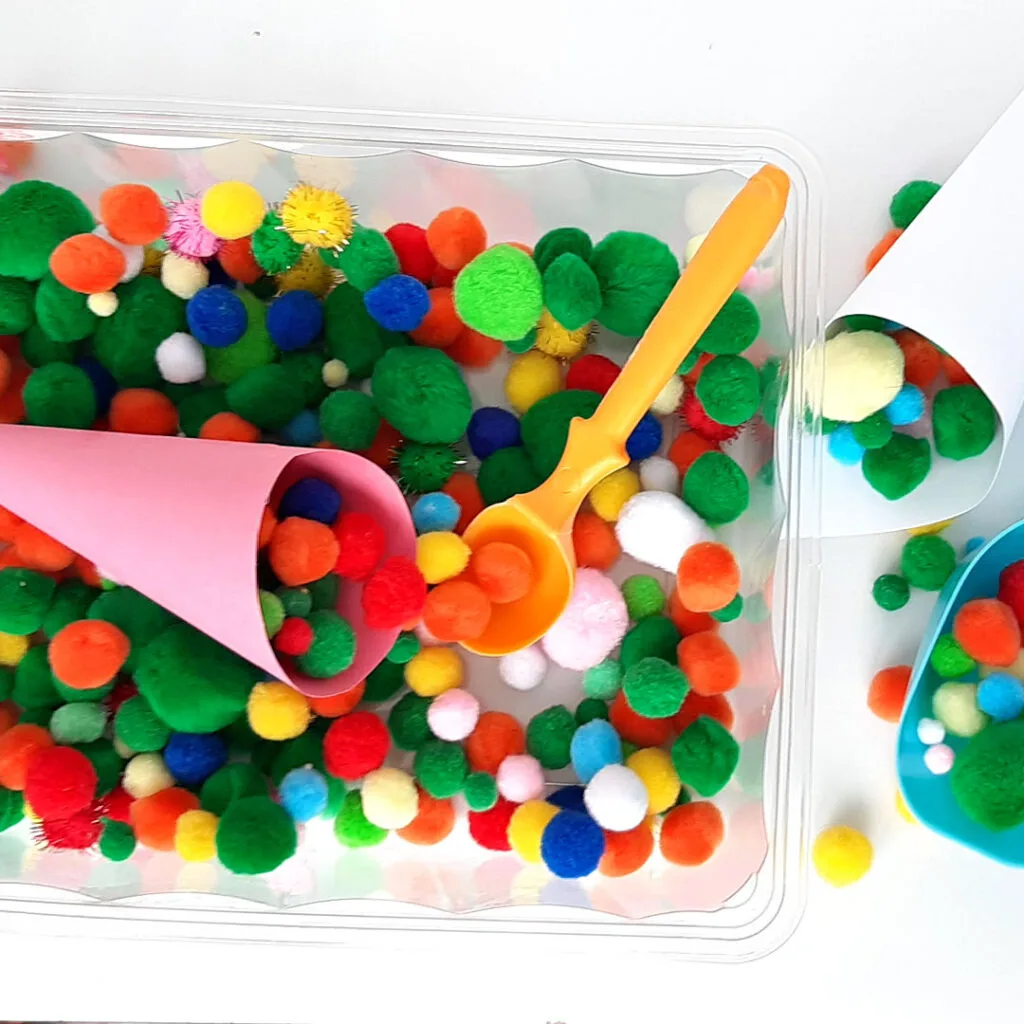 If you enjoyed this sun painting activity we would love to see a picture - share it on Instagram (use #myboredtoddler and tag @myboredtoddler) or share it in our Facebook Group.
SOME MORE FUN TODDLER ACTIVITY IDEAS YOU MIGHT ENJOY ARE:
Sensory Bins for Toddlers - 6o Sensory Bin Ideas for toddlers!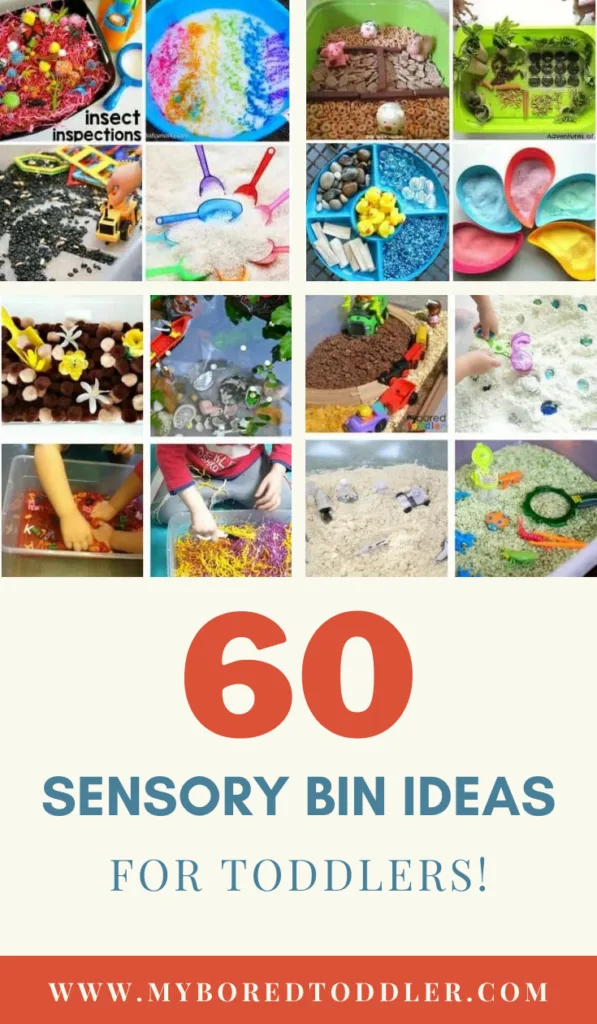 About the Author
Heather is a former preschool teacher and founder of preschooltoolkit.com, a website providing early learning resources for teachers and parents. She focuses on creating fun crafts and activities that engage developmental skills while promoting hands-on learning through play. Follow her on Facebook, Pinterest, Twitter, Instagram
Are you on Pinterest? Why not pin this for later.