Painting activities and toddlers go hand in hand, and there's nothing more fun than hand prints. Turn those wiggly hand prints into beautiful flowers with this easy painting activity that's a perfect Spring craft activity. They also make a great toddler Mother's Day gift idea.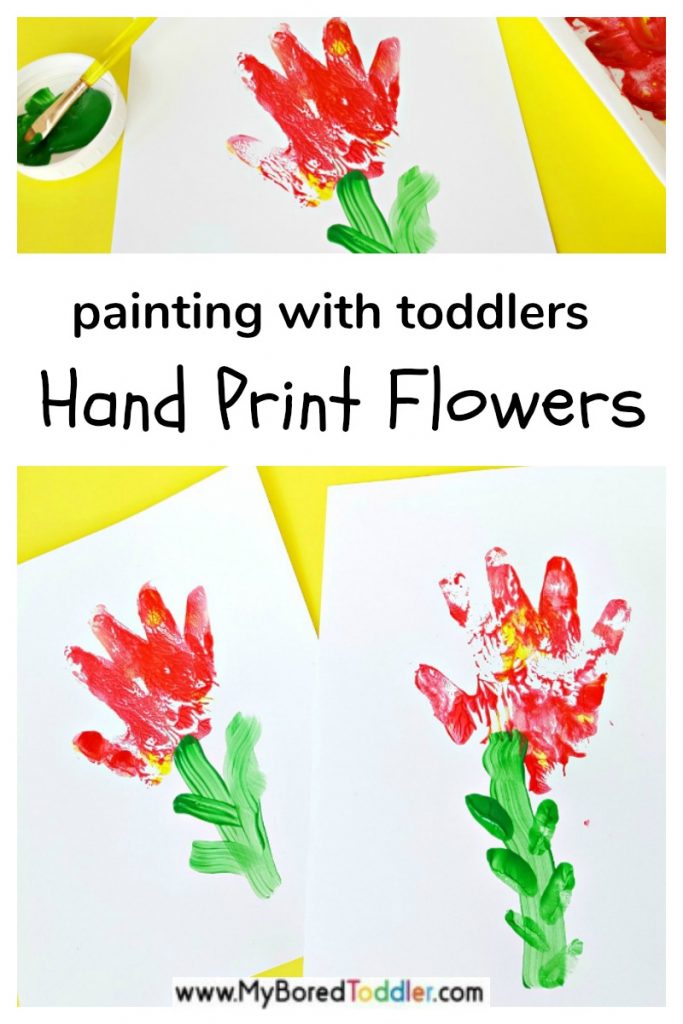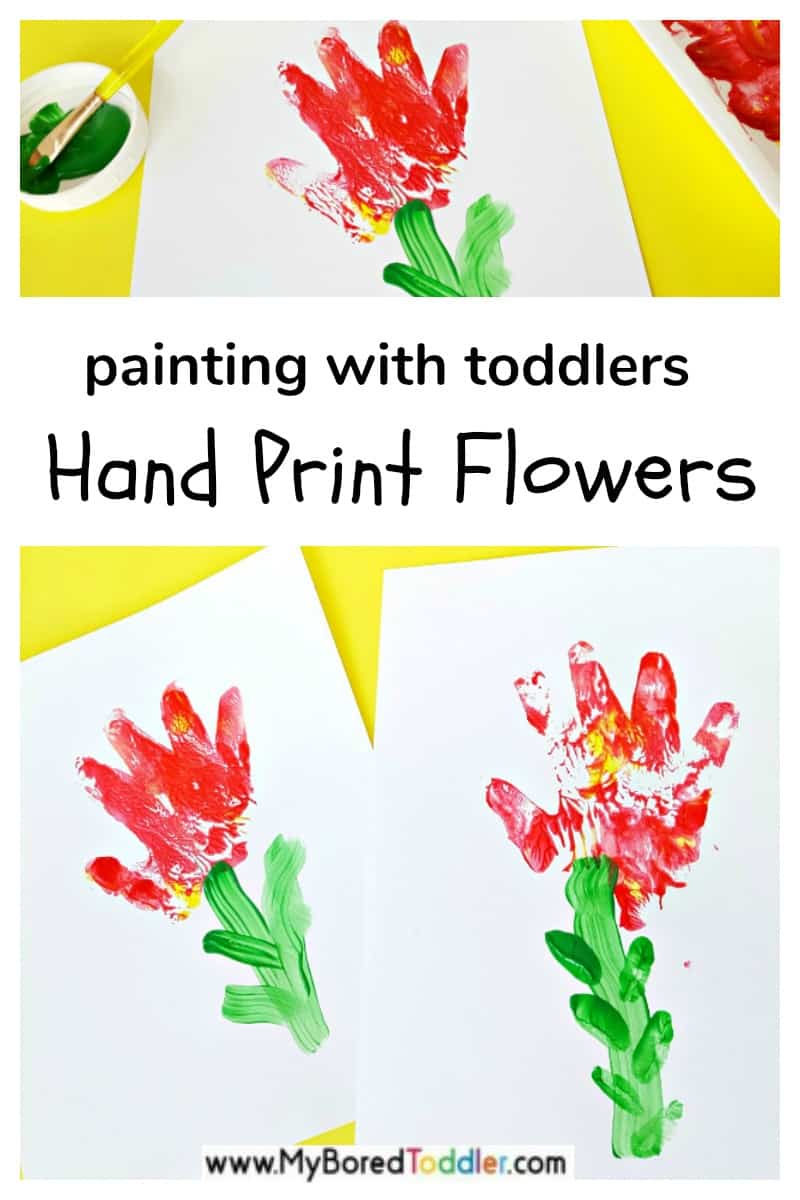 Hand print flower paintings for toddlers
Making hand print flowers is a fun and easy way to save your child's hand print in a beautiful picture.
Kids love dipping palms and fingers in gooey paint-filled trays, and making hand prints or finger prints on cardboard or paper. Their faces light up as they see the amazing results of transferring the paint from their hands onto paper.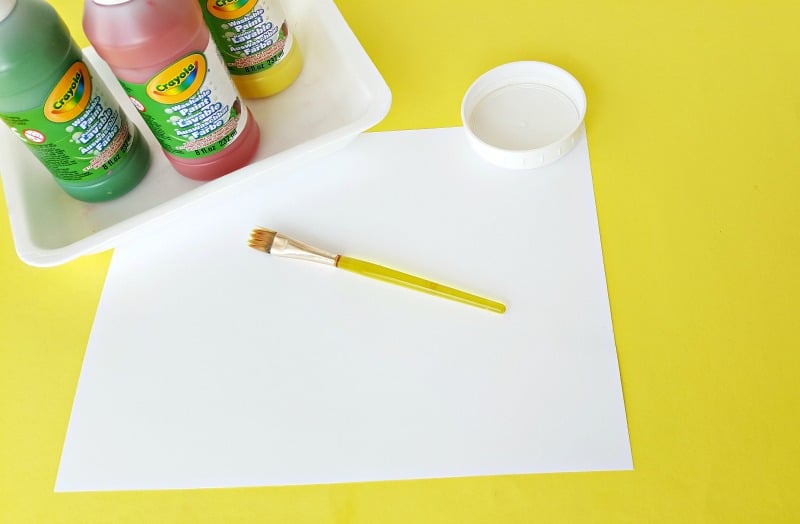 Supplies for hand print flowers craft for toddlers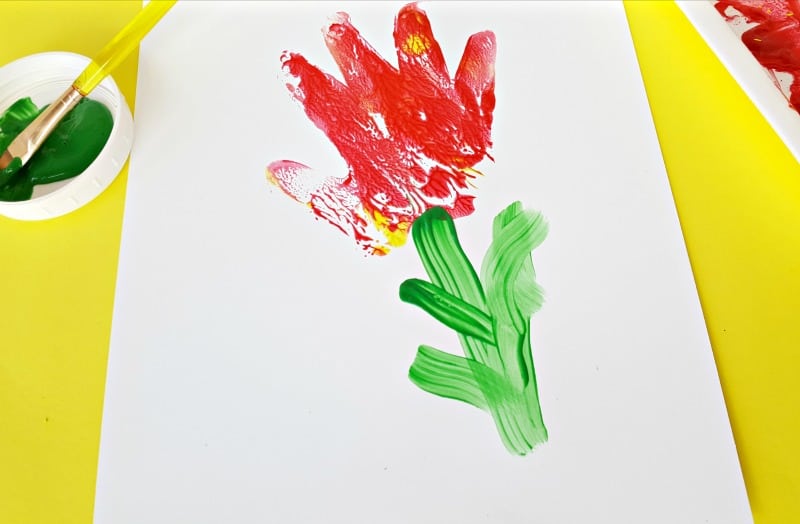 Instructions for hand print flower painting
Set up the activity with drop cloths and paint shirts to protect surfaces and clothing.
Allow your toddler to choose paint colors. Maybe leaves will turn out to be a color other than the green we expect!
Flower:
Pour kids paint into a recycled foam tray. You can 2 or more colors at the same time to the tray. Your child can mix the colors together as he swishes his hand in the paint. This will add interesting color to the flower.
Make a hand print on paper.
Stem:
Pour green paint into a jar lid. Dip a paint brush in green paint and make a stem on the flower.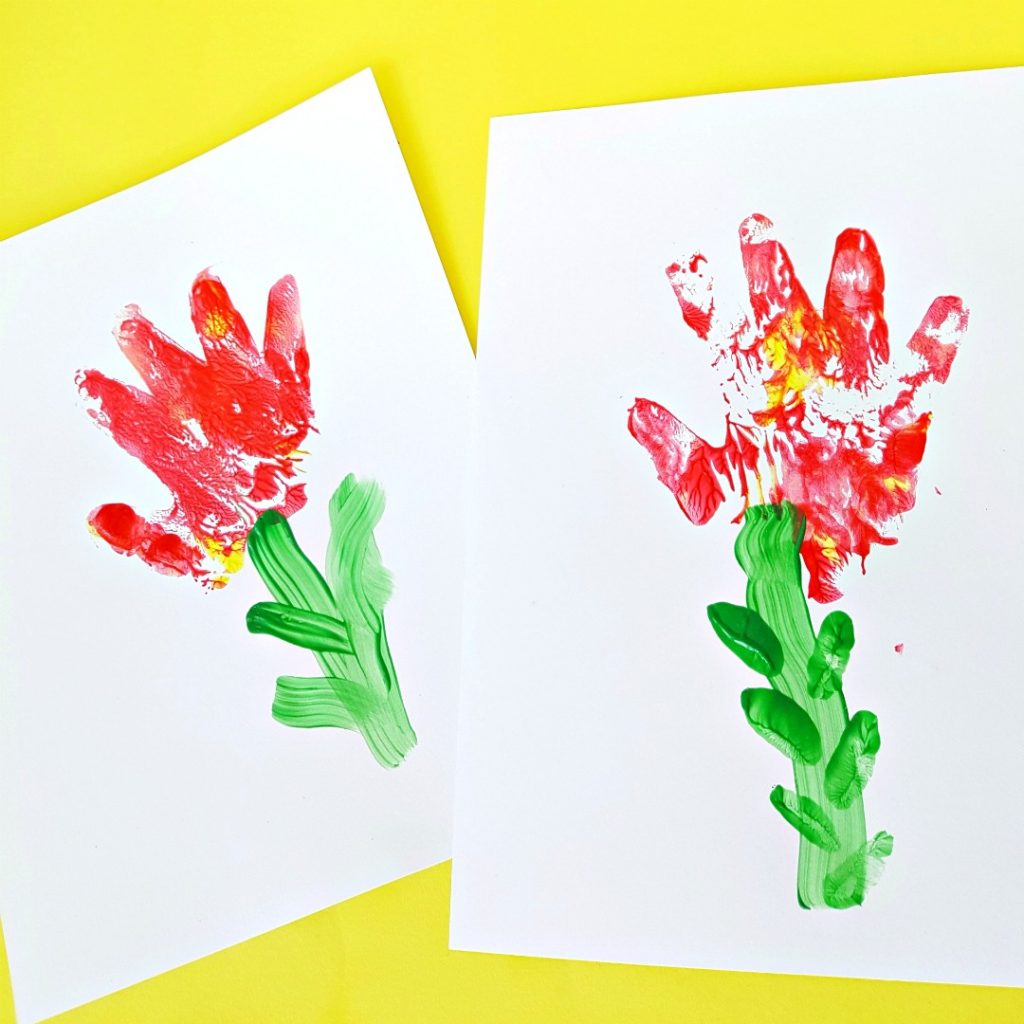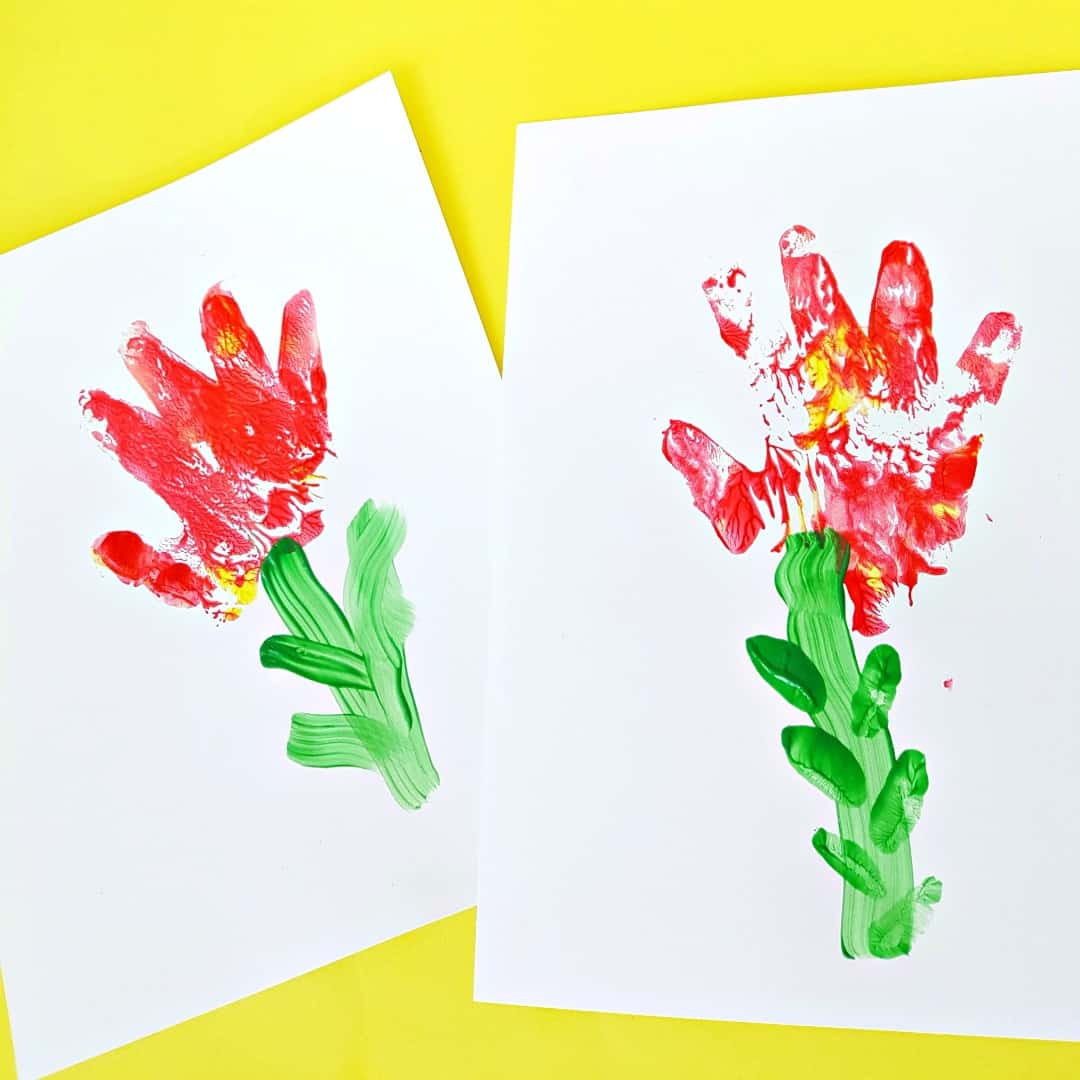 Leaves:
Press thumbs into green paint and transfer to paper to make leaves on the stem. Or use the paint brush to make the leaves.
Display your child's picture for all to enjoy!
These instructions are meant to be guidelines. Stems can be painted first and hand prints added later. Finger painting can be incorporated to make additional petals on the flowers or to add other colors.
Kids benefit from opportunities to make choices, to design and create their pictures, and to apply paint freely with no expectations for outcomes.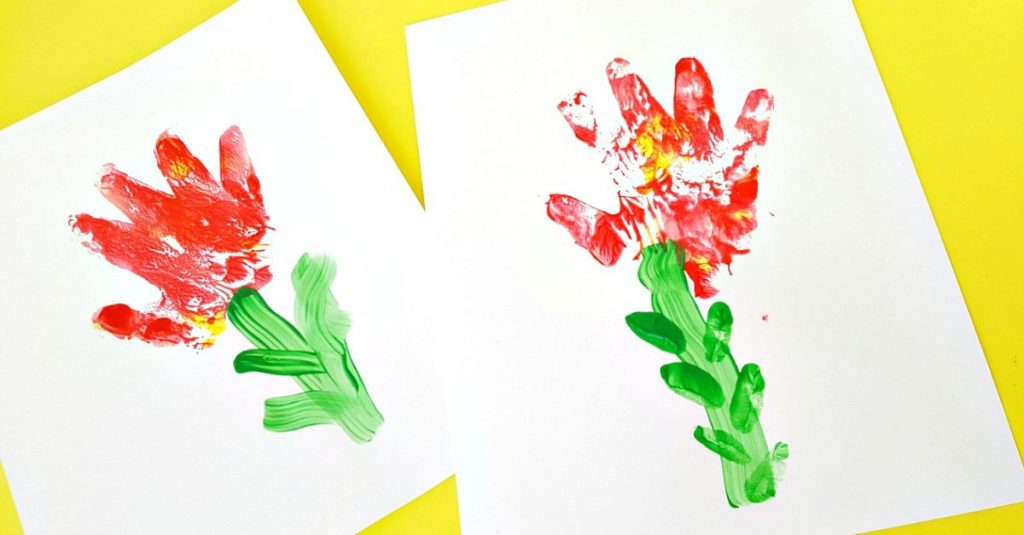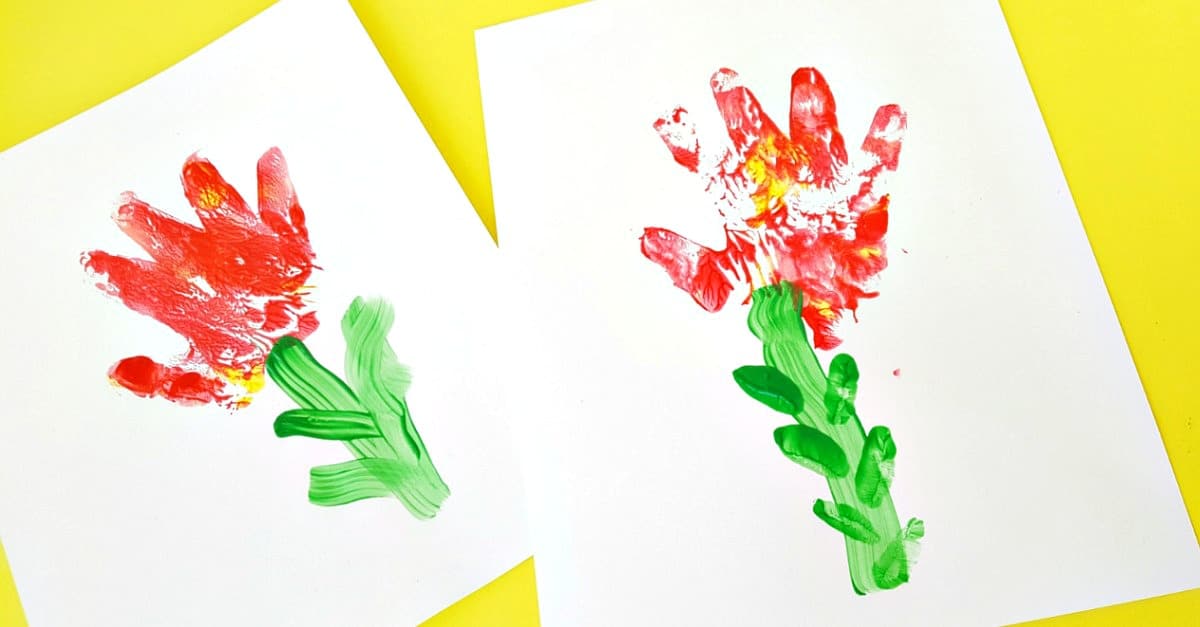 This activity is a fun way to engage your toddler in fine motor, creative play. Fine motor experiences help prepare kids in a variety of ways, including strengthening hands and fingers for the development of hand writing skills.
Have fun with a hand print flower painting activity that welcomes Spring!
If you enjoyed this hand print flower craft we would love for you to share a photo! Share on Instagram (follow @myboredtoddler and use #myboredtoddler ) or share in our Facebook group.
Some more activities for toddlers that you might enjoy are:
20 Painting Ideas for Toddlers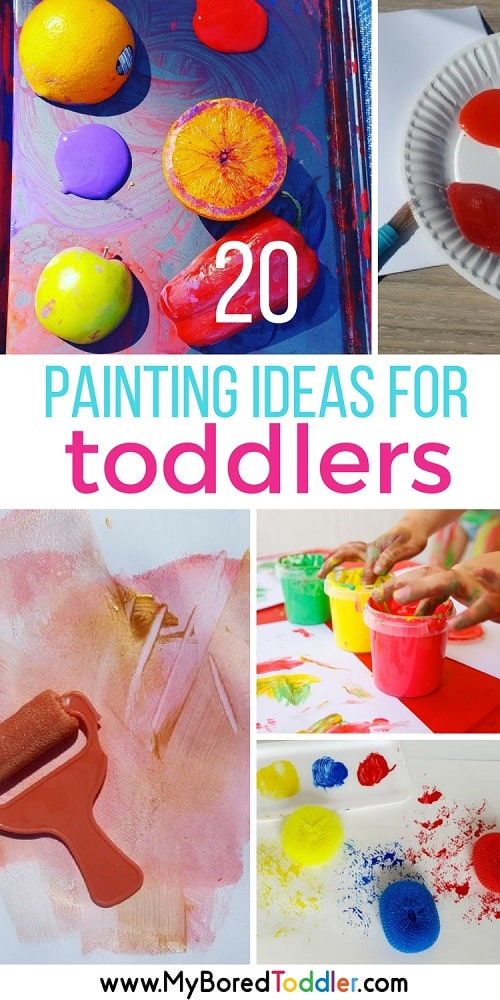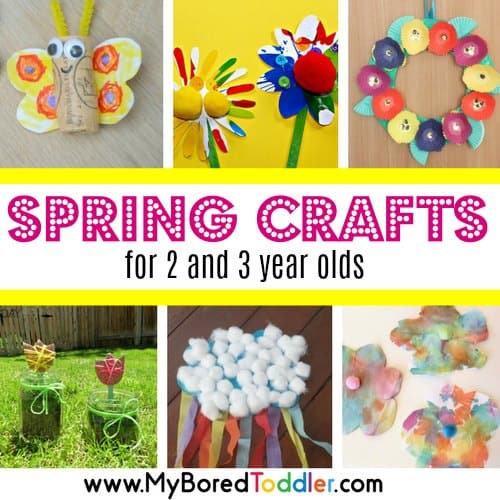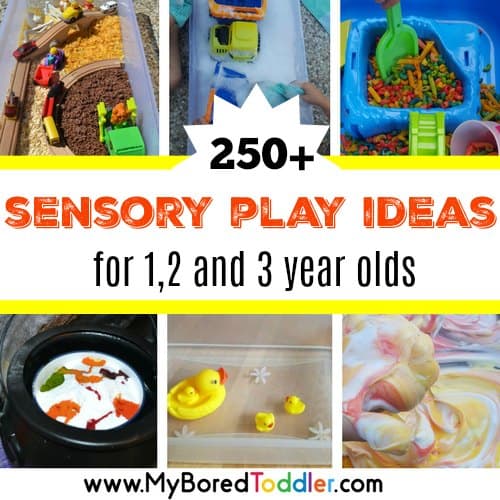 About the Author
Heather is a former preschool teacher and founder of preschooltoolkit.com, a website providing early learning resources for teachers and parents. She focuses on creating fun crafts and activities that engage developmental skills while promoting hands-on learning through play. Follow her on Facebook, Pinterest, Twitter, Instagram and Google+