This flower craft is perfect for a spring activity with toddlers. As well as being a fun spring craft idea these would also make a great Mother's Day gift. Artificial flowers are so pretty to use in a toddler craft and provide valuable sensory and creative play.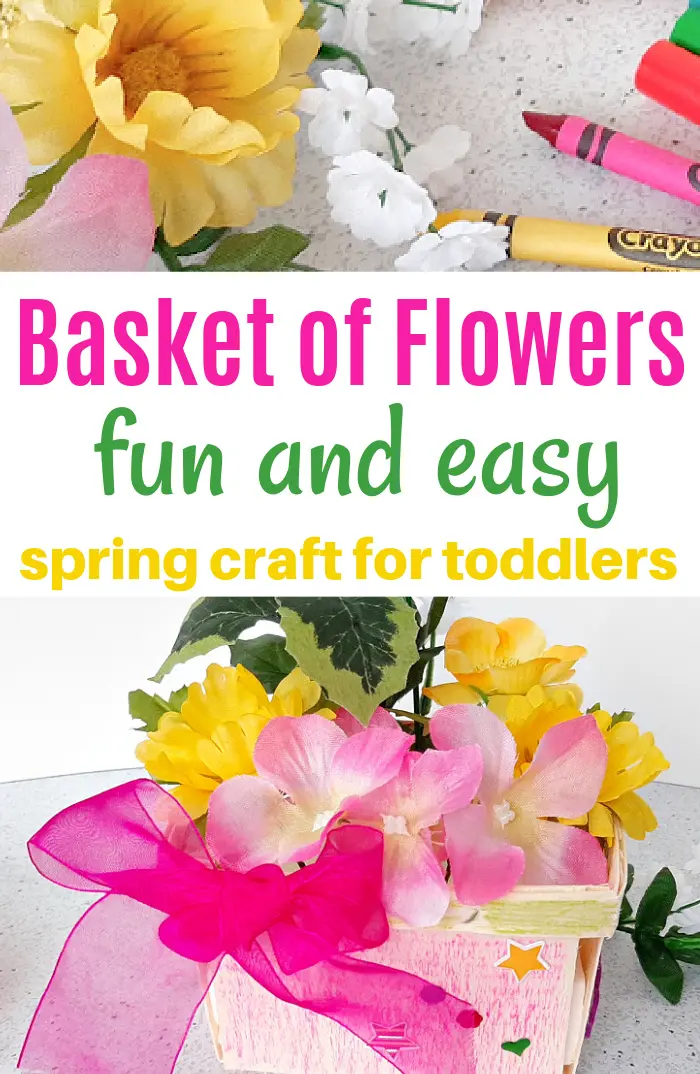 Mother's Day or Spring Flower Box
An activity with flowers leads into spring or a special day like a birthday or Mother's Day. Artificial flowers are easy to provide for kids activities. They are usually available at craft and department stores, or online, at a low cost. The interesting colors and textures of the artificial flowers immediately invite independent play with hands-on engagement.
Provide this activity with artificial leaves and flowers, a recycled berry box, and everyday craft supplies.
What you need to make your flower basket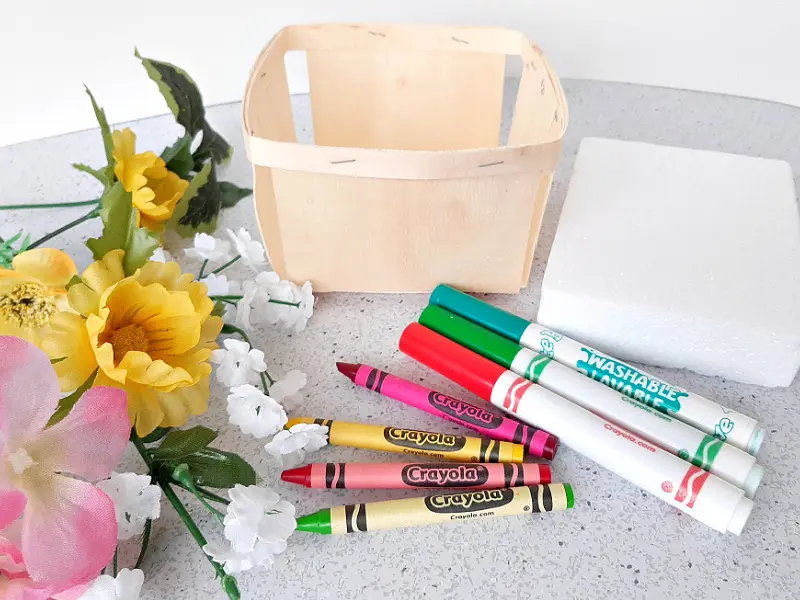 Berry box
Solid foam packaging
Crayons or markers
Ribbon or bow
It's always satisfying to find ways to recycle everyday items in toddler activities like this flower basket craft. A small recycled produce box or berry box is sturdy and lightweight, and can easily be decorated with crayons and stickers.
Separate individual flowers from a single stalk. Leave a length of stem on each flower so it can be inserted into the foam base in the basket.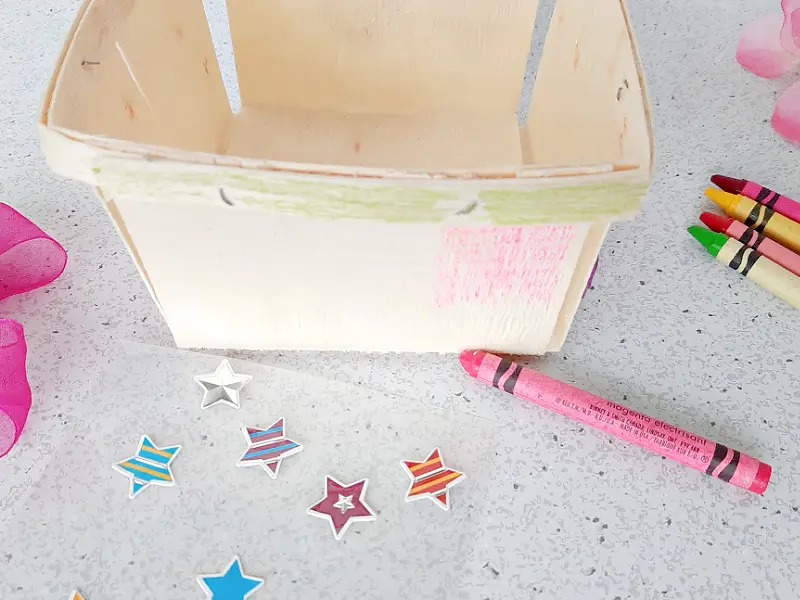 Provide a variety of materials you have on hand for kids to choose from to decorate the 'basket'.
Color with crayons or markers.
Decorate with stickers.
Wrap washi tape or narrow ribbon around the box.
Talk about the activity with your child as they choose materials and decorate the basket.
What color will you use first?
You chose a star shape.
I like the pattern you made on the basket.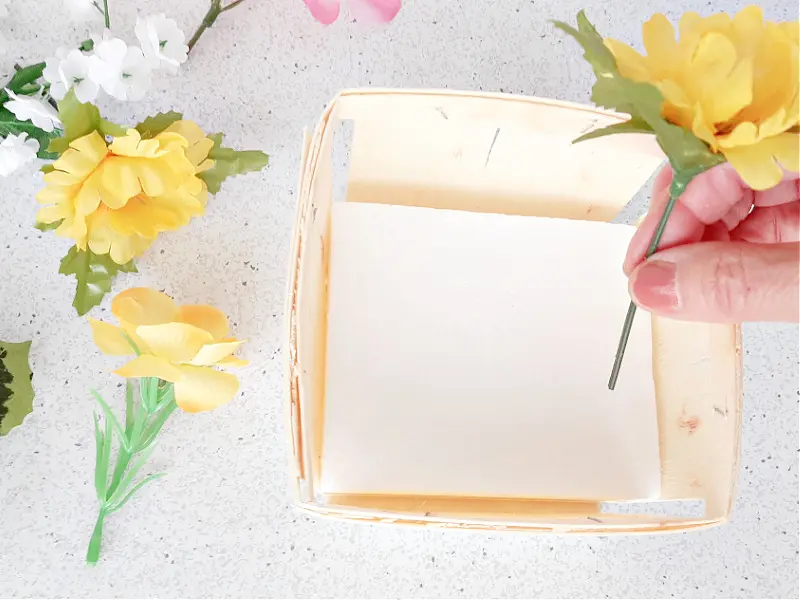 Place a piece of foam in the bottom of the berry box. Insert individual flower stems into the foam. If the foam is resistant you can start the holes with a pencil to make it easier for kids to insert the stem.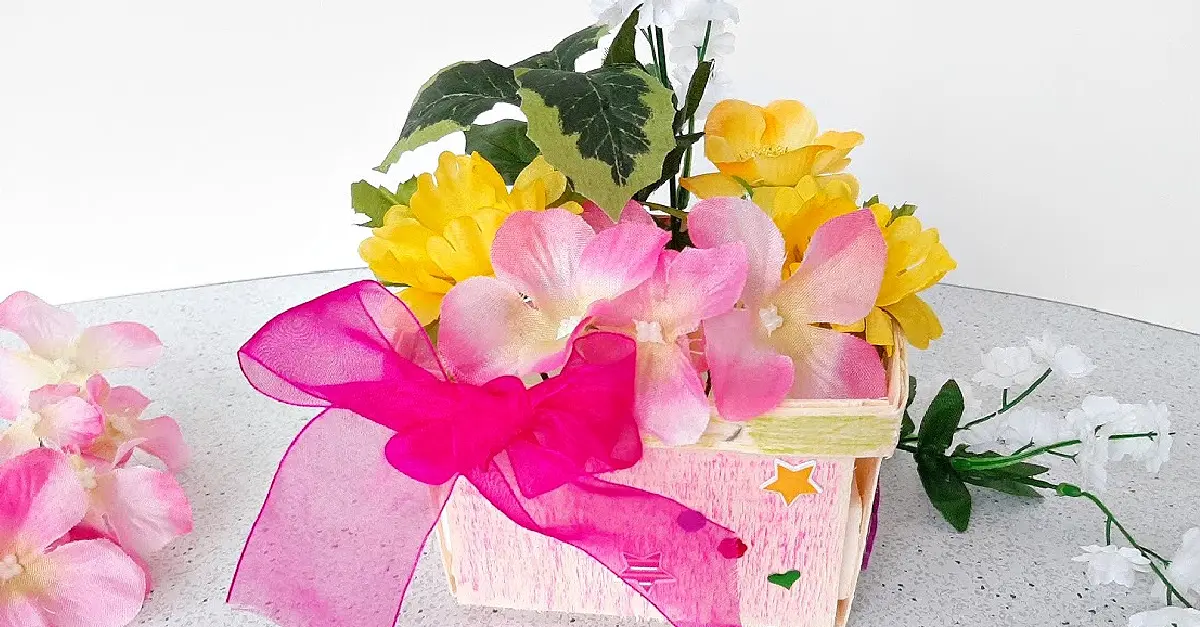 There are lots of ways to build and engage with this activity. Sort colors, count flowers, choose decorations, and plan arrangements. Your toddler can arrange and rearrange the flowers in the basket until he or she is satisfied with the result.
This easy craft promotes independent choices and sparks creative play. Kids will engage fine motor and language skills as they talk about the colors, count the flowers, and build a beautiful basket of flowers.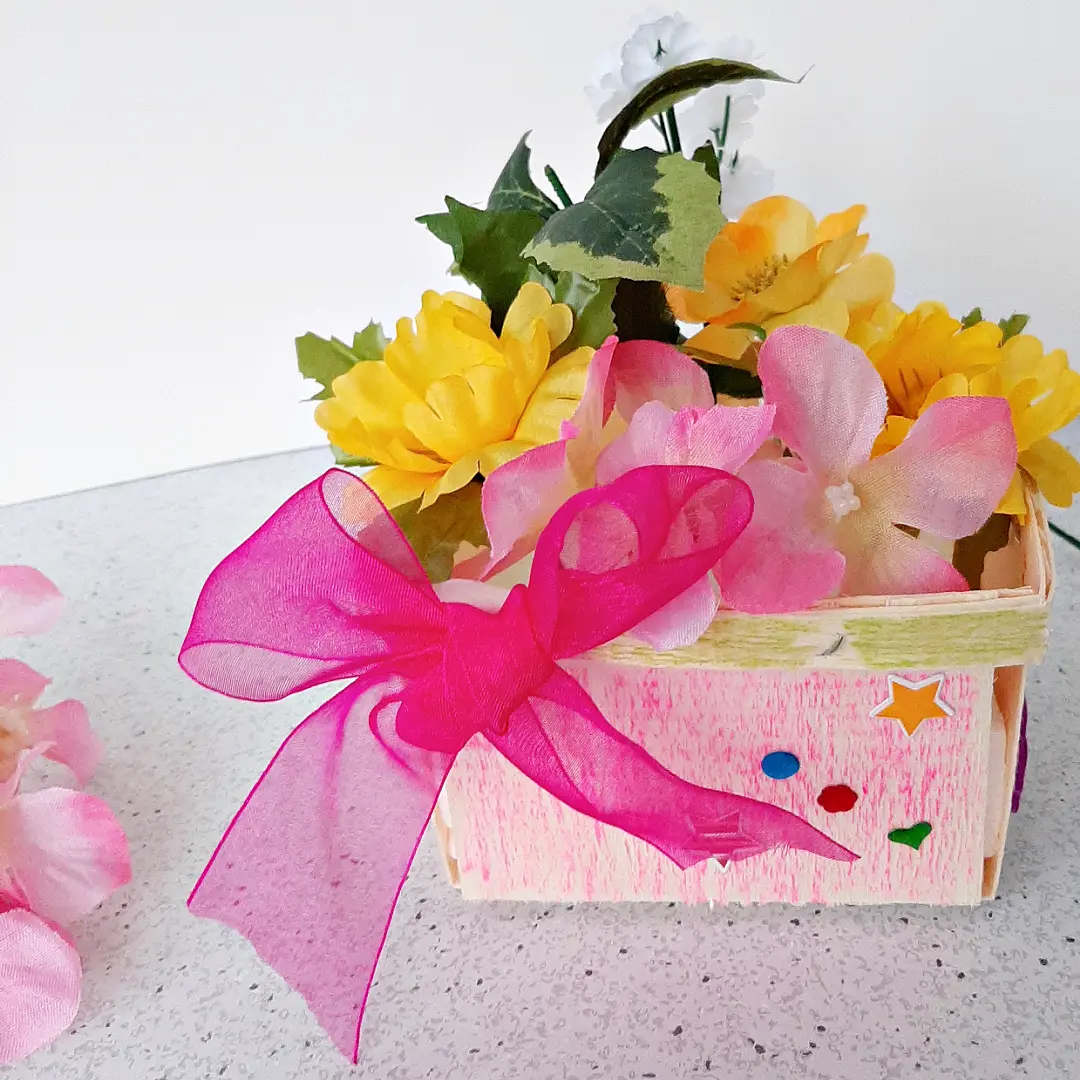 For more fun toddler activity ideas why not join our Facebook Group or follow us on Instagram – follow @myboredtoddler and use #myboredtoddler.
SOME MORE FUN TODDLER ACTIVITY IDEAS YOU MIGHT ENJOY ARE: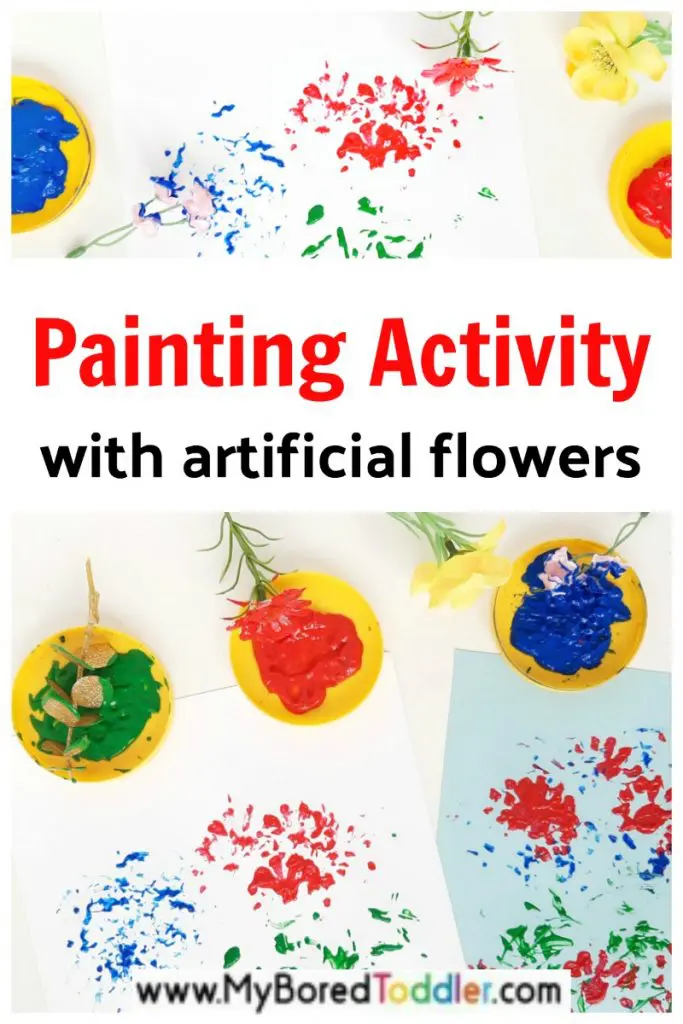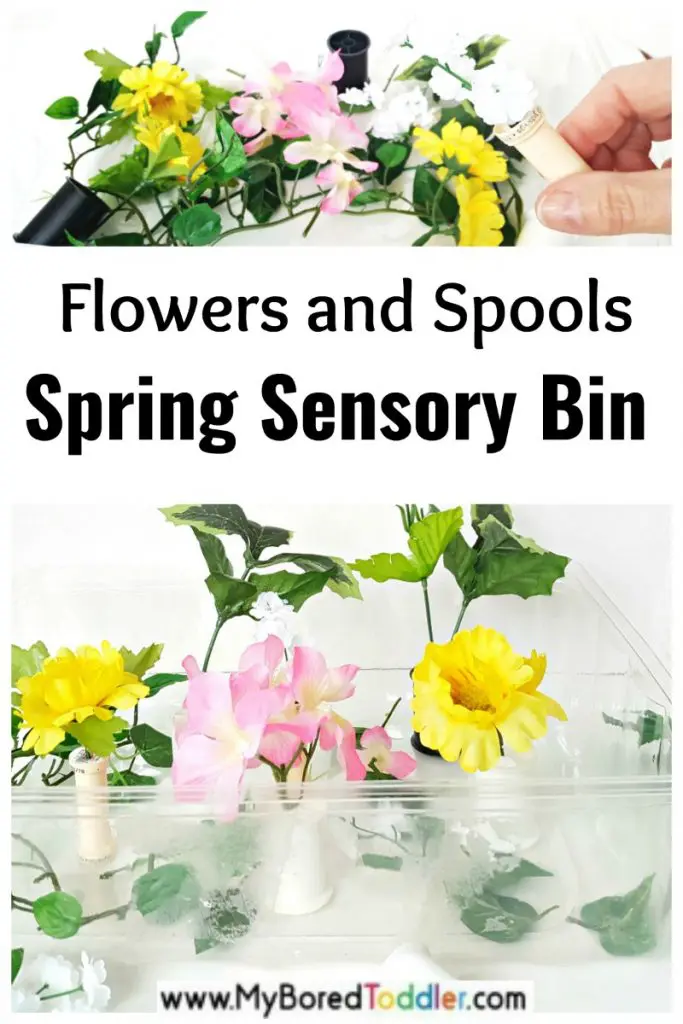 About the Author:
Heather is a former preschool teacher and founder of preschooltoolkit.com, a website providing early learning resources for teachers and parents. She focuses on creating fun crafts and activities that engage developmental skills while promoting hands-on learning through play. Follow her on Facebook, Pinterest, Twitter, Instagram