When you're thinking about toddler crafts for thanksgiving you can't go past a good turkey craft! We've found some nice and easy turkey crafts for toddlers to make that I know you'll enjoy!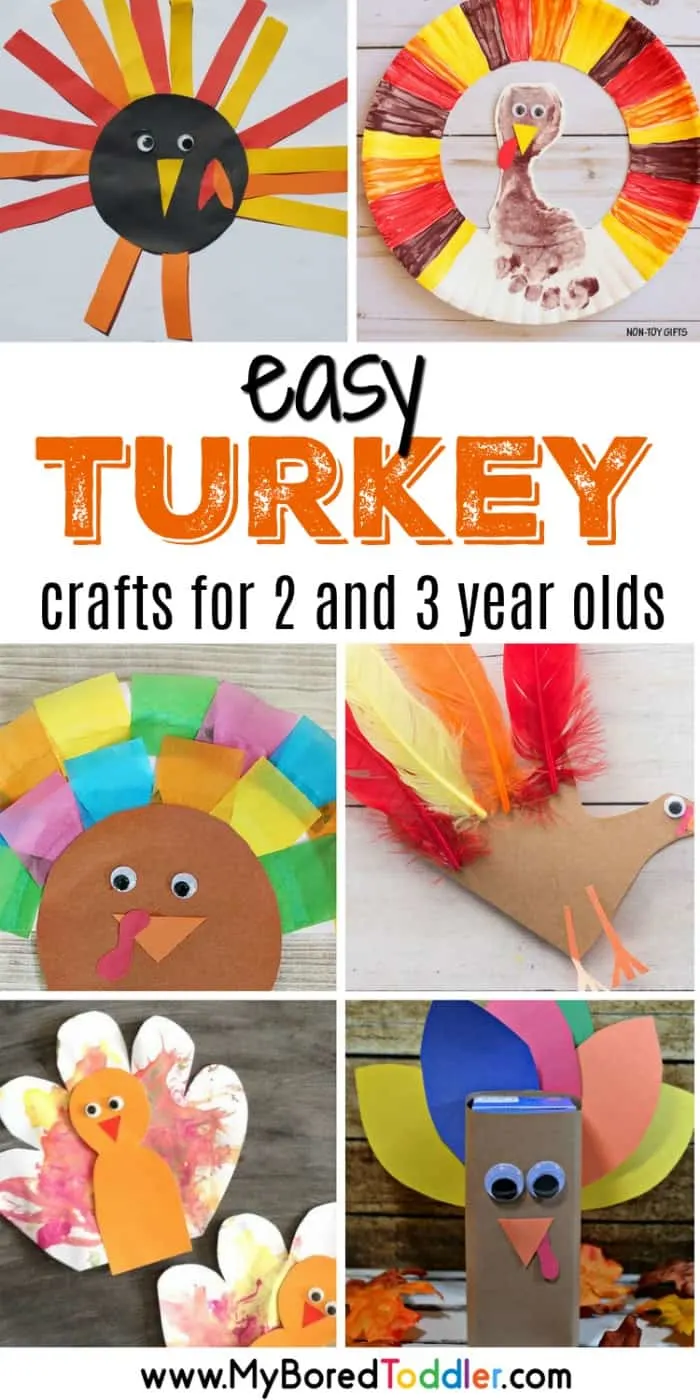 Easy Turkey Crafts for Toddlers To Make
You know you're in peak crafting season when we get to Thanksgiving! We've made all of our fun Fall crafts and are getting ready for Christmas crafts, but we still have the fun Thanksgiving crafts to make first.
We've been working our way through these fun Thanksgiving toddler crafts and activities, but have put together a collection of easy turkey crafts for toddlers to make - these should be simple enough for 2 and 3 year olds to make (with help of course).
I always like to pair up our activities with a good book and I really like 5 Silly Turkeys (available HERE on Amazon).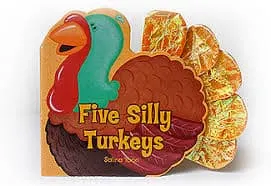 Once you've made your turkey craft make sure you pop into our Facebook group and share a photo or share on Instagram (follow @myboredtoddler ) and use #MyBoredToddler so we can all see!
Easy Turkey Crafts for Toddlers to Make
These turkey crafts were alls shared by members of our Facebook group and are great for 1,2, and 3 year olds wanting to make a fun (and simple) turkey craft.
This tape resist turkey activity was shared by Caitlyn using a canvas as the base.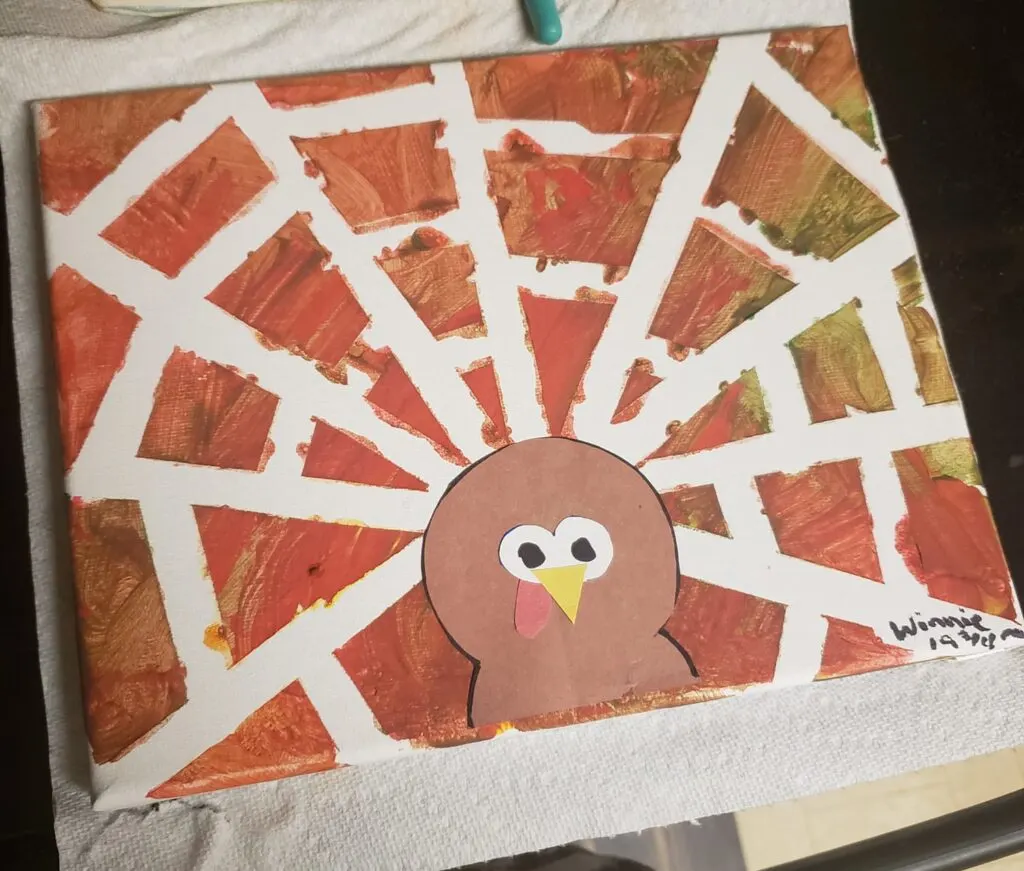 Stephanie also made a tape resist turkey using and upcycled cardboard box.
You can see from the images below how she mapped out the feathers using painter's tape (you can get this HERE on Amazon)
You then let your toddler paint all over the cardboard (or canvas) and remove the tape to get the finished products. These are a great group activity too. I always recommend THESE paints for toddlers.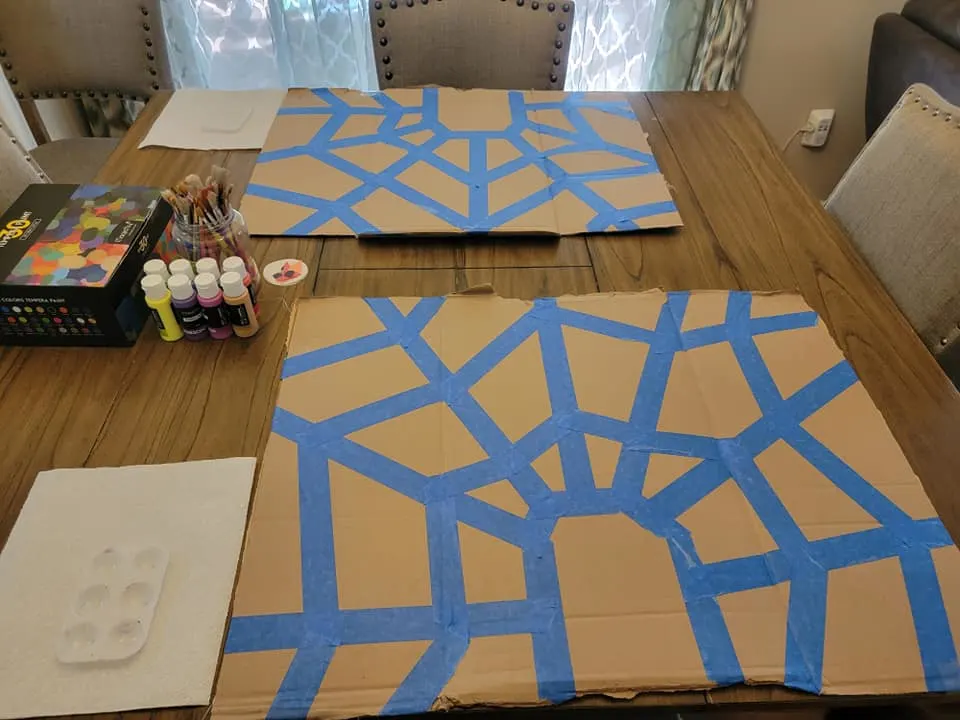 Easy Paint Dabber Turkey Craft
April shared this easy Turkey craft using paint dabbers or fingerprints. If you want to do them with the paint dabbers I recommend these ones as they come in a set with lots of other fun toddler brushes.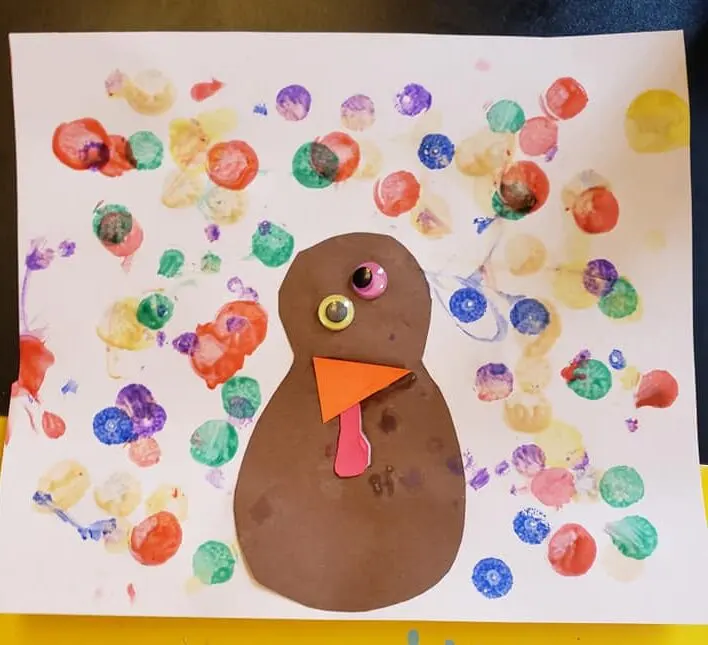 Leaf Turkey Craft
Emily shared her leaf turkey craft with us. This is a great activity to do after a nature walk to collect the leaves.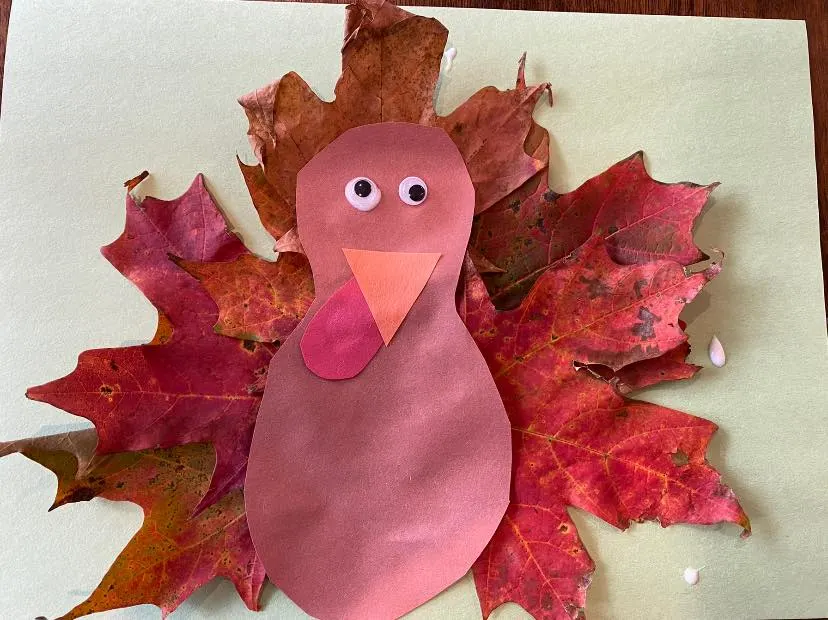 Brianna shared her leaf turkey craft as well - these were made using craft leaves which you can find HERE. This would work well with foam sticker leaves too.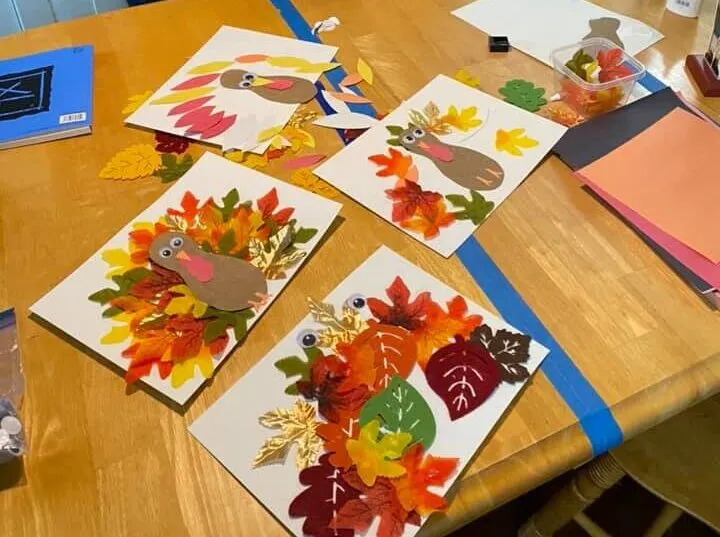 Hillary shared her leaf turkey crafts too.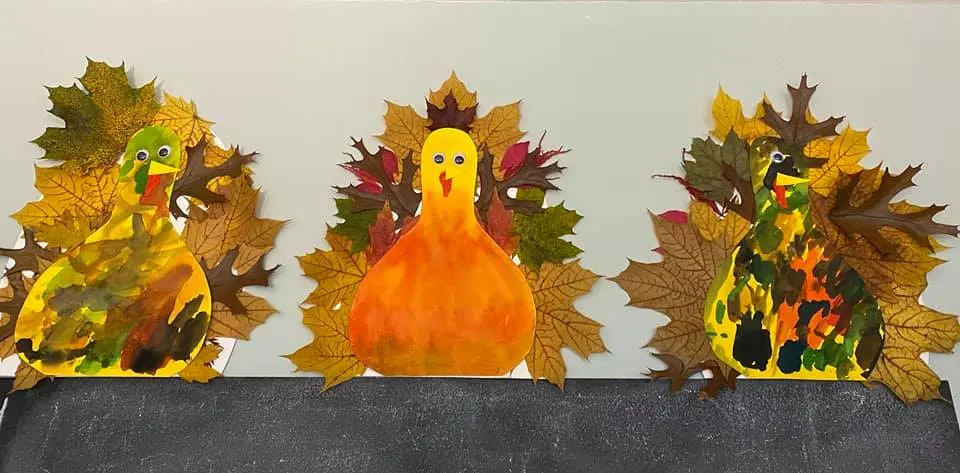 Paper Plate Turkey Wreath
Danielle made this paper plate Turkey Wreath. A simple paper plate craft using rolled up paper rings.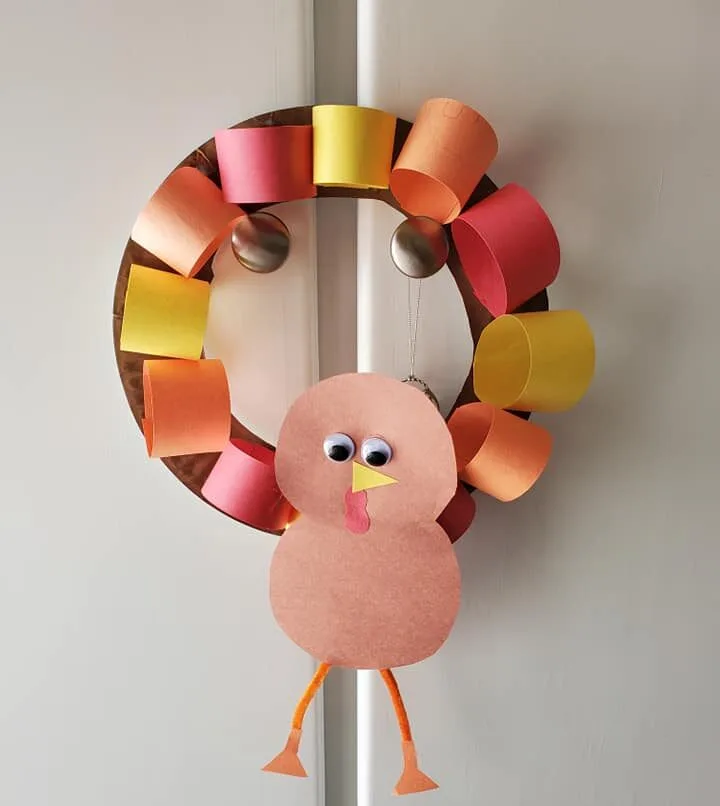 Tiffany also used a paper plate for her turkey craft. Cut a paper plate in half and paint it and then add on your turkey. Fun!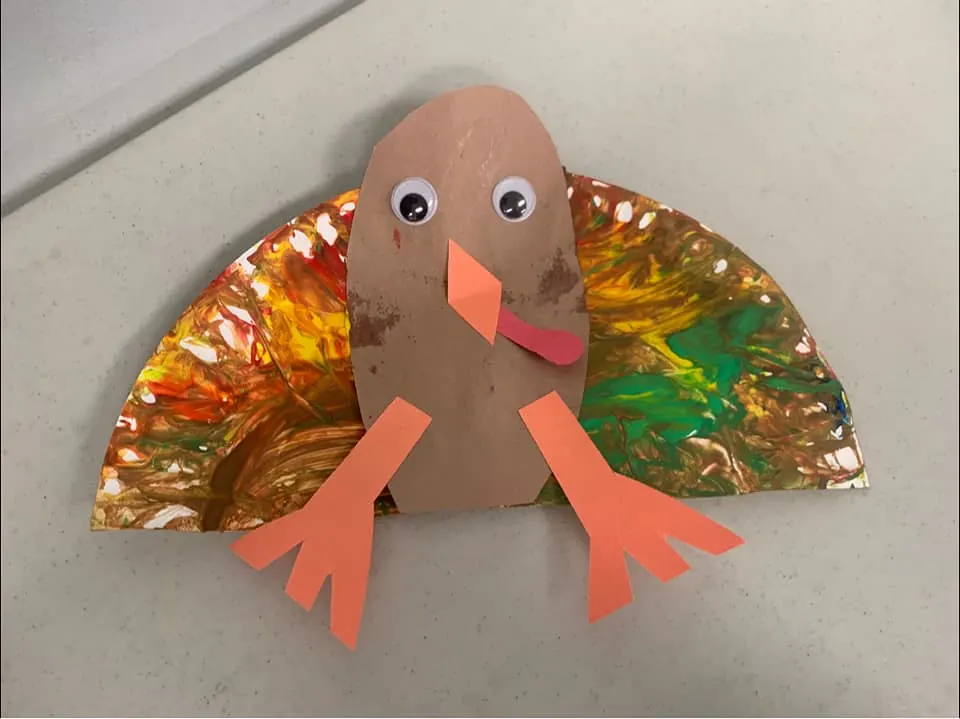 Stephanie made a fork painted turkey. Simply use a plastic fork instead of a paintbrush to make the patterns. This one is always a fun toddler activity idea.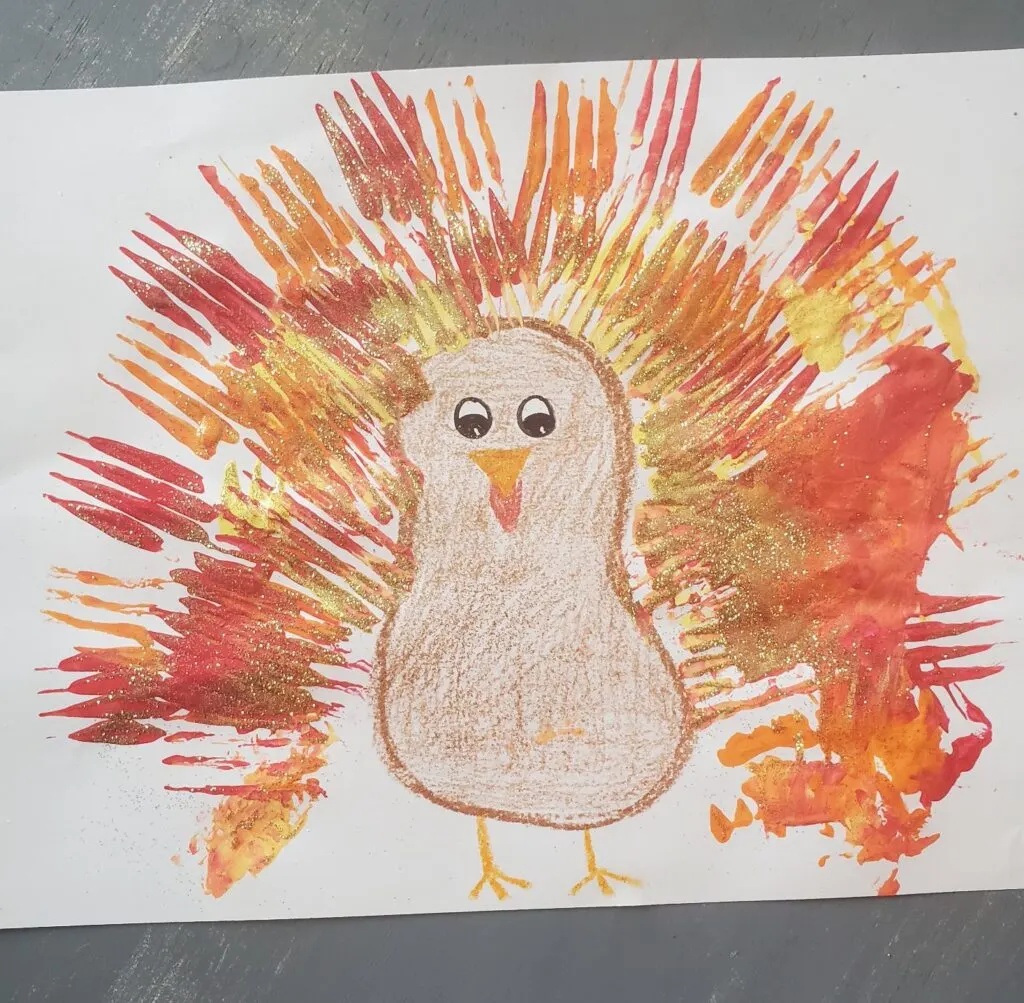 Hunter shared this craft with us which uses paper doilies glued onto a paper plate or come cardboard and painted. I love the finished products! This is a fun Thanksgiving activity for a group too.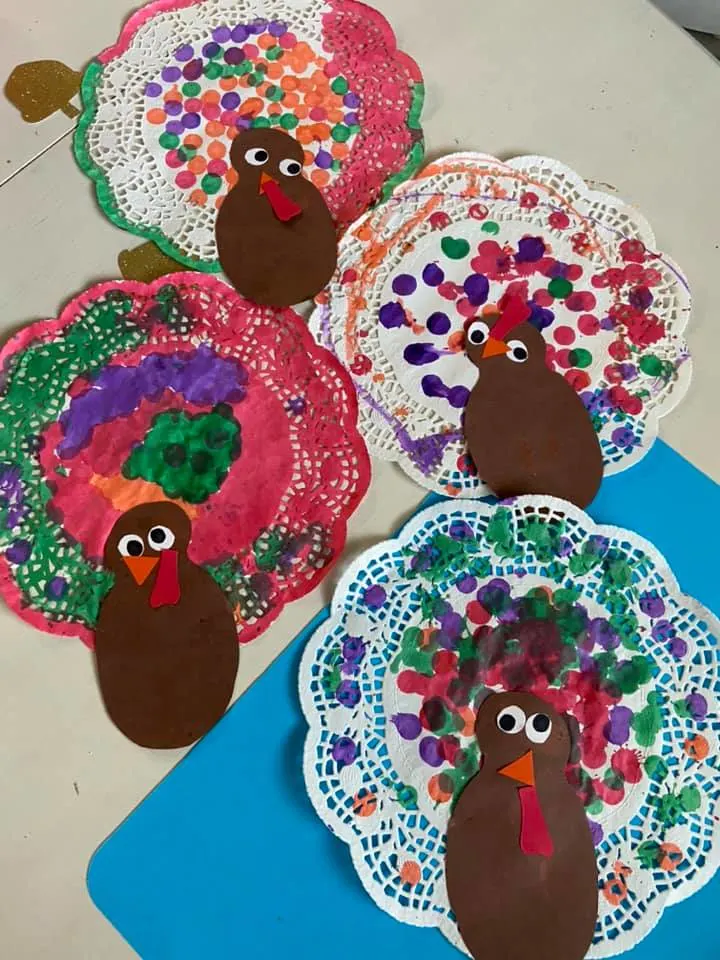 Handprint & Footprint Turkey Craft
Jenny shared this turkey craft with us made using a footprint and handprints for the feathers.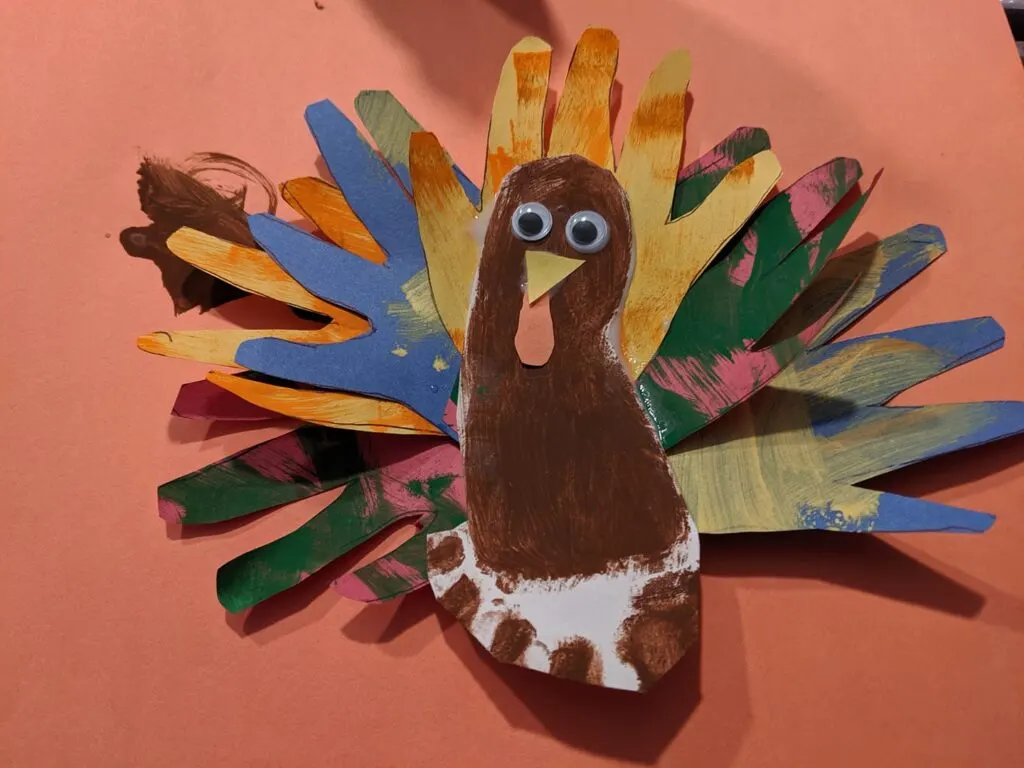 Shalee used tissue paper to decorate the feathers of her turkey.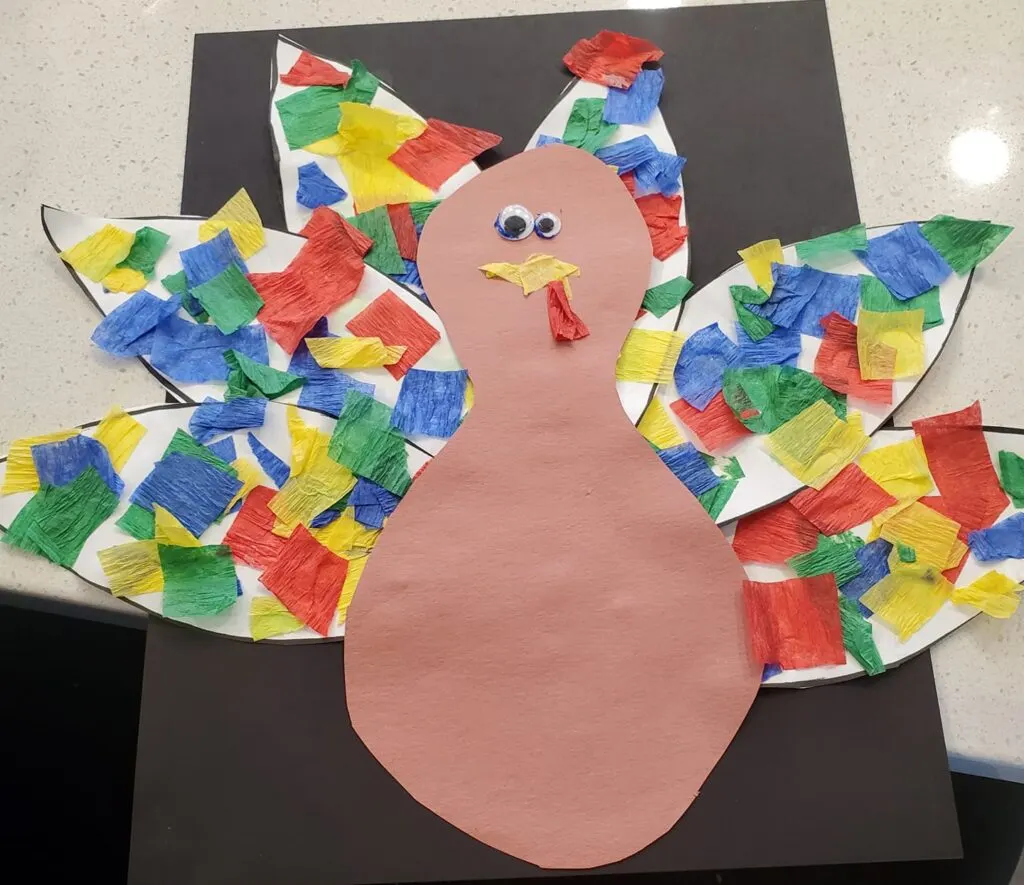 Crystal used an old cardboard box to make a fun feather pull turkey activity. This is a great fine motor activity for toddlers as they pull out the feathers and then put them back in. You can get large craft feathers on Amazon HERE.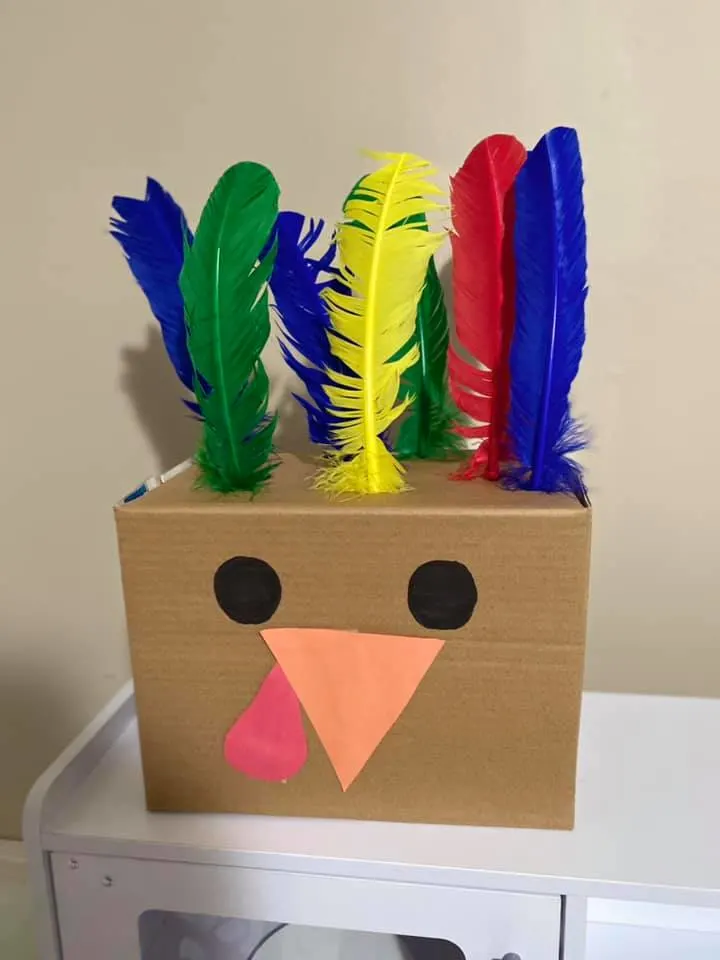 Even More Toddler Turkey Crafts & Activities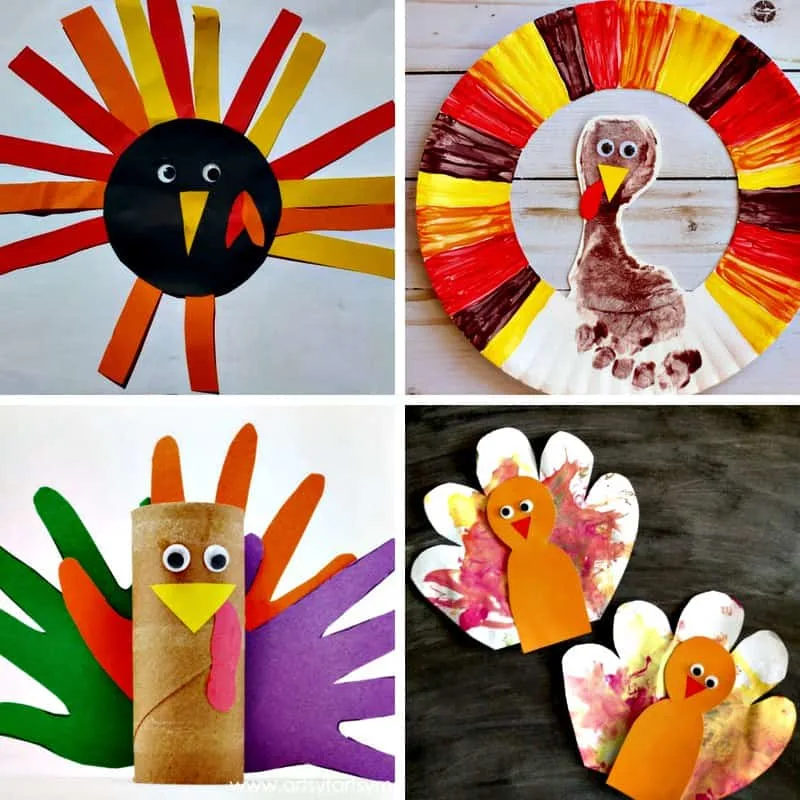 Footprint Turkey Wreath - Non Toy Gifts
Handprint Turkey Craft - Artsy Fartsy Mama
Feather Painted Turkey Craft - Crafts on Sea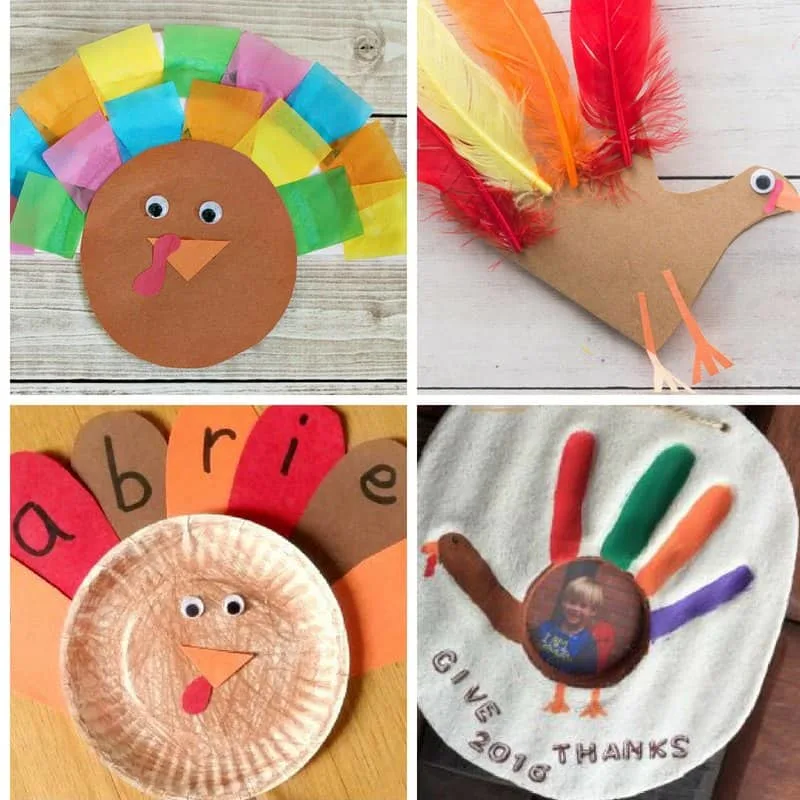 Paper Plate Turkey Craft - The Simple Parent
Turkey Handprint Craft - The Best Ideas for Kids
Turkey Craft to Learn your Name - Growing Book by Book
Thanksgiving Handprint Keepsake - Teach Me Mommy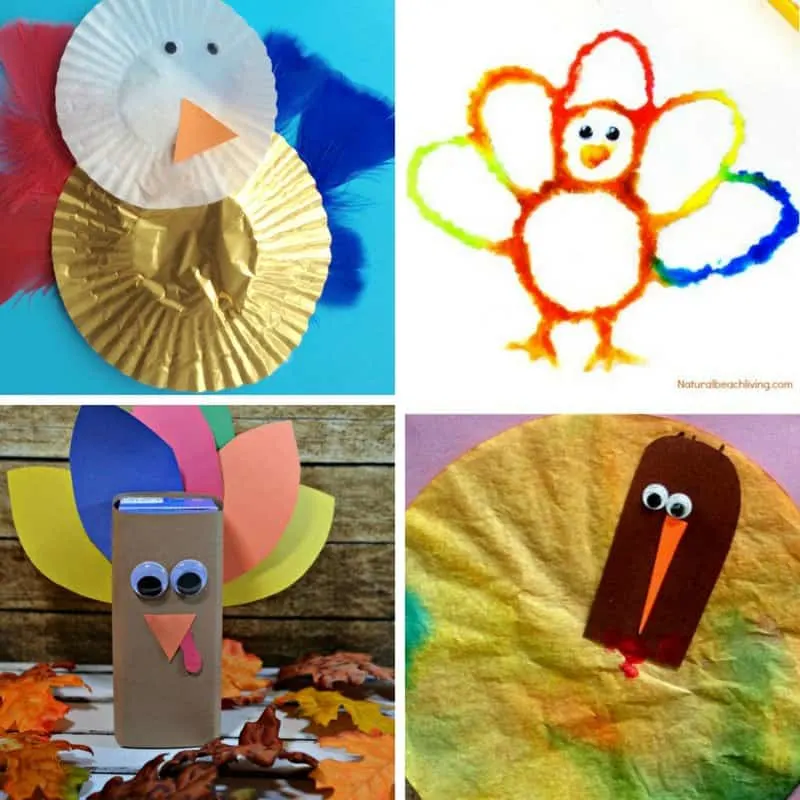 Cupcake Liner Turkey - Crafts on Sea
Turkey Salt Painting - Natural Beach Living
Colorful Turkey Craft - Teaching 2 and 3 year olds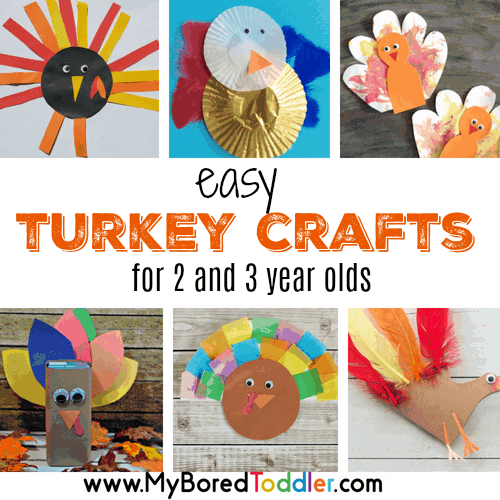 I hope you've enjoyed making these turkey crafts for toddlers. If you want more toddler activities make sure you join our Toddler Facebook Group and follow us on Instagram, Facebook and Pinterest.
Some other fun toddler activities you might enjoy are:
Thanksgiving Crafts for Toddlers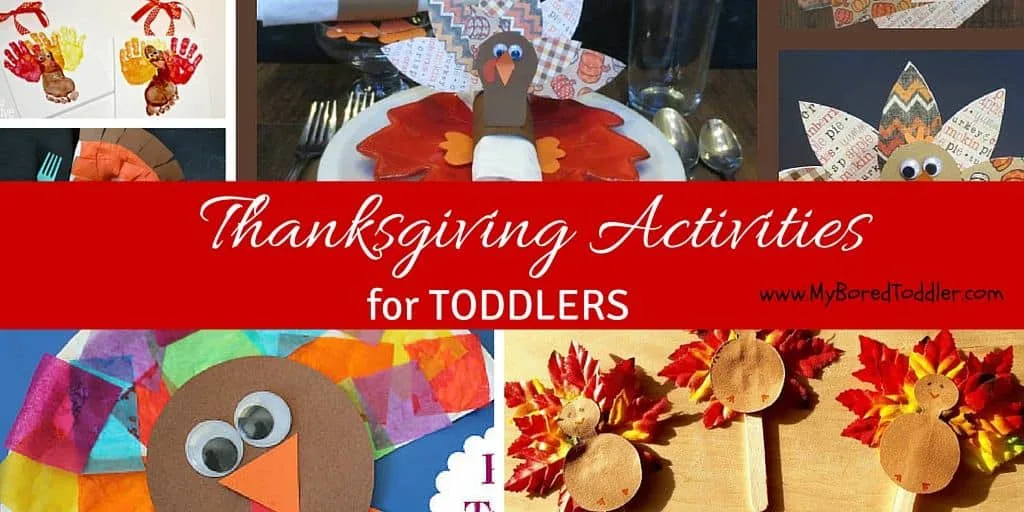 Easy Christmas Crafts for Toddlers