Let's face it. Kids love making noise. There is a lot to be said surrounding the benefits of incorporating music into a child's every day. This simple DIY craft stick banjo is a creative way for your toddler to make their very own musical instrument to play along to their favourite songs.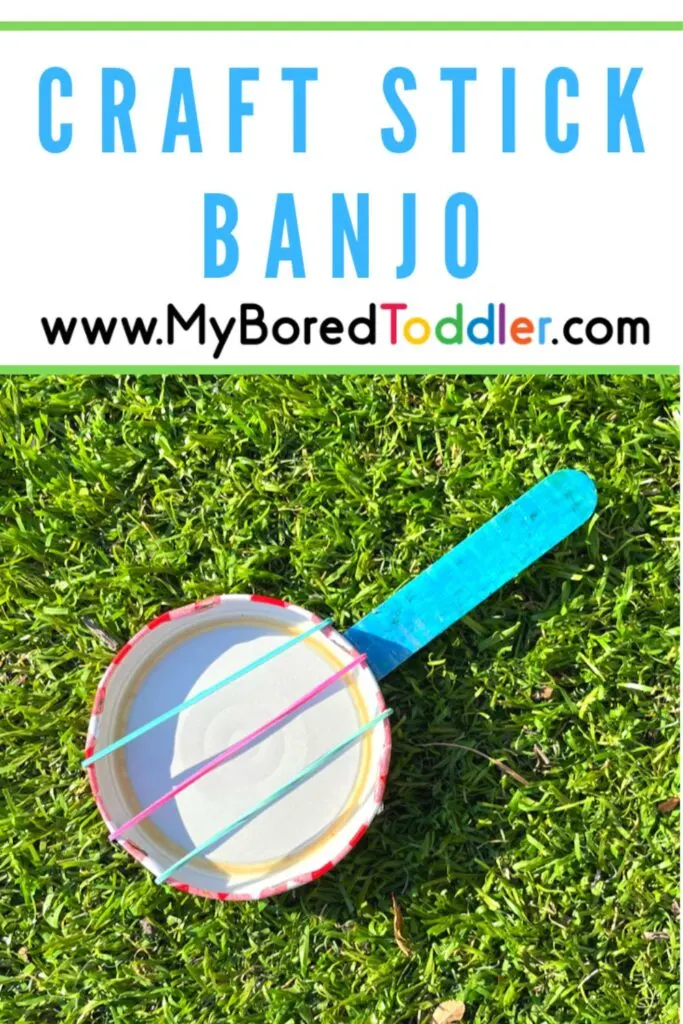 Craft Stick Banjo
With the use of a few household items, your toddler can create and personalize their very own musical instrument. This little craft stick banjo is simple to put together and can be used as a great tool to develop the all-important fine motor skills. Every pluck of the elastic band requires coordination and fine motor strength to collect the band, raise it and then release it. The instant reward for your child's efforts is the twang of the band which only encourages them to do it all over again.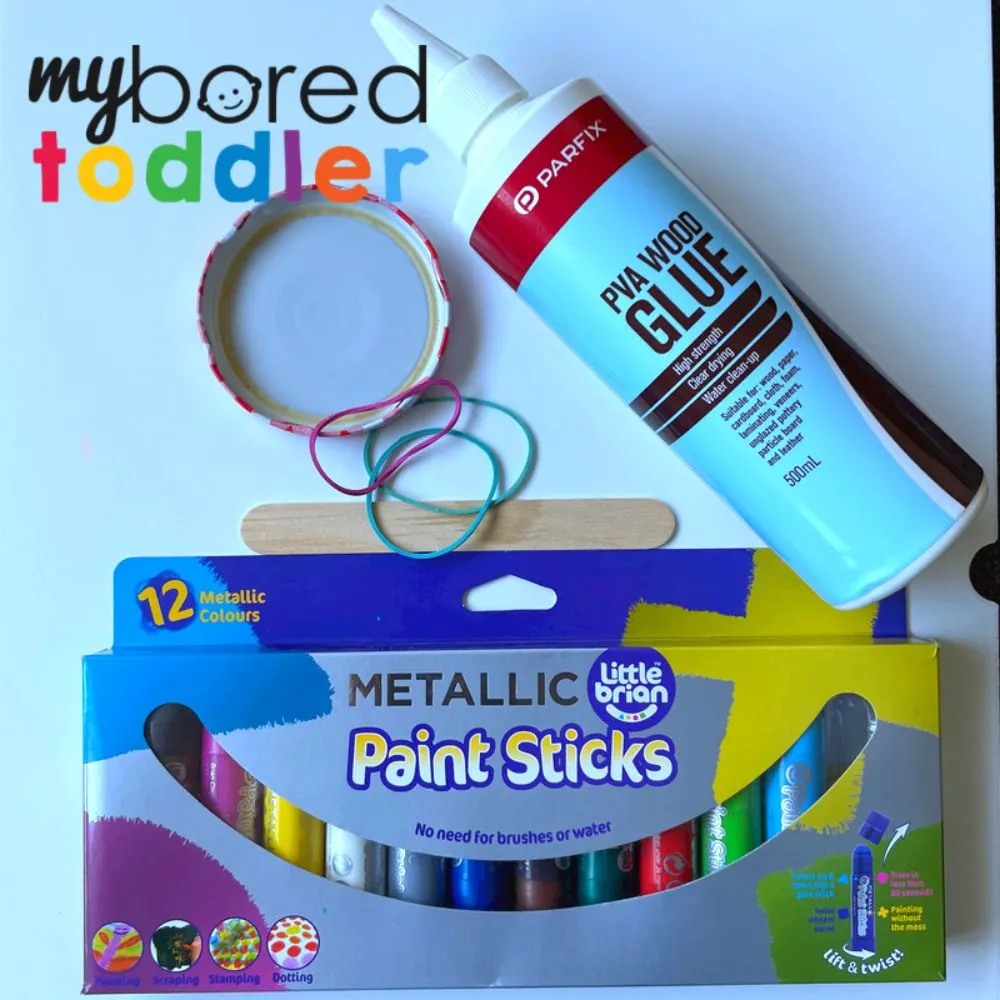 What you need to make a craft stick banjo:
The paint sticks are completely optional however, personalizing their banjo is a great way to encourage your toddler to invest in the project. They can create their design, make their mark and play it proudly as something they created themselves.
We love using paint sticks as the colour payoff is amazing, and they dry quickly. Clean-up is a breeze too. Paint sticks make this a creative craft idea that is easy to set up and tidy. It is a great way to fill in a spare 20 minutes before running off to school pick-up.
Other resources such as stickers, pencils, washi tape, and crayons can also be used to decorate the banjo.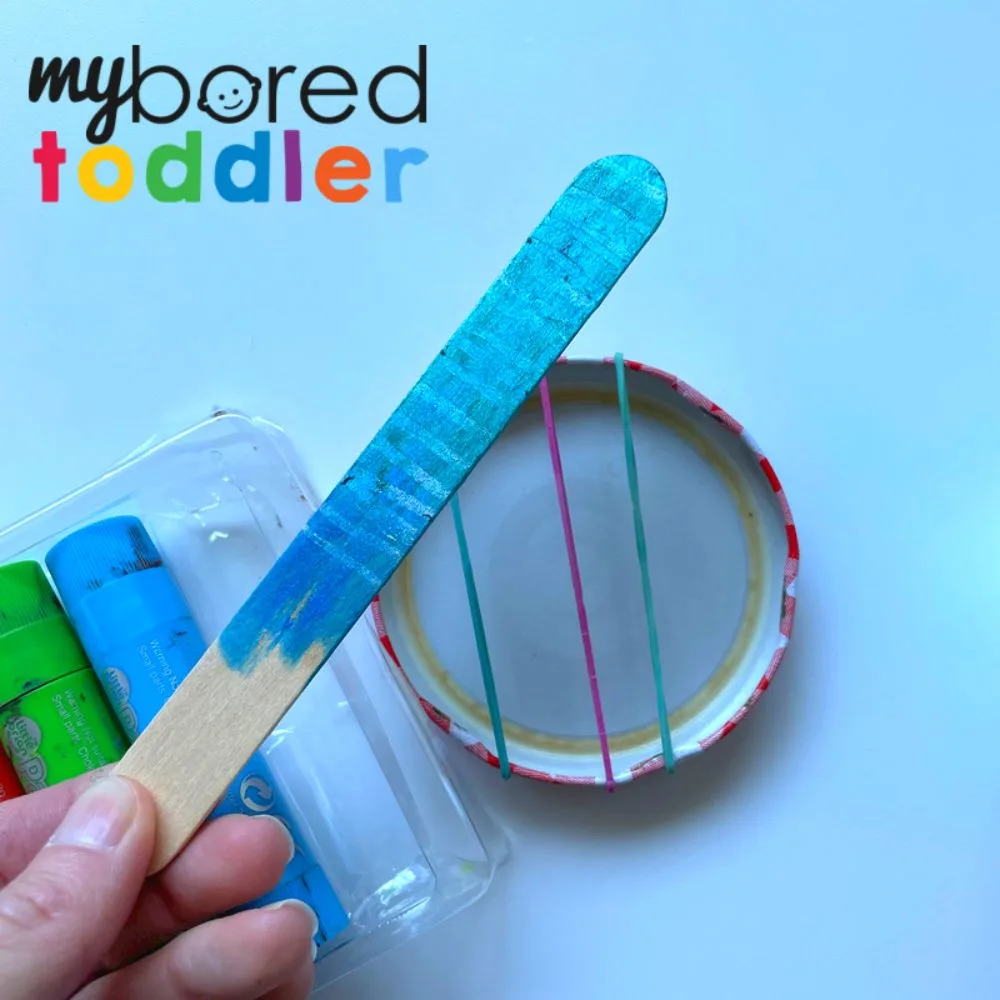 How to make a craft stick banjo:
The first step is to decorate the craft stick. Keep in mind that the jar lid will conceal one end. We kept this end unfinished and the perfect spot to position our helping hand, keeping it free from the paint sticks.
Create a design, whether a plain solid colour or a pattern. There are no right or wrong ways to decorate the craft stick banjo handle.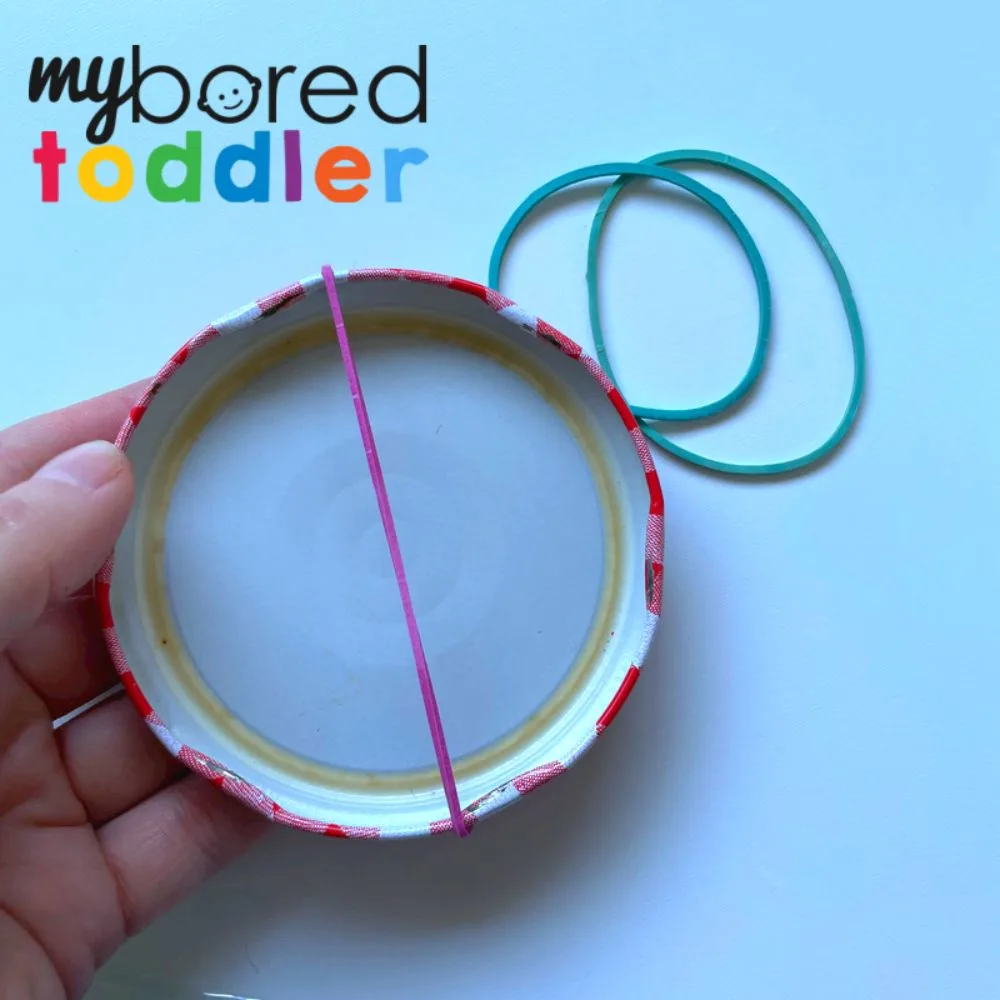 Slide the elastic bands over the lid of the jar. We used three to suit the size lid we had on hand. Secure the bands with a piece of tape on the back of the lid.
Glue the craft stick to the back of the jar lid. We also added some tape for added security.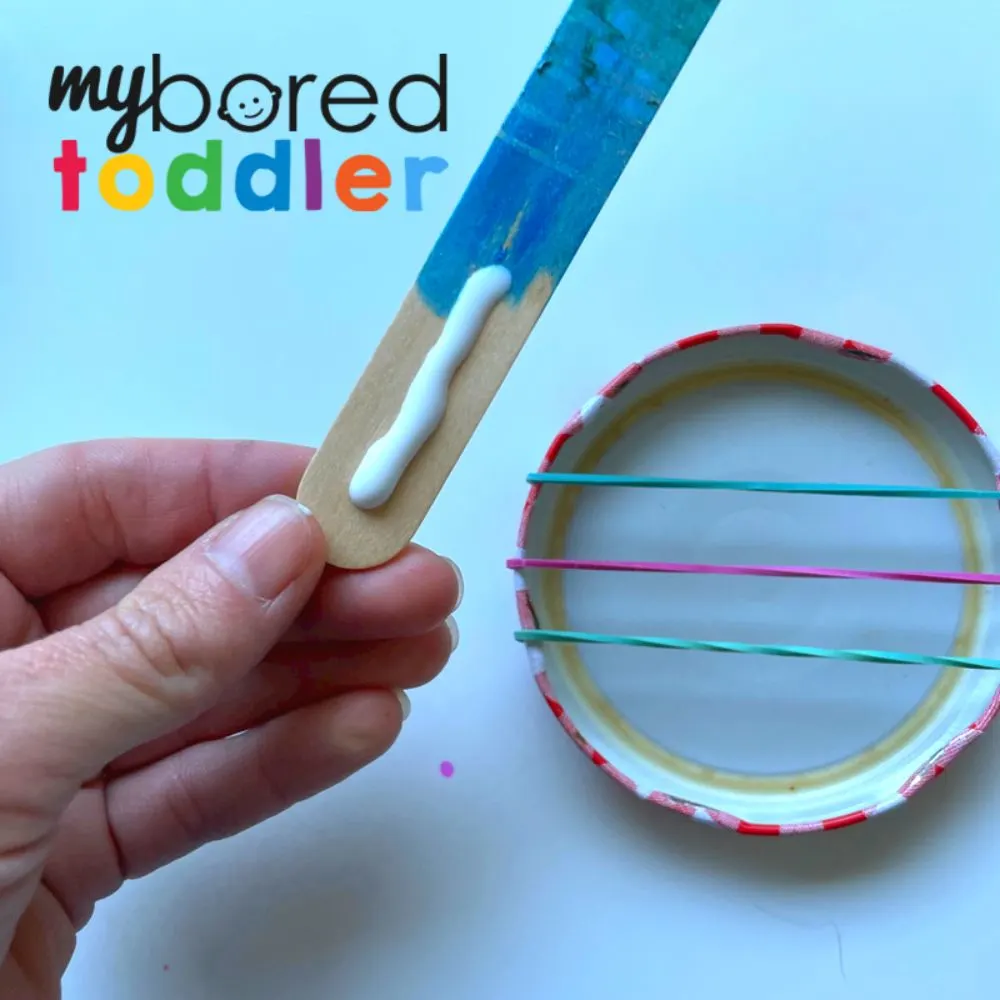 This is an effective, easy little project that is lots of fun. Snap the bands of the craft stick banjo to the beat of your favourite song, or better yet, these would make a great prop for a mischievous little elf that may be gracing your household this Christmas. Either way, the craft stick banjo is a cute and fun little project to fill a spare half an hour that keeps on giving after it has been made.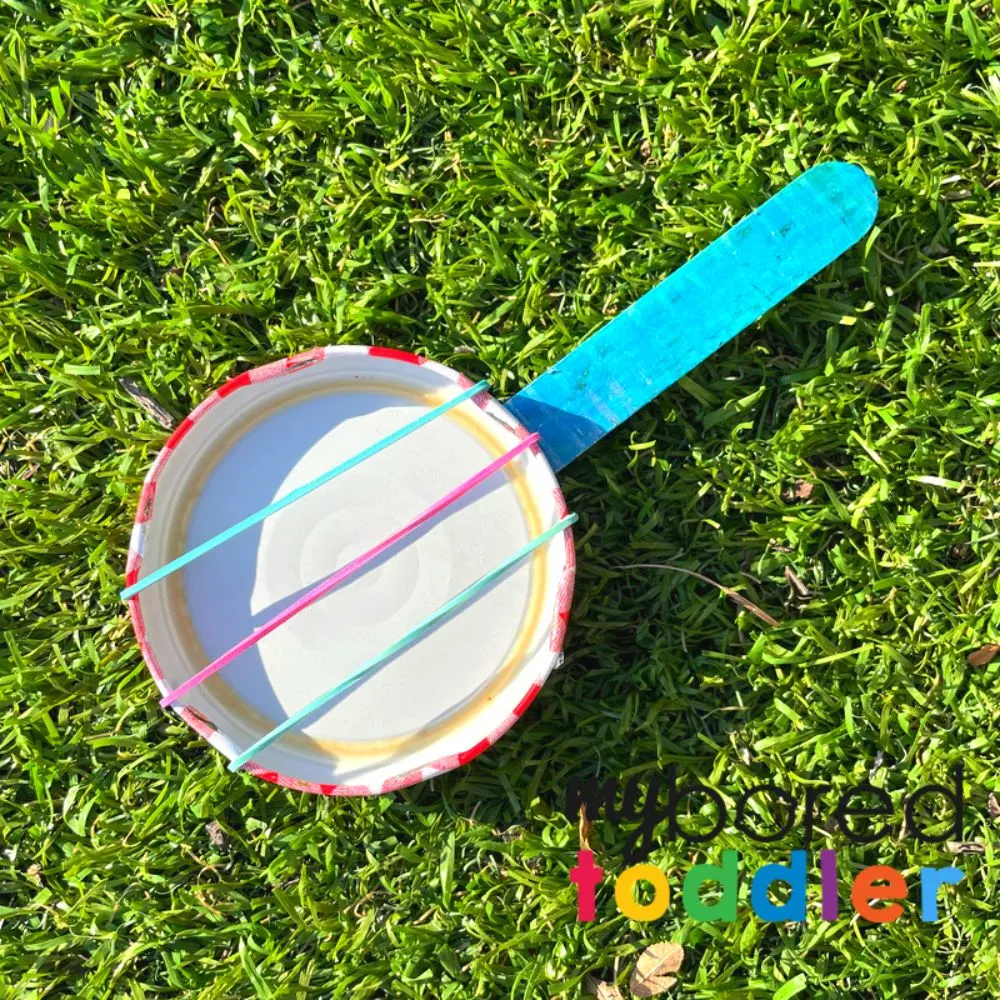 For more fun toddler activity ideas why not join our Facebook Group or follow us on Instagram – follow @myboredtoddler and use #myboredtoddler.
SOME MORE FUN TODDLER ACTIVITY IDEAS YOU MIGHT ENJOY ARE: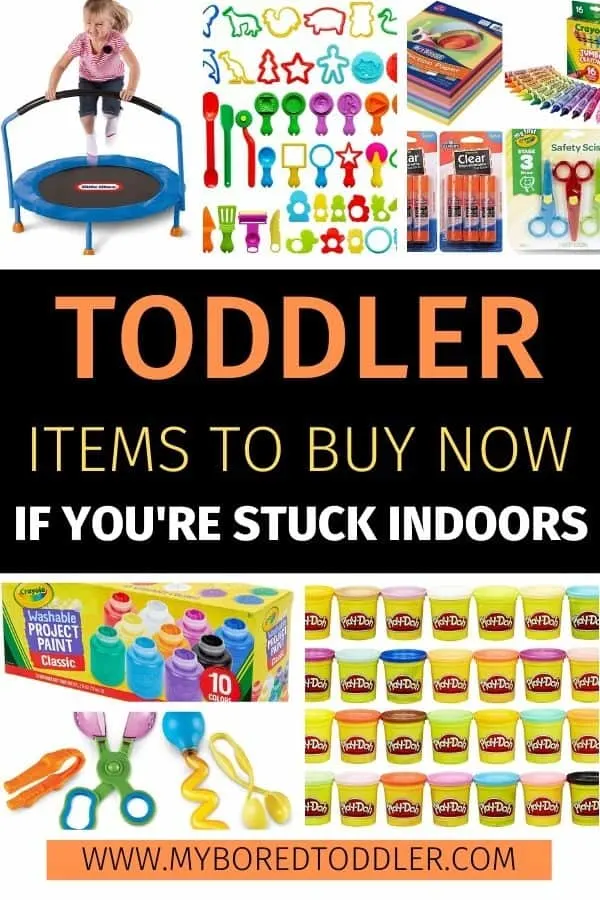 About the Author
Dani is a busy stay-at-home Mum of 3 and an early childhood teacher in training who is passionate about play-based learning throughout early childhood. For educational play ideas that you can do at home and parenting tips visit Play Inspired Mum Check her out on Instagram andFacebook