Counting and fine motor play with a cardboard Christmas tree is just what you need for the busy holiday. Kids will love playing peek-a-boo with the colorful pictures of Santa, snowman, and more.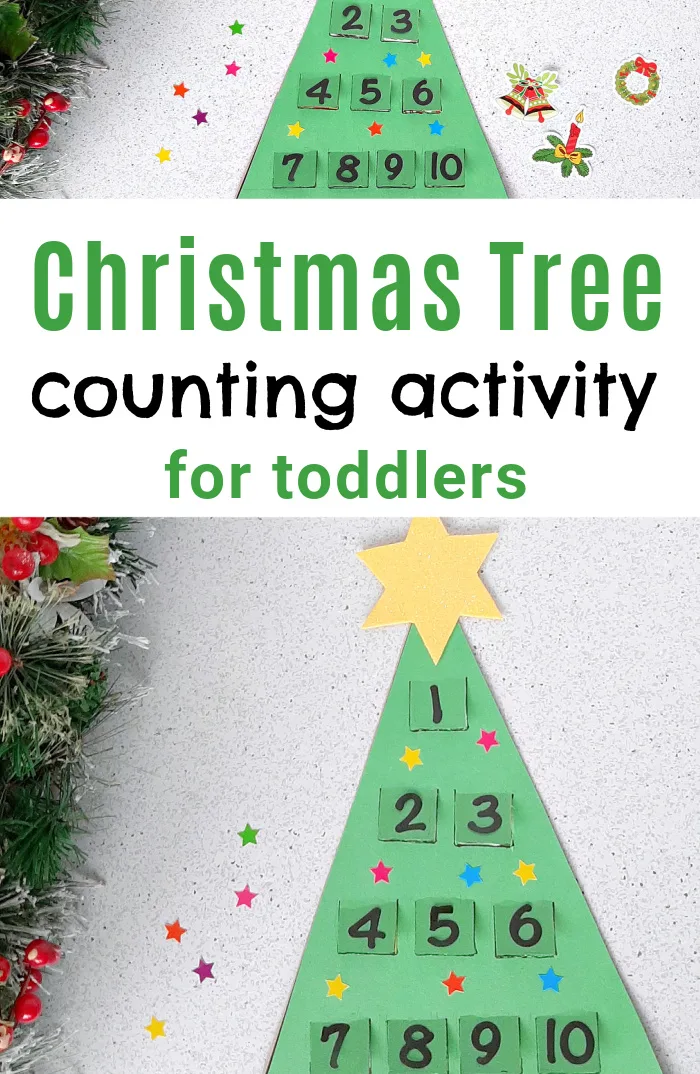 The Christmas Tree Counting Activity for Toddlers
The Christmas season is a busy time of year, so it's helpful to have simple crafts and activities at your fingertips. Your toddler doesn't need fancy materials or a handful of instructions to enjoy an activity or to learn basic skills.
Paper crafts are easy to set up with materials you have on hand. This simple Christmas tree activity can be mostly prepared beforehand, and completed with a little help from your toddler.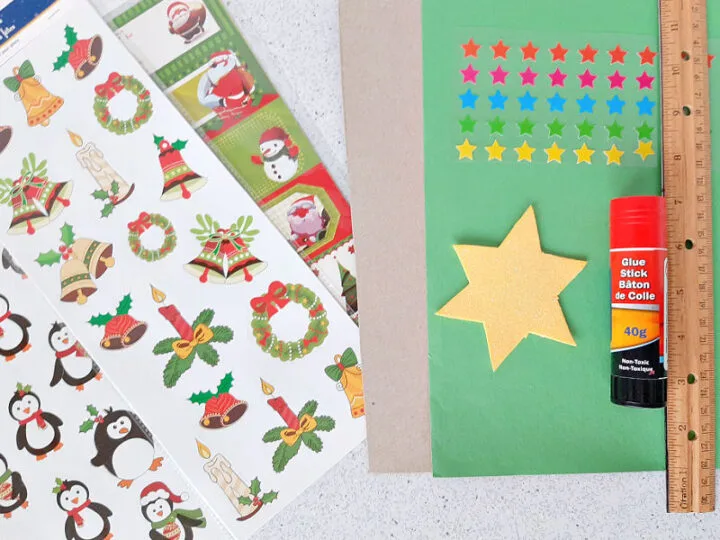 Supplies
You can substitute the materials listed here with items you have on hand.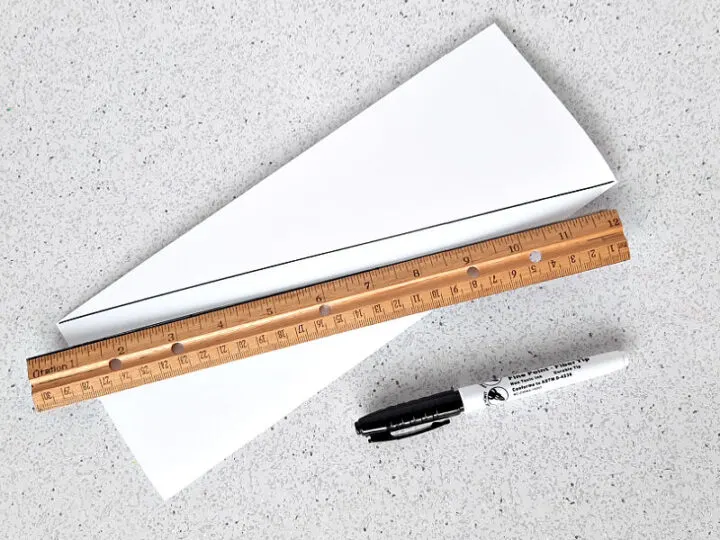 Instructions
Color plain paper green to make the tree; find Christmas images in-store flyers or catalogs; use dots or other self-adhesive stickers for decorations on the tree.
Fold a sheet of plain paper or cardstock in half.
Draw a line across the paper as shown with a crayon or marker.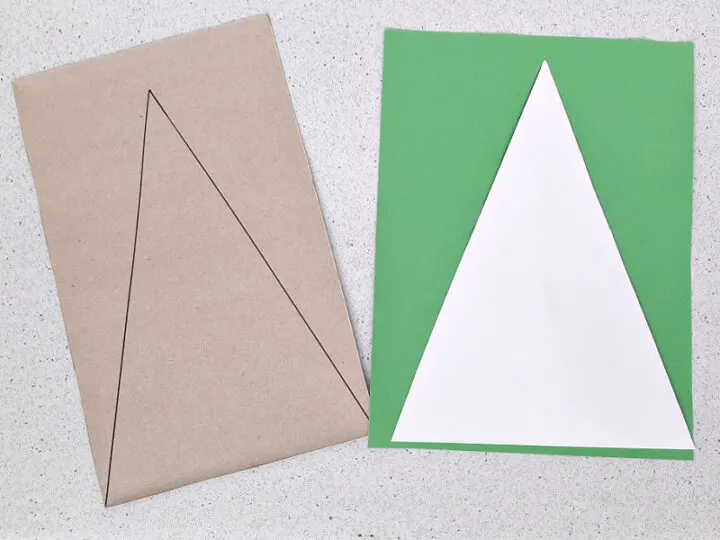 Unfold the plain paper to reveal a triangle shape to use as a template. Trace the triangle onto green construction paper, as well as a piece of cardboard. Cut out both triangles.
This cardboard was cut from a large cereal box. It's just the right size to accommodate a sheet of construction paper.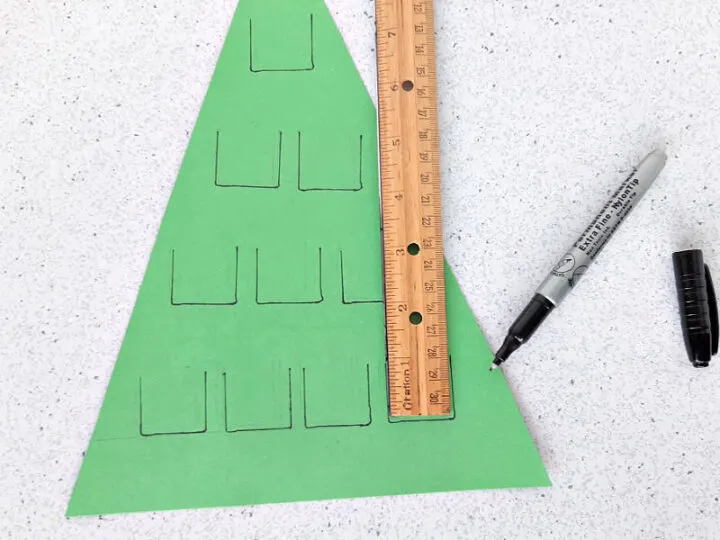 Outline the flaps with a ruler and a marker as shown. Only three sides are required to form the flaps.
Draw larger flaps if preferred, so a smaller number of flaps is outlined on the paper tree.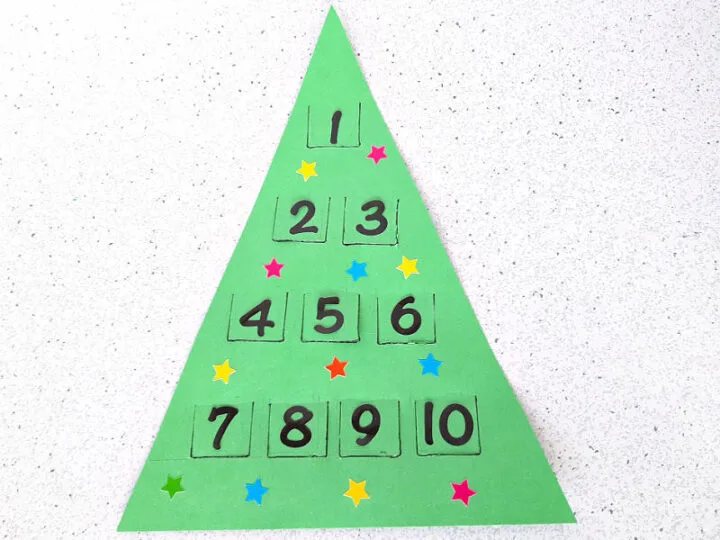 Add numbers from one to ten with self-adhesive stickers, or draw them with a crayon or marker.
Decorate the tree with stickers, crayons, or markers.
With a craft knife or scissors with a pointed tip, open the flaps by cutting along the three lines made with the permanent marker.
If preferred, cover the tree with clear contact paper to strengthen the paper for repeated use. This can be done before or after you make the flaps.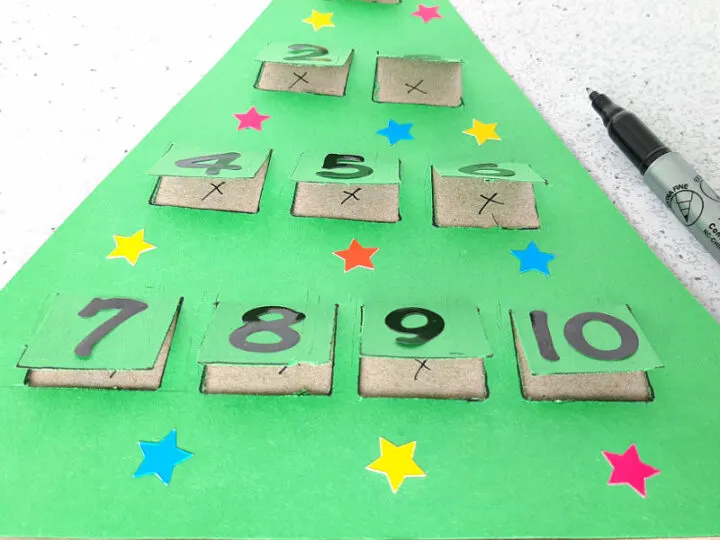 Place the paper tree onto the cardboard triangle. Lift each flap and make a mark on the cardboard with a marker or crayon.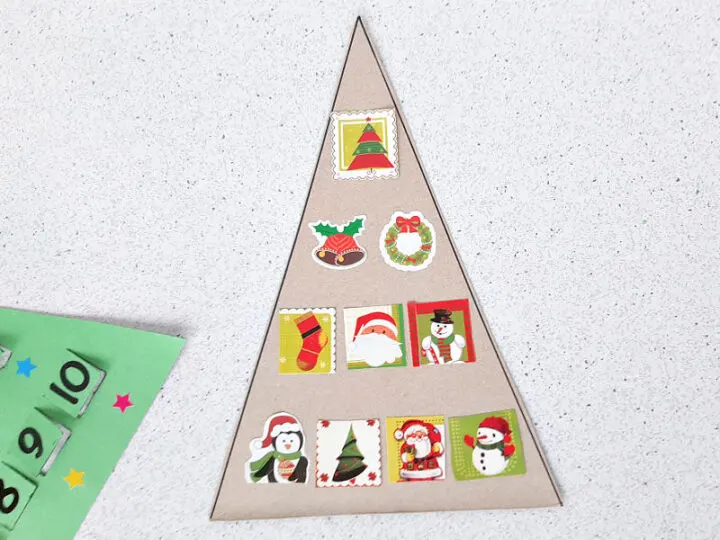 Remove the paper tree. Glue Christmas stickers or cutouts onto each of the marks drawn under the flaps.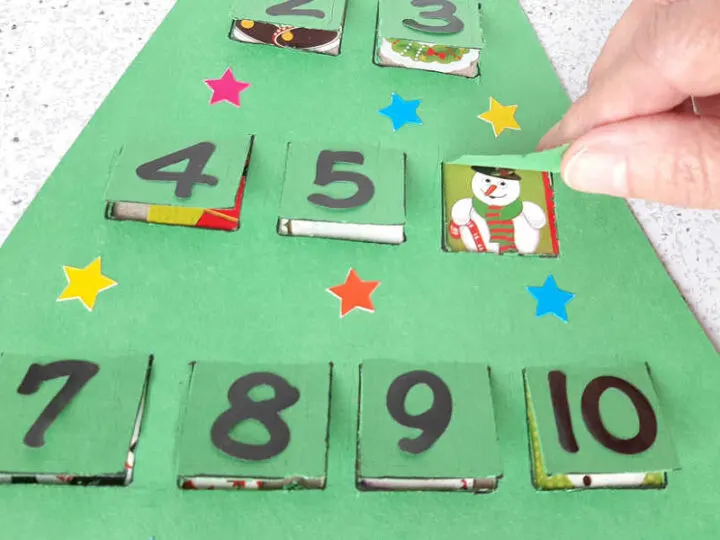 Place the green construction paper tree onto the cardboard triangle, making sure the images line up under the flaps. Glue in place.
Lift the flaps with your toddler to reveal the fun Christmas images! Support number recognition and language skills as you share the activity.
Questions to Ask:
How many snowmen can you find?
What do you see under number three?
Where is Santa hiding?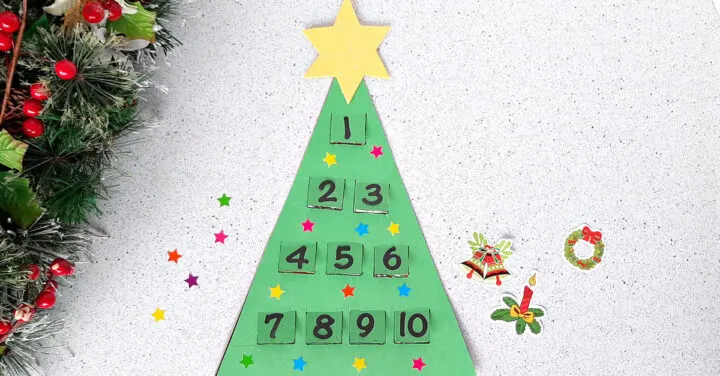 This Christmas tree activity is sure to be a favorite with little ones.
Kids can help with the construction of the tree: drawing the marks under the flaps; cutting images from cards or wrapping paper; applying stickers and lifting the flaps. These are great fine motor activities that add to the value of child-led play.
Add this Christmas tree craft to your daily activities for fun and learning with your toddler.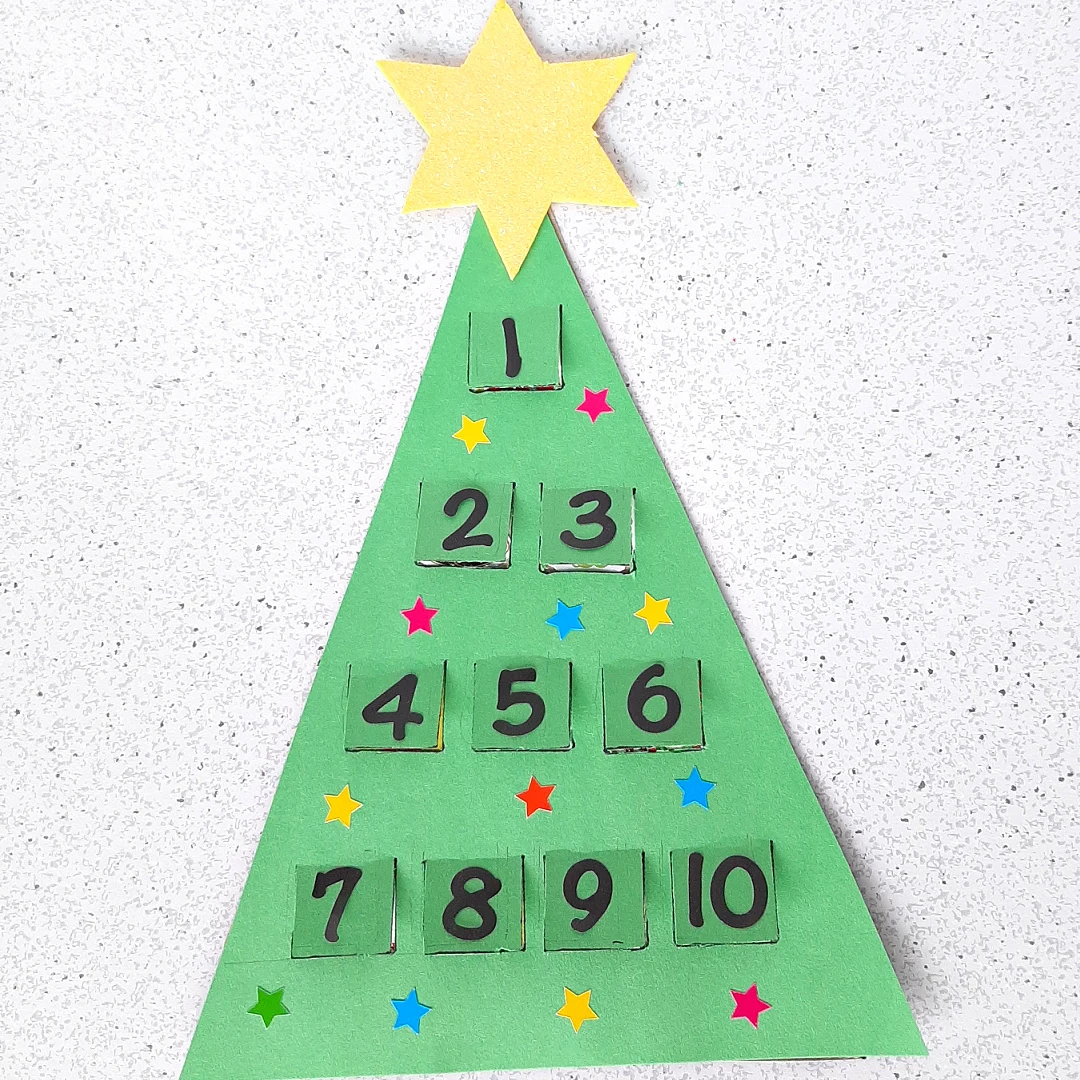 For more fun toddler activity ideas why not join our Facebook Group or follow us on Instagram – follow @myboredtoddler and use #myboredtoddler.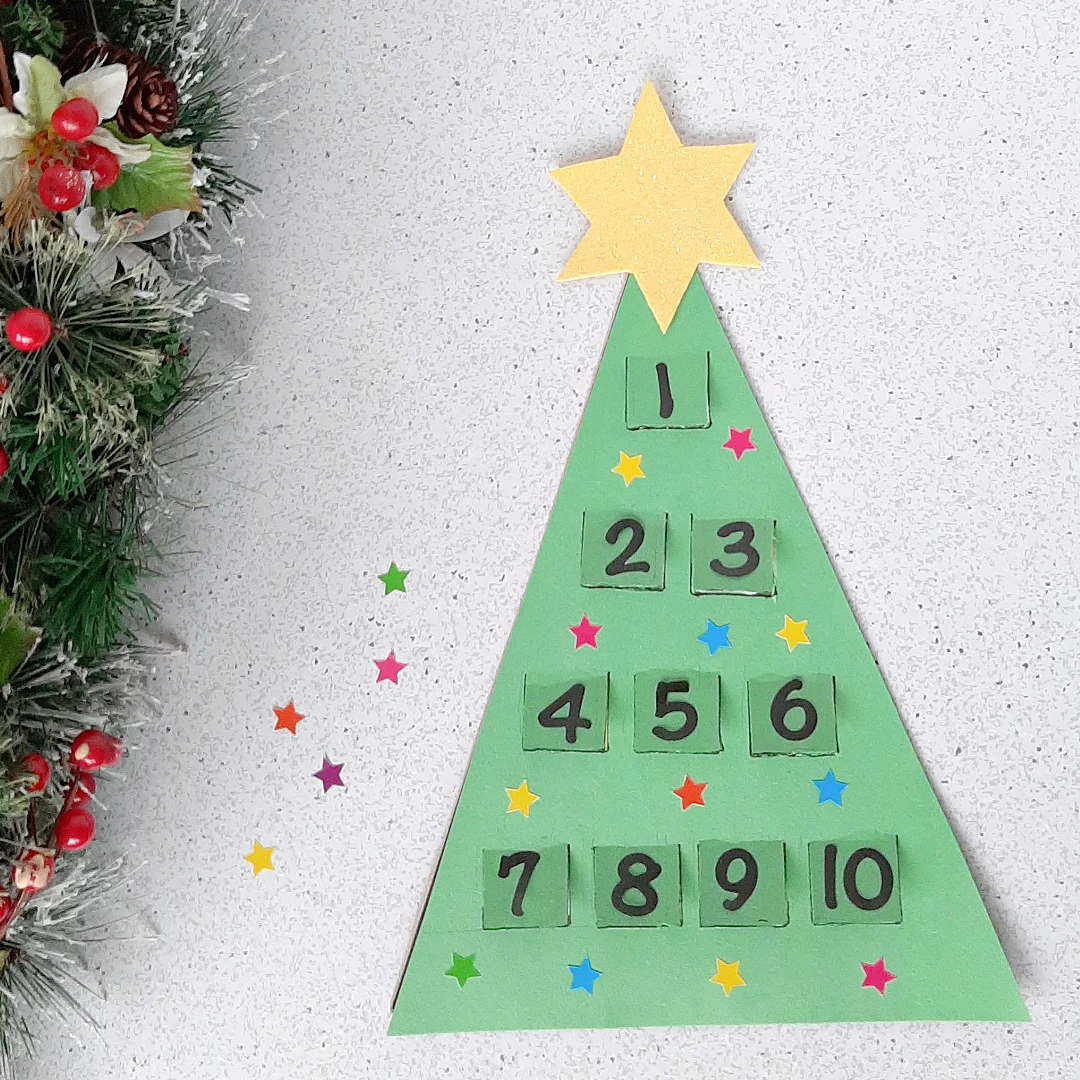 SOME MORE FUN TODDLER ACTIVITY IDEAS YOU MIGHT ENJOY ARE: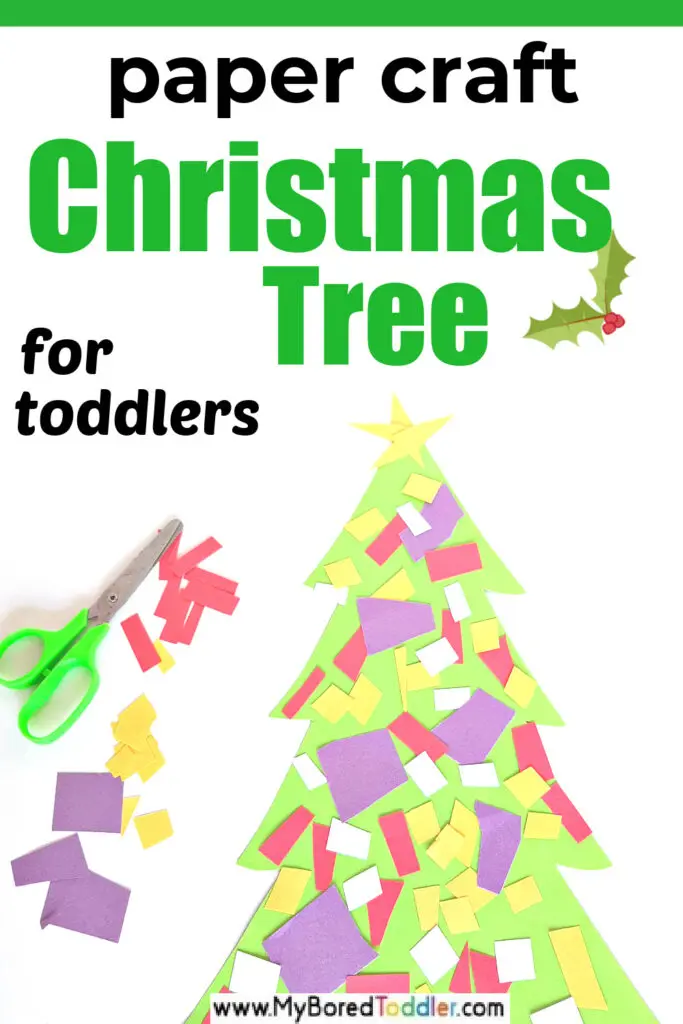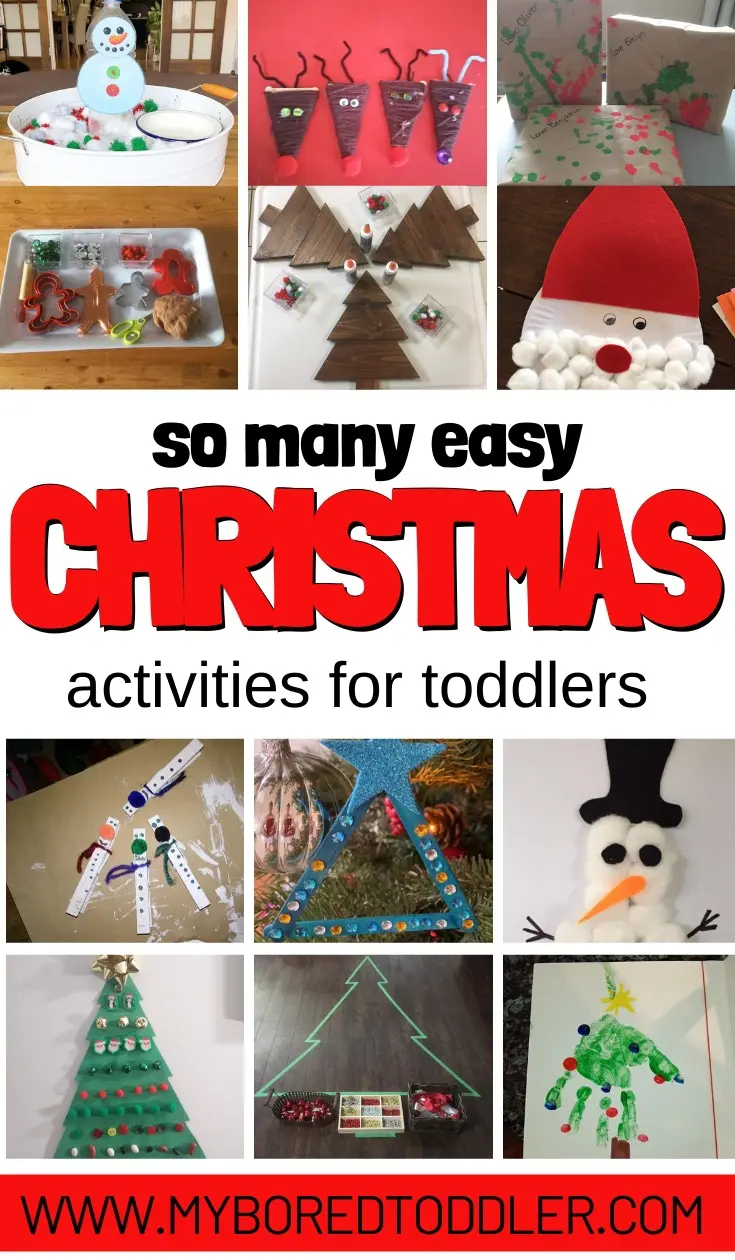 About the Author
Heather is a former preschool teacher and founder of preschooltoolkit.com, a website providing early learning resources for teachers and parents. She focuses on creating fun crafts and activities that engage developmental skills while promoting hands-on learning through play. Follow her on Facebook, Pinterest, Twitter, Instagram