Engage your toddler in meaningful fine motor play with a Cheerio threading snack-tivity! This seemingly simple threading activity is truly loaded with learning through play opportunities.
While busy fingers thread the tasty cereal snacks onto their pipe cleaners, small muscle groups are getting a workout, hand-eye coordination is being practiced, and both sides of the body are working together to get the job done.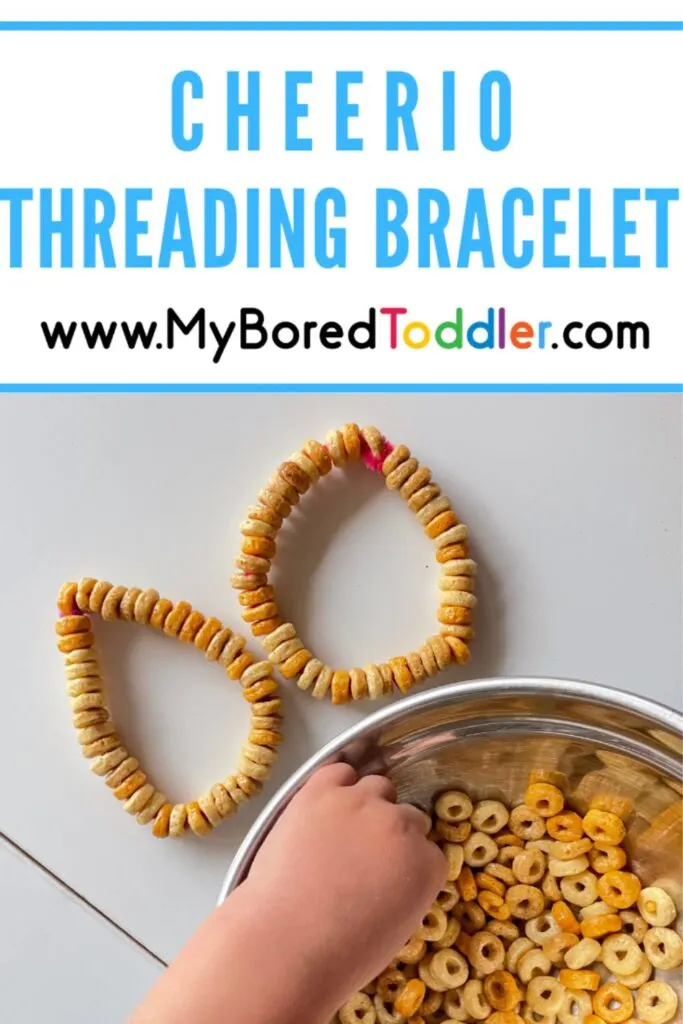 Cheerio Threaded Bracelets
Cheerios have been welcomed into our home as cereal, a way to add some crunch to lunchboxes instead of crisps, and as a taste-safe loose part in our play.
Whether your child will happily munch as they are threading or you are using the activity to gently expose your child to new foods, simply threading the pieces onto the pipe cleaners presents loads of incidental learning opportunities.
Hand-eye Coordination
Bilateral Coordination
Crossing the Midline
Sequencing Events
Problem-solving
Creative Thinking
Not bad for such a simple activity, is it?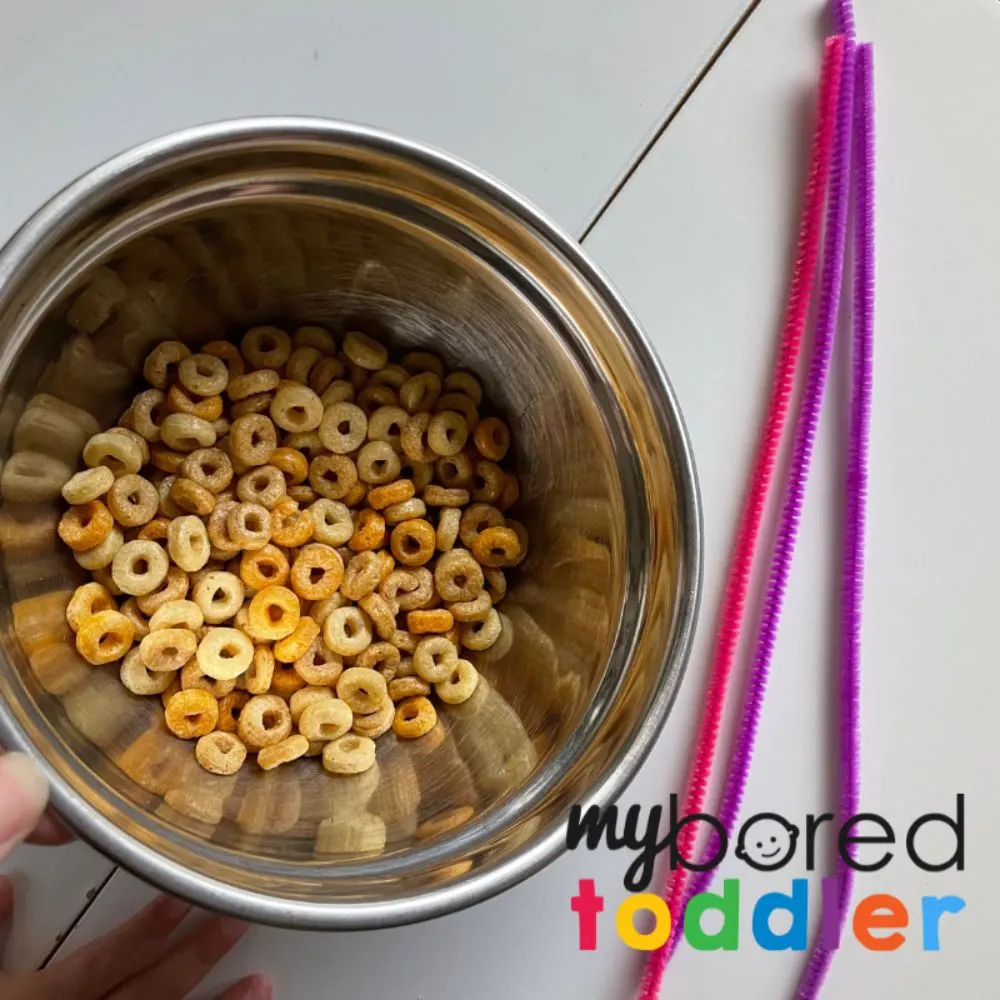 What You Need To Make Cheerios Breaded Bracelets:
We used pipe cleaners due to their rigid form.
This makes them much easier than string for toddlers with developing fine motor skills. They also add an added tactile contrast to the hard, slightly sticky Cheerios!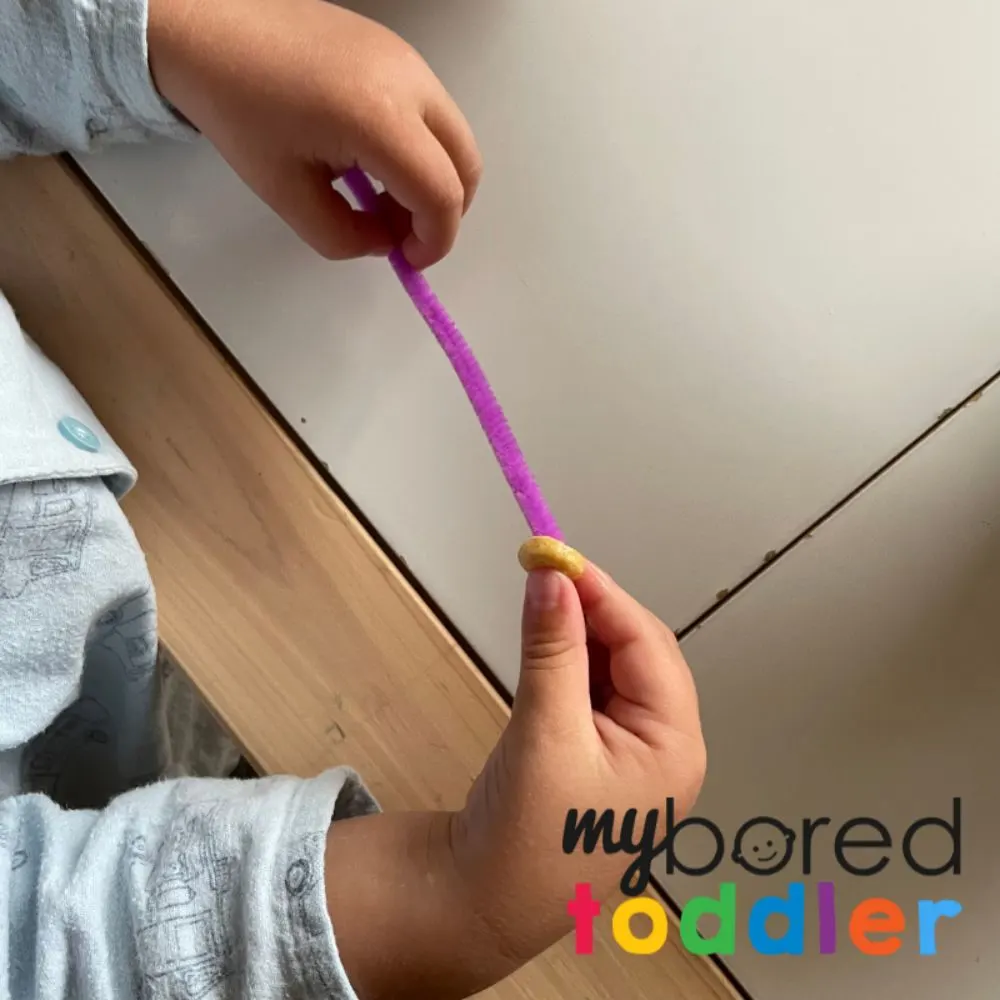 How To Make Cheerios Threaded Bracelets:
The basic concept here is to thread the Cheerios onto the pipe cleaners and then fasten the end to make it into a bracelet.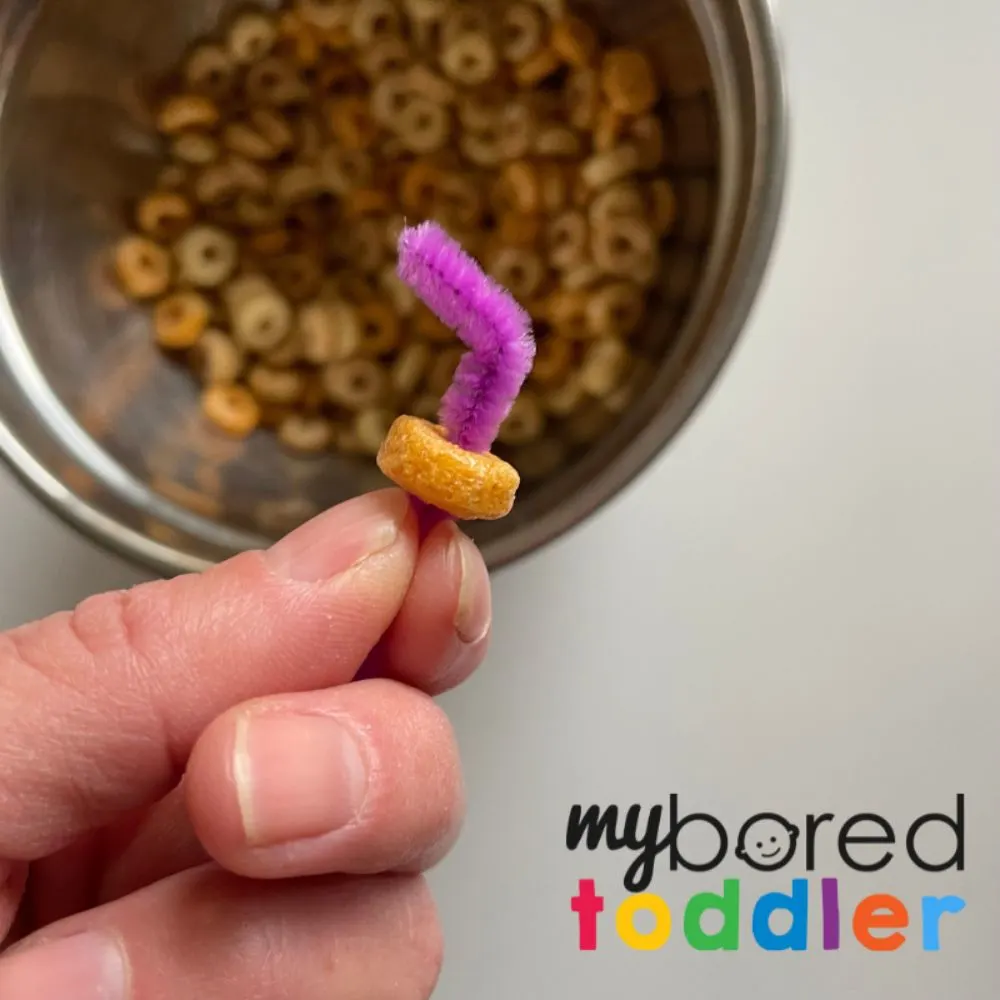 Depending on your child's abilities, this can be done in a few ways. Younger children may need more scaffolding.
Older children could be passed the resources and left to their own creativity and problem-solving skills to work out how to get everything together.
For younger children, create a stopper at the end of the pipe cleaner so the threaded Cheerios don't slip straight off the pipe cleaner.
This can be done with a little twist at the pipe cleaner's end or coil the pipe cleaner's end through a cheerio to make a stopper.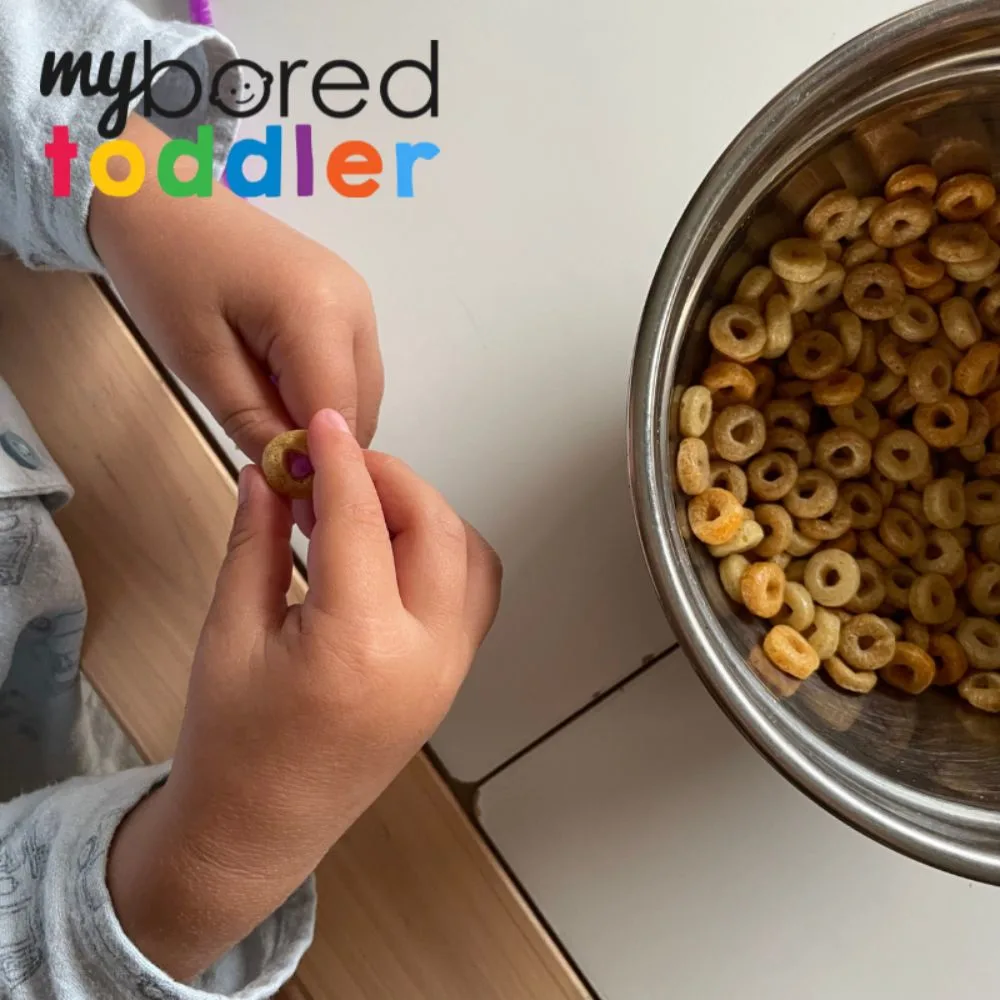 While your toddler is gaining confidence in threading the Cheerios, hold the pipe cleaner for them.
After they have mastered the threading, ask them if they would like to hold the pipe cleaner, too.
For older children, swap out the pipe cleaner for some string or wool for the extra challenge of navigating a looser thread.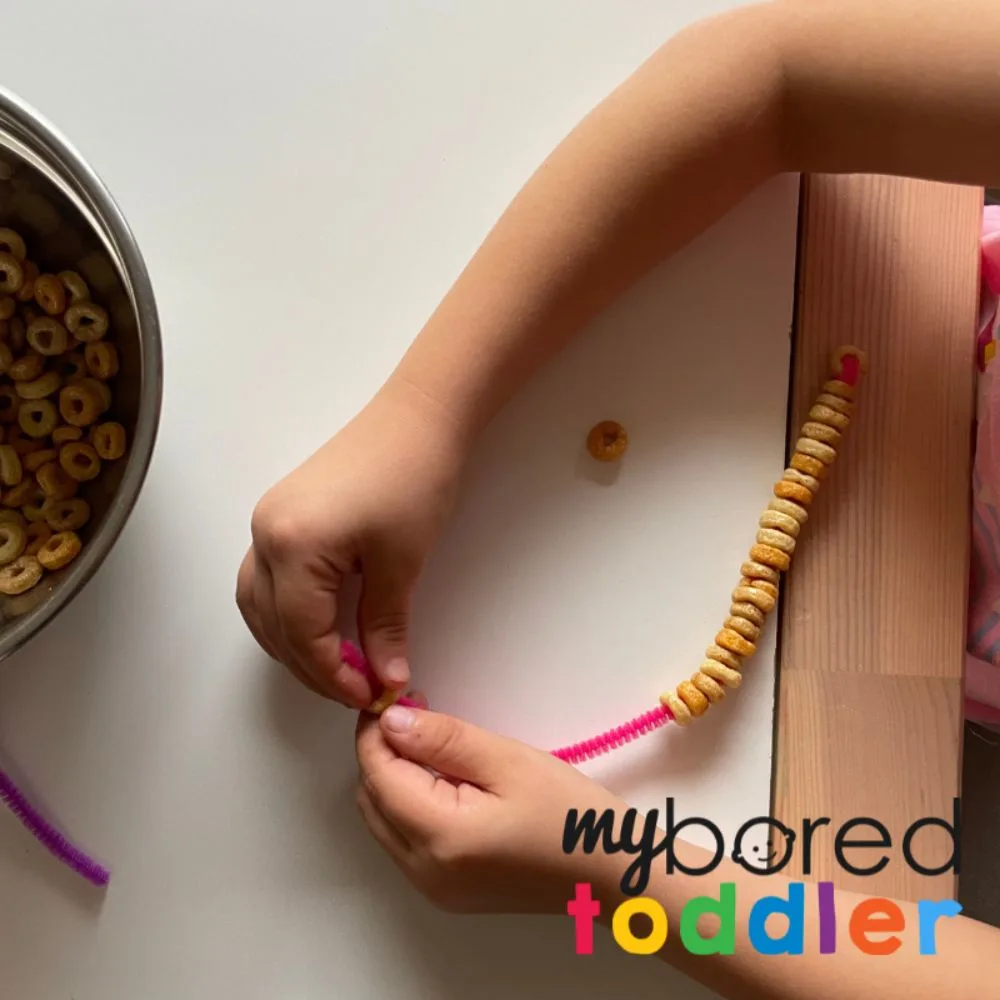 Once your little one has filled their bracelet, twist the pipe cleaner ends together to create the circle bracelet to slip over their wrist.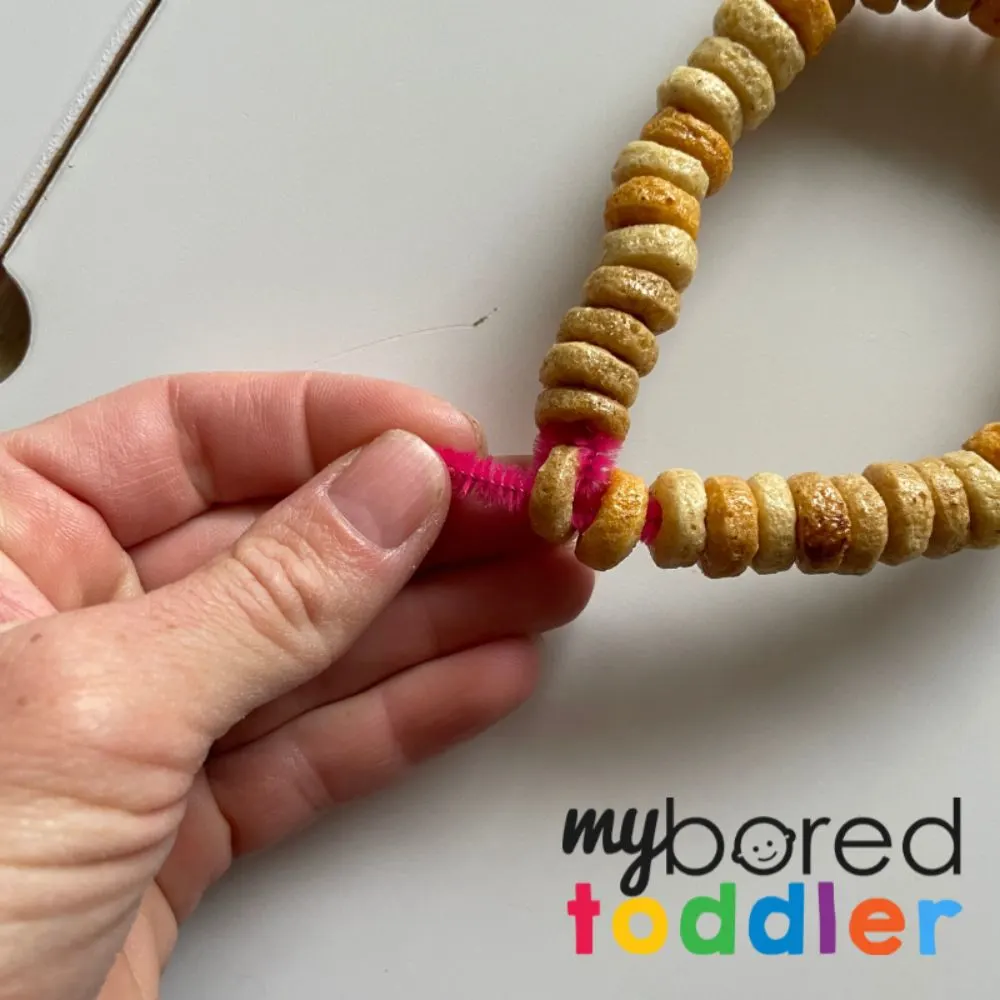 This Cheerio threading activity is really versatile and great for families with children of differing ages and abilities.
It can be ready to play on the go with materials in a zip lock bag for plane flights or waiting rooms before appointments.
So, how long do you think your little one will take before having a taste?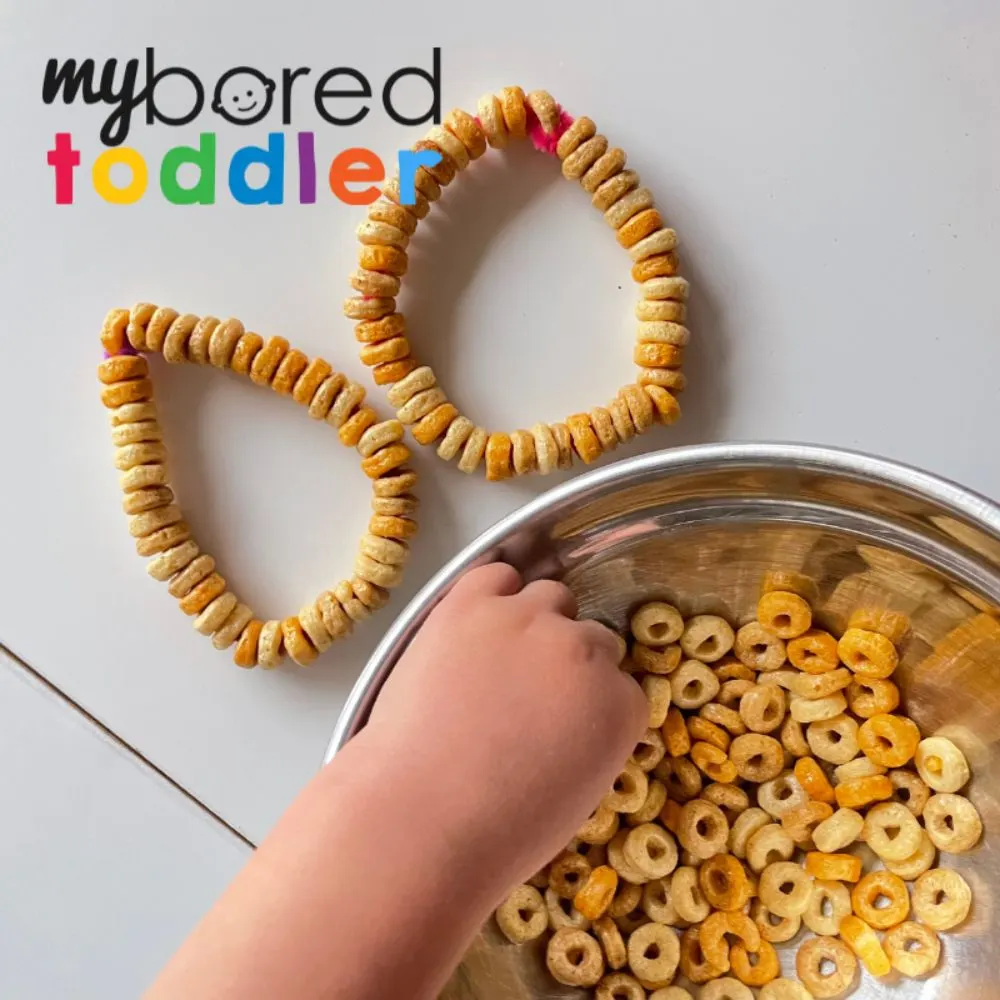 For more fun toddler activity ideas, why not join our Facebook Group or follow us on Instagram – follow @myboredtoddler and use #myboredtoddler.
Follow us for more toddler activity ideas
SOME MORE FUN TODDLER ACTIVITY IDEAS YOU MIGHT ENJOY ARE: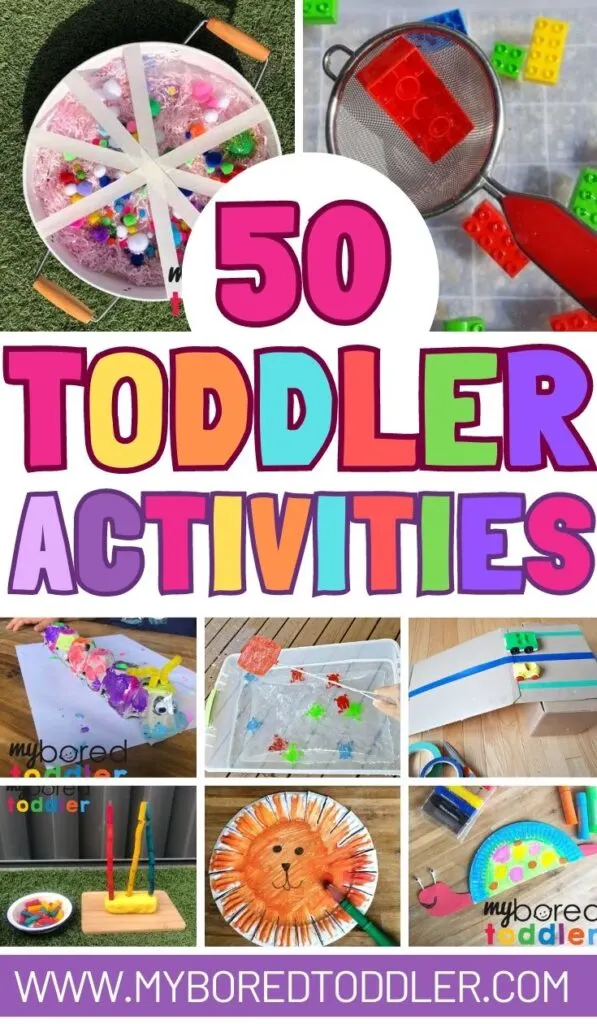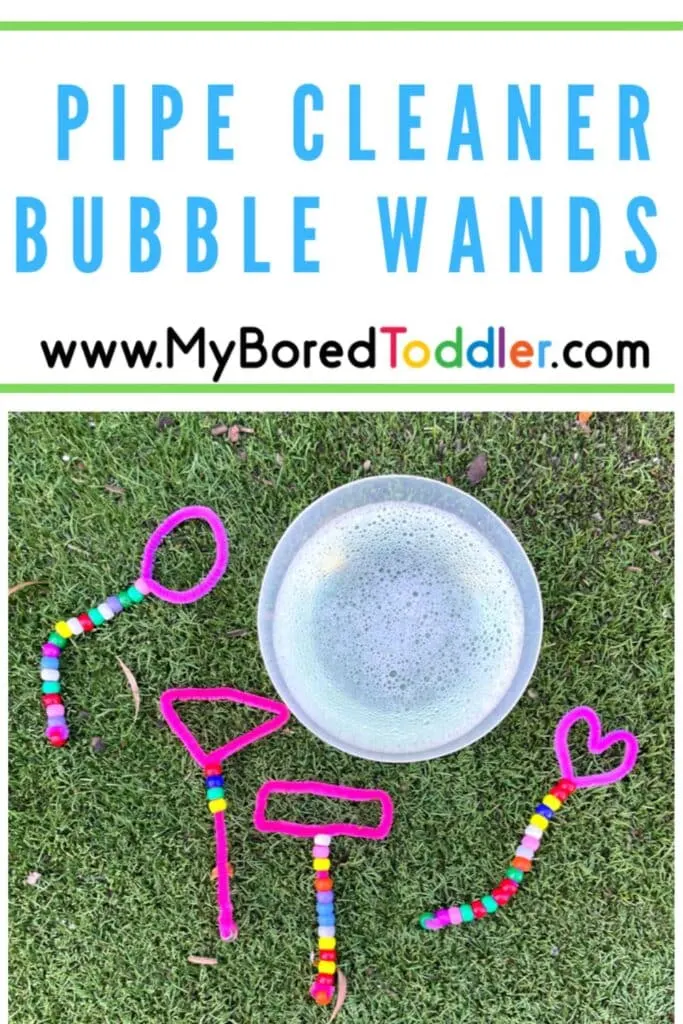 About the Author
Dani is a busy stay-at-home Mum of 3 and an early childhood teacher in training who is passionate about play-based learning throughout early childhood. For educational play ideas that you can do at home and parenting tips visit Play Inspired Mum Check her out on Instagram andFacebook