This alphabet sensory bin for toddlers is a great way to introduce your toddlers to the letters of the alphabet in a play based way. We all know how much toddlers and preschoolers love sensory bins, and this one is an easy activity to set up.
Letters of the alphabet can be added to the sandbox for some early literacy learning along with sensory play.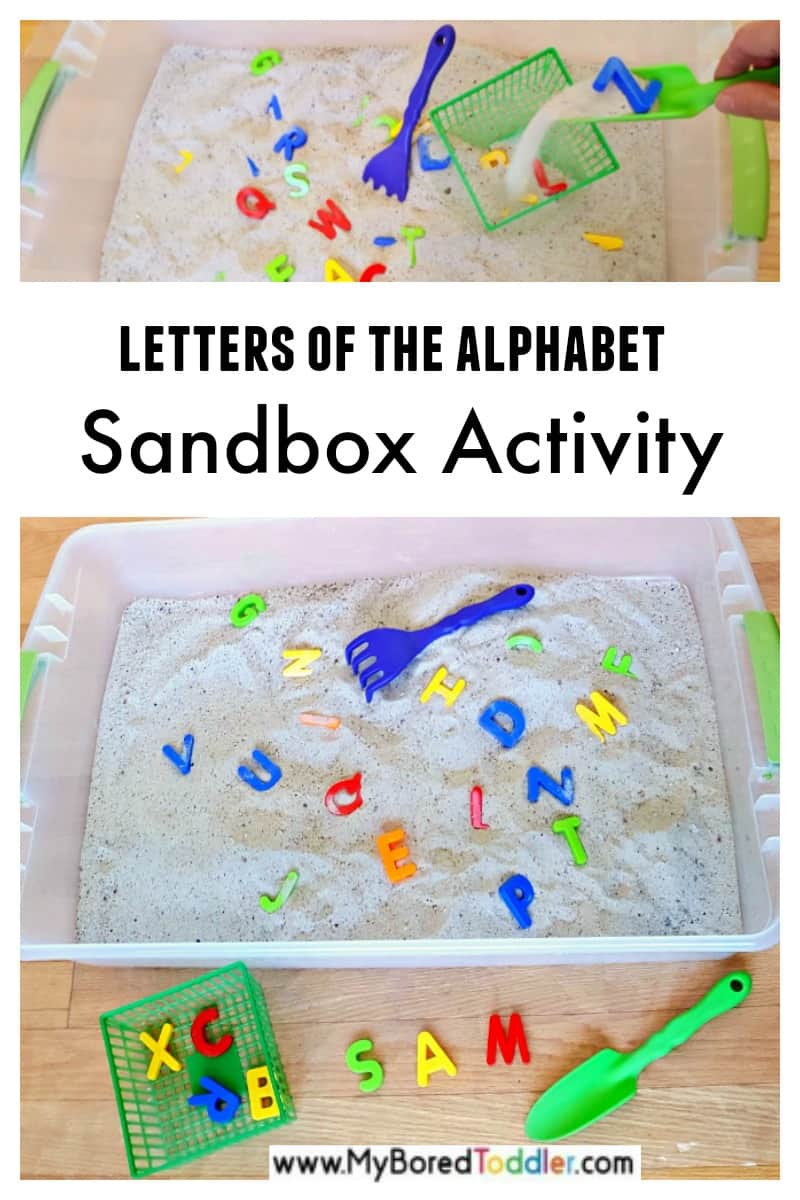 Easy Alphabet Sensory Bin for Toddlers
We usually associate the sandbox with outdoor play, but the fun and learning can easily be brought inside, especially when weather prohibits outdoor activities! Indoor sand activities with toddlers take a little more preparation, and supervision, to avoid gritty sand underfoot, but the rewards are well worth the effort. I like to add a dropcloth like this one which makes clean up much easier!
If you want to add some more literacy to the activity, start by reading a book about letters like this one from Eric Carle.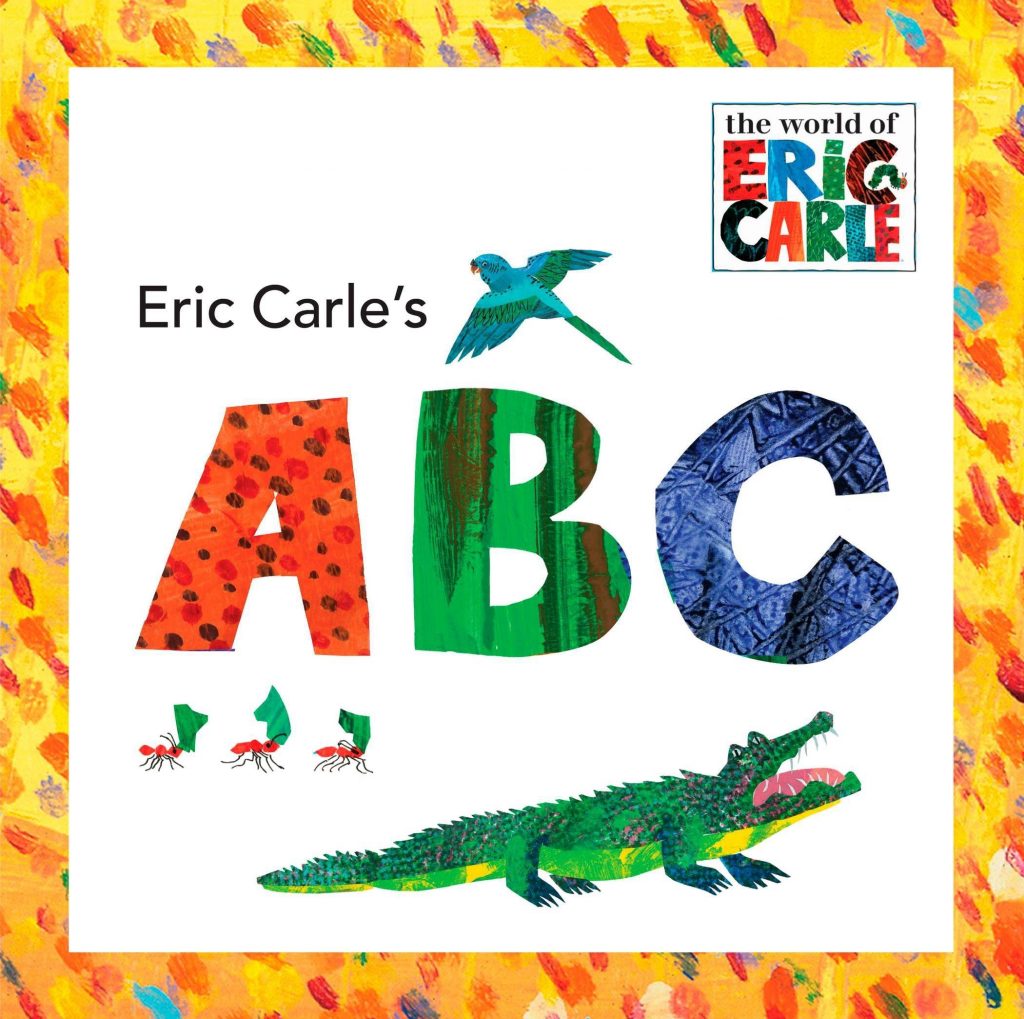 What you need for your alphabet sensory bin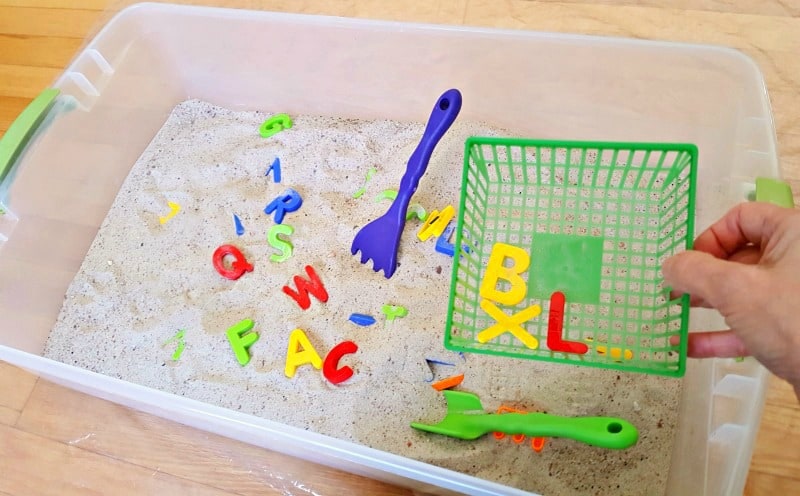 How to set you your easy alphabet sensory bin
Spread a large drop cloth on the floor, then place the plastic bin on top. Pour play sand into the sensory bin.
Add alphabet letters to the bin. The letters can be plastic, foam, or wood – whatever you have on hand.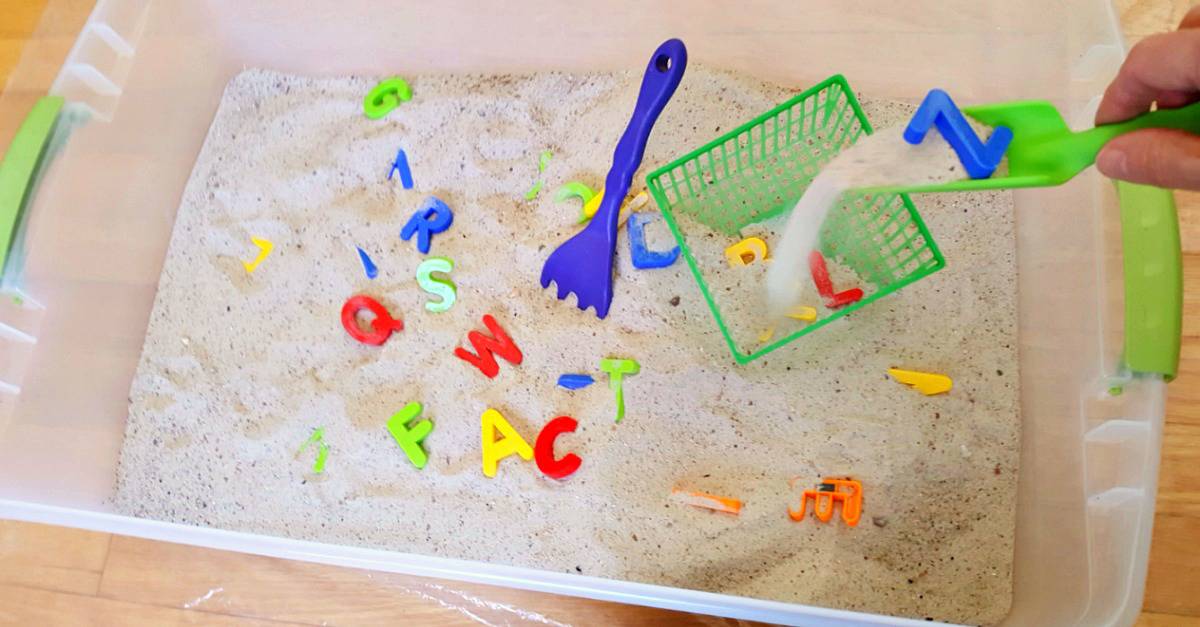 Stir the letters around; scoop them up with a shovel or with your hands; pour them back into the bin.
Pour shovelfuls of sand and letters into a strainer or a small basket with holes. Lift the strainer to remove the sand and see all the letters left behind.
Make alphabet soup in the sandbox.
Stir the letters around in the sand.
Scoop up some letters and pour them into a bucket or cup to make soup.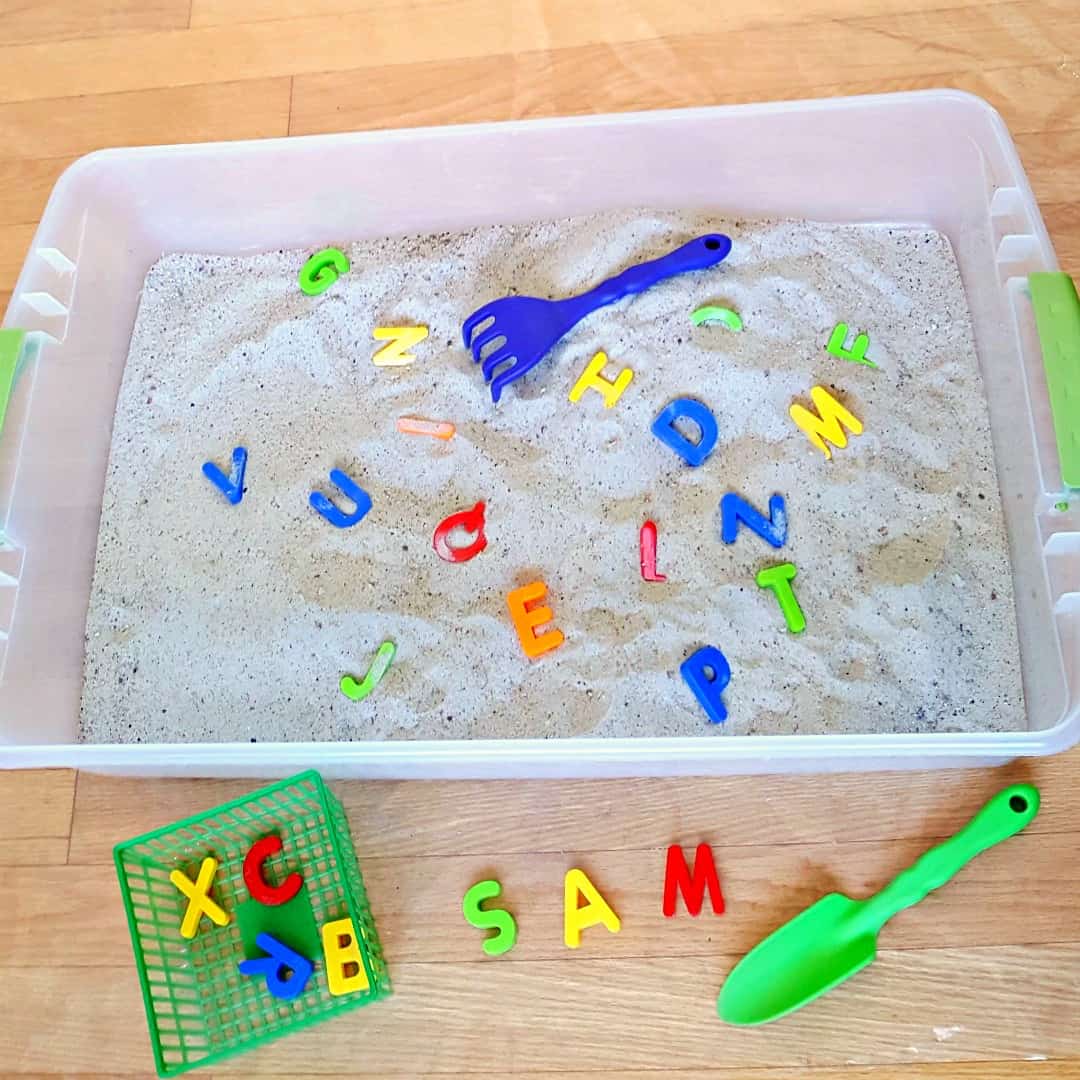 Encourage your toddler to recognize and identify letters they are familiar with, such as the letters in their name.
Place a card with the letters of your child's name near the sandbox. When you dig up a letter in the name, say the letter and match it up with the same letter on the card.
Activities like these will focus on language skills, and help your child to practice letter recognition.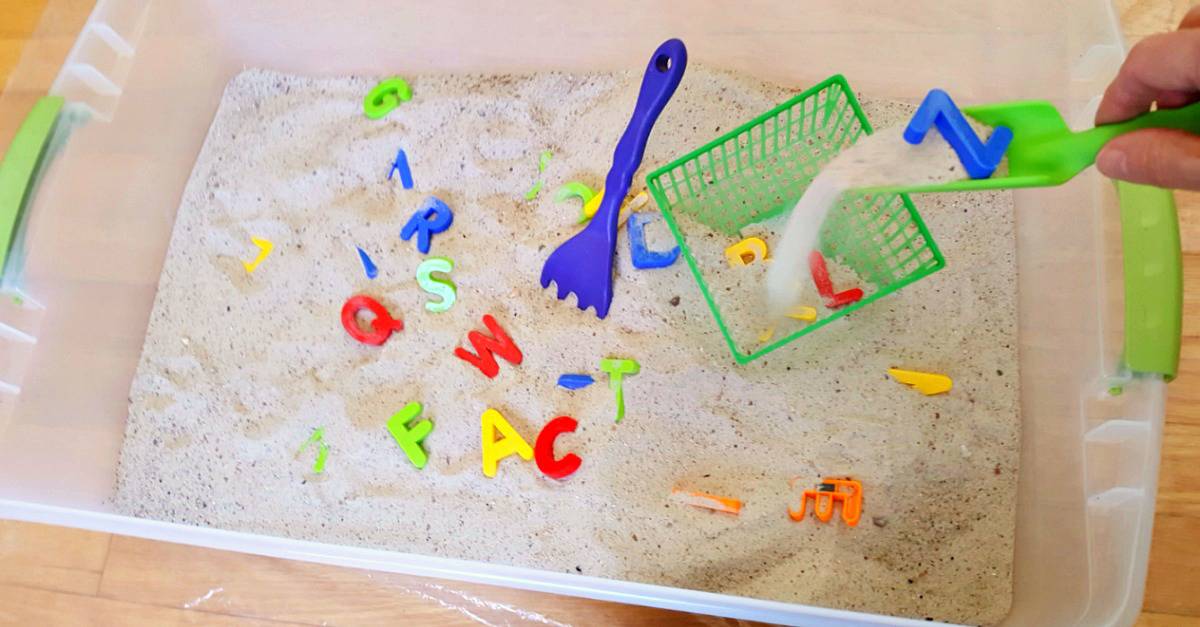 The sandbox is a place where toddlers can play and learn with minimal direction. Adding letters of the alphabet to the sandbox provides fun sensory play while engaging fine motor skills as kids dig and pour and sort with sand tools.
I'd love to see some photos of your toddler playing with their easy alphabet sensory bin! Share some photos in our Facebook Group or on Instagram - follow @myboredtoddler and use #myboredtoddler so we can all see. I'll repost some of my favorites.
Some more toddler activities you might like are: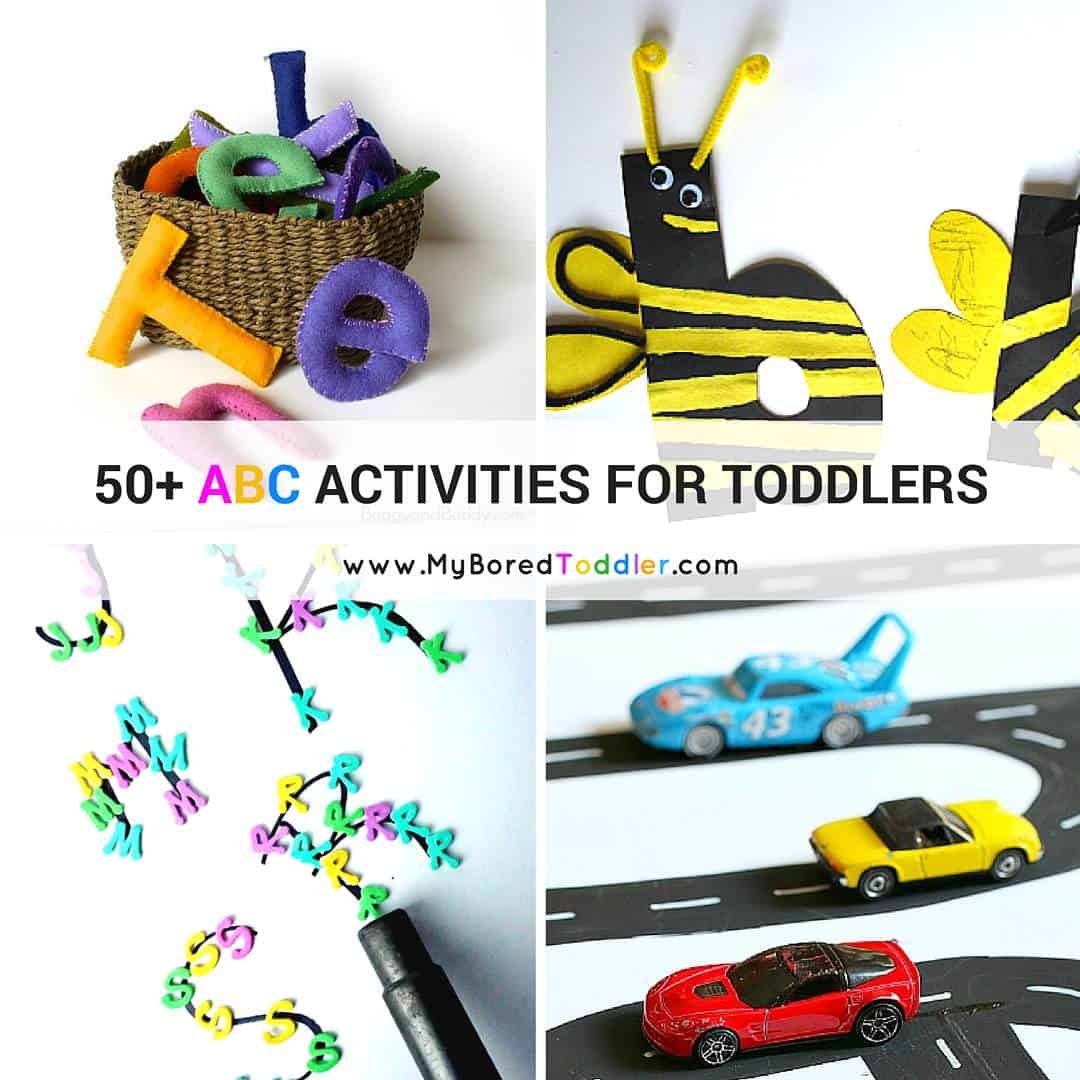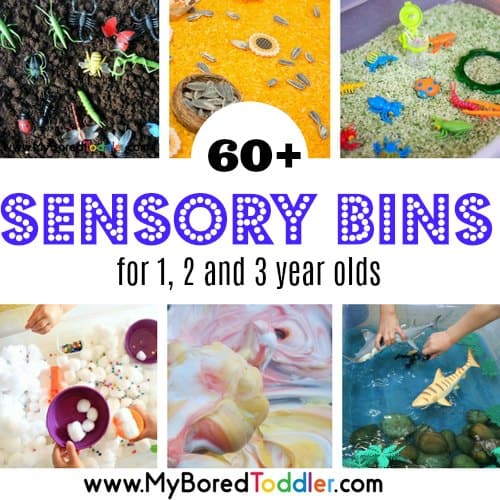 Water Play for Babies and Toddlers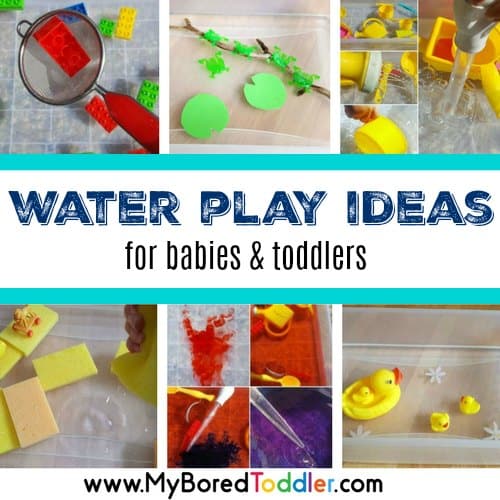 About the Author
Heather is a former preschool teacher and founder of preschooltoolkit.com, a website providing early learning resources for teachers and parents. She focuses on creating fun crafts and activities that engage developmental skills while promoting hands-on learning through play. Follow her on Facebook, Pinterest, Twitter, Instagram and Google+
If you like this activity why not PIN it! You can also find more toddler activities on our Pinterest boards.