We has so much fun making and playing with this transport sensory tub today! I'm yet to meet a toddler or preschooler who doesn't love trains, cars and trucks and if you put them all together then you'll definitely have a fun sensory play activity!
Transport Sensory Tub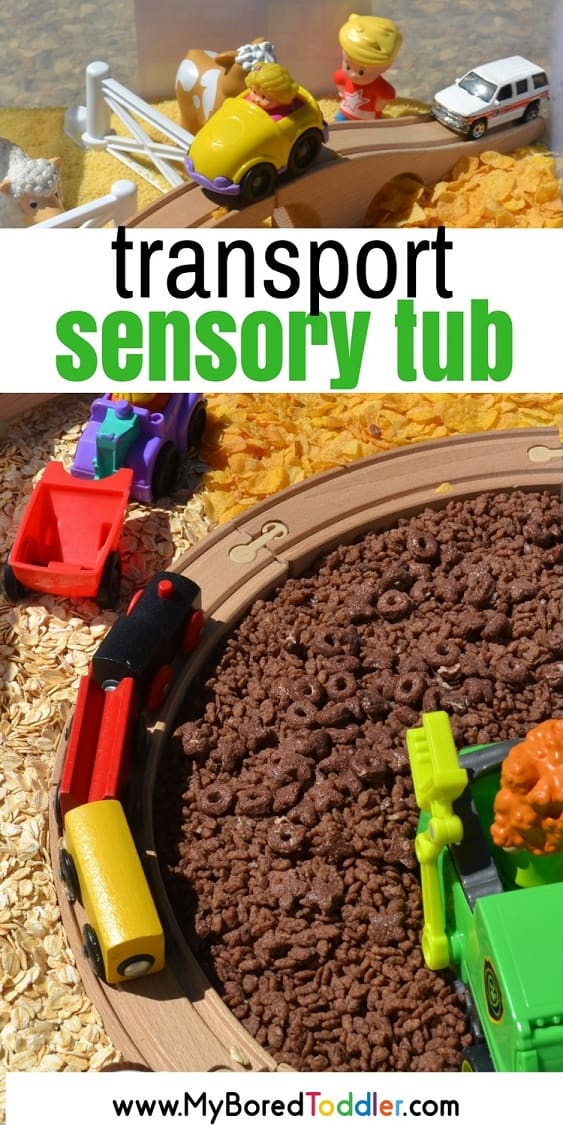 To make this transport sensory tub I used items I already had at home. There's no need to go out and buy new toys and items each time. As we talked about in our 10 day sensory bin challenge you want to keep things as simple as possible for yourself. The simplest ideas are often the best.
We made this to go with this week's book Freight Train by Donald Crews.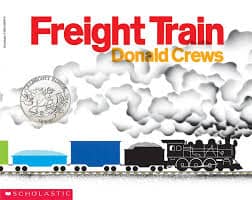 If you don't have the book already you can grab a copy of the board book version from Amazon HERE or you can watch the video below.
What you need to make a transport sensory tub
As I mentioned above, try to be flexible and use what you have. You don't need to use the exact same items that I used, but this is what I used to create my transport sensory tub (many of these were part of sets we already owned and I'm sure you have similar ones).
Other items that would work great would be diggers, cranes and trucks.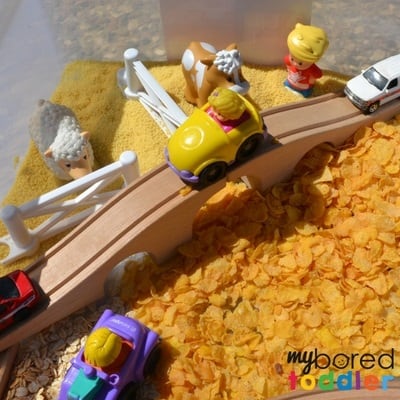 How to make a transport sensory tub
This is where you get to be creative! Use what you have and the space that you have available in your plastic tub. I really liked the addition of the train tracks as this allowed us to have different sections. We used the coco pops for a dirt field and put the tractor in there. We used the cous cous for the sand and made that a farm with a tractor and some farm animals. There's no right or wrong way to make it, and let's be honest - they'll change it around when they play anyway!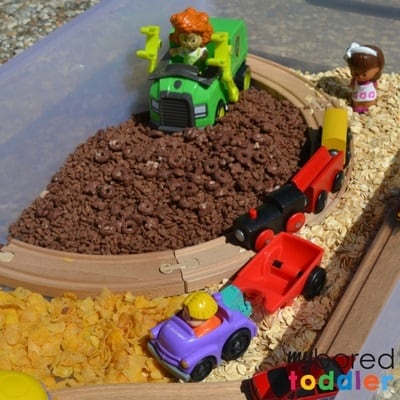 The kids loved the crunching sounds from the cornflakes and the little people farm people and trucks worked well here too.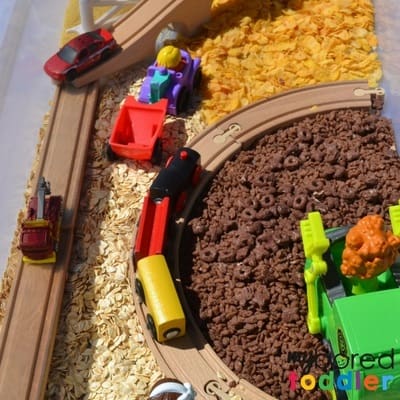 There was lots of pretend play and chatter between the people on the train and the people in the fields. It's great to listen to the ideas that the kids have when they play!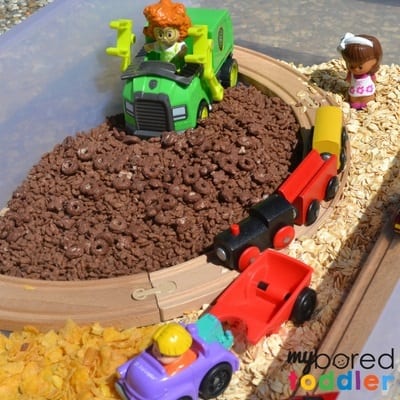 If you want to keep your toddler busy makes sure you subscribe to our weekly newsletter and follow us on Facebook, Twitter, Instagram and Pinterest.
Don't forget that you can sign up to our FREE 10 Day Simple Sensory Bin Challenge too! Join HERE.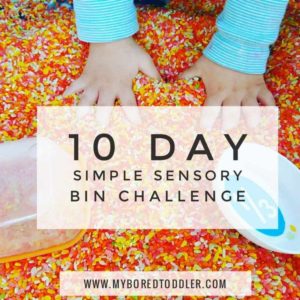 Some posts you may enjoy are our
Sensory Bottles for Babies and Toddlers