If you're looking for toddler painting resources, we've put together the perfect list for you. Painting supplies make a great toddler birthday or Christmas present and are always a well-received gift.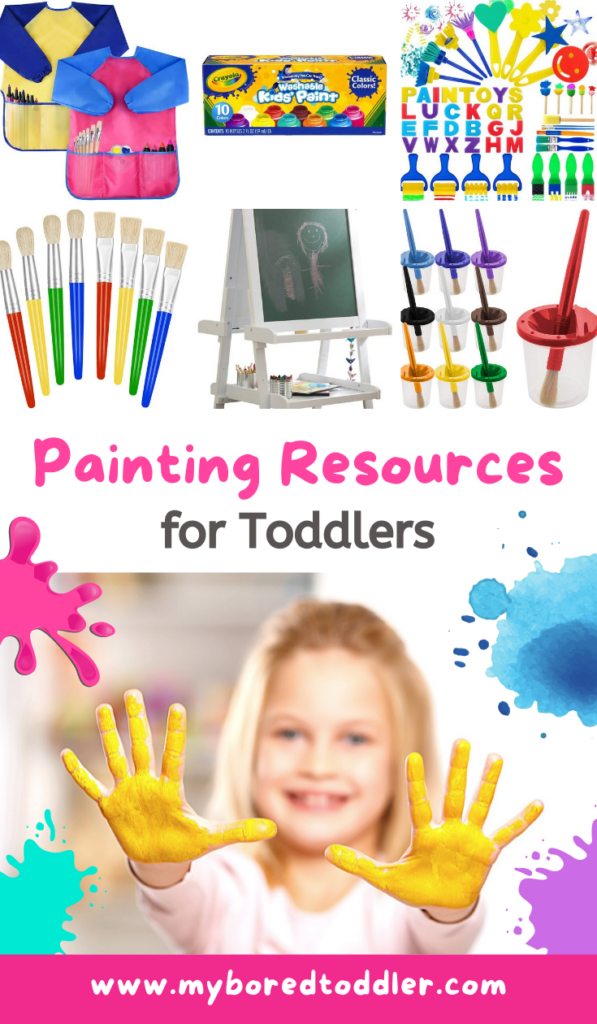 If you are an Amazon shopper you can shop direct from Amazon with my Toddler Painting Resources HERE
Toddler Painting Resources
KidKraft Deluxe Wooden Easel with Chalkboard and Dry Erase Surfaces
An easel makes it so much easier for toddlers to paint and they are easy enough to move inside or outside depending on where you want to do the painting. I do recommend an easel with a paper roll as it makes painting a lot easier. Thiseasel also has a dry-erase board on the other side which is great too.
Melissa & Doug Art Essentials Artist Smock
An old t-shirt works just as well, but I do find it very helpful to have an art smock that we keep near our painting supplies. It's habit to put this on before we get started. While I would still recommend old clothes, just in case, the art smock is a great idea if you plan on doing lots of painting with your toddler.
Melissa & Doug Double-Sided Magnetic Tabletop Art Easel
If you don't have a lot of room for a large easel, this Melissa & Doug tabletop version is a great alternative. Once again, I love that you can use it for painting, drawing and as a magnetic board too.
Melissa & Doug Jumbo Brush Set
These are my FAVORITE toddler paint brushes - they tick all the boxes. Easy for toddler hands to hold, easy to clean, and great quality too. We've had ours for years and they're still going strong!
Melissa & Doug Wooden Tabletop Paper Roll Dispenser With White Bond Paper
This is a great idea if you don't want to get an easel - they sit on top of your table and make it really easy to access paper. I always prefer the rolls as it allows you to make longer paintings.
Melissa & Doug Deluxe Watercolor Paint Set
If you're hesitant about painting with a toddler, watercolors are one of the least messy ways to start. Just dip your brush in some water, dip it in the paint and off you go. Packs like these are great to take away on holiday too as they're quite small.
I highly recommend some form of drop cloth for painting - toddlers are MESSY when they paint. Any kind of sheet or tablecloth will work, but these plastic Melissa & Doug drop cloths are inexpensive and easy to wipe down too.
Melissa & Doug Washable Poster Paint Set
Top Tip - Always pay a little bit extra to get the washable paints - you will thank me later! This is one of the brands I always recommend, along with the Crayola brand I mention further down.
Paxcoo Kids Paint Brushes with Paint Cups Paint Tray
If you're just starting out with your painting resources, this pack is a great deal - it gives you all the brushes and pots, along with a painting tray oo.
Crayola is the other toddler painting brand I highly recommend - always inexpensive and often on sale.
Kids Art & Craft Sponge Painting Brushes
A sponge pack like this is lots of fun, and while it's not a must have it's definitely a nice to have! These packs are great for adding some fine motor skills to your toddler's painting.
Cotton bud painting is great fun and a very easy activity to set up.
12 Pack Washable Painting Brushes
This is another great sponge painting pack (there are lots of great options out there, depending on how many you are after).
It's always handy to have a painting pad around - I like to take these with us if we go travelling as you can use them for drawing too.
Melissa & Doug Deluxe Easel Paper Roll Replacement
Don't forget your replacement easel rolls!
Amazon Basics Multipurpose Copy Printer Paper
Basic white copy paper always comes in useful for toddler painting and toddler crafts.
Melissa and Doug Drop Cloth and Artist Smock Bundle
There are lots of great toddler painting bundles around. This a great drop cloth and smock combo from Melissa and Doug.
Now that you've got all of your toddler painting resources why not try some fun toddler painting ideas!