Color recognition and sorting are important skills for children to have. But practicing them doesn't have to be rote, forced learning. Incorporating a fine motor aspect into activities can spice them up and make them more interesting to young learners. Not only are they working on skills, but they can have a bit of fun, too! That's what makes this summer flower color match activity so appealing. And you don't need many more supplies than you have already in your kitchen and craft cabinet.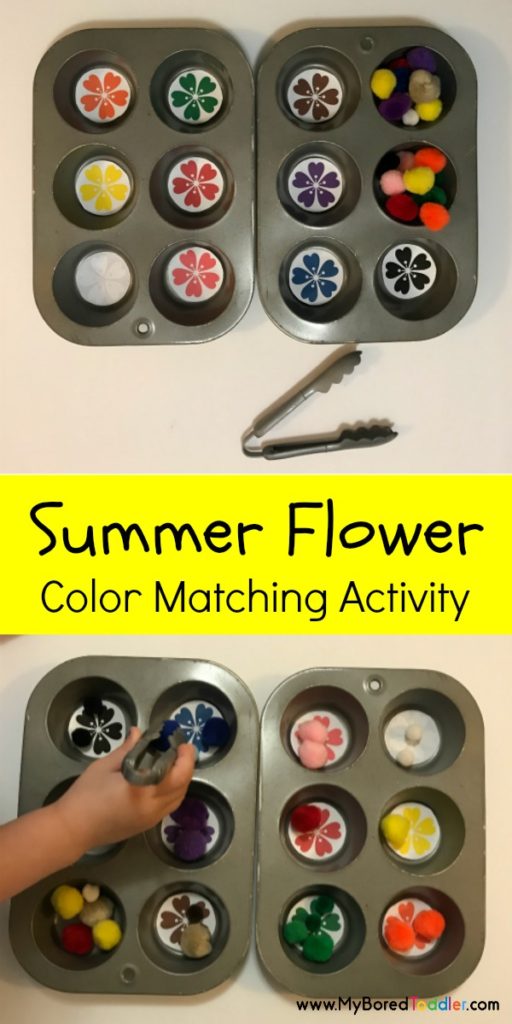 Summer Flower Color Matching
We are loving taking part in lots of toddler Summer activities at the moment. The sunshine and warm temperatures have arrived, bringing with them beautiful flowers of all colors. Take the time to literally stop and smell the flowers. Encourage children to explore the way they smell, feel, and look. You can ask these questions during exploration:
What color of flowers can be seen on a walk around the neighborhood?
Do flowers that are the same color smell the same?
What is your favorite color of flower?
Afterwards, prepare this learning activity to help children work on color recognition, sorting, and fine motor skills.
Items needed for the Flower Color Matching
Flower Match Printable - Download HERE
Tongs - if you don't already have any then THIS SET is perfect for this age group and can be used for so many activities.
Laminator (optional, but a good investment if you want to make resources that you can use over and over again. You can pick up ones like this for around $20)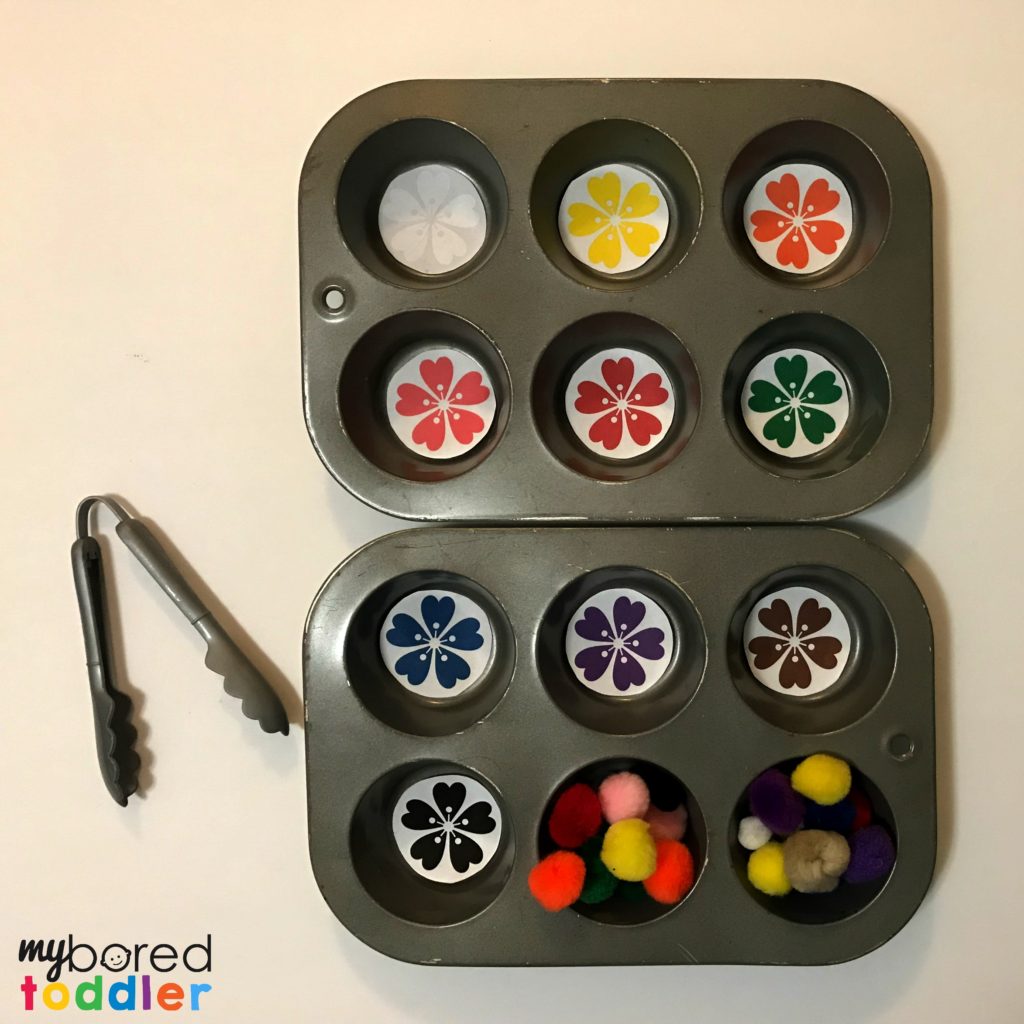 Preparation:
Ahead of time, print out the Summer Flower Match Printable (It is suggested to print in High quality so that colors are clear and vibrant.)
Trim the colored flowers into circles and place in muffin cups.
Set out into a learning center with muffin cups, colored craft pom poms, and tongs.
Create an invitation to learn by placing the muffin tins, craft pom poms, and tongs on a table. You can make the activity look even more inviting by standing up a few books on flowers and accent with some artificial flowers.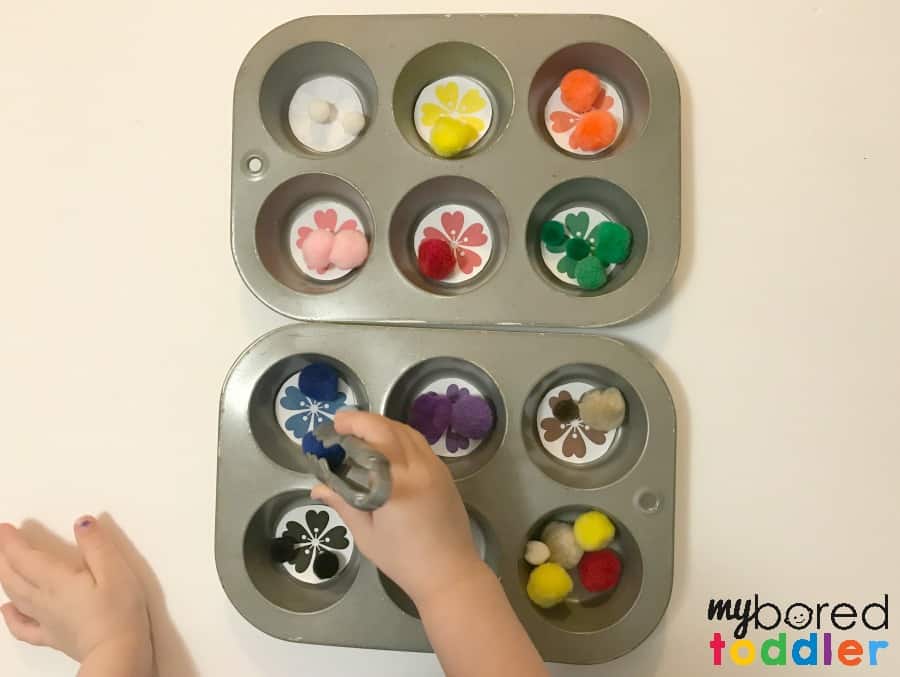 Once the child is interested, encourage them to drop the colored pom poms in the matching flower's space using tongs. (If they don't yet have the dexterity for tongs, an ice cream scoop or spoon can be used instead).
Alternate use:
If desired, you can also print out two copies of the summer flower cards. Laminate and cut into squares to make a flower memory matching game.
Don't want to end the flower fun with this activity? Add on more learning and fun with these extension activities:
Dye white carnations with food coloring.
Look at flower petals, stems, and leaves under a magnifying glass.
Make floral scented homemade playdough.
Create art using artificial flowers as paintbrushes.
Read one of these flower books for kids: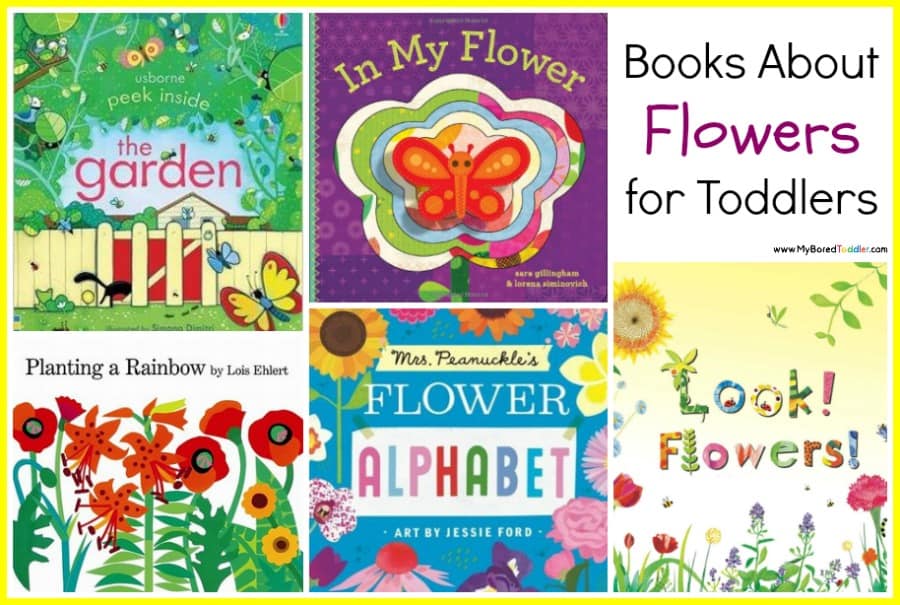 Mrs. Peanuckle's Flower Alphabet
Make sure you share photos of your toddler trying this fun color matching flower activity in our Facebook Group or over on Instagram – Use #MyBoredToddler so we can see! You can also sign up to our weekly newsletter or follow us on Facebook or Pinterest for more great toddler activities and ideas.
Some more posts you may enjoy are:
Summer Sensory Bins for Toddlers