Thanks for signing up to the 5 Day Toddler Baking Challenge! Getting your toddler involved in the kitchen is always fun!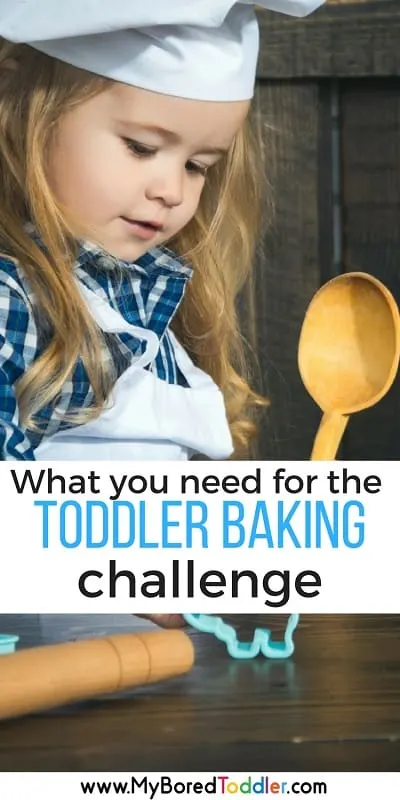 What you need for the 5 Day Toddler Baking Challenge
While I normally love making our toddler activities out of items you already have at home, its a bit trickier for baking. While I've tried to use basic ingredients, and ones that don't cost much, theres a good chance you will need to get a few things to complete the challenge. You can find everything you need in the list below.
If you haven't signed up yet you still can - SIGN UP HERE
I really want to make this as simple as possible (and as inexpensive too) so there are a few things to keep in mind:
You probably have most of the utensils in your kitchen already - I'm not a fancy cook with an amazing kitchen so if I have one there's a good chance you will too! This applies to the ingredients too. There's nothing fancy or expensive in these so check your cupboards and the fridge before heading off to the shops.
You can substitute if you don't have to. If we make mini muffins and you only have regular muffins then make regular muffins instead!
I've included the recipes so that you can choose to opt out of any or choose an alternative version if you need to. These are regular, average recipes where the process rather than the end product is the main part of the challenge. If your child can't eat or doesn't like something feel free to find an alternative recipe and still join in the challenge. If we are making banana bread and you use a different recipe, there's a fair chance that your toddler will still be able to pour and mix exactly the same! If you don't like berry muffins, throw some choc chips in there instead!
Give it a go! Even if you feel a recipe is to tricky for your child give it a go anyway. I've baked with my children many times and sometimes it's a complete disaster and then other times it goes really well. What does happen is that they get used to the process of baking and cooking and get better and better at it as they get older.
What you need to join in the 5 Day Toddler Baking Challenge
Ok, on to what you need. Rather than one big list I'm going to separate this into each day's challenge in case you don't want to go and get everything at once. If you want to buy some baking items specifically for kids, there are plenty to choose from. A few of my favorites are:
Kid's Baking Set - available HERE on Amazon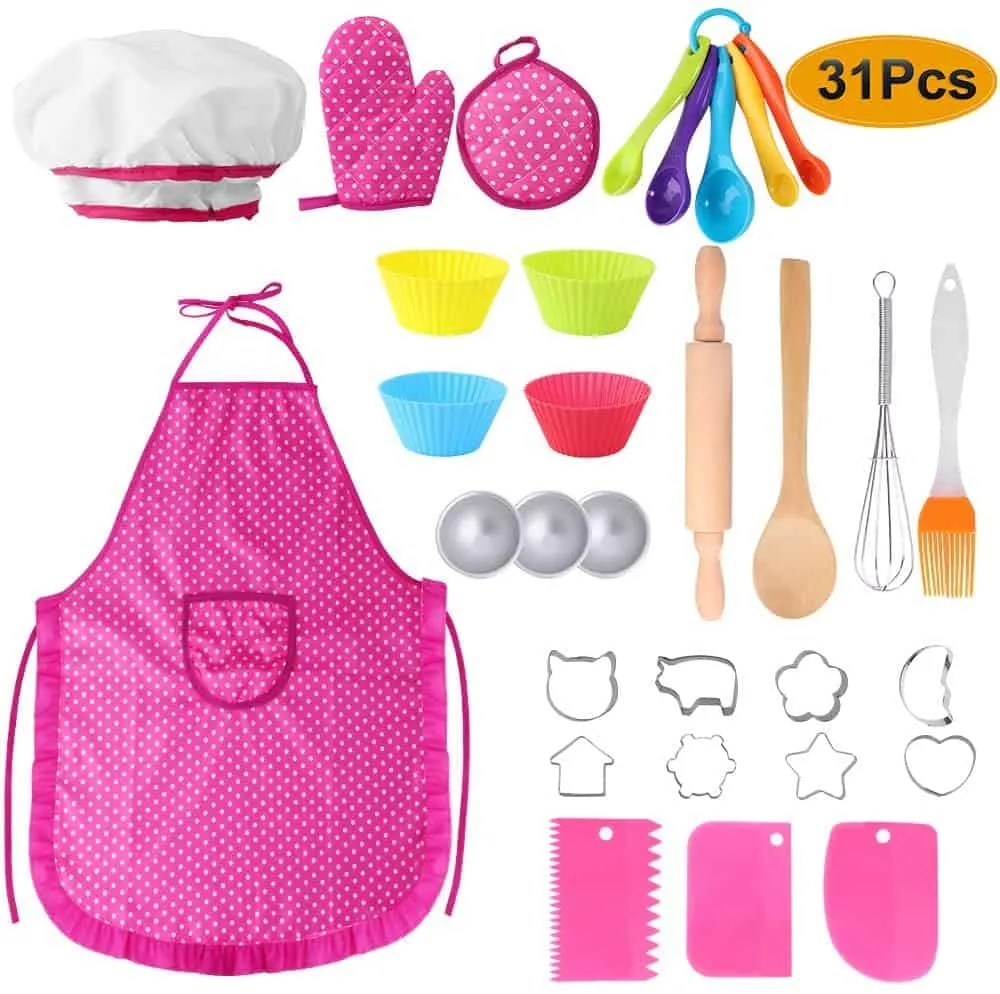 Playful Chef Baking Set available HERE on Amazon
Day 1 - Banana Bread
Ingredients
2 bananas (these can be fresh or frozen - I use bits of half eaten ones that I store in the freezer)
1 ½ cups of self raising flour
a pinch of cinnamon (optional)
½ cup of brown sugar
2 eggs
½ cup milk
50 grams (1.7 ounces) of softened butter
Day 2 - 2 ingredient scrolls
Ingredients:
2 cups of greek yoghurt
2 cups of self raising flour
1 cup of cheese
tomato paste
ham (optional)
14 cup of milk (to glaze - optional)
Day 3 - Easy Berry Mini Muffins
Ingredients
1 ½ cups of self raising flour
90 grams of butter
½ cup of castor sugar (regular sugar is fine too)
1 egg
¾ cup of milk
½ cup of berries of your choice (fresh or frozen)
Day 4 - Mini Pizzas
teaspoon
knife (for the adult to cut up any toppings)
Ingredients
2 pre-made mini pizza bases or English muffins
1 cup of tomato paste
herbs - optional!
2 cups of Cheese
Toppings of your choice.
Day 5 - Icing biscuits / cookies
Utensils
Ingredients
store bought biscuits/cookies
Icing (make your own - icing sugar and butter) or buy pre made. Nutella also works well
Food coloring (optional)
Sprinkles, mini m&m's choc chip - whatever you like!
Hopefully this is everything you need! If you have any questions just ask in our Facebook Group. Make sure you're following on Instagram too - we'll be using #MyBoredToddler and #ToddlerBakingChallenge throughout the challenge so you'll be able to see what everyone is getting up to!