Practice and improve your toddler's motor skills and coordination with a spot of pipe cleaner coordination fishing.
This activity can be ready to play within a few minutes using just a few resources.
That being said, loads of life skills are developed through play, with this is a fun fishing activity.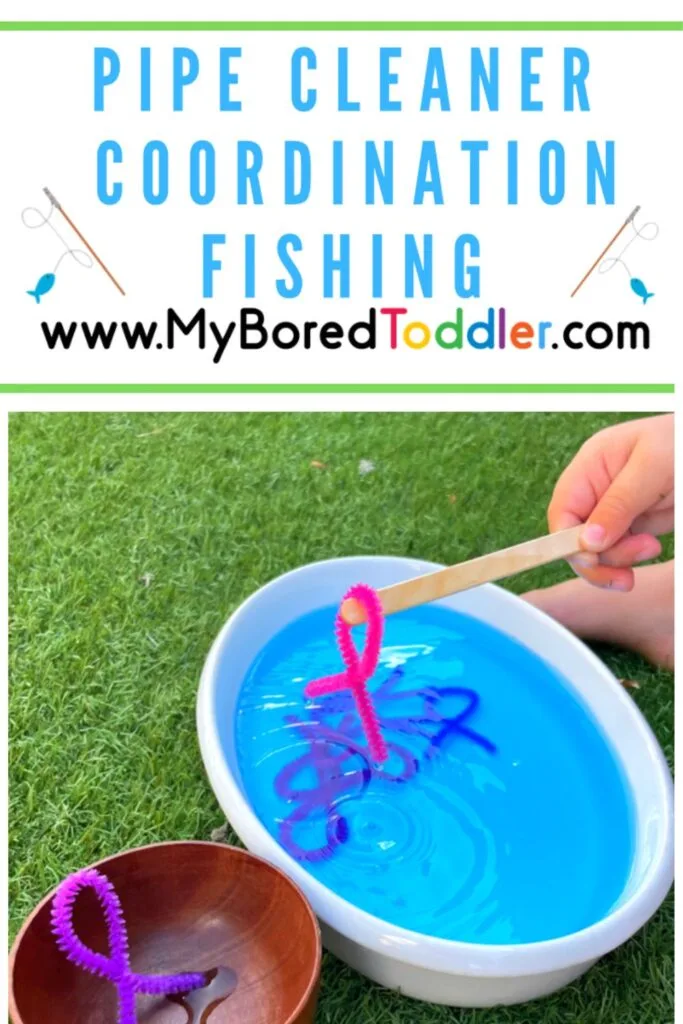 Pipe Cleaner Coordination Fishing
Many children enter school without the motor and coordination skills to perform basic tasks.
These are skills that can easily be developed and refined incidentally through play!
Fine motor skills, hand-eye coordination, bilateral coordination, and crossing the midline can all be practiced through play with this easy DIY fishing game.
These skills can transfer to tasks such as fastening buttons, handwriting, scissors, and tying shoe laces.
Not bad for a couple of pipe cleaners and a pop stick!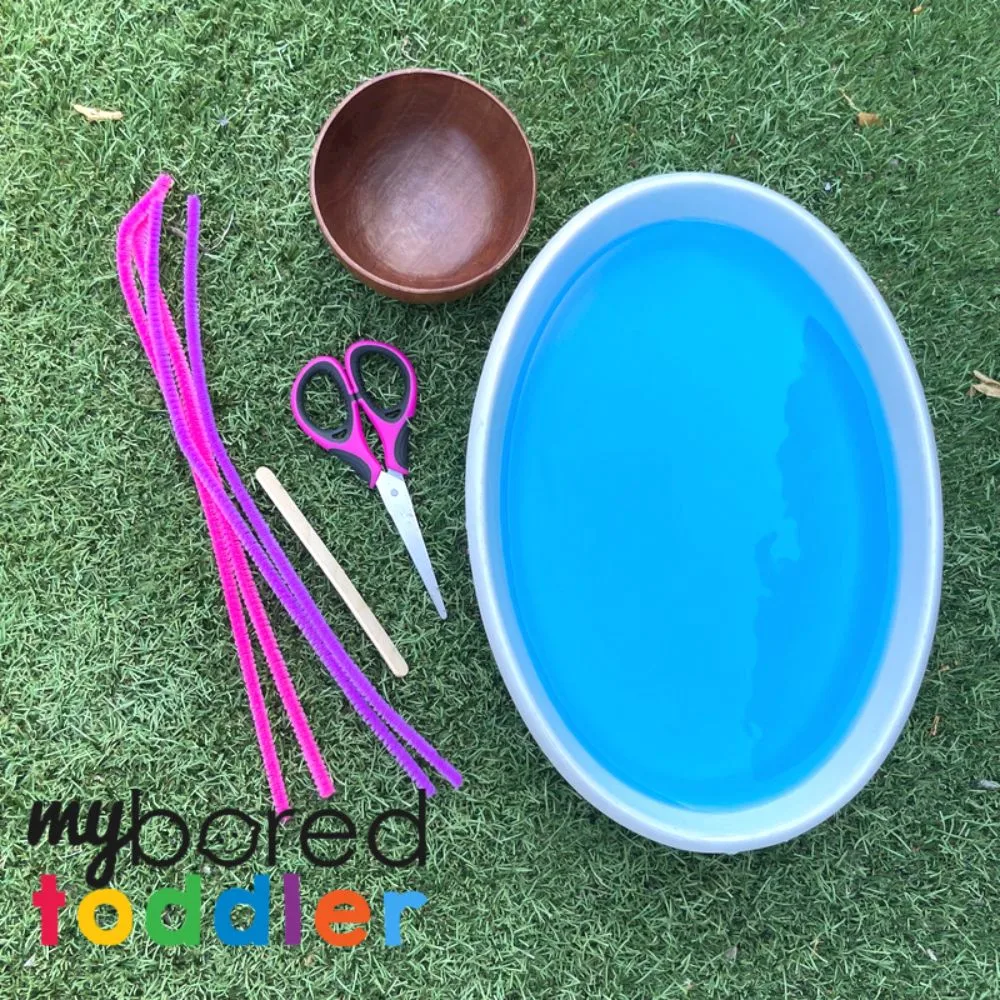 What you need to make a pipe cleaner coordination fishing activity:
We used two different colour pipe cleaners. These are also referred to as chenille sticks. This was to make predictions as to what colour was going to be scooped next.
Our little ceramic baking dish was sturdy enough not to be tipped over easily.
If you have a toddler that is likely to pick up their fishing pool, consider using one made of metal or plastic.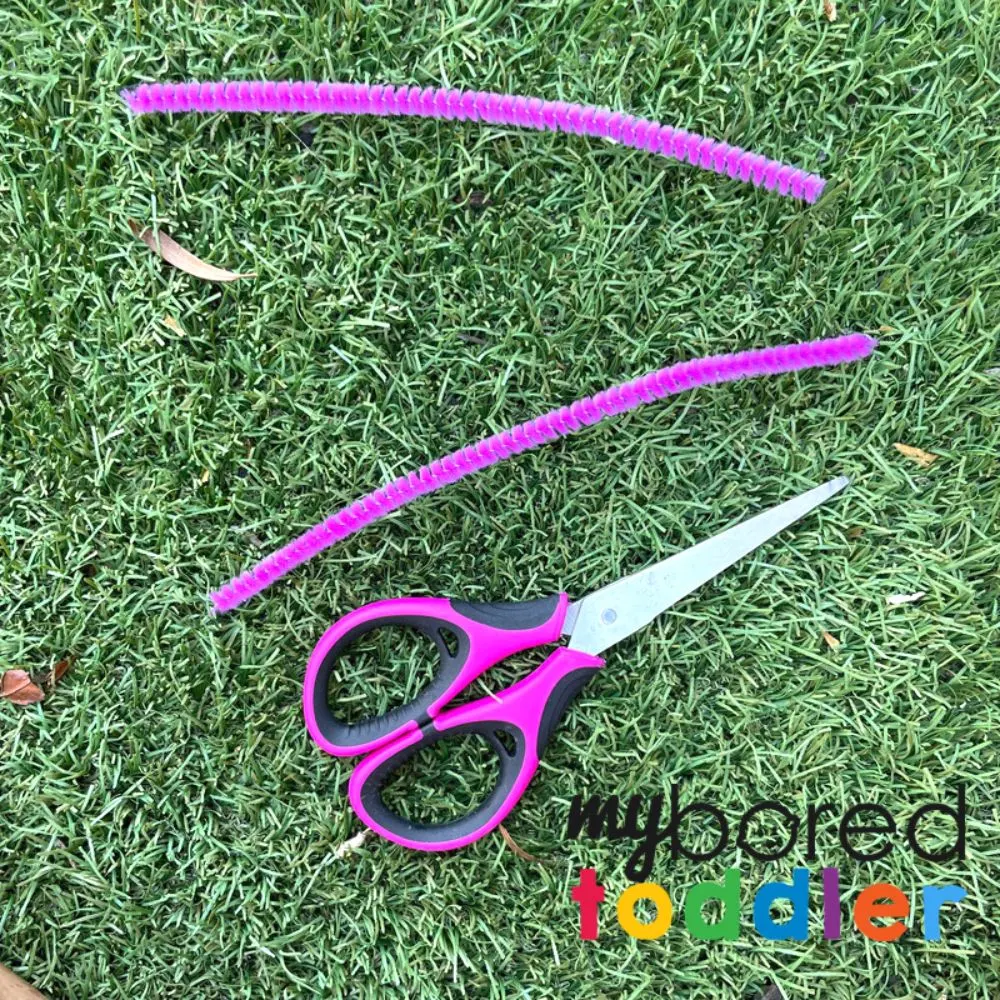 How to set up a pipe cleaner fishing activity:
To prepare your toddler's fishing game, you will need to construct the fish. We cut the fish in half to get two fish per pipe cleaner.
Cut the pipe cleaner in half. Hold the pipe cleaner section in half. Two-thirds from the fold, twist the ends together and then open them on a diagonal to create the fish's tail.
Bend the looped end into a circle to make the fish's head and body.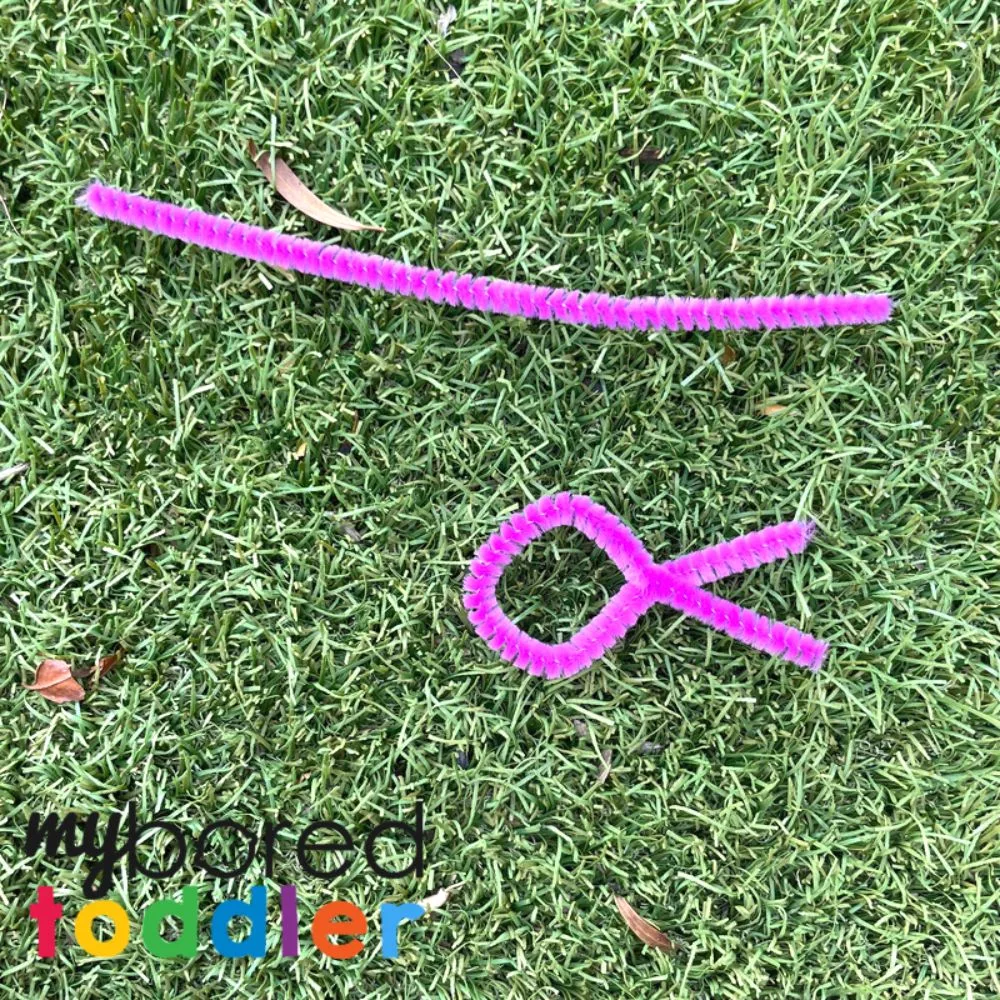 To create your fishing pool, fill the shallow tray or dish two-thirds the way with water and add the food colouring.
I did mention the food colouring being optional, but really, kids love coloured water!
The colours really do capture their interest and make the moment that bit
more special.
Add a few drops; the food colouring won't stain their hands or clothes.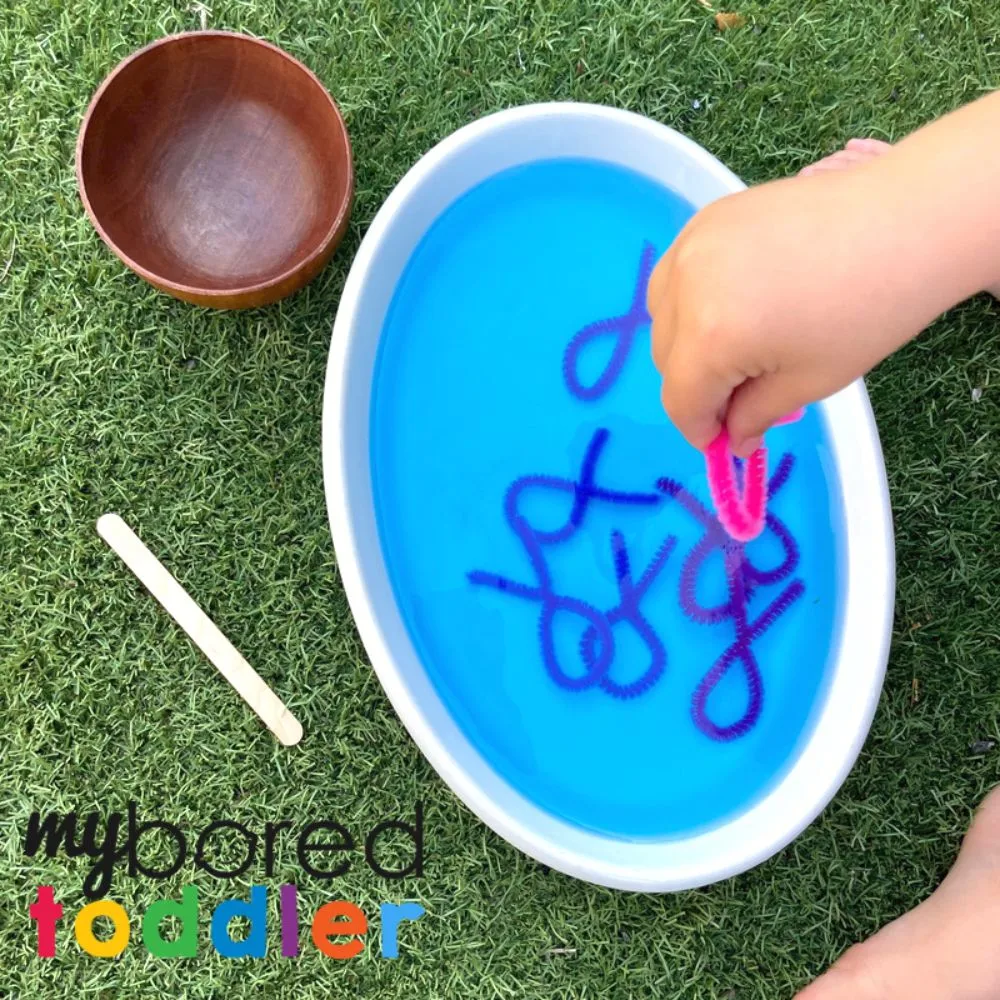 Setting up this activity is important to encourage crossing their midline. That is having them cross their dominant hand across the middle of their body to the other side.
Place the pop stick on its dominant side and the bowl on the opposite side.
The goal is to have them fish out their pipe cleaner fish using their dominant hand and then cross this handover across their middle to place the fish into the bowl on the other side.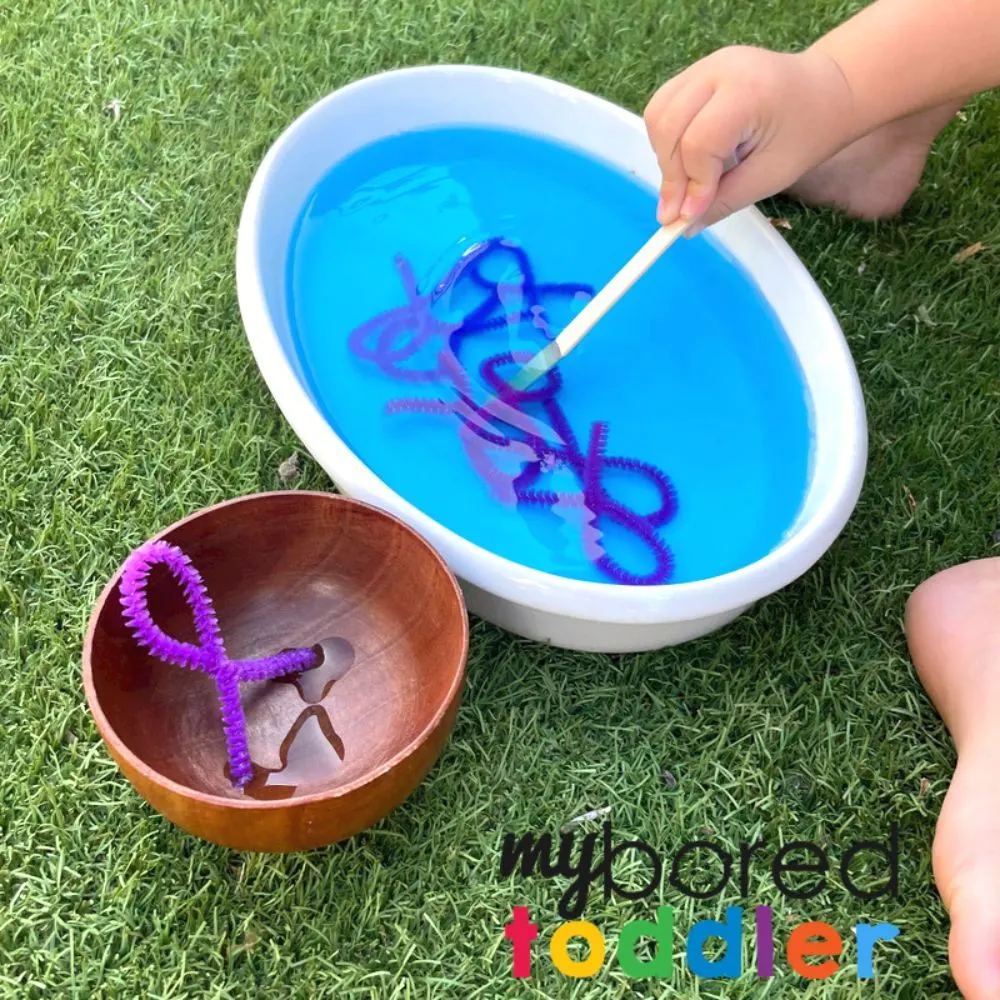 Mr 2 loved this activity. After fishing, our pipe cleaner fish became fish soup along with some leaves and petals he found in the garden.
Not only was he practicing his motor and coordination skills, but there was also lots of counting and imaginative role-play.
This pipe cleaner fishing activity is really such an effective way of encouraging hand-eye coordination, fine motor skills, and crossing the midline.
The fish can be dried and reused again and again! Let's go fishing!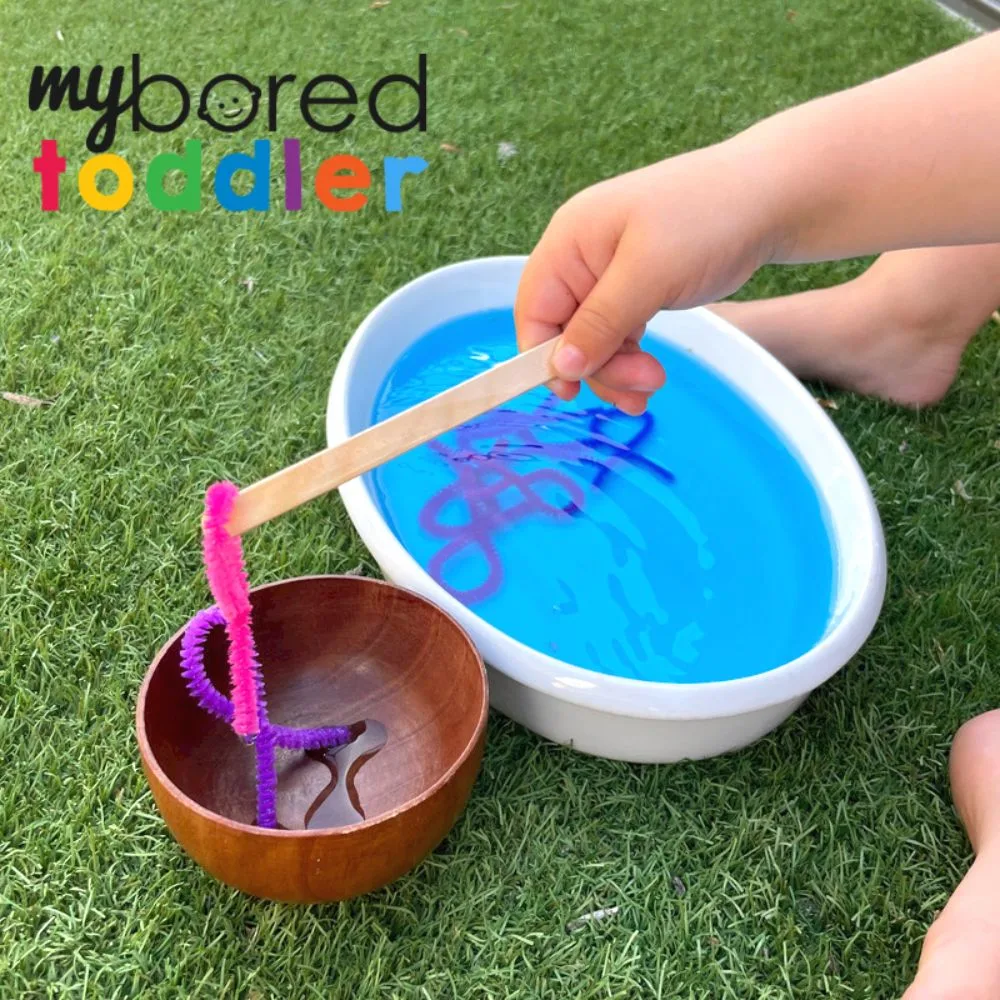 For more fun toddler activity ideas, why not join our Facebook Group or follow us on Instagram – follow @myboredtoddler and use #myboredtoddler.
Follow us for more toddler activity ideas
SOME MORE FUN TODDLER ACTIVITY IDEAS YOU MIGHT ENJOY ARE: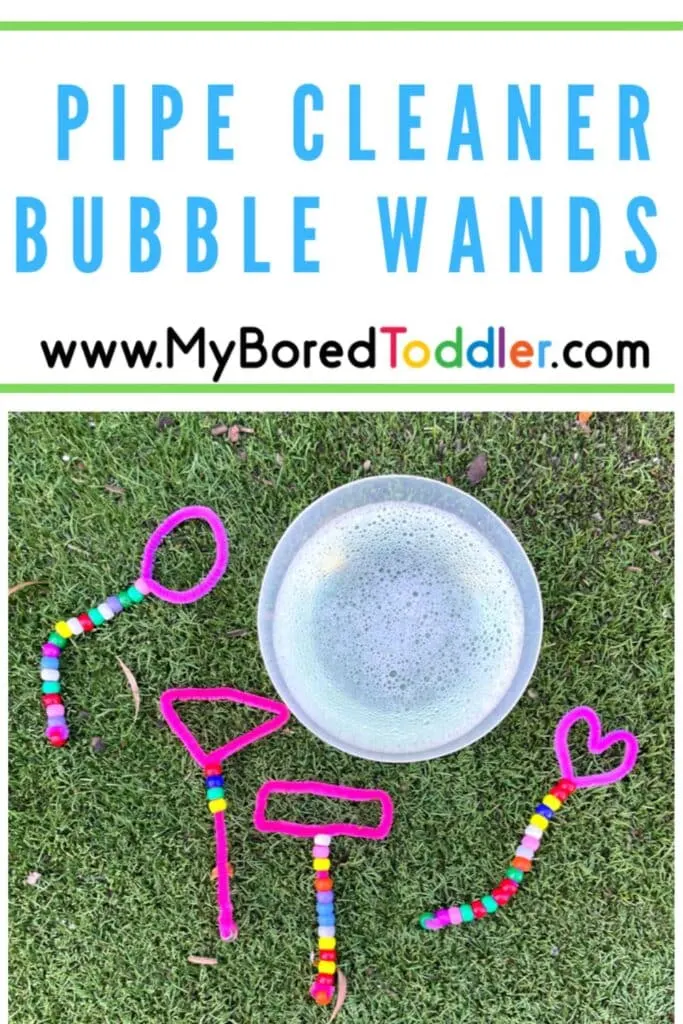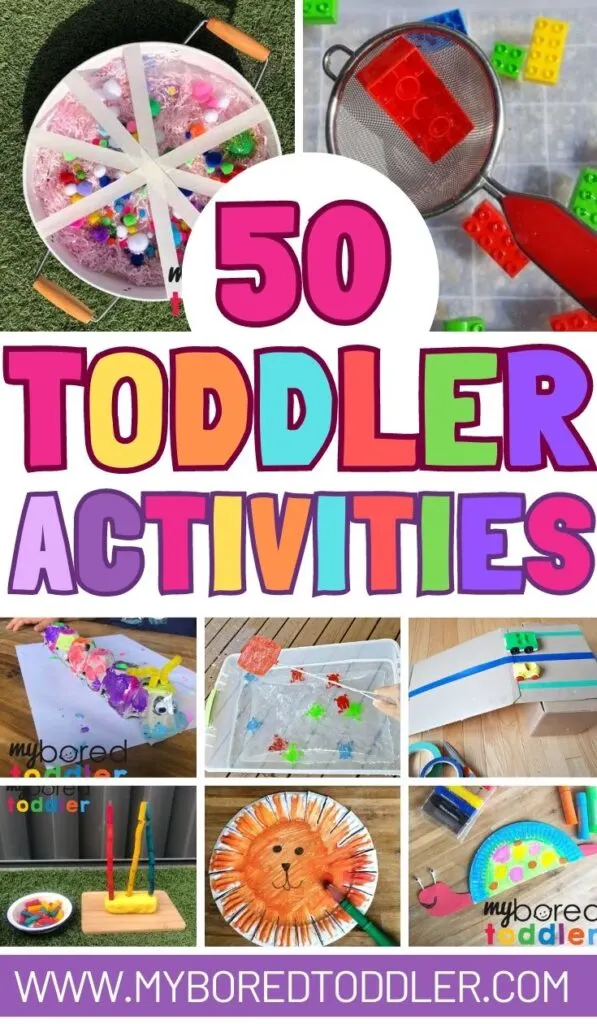 About the Author
Dani is a busy stay-at-home Mum of 3 and an early childhood teacher in training who is passionate about play-based learning throughout early childhood. For educational play ideas that you can do at home and parenting tips visit Play Inspired Mum Check her out on Instagram andFacebook