Are you looking for an easy craft for toddlers? Paper plates and patty cases really are such versatile craft resources. To celebrate them both, we created these super cute Patty Case Paper Plate Fish!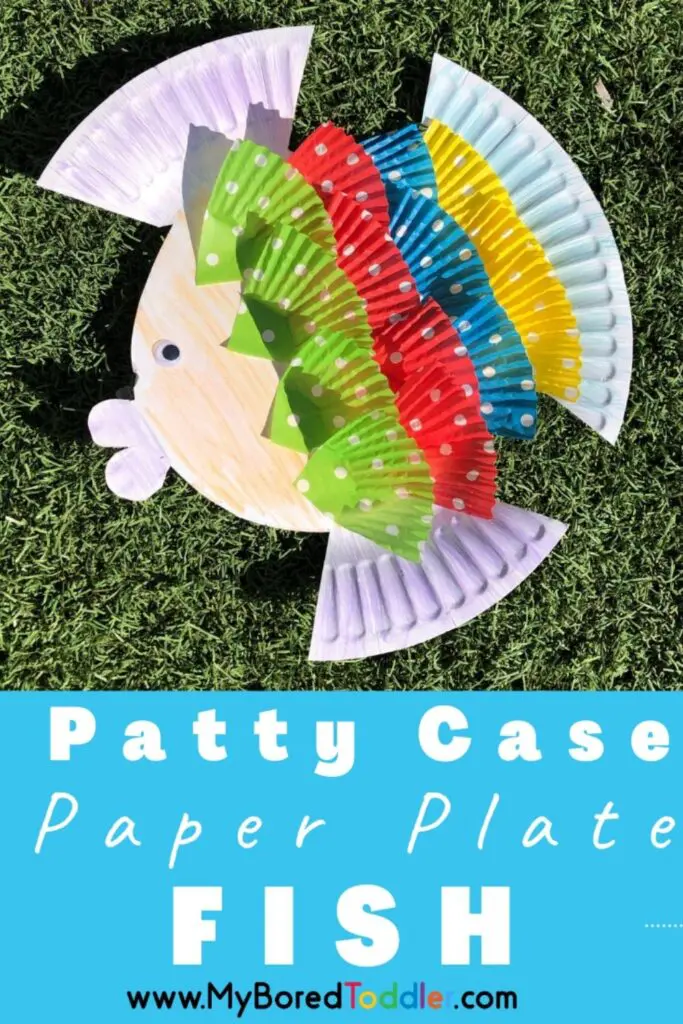 Patty Case Paper Plate Fish
Fun crafts do not need to be complicated and these fish are certainly proof of that. The bright colors of the patty cases and personal touch added to the design by their creator, really makes these paper plate crafts something special.
When you have a spare half hour to fill, paper plate crafts are always well received at our place. Miss 3 and Miss 6 don't even associate them with anything but crafts these days.
After revisiting a long-time favorite children's book, The Rainbow Fish, we were inspired to create our own colorful fish.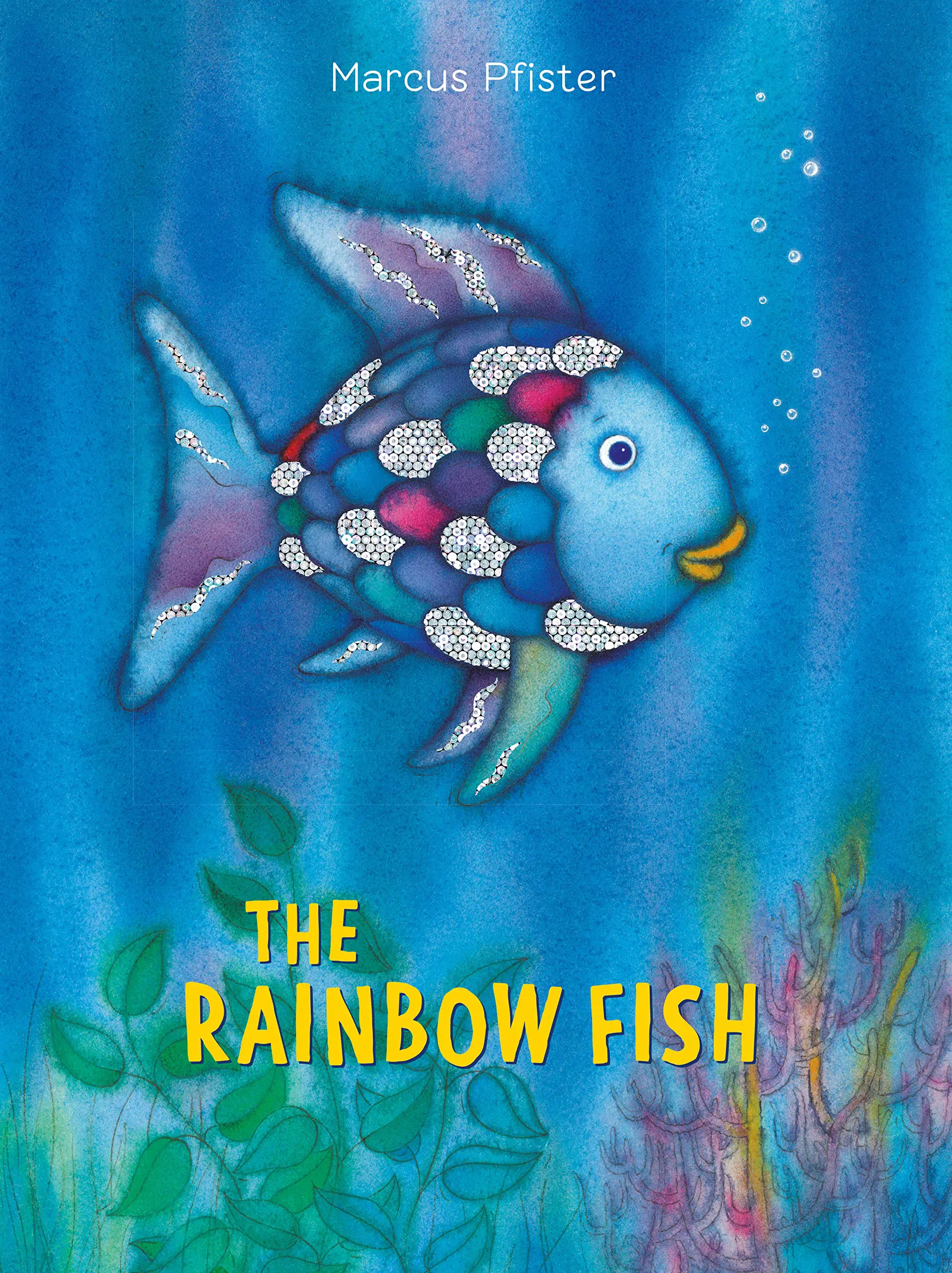 To add a textural element and to open up conversations, the girls were thrilled to add the patty cases to the activity too!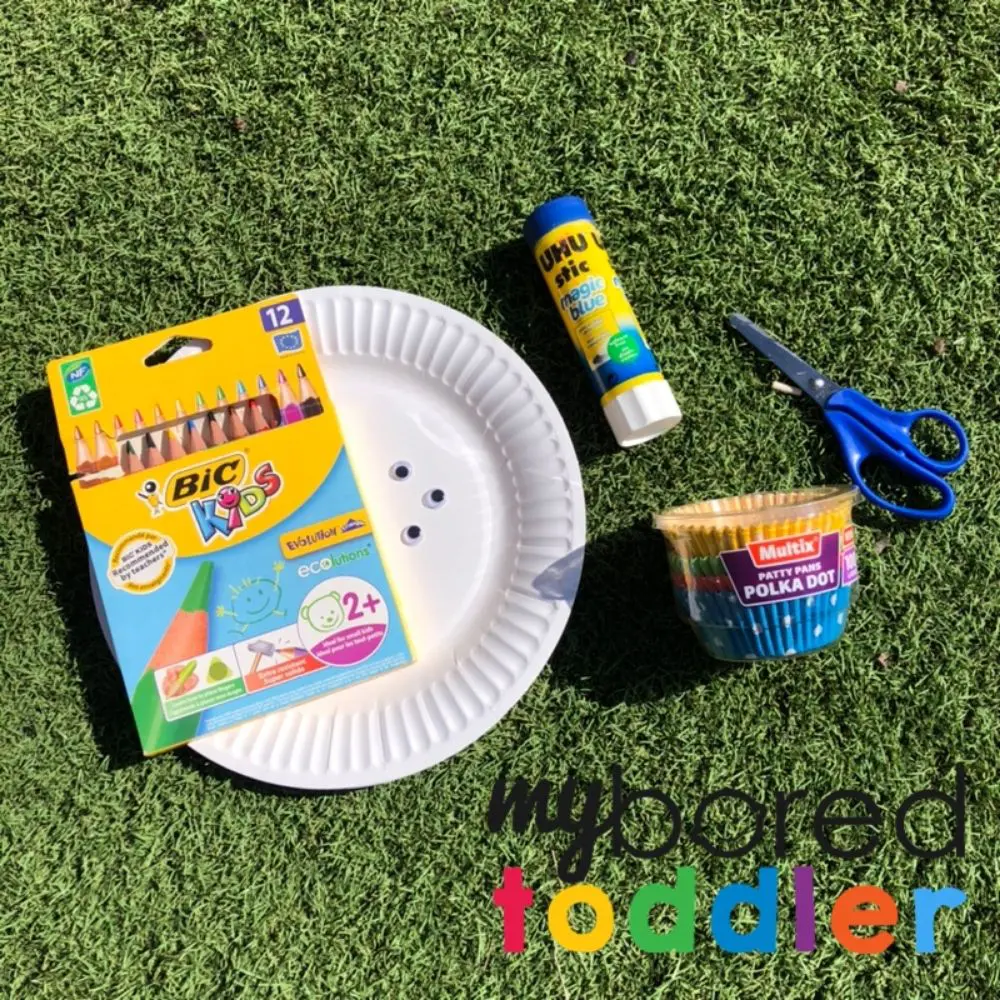 What you need to make

Patty Case Paper Plate Fish:
Please keep in mind your child's developmental skill level in regard to the snipping and coloring in this activity. We love these pencils as they are chunky and triangular which is great for developing hands. These could be swapped for chunky crayons for younger toddlers.
How to set up

your Patty Case Paper Plate Fish

activity:
Transform your paper plate to the fish template by just cutting out a few sections. I asked the girls if they would like their fish to have a pointy face or fish lips and the consensus was that our fish would be sporting a lovely set of fish lips. With the tail, dorsal and pectoral fins in place, our fish were on their way to being complete!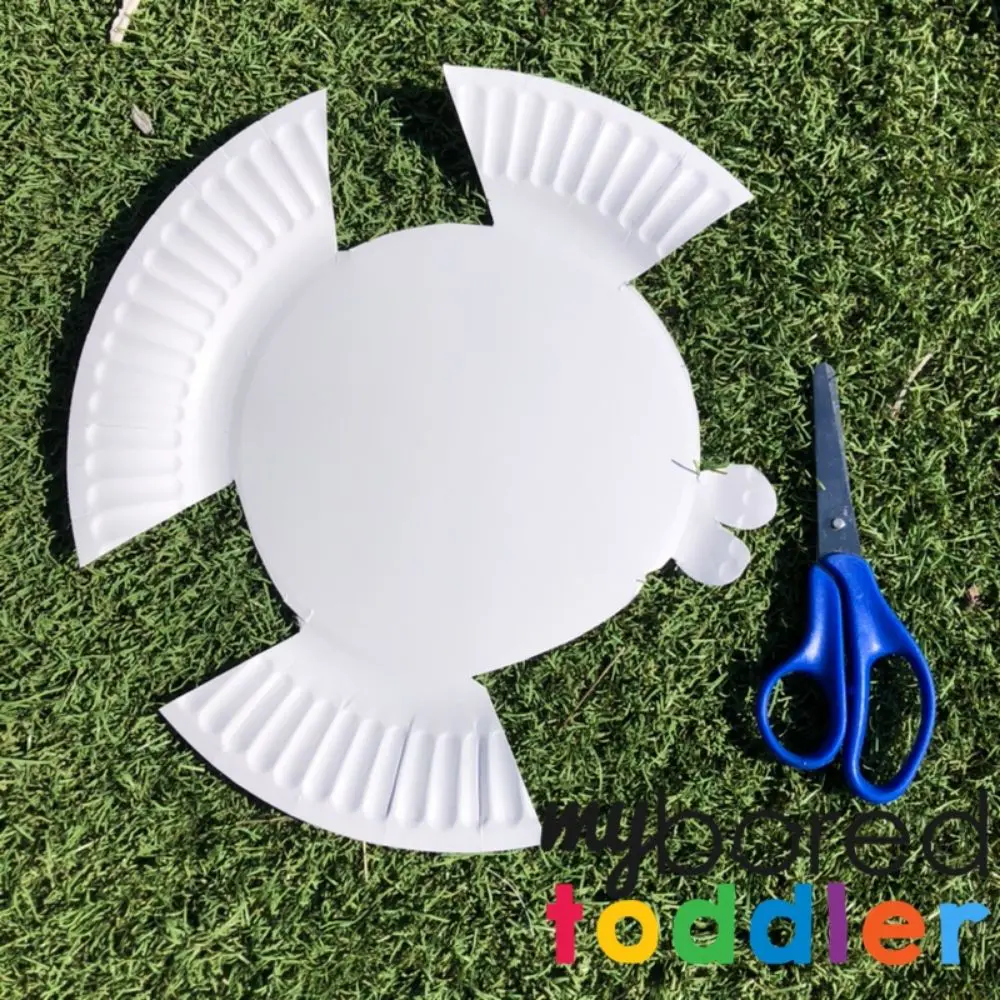 Using colored pencils, we each decorated our fish to our liking. Miss 6 chose a bright rainbow design. Miss 3 seemed to be more thrilled to discover that while she enjoyed coloring her fish's fins, it was equally enjoyable to poke the pencil through the paper plate – there is one in every crowd isn't there?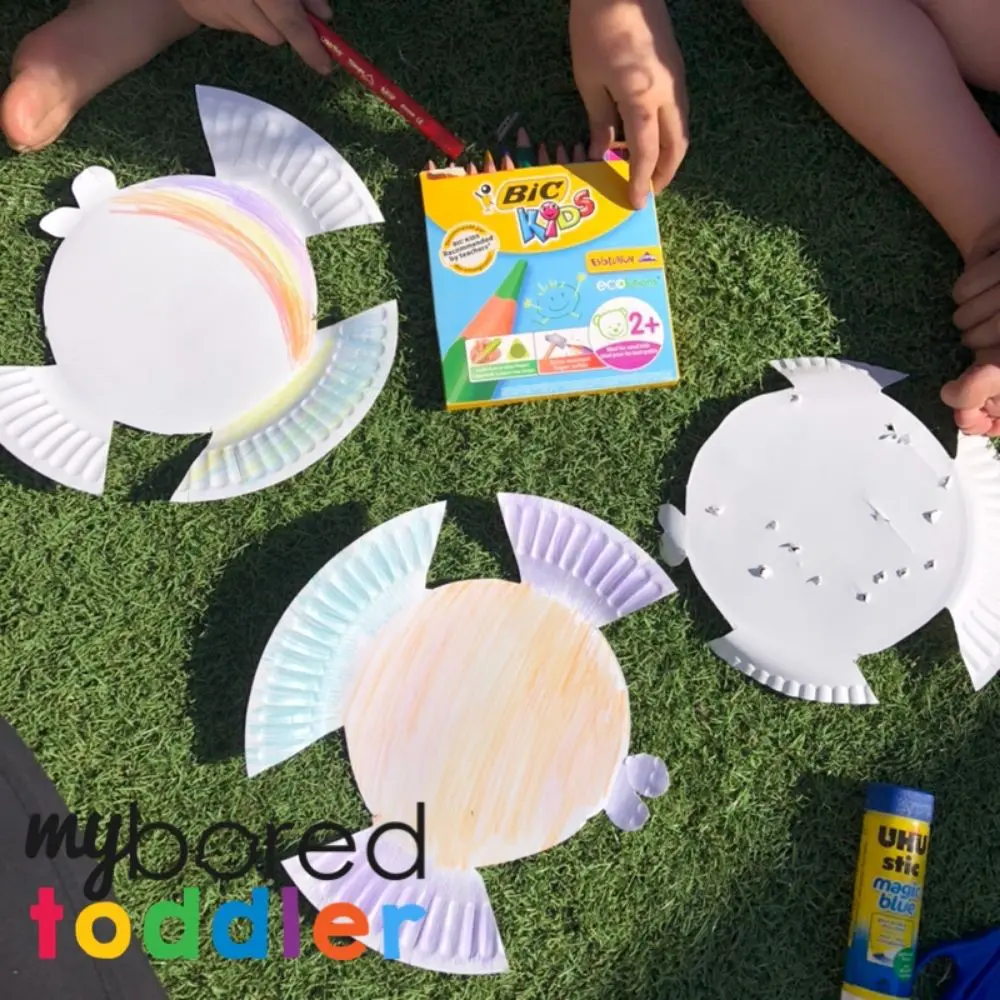 Once happy with their designs, it was time to add the scales to the fish. Just discussing what scales were on a fish and their important role, opened up loads of questions. Isn't this age just great? So thirsty for knowledge and learning!
To create the scales, simply cut a patty case into quarters. Another opportunity to expose your child to new words and concepts! These mathematical terms may not be understood or retained the first, second, or third time however casual exposure in activities like this will have your child on their way to developing comprehension.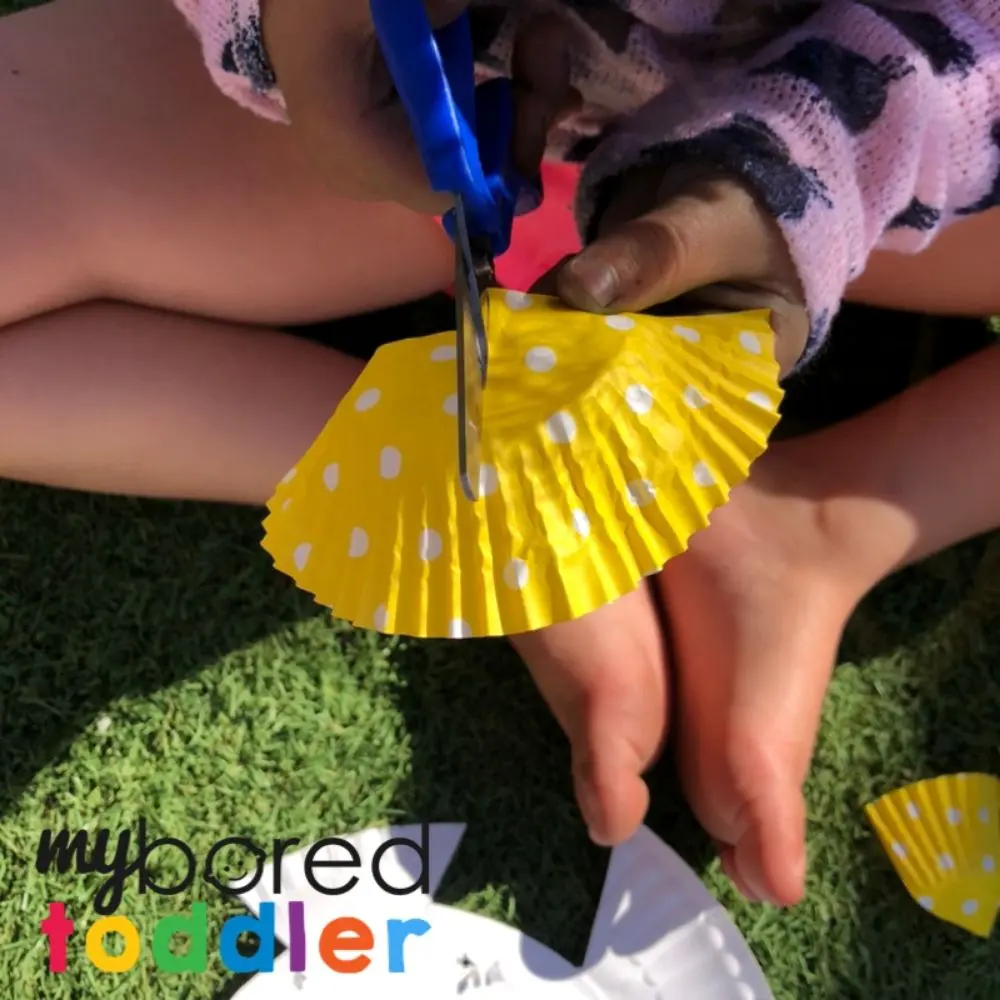 Apply the scales to the fish using your glue. We found it easier to apply the glue to the fish and then position the scales from there. This being said, Miss 6 did prefer to apply the glue to each scale individually. To create the overlapped scale effect, start at the tail, applying the scales in vertical columns, only adhering to the 'bases' of the patty case.
To finish the fish off, a swipe of glue to hold the goggle-eye in place was all that was needed.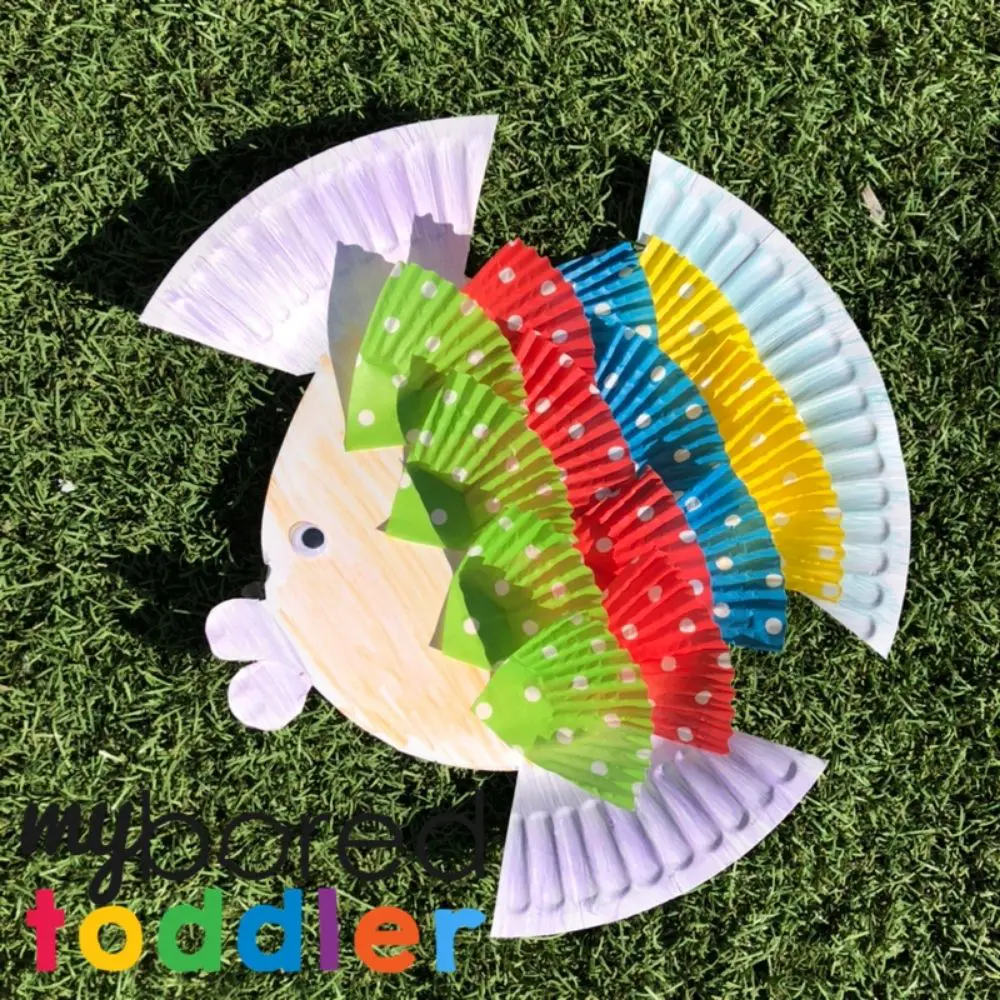 These fish are as fun and creative as their creator makes them. There are no right or wrongs and plenty of opportunities to develop skills that will help ready your child for formal education. Hand-eye coordination, fine motor skills, color recognition, and so many more skills can be practiced and refined while your toddler has a great time, creating their Patty Case Paper Plate Fish.
For more fun toddler activity ideas why not join our Facebook Group or follow us on Instagram – follow @myboredtoddler and use #myboredtoddler.
SOME MORE FUN TODDLER ACTIVITY IDEAS YOU MIGHT ENJOY ARE:
Messy Play Activities for Toddlers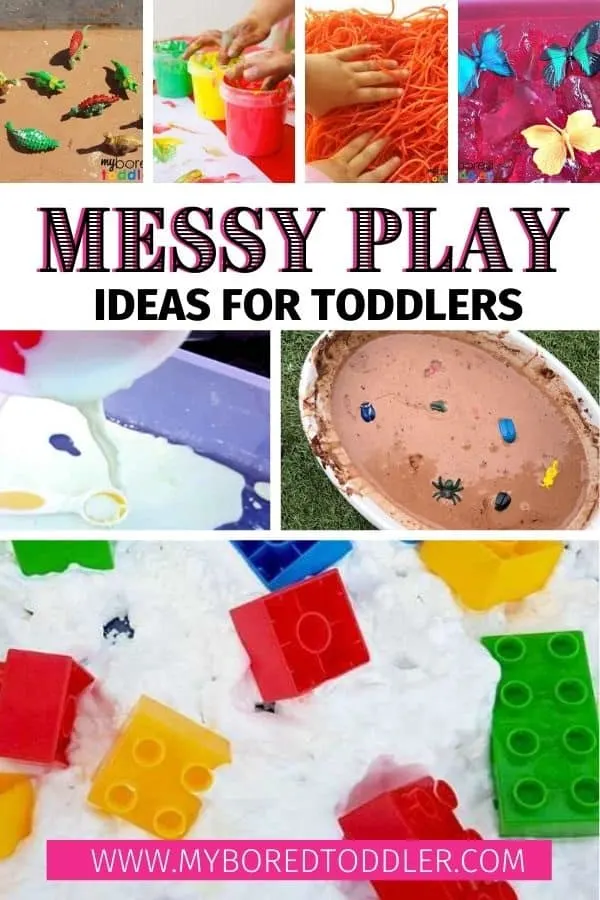 Paper Plate Crafts for Toddlers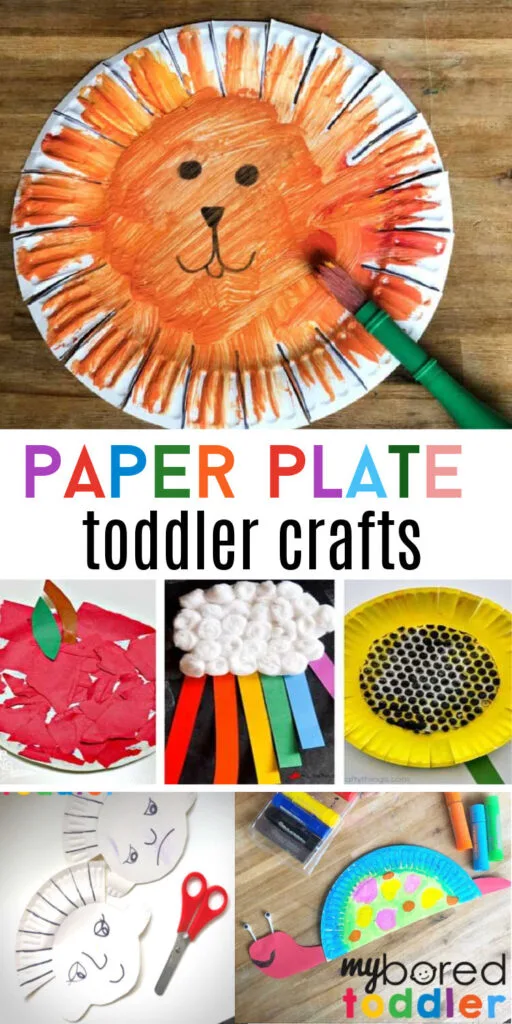 About the Author
Dani is a busy stay at home Mum of 3 and early childhood teacher in training who is passionate about play based learning throughout early childhood. For educational play ideas that you can do at home and parenting tips visit Play Inspired Mum Check her out on Instagram andFacebook