This paper scrunch and toss game is an easy toddler activity idea for an afternoon activity. Not only is the setup simple, but the activity is also child-led and kids can play one at a time or in a small group.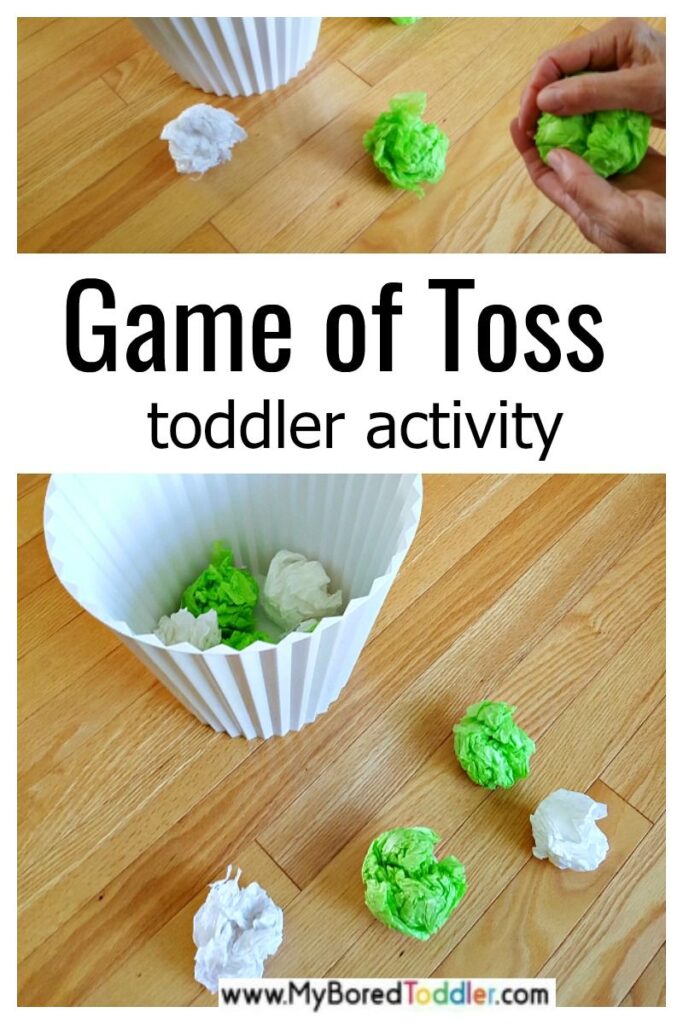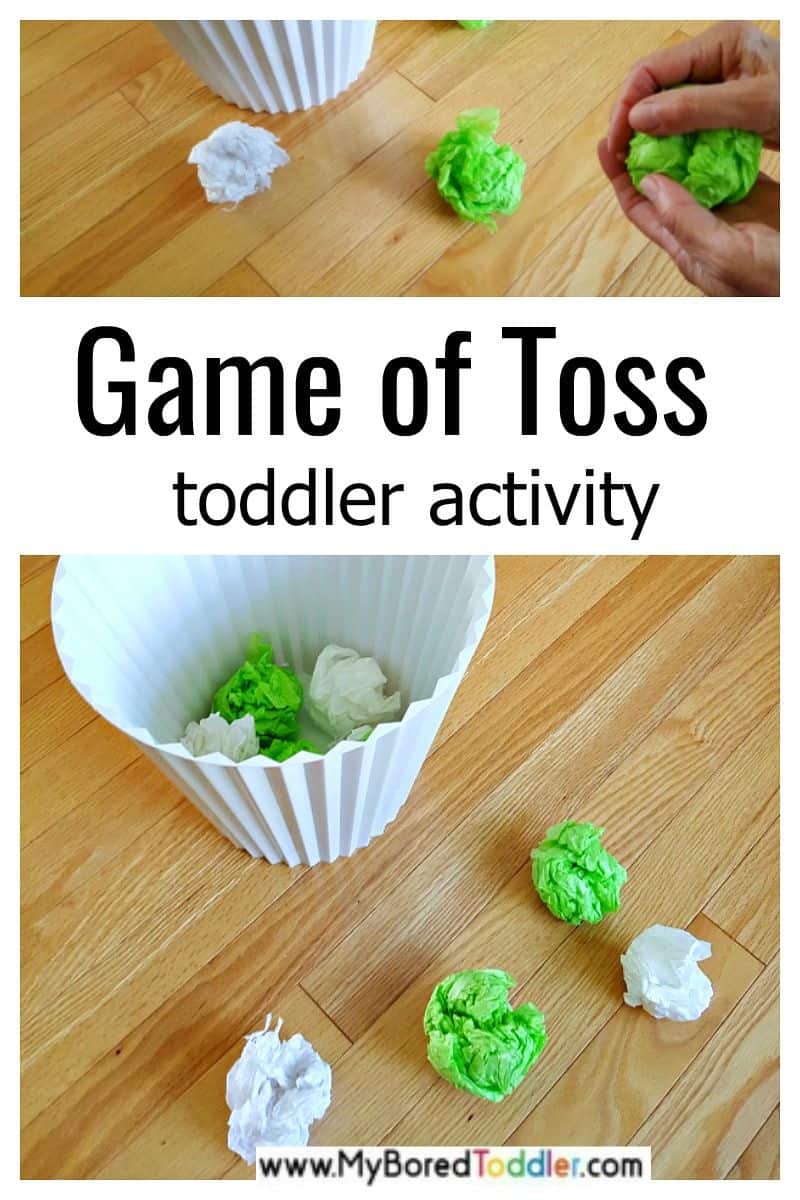 Paper Scrunch & Toss Game
What could be more fun than scrunching and throwing? And in this simple activity, strengthening hand muscles in youngsters is an added benefit, ticking the boxes for a fine motor activity idea too.
Toddlers will love this fun game that has no rules, and just enough challenge to keep them occupied during an afternoon indoors.
Grownups will love that the activity has minimal setup and is practically mess-free. In fact, cleaning up can be part of the fun for kids.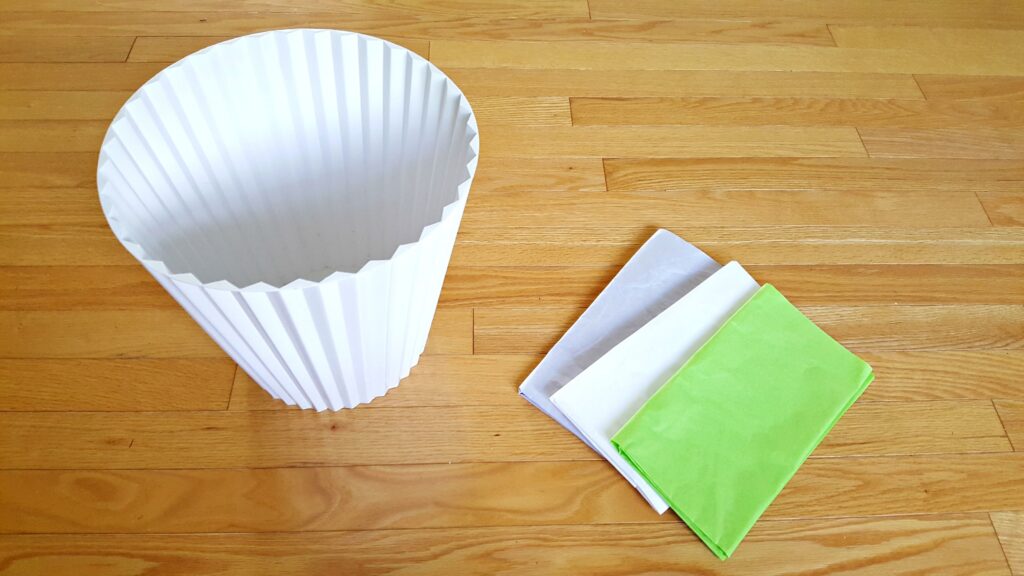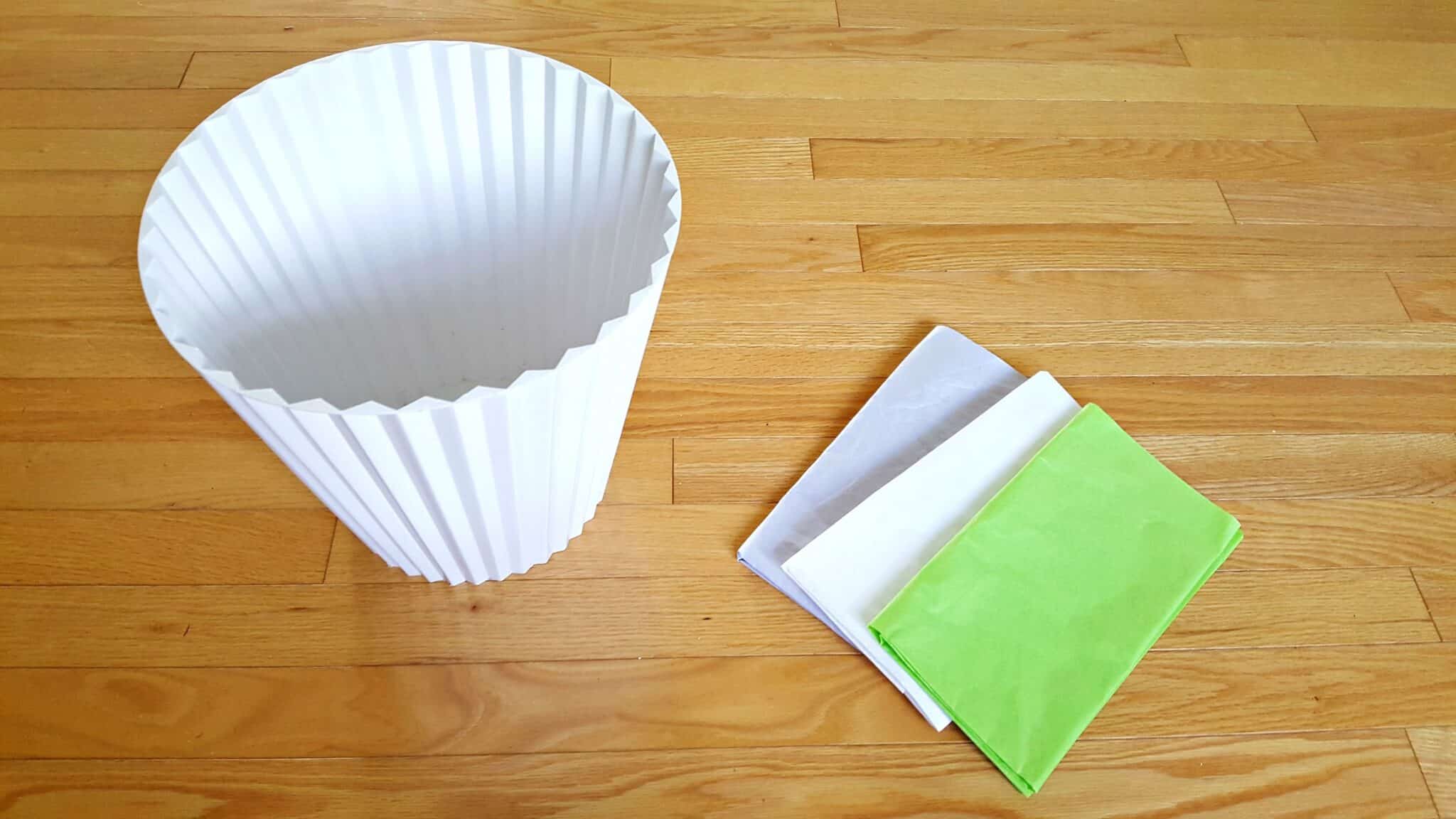 What you need
We used green and white tissue paper and a clean white plastic wastebasket.
Tissue can be recycled from gift bags or shoe boxes - so materials are free!
Other paper options are wrapping paper, magazine pages, or brown parcel paper. You could even use newspaper, although this tends to leave smudges of black ink on the hands.
The paper you use should be easy enough for kids to scrunch.
As an added benefit, use different colors of tissue so the balls of paper can be sorted and counted.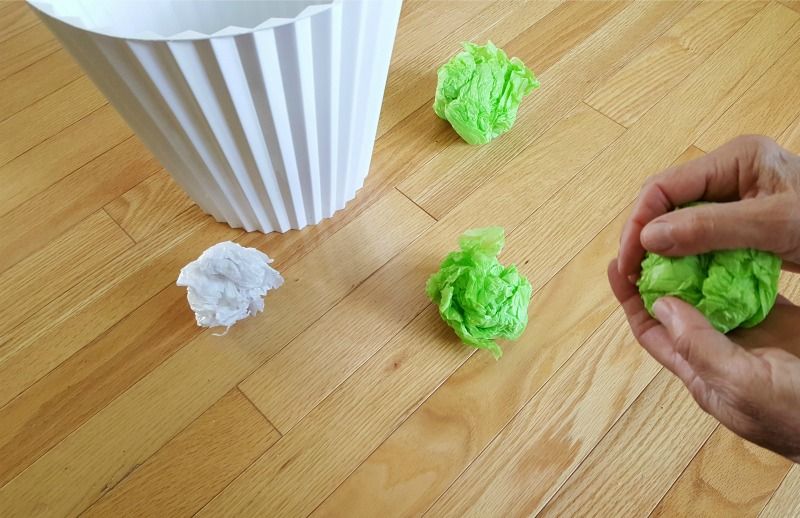 How to Play
Separate tissue paper into single sheets. A full sheet or even a half-sheet of tissue should be a good size for kids to squish. You can make smaller pieces if they are more manageable for your toddler.
If you use a couple of different paper sizes you'll have different sizes of balls of paper once the paper is scrunched. The final size will also depend on how tightly kids squish the paper in their hands.
Scrunch paper in one or two hands. Encourage your toddler to try scrunching both ways by demonstrating with a piece of tissue paper.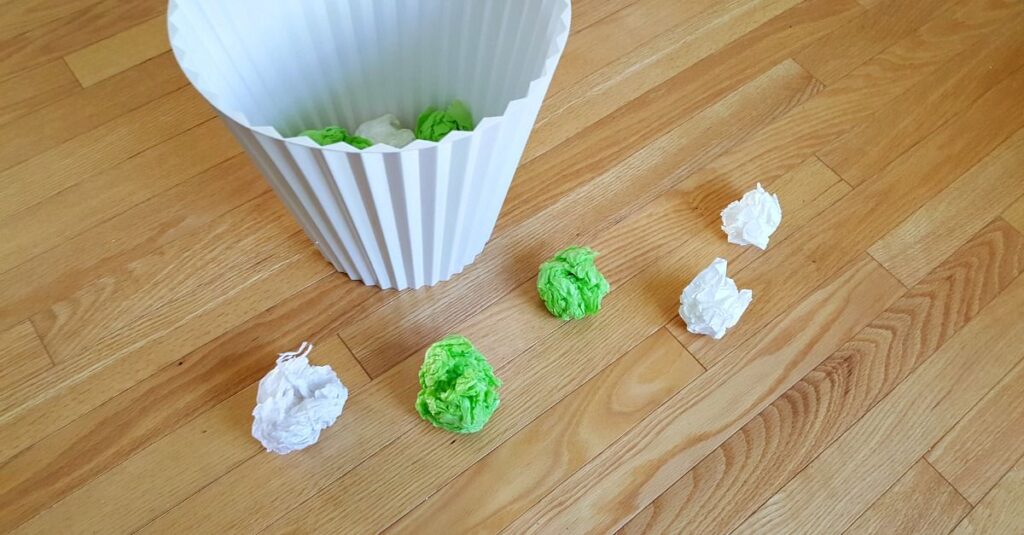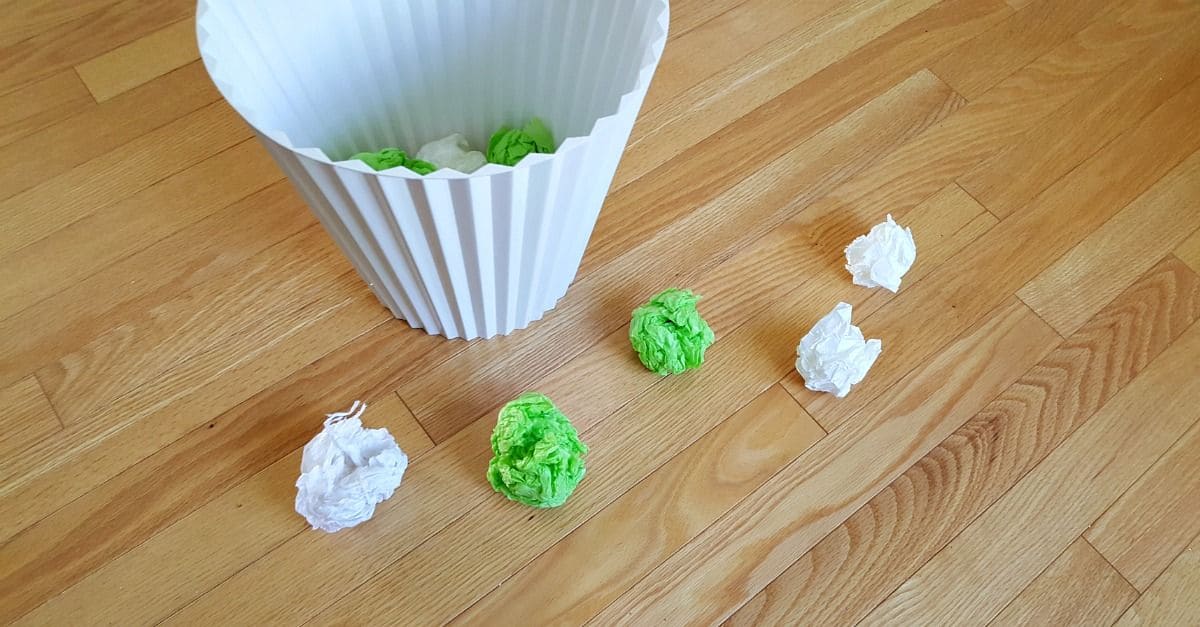 Once you have made a few balls of paper, you are ready to throw them in the basket. Stand, or sit, at a suitable distance from the container.
Ready! Aim! Toss!
When all the paper balls are tossed, it's time to collect the ones that didn't make it into the basket. Then play again!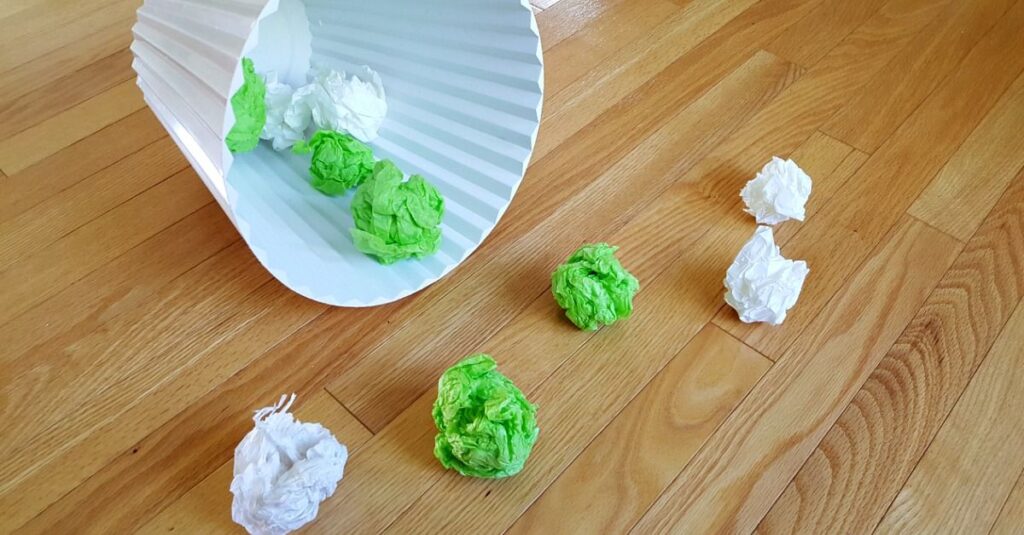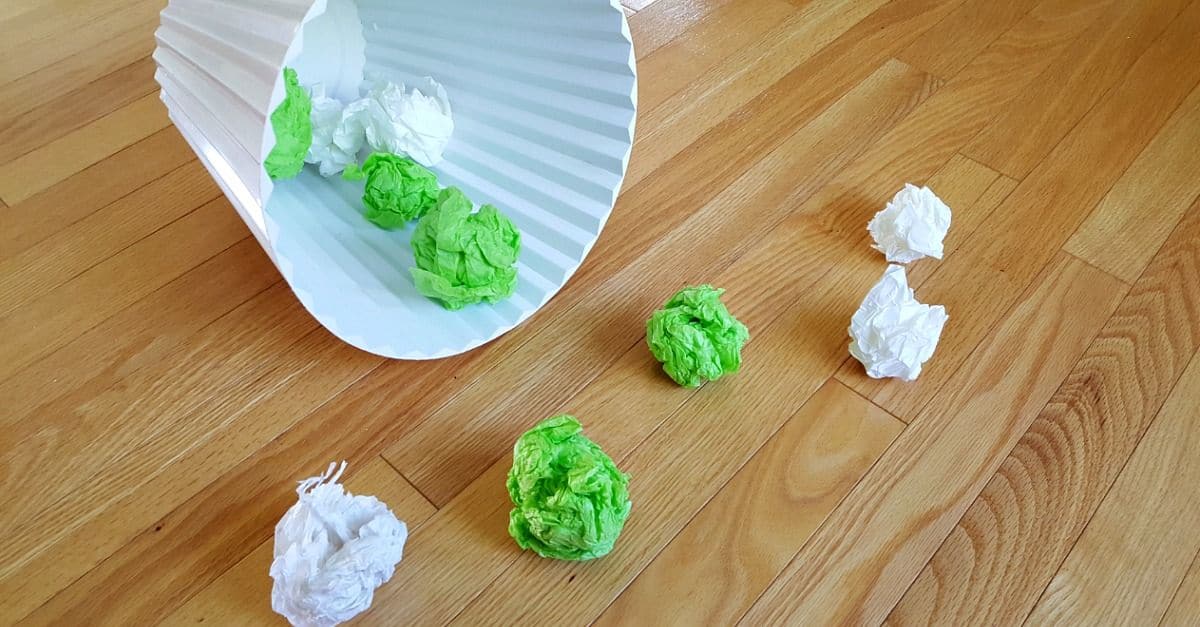 This simple game is just right for toddlers. The activity is child-led and provides sensory, social, and fine motor play. Scrunching paper is great for strengthening hands and fingers. Tossing a ball of paper works on arm strength and hand-eye coordination.
Keep this game at your fingertips when you're looking for an activity to fill an afternoon.
If you enjoyed this toddler activity why not share a picture in our Facebook group or over on Instagram – follow @myboredtoddler and use #MyBoredToddler so we can all see!
SOME MORE FUN TODDLER ACTIVITIES YOU MIGHT ENJOY ARE: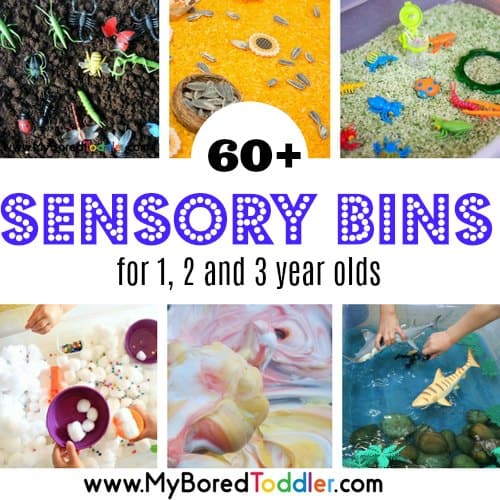 FINE MOTOR WITH KEYS IN PLAY DOUGH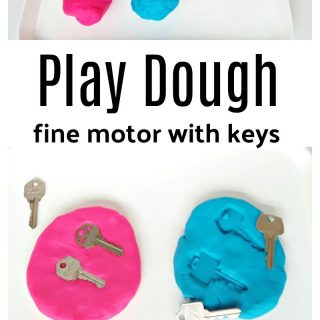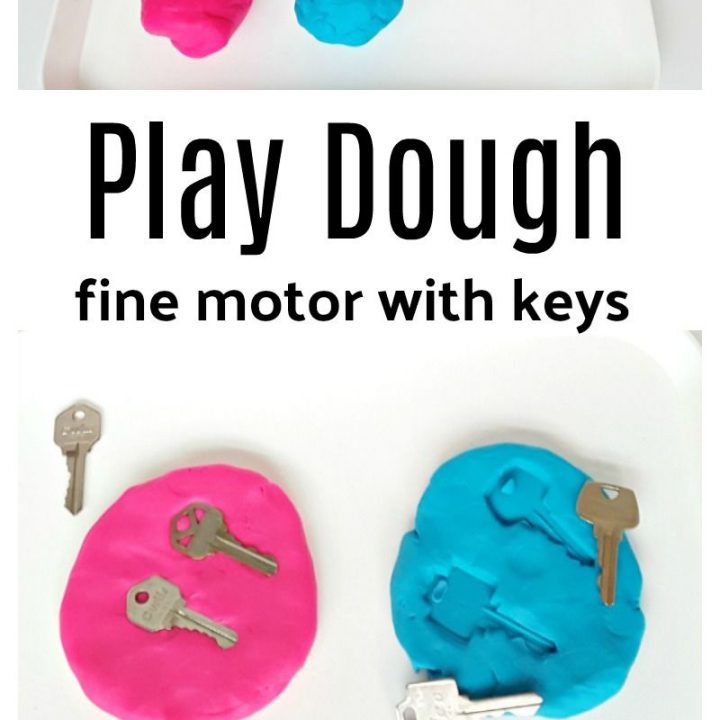 About the Author
Heather is a former preschool teacher and founder of preschooltoolkit.com, a website providing early learning resources for teachers and parents. She focuses on creating fun crafts and activities that engage developmental skills while promoting hands-on learning through play. Follow her on Facebook, Pinterest, Twitter, Instagram