Flower power is at its best with this fine motor strengthening paper plate scrunched paper flower craft. Whether your toddler paints their flower with pretty pastel colours or bold, strong colours, this paper plate craft idea is easy to make and looks amazing!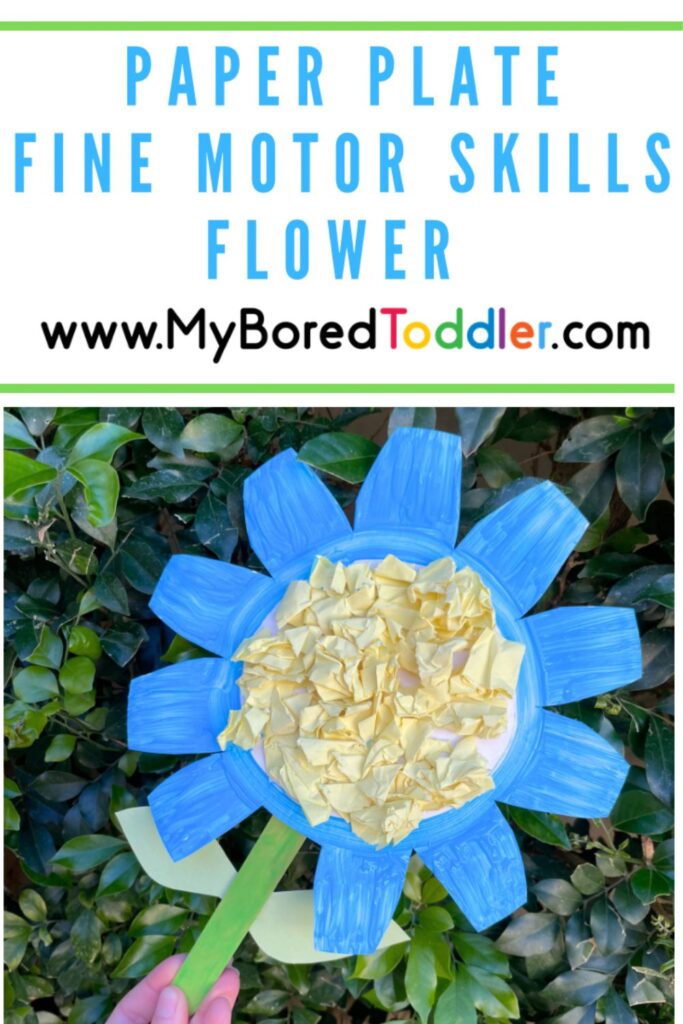 Paper Plate Scrunched Paper Flower
Paper plates are such versatile resources for art and craft activities.
They are a sturdy foundation for loads of play ideas.
Today, we used our trusty paper plate to create a pretty flower.
Tearing and scrunching the paper pollen is a useful activity to strengthen the small muscle groups in your child's fingers and hands too!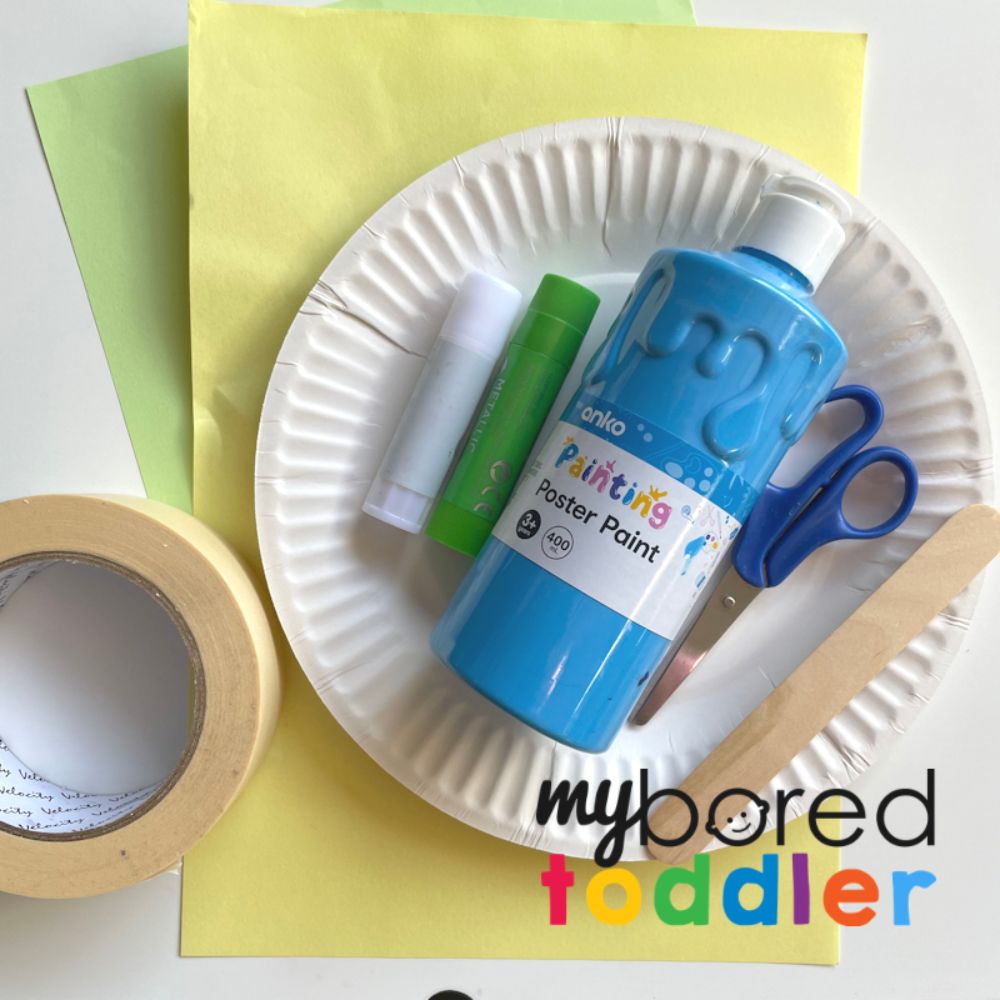 What you need to make a paper plate scrunched paper flower:
To prepare for this activity, consider your toddler's age and ability. While older children may be able to cut out their own petals and tear and scrunch their own pollen, younger children will need this prepared for them.
How to make a paper plate scrunched paper flower:
There are three main elements to this craft idea; painting the petals, adding the scrunched paper pollen, and lastly building the stem.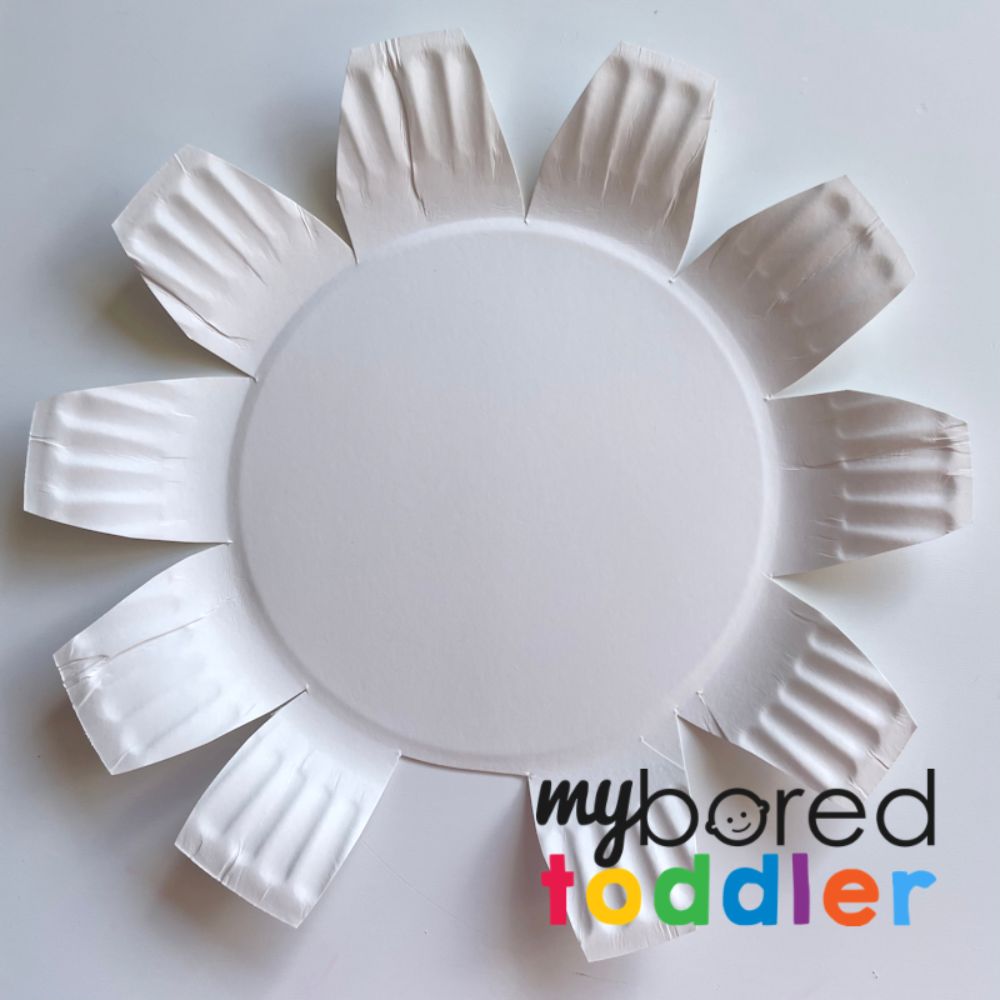 To create the flower head, the first step is to cut out the petals.
Using the scissors cut out triangles between the petals. I used the inner circle of the plate as a guide to make our petals roughly the same size.
In all my years spent with children, I have never had any complaints that their flower petals were not perfect. They don't have to be
identical!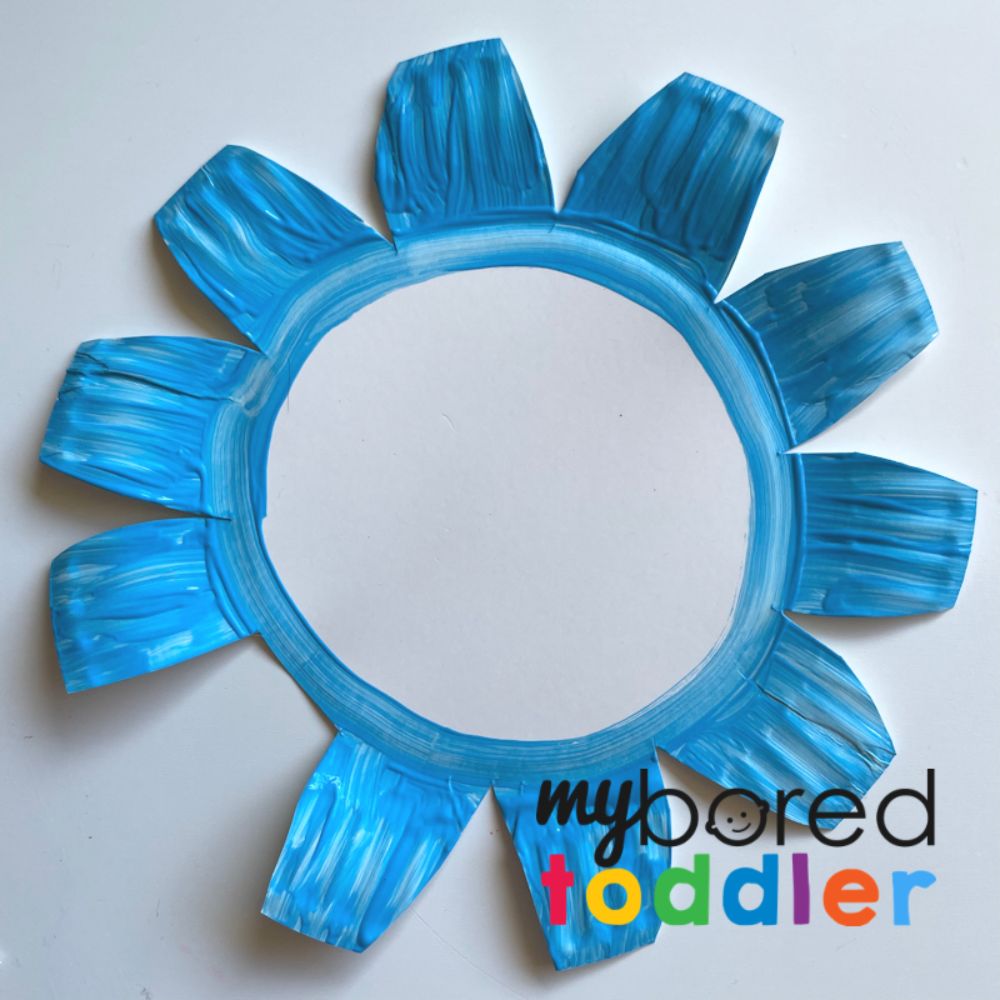 The next step is to paint the petals. Let your toddler's artistic expression flow! One colour, two colours, or three!
There are no right or wrongs here. Once the petals have been painted, pop them aside to dry.
In the meantime, they can work on their paper plate flower stem.
Use the paint stick to colour the pop stick.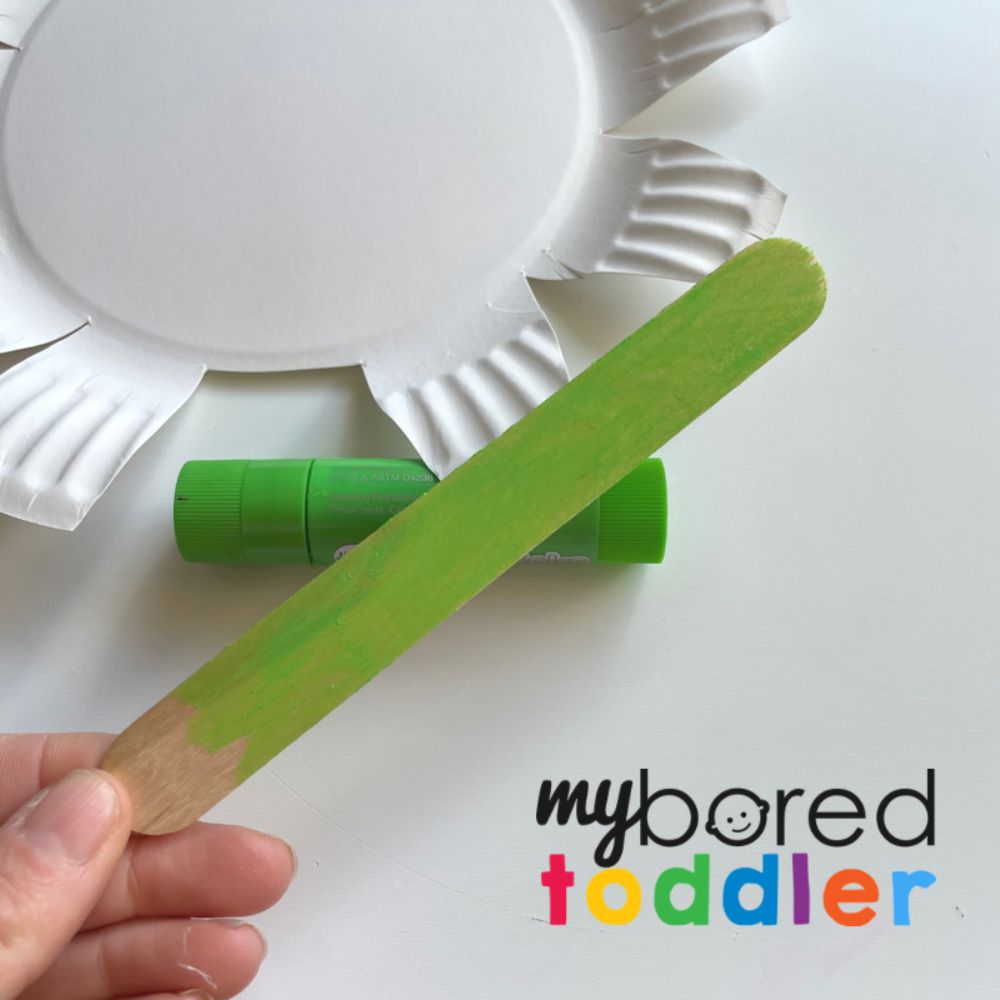 Cut some leaf shapes out of the green paper and secure these to the back of the pop stick with glue or tape.
Once the petals are dry, it's time to add the pollen!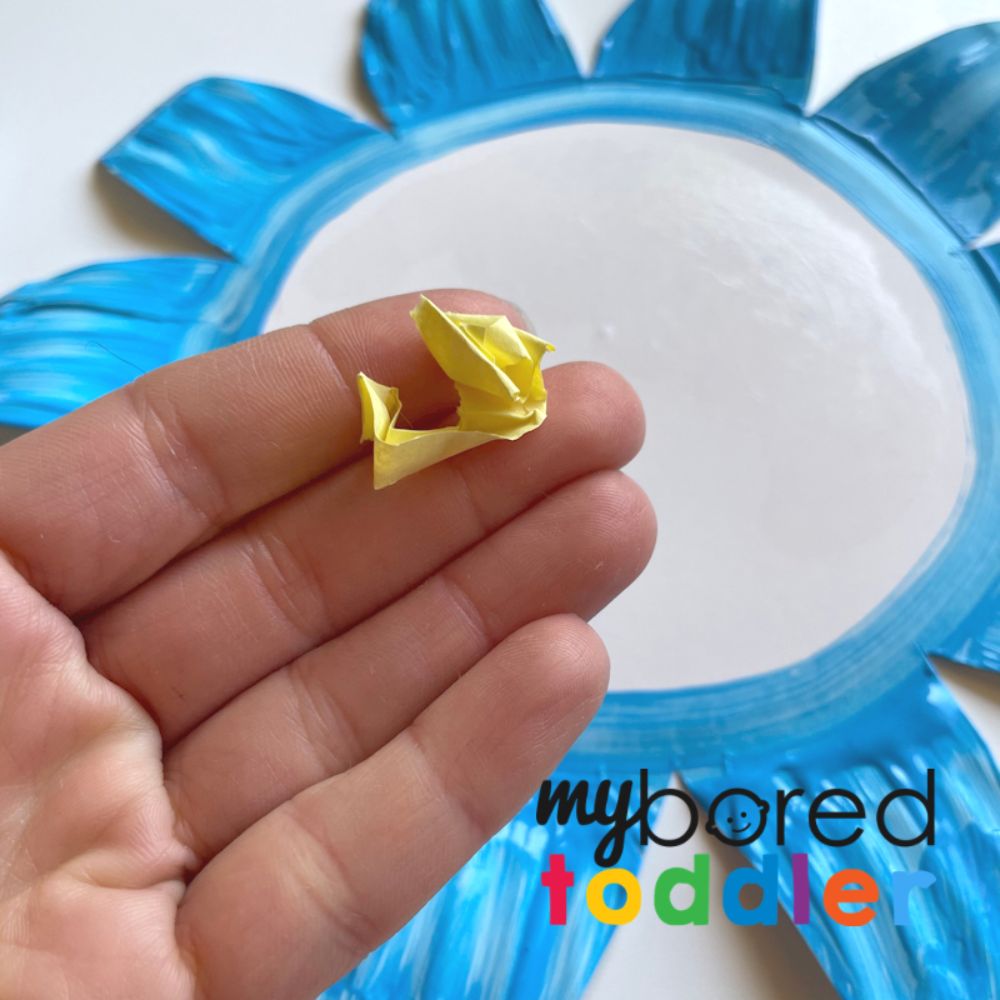 Tearing and scrunching the paper is amazing for developing fine motor strength. In saying that, it can be tiring for young hands too.
There is still loads of strengthening and coordination happening, picking up pre-scrunched paper and pressing it into the glue.
Work in sections, adding glue to the center of the plate before pressing the scrunched paper into the glue.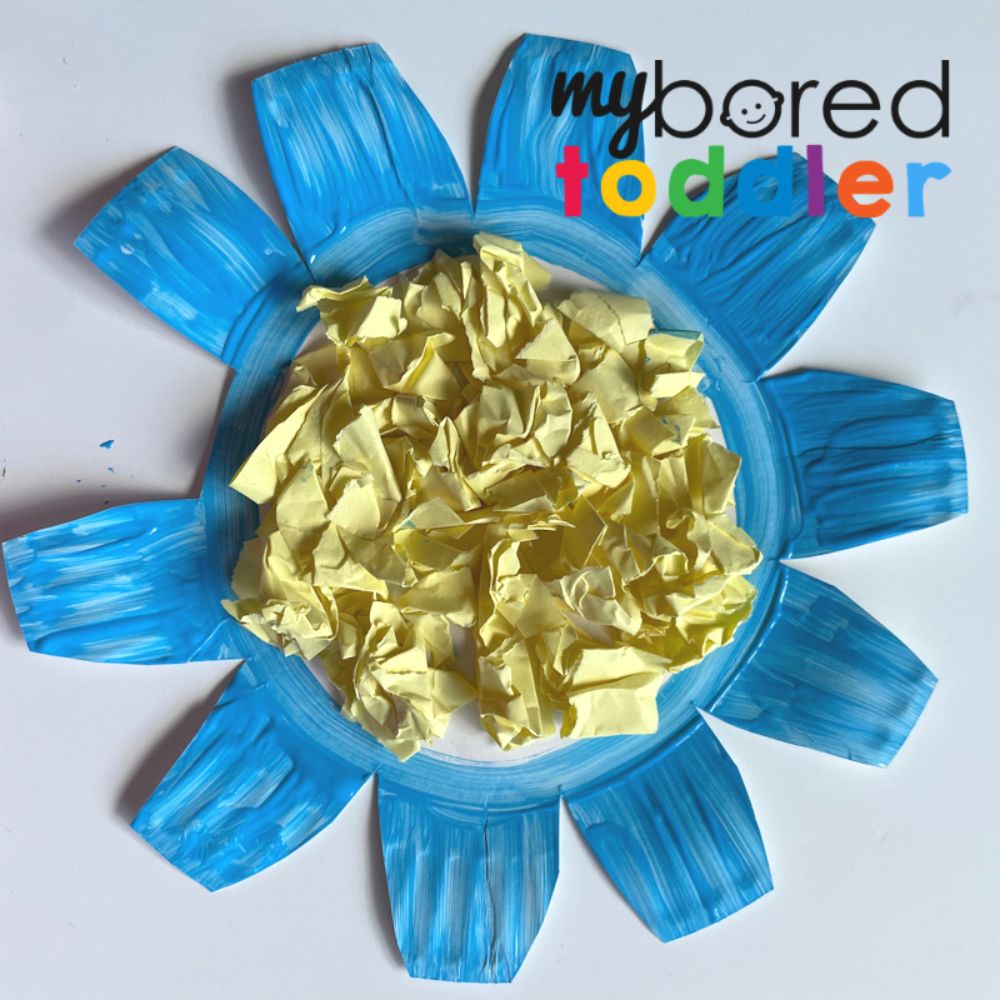 Once the middle of the flower to full, simply tape the stem to the back of the flower head and your flower is complete!
Whether you make one paper plate scrunched paper flower or a bouquet, this craft adds a bright and cheerful vibe to your crafting time.
That is all the while strengthening those all- important small muscle groups in their fingers and hands. Learning through play is the best!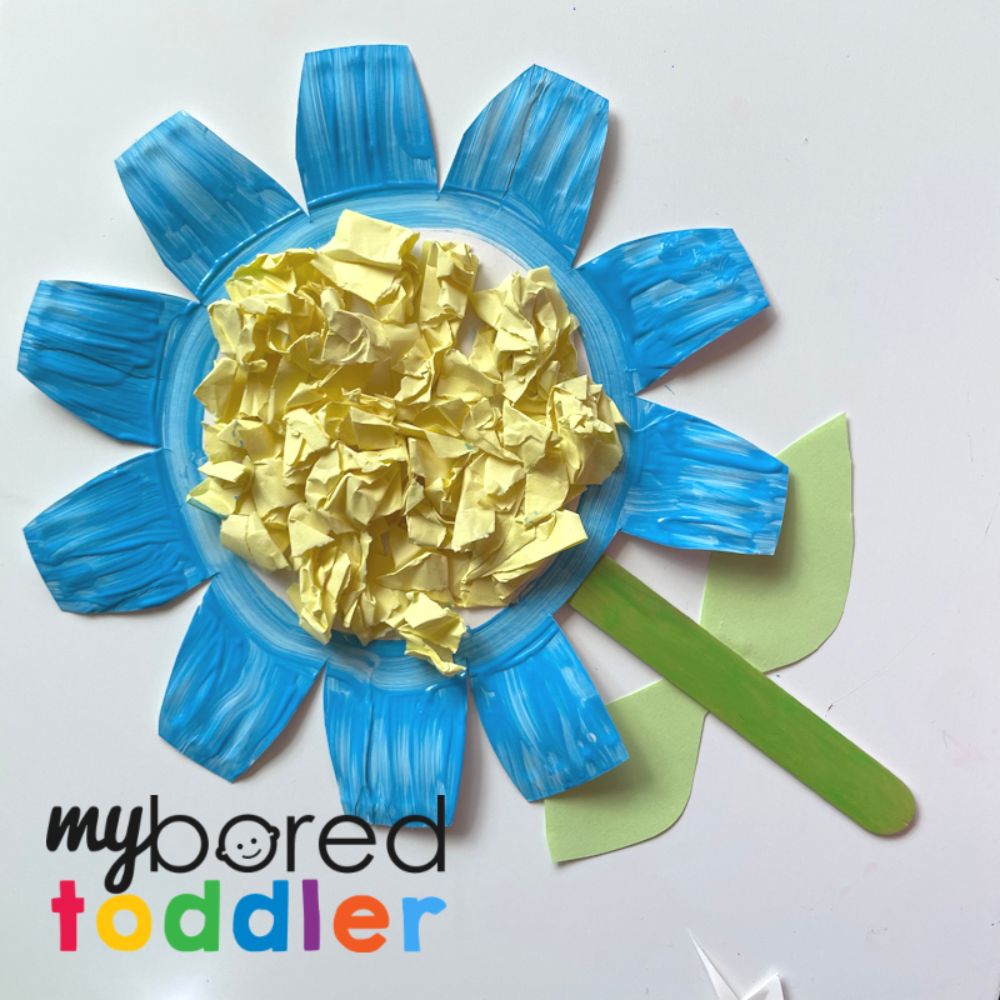 For more fun toddler activity ideas, why not join our Facebook Group or follow us on Instagram – follow @myboredtoddler and use #myboredtoddler.
Follow us for more toddler activity ideas
SOME MORE FUN TODDLER ACTIVITY IDEAS YOU MIGHT ENJOY ARE: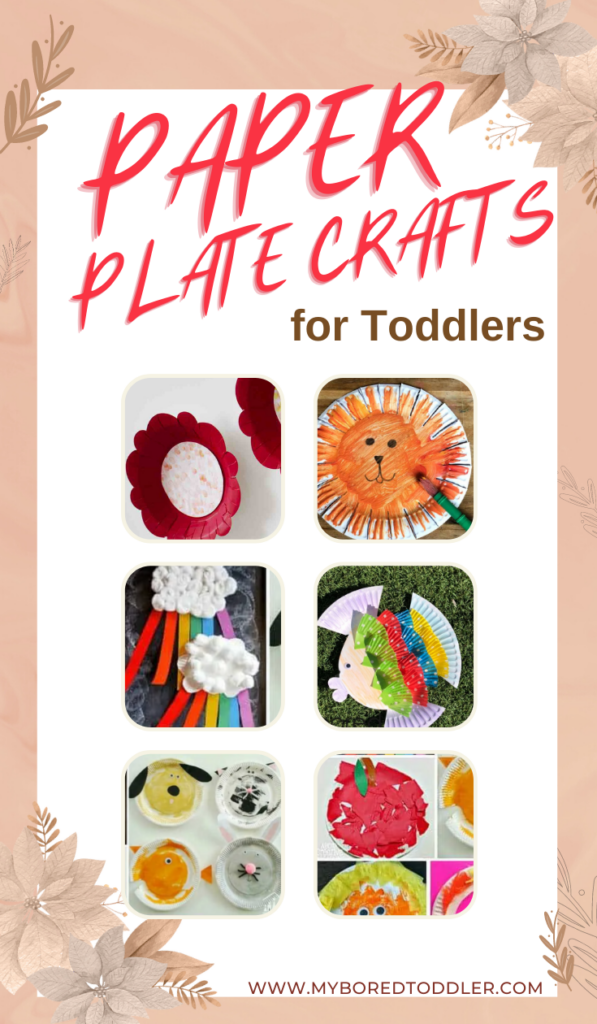 About the Author
Dani is a busy stay-at-home Mum of 3 and an early childhood teacher in training who is passionate about play-based learning throughout early childhood. For educational play ideas that you can do at home and parenting tips visit Play Inspired Mum Check her out on Instagram andFacebook