We are still loving our sensory bins and it's great seeing so many of you sharing your sensory bin play in our Facebook group.  Today's activity is a marshmallow sensory bin and it was SO MUCH FUN! It was also really easy to set up which is the kind of toddler activities I know we all love!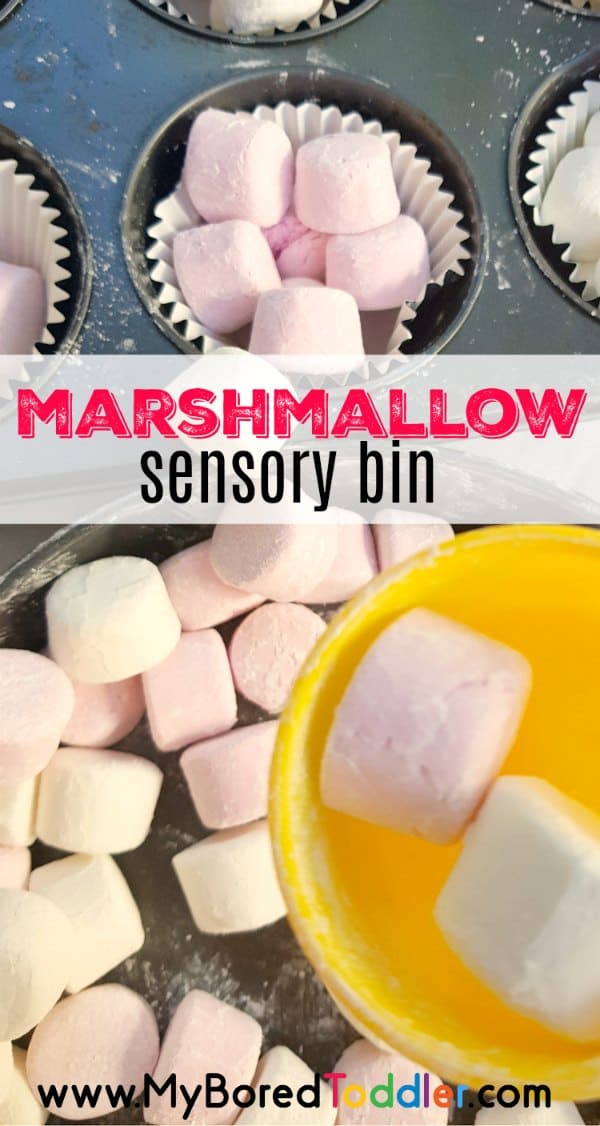 Marshmallow Sensory Bin
This marshmallow sensory bin came about by accident. I had a lot of bags of marshmallows left over from an event and as I don't plan on letting my own kids eat 4 bigs bags of marshmallows (I'm pretty sure they're 99% sugar!), and there's only so many babycinos you can make, I needed another idea.
I had no real plan when I put this together, which is often the way our toddler activities come about. A lot of people overthink things and make activities that take sooo long to set up and it's normally not needed. If you've taken our free simple sensory bin challenge (you can sign up here) you'll know that we like to use items we already have where possible.
What I used for our marshmallow sensory bin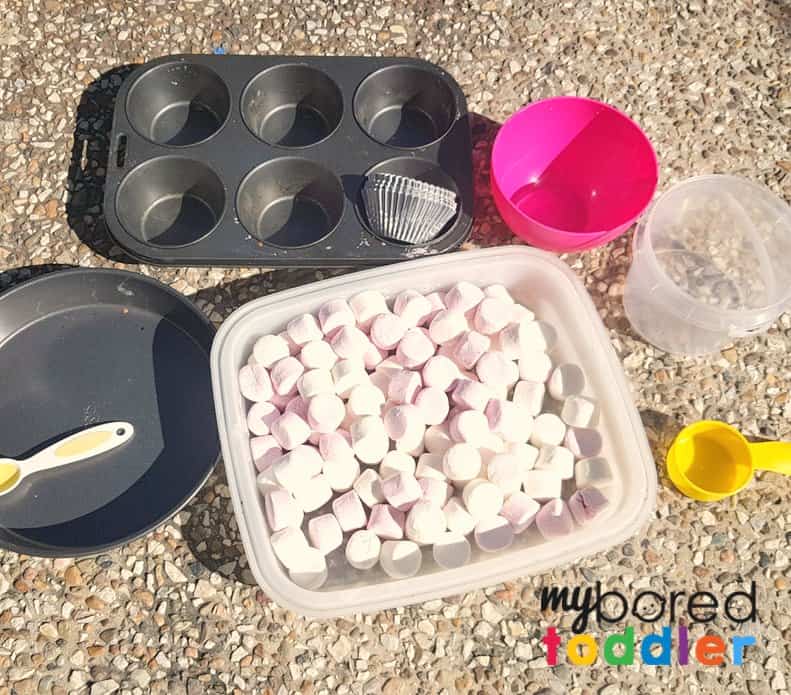 For this sensory bin I didn't use a huge container and I would recommend one like this  which comes with a lid.
I used 2 large bags of regular pink and white marshmallows. If I had been able to get my hands on some I think the really large ones like these would have been great to add in too!
As I mentioned above, use what you have. I often go through my cupboards and add containers of pots and pans to make it more fun. It's nice to have a sensory tool bin that  you can pull out for these activities – you can see my favorite sensory tools HERE. 
How we played with our marshmallow sensory bin
For this sensory play activity I didn't have any rules or instructions. I just let them play!  As this is a food based bin, you obviously need to supervise their play (and yes I did let mine eat a few – not too many though!). The dog also was keen to have a few marshmallows so we had to keep him out of the way while we played!
If you have older children, you'll be surprised how much they'll enjoy it too. My 6 year old found it a great way to unwind when she got home from school.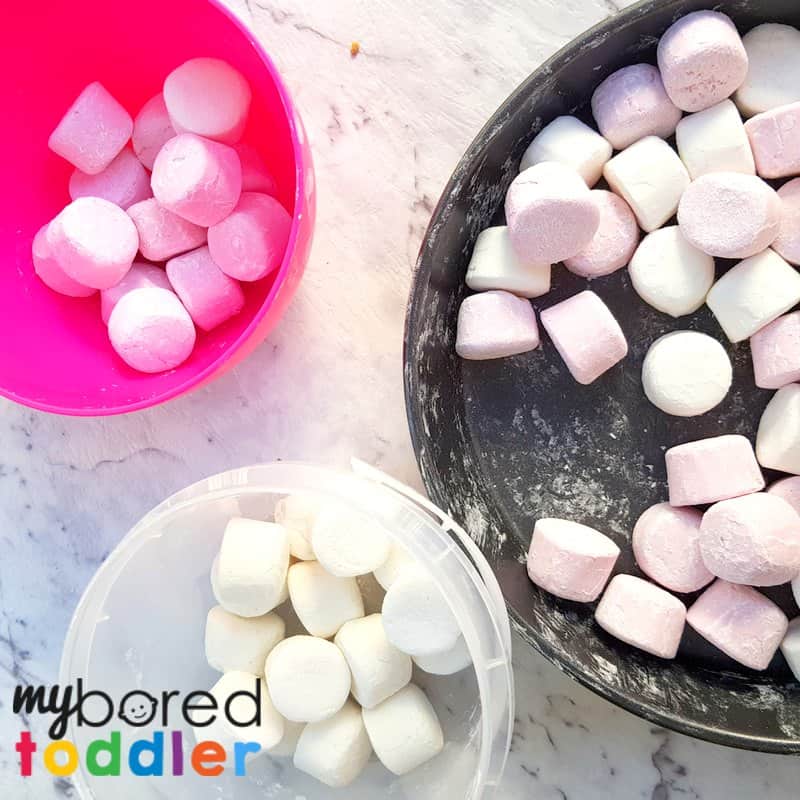 As you can see they sorted the marshmallows into colors. This was unprompted for us, but you could start this off for them. Don't stress if they can't do it – it's a more advanced skill and they younger ones will struggle.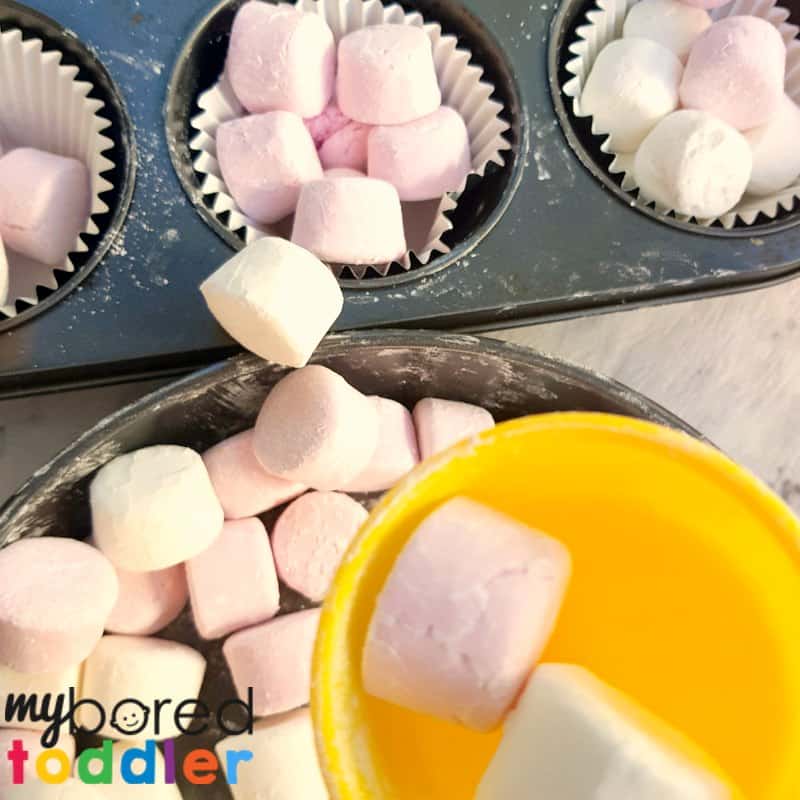 There was a lot of scooping happening and we made LOTS of cupcakes! I often add in cupcake liners and a tray as this seems to always be a popular way to play.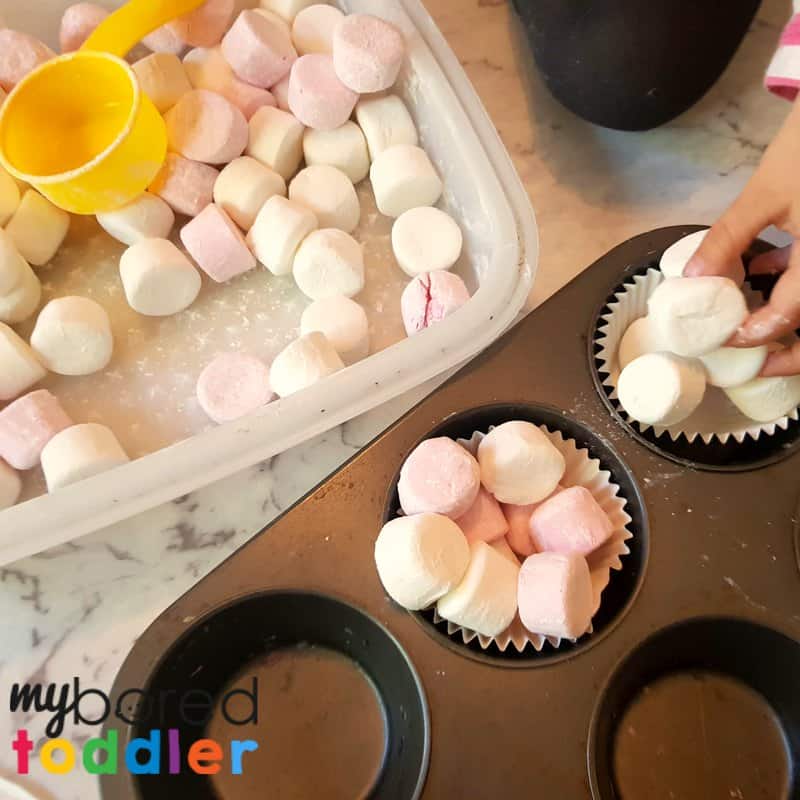 You can see some more of our cupcakes in the photo above. This encourages a lot of pretend play and the discussion that goes along with this is great for extending a child's speech and vocabulary.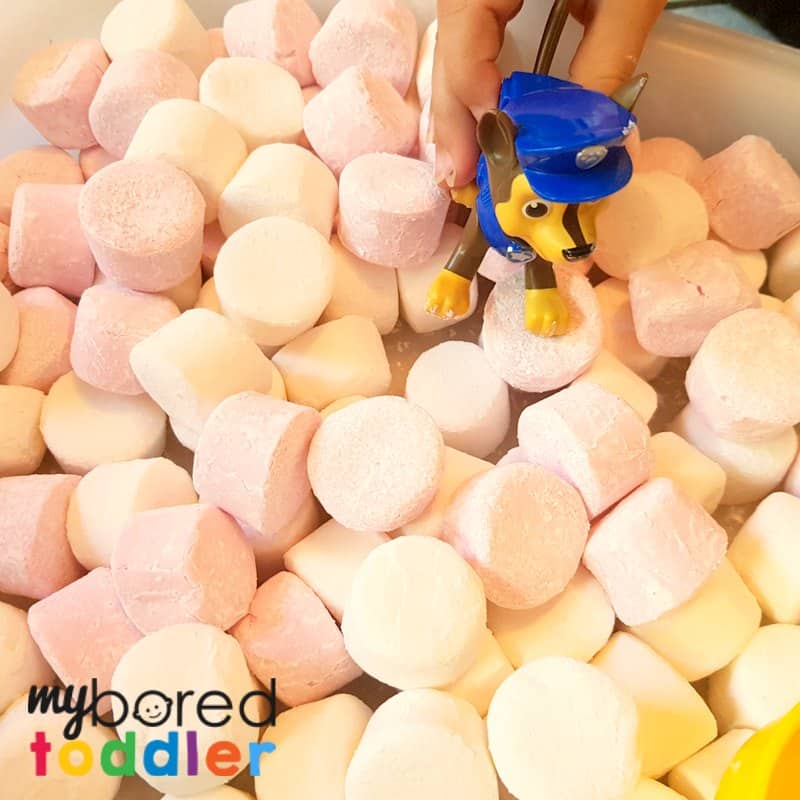 The kids then decided to add in their own toys, as you can see! We have Marshall from Paw Patrol playing in the marshmallow sensory bin now. That's the beauty of unstructured play. It allows them to expand on an activity and take it wherever they like.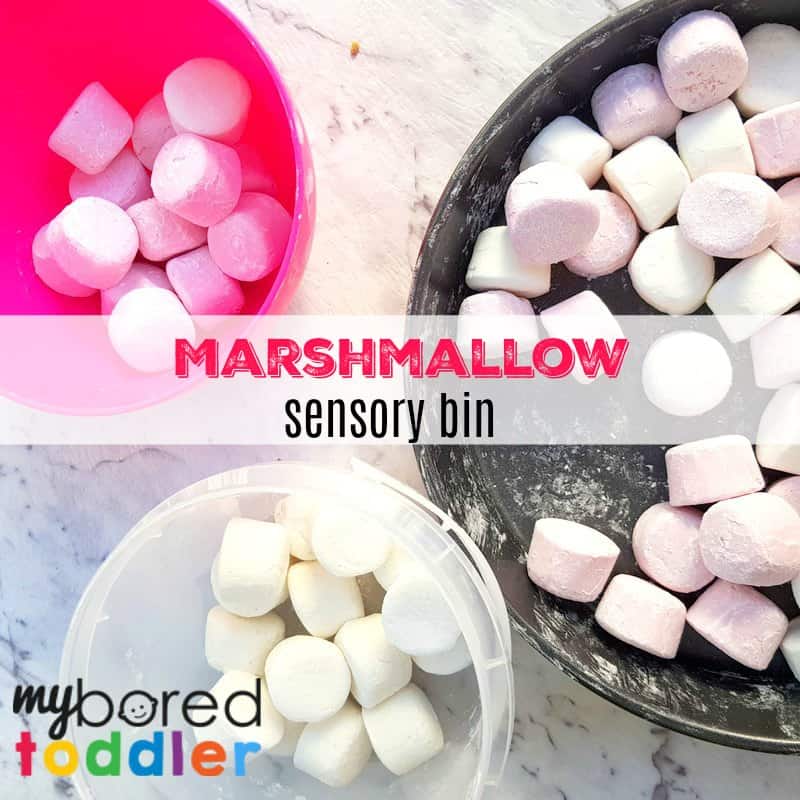 I hope your toddlers (and older siblings too!) will enjoy this marshmallow sensory bin as much as we did. Make sure you share photos of your marshmallow sensory bin in our Facebook Group or over on Instagram – Use #MyBoredToddler so we can see! You can also sign up to our weekly newsletter or follow us on Facebook or Pinterest for more great toddler activities and ideas.
Some more sensory play ideas you might enjoy are: