Today we're going to be getting into some more messy play with colored spaghetti! I know a lot of people often ask us how to color spaghetti and it's really easy. Colored spaghetti is a great messy and sensory play activity and is perfect for babies and toddlers.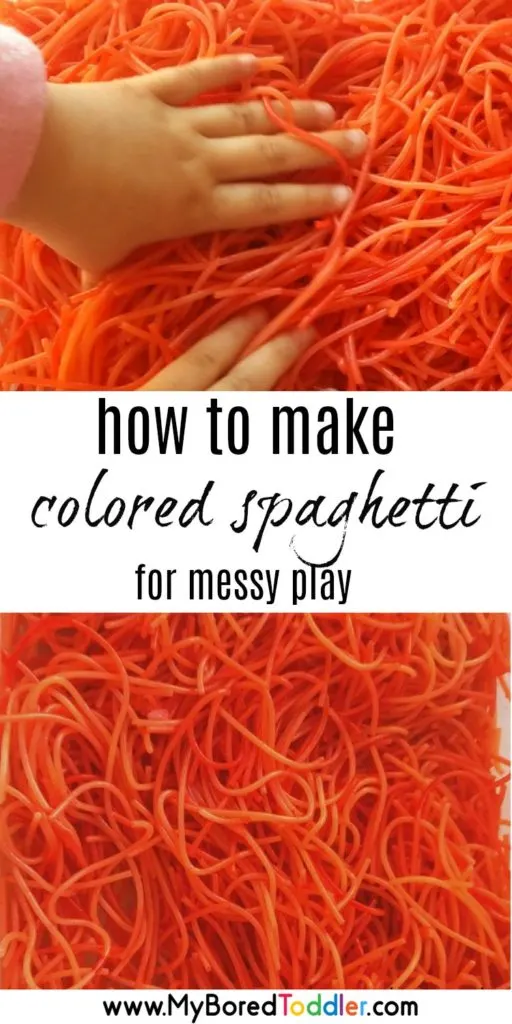 How to Color Spaghetti for messy play
This activity is part of our 5 Day Messy Play Challenge (if you haven't signed up already you can still take part HERE). Once again we have a very easy to set up, super cheap messy play activity.
A packet of spaghetti cost me less than a dollar. While some children are hesitant to touch the spaghetti, the more sensory and messy play experiences they are exposed to, the better they will get with it. Messy play is about letting children explore all of their senses as part of their play.
It's a great way for them to learn and explore the world around them. As they play, use this as an opportunity to ask questions like:
What does it feel like?
What does it look like?
Can you squish it?
Is it hard?
Is it soft?
Is it thin or fat?
Is it short or long?
Are you ready to get started? Let's make our colored spaghetti!
What do you need to make colored spaghetti?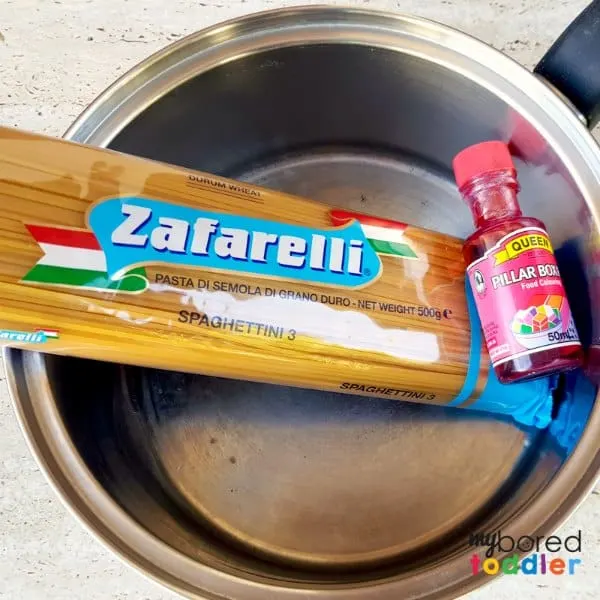 spaghetti - I used ½ a packet, and 1 packet will make plenty.
Pan to cook the spaghetti
a few drops of oil or vinegar
a few drips of food coloring
Container to put the spaghetti in for play
Household items they can play with (pots, pans, muffin tins, scoops etc - whatever you have).
How to make colored spaghetti for messy play
We have made colored pasta plenty of times and I actually find that coloring spaghetti is even easier. There's no need to wait for spaghetti to dry and you don't need to worry about putting them in bags. I know that some people color their spaghetti in bags before putting in the bowl, but I've worked out that that's a step we can skip (less work!).
Cook your spaghetti as usual

Drain your spaghetti and place it in the bowl or container you are going to use
Add a few drops of oil or vinegar and a few drops of food coloring. Add more food coloring for a brighter color. If you want to make different colors, seperate your spaghetti before adding the food coloring.

Mix the spaghetti, oil/vinegar and food coloring together.

Let your child play!
How to play with colored spaghetti
I always like to start by giving the children the spaghetti in a container and seeing what they do with it. Let them look at it, talk about it and touch it and see where the play leads them.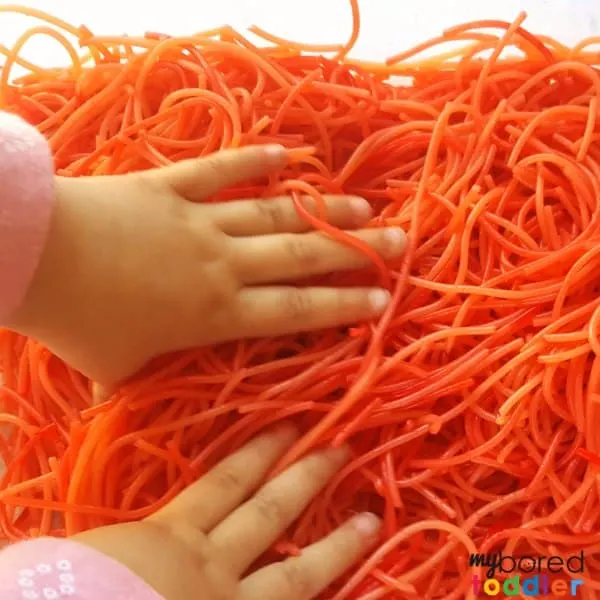 Then you can extend the play in so many different ways. A few ideas are:
Add some tongs (we like these ones - perfect for toddlers)
Add some scoops, cups and bowls - they can transfer the spaghetti from one container to another.
Add some kitchen items for pretend play. We used a muffin tin and that was a hit! Pots and pans would work well too.
Add some toddler safe scissors (I recommend these ones) so they can practice cutting the spaghetti (a great fine motor activity!).
I hope you have as much fun with your colored spaghetti messy play activity as we did! Make sure you share your photos in our Facebook Group and over on Instagram. Use #MyBoredToddler and tag @myboredtoddler so we can all see!
To prepare for tomorrows challenge you will need to make some Jello/Jelly. You can make it all in one container or in different batches. I will be making 4 packets worth but make as much as you have.
If you're looking for more activities you might like: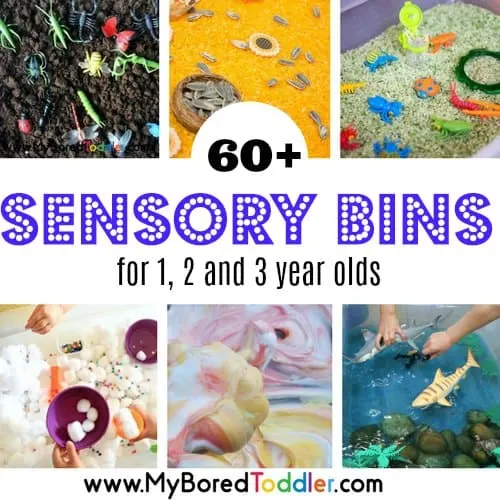 Paper Plate Crafts for Toddlers