In this activity, toddlers can make a frog puppet, then hop and splash in a pretend pool for some awesome imaginative play. This easy frog painting activity will engage your toddler's fine motor and gross motor skills for some amazing learning through play.
Frog Finger Puppet - Egg Carton Craft
Puppets provide great opportunities for pretend play. Kids love imitating the sounds and movements of animals and other familiar characters.
Toddlers exercise language skills and gross motor movements to role-play these characters. In this activity, the little green frog 'croaks' loudly, 'snaps' at passing insects, and 'hops' around in the deep blue pond.
I love matching activities to our favorite books and The Wide Mouthed Frog (available on Amazon HERE) is perfect for this activity.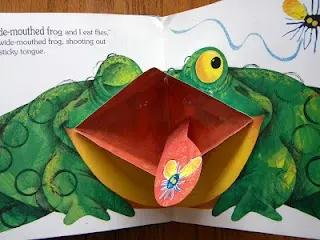 This activity is easy to set up with just a few materials, including a recycled egg carton.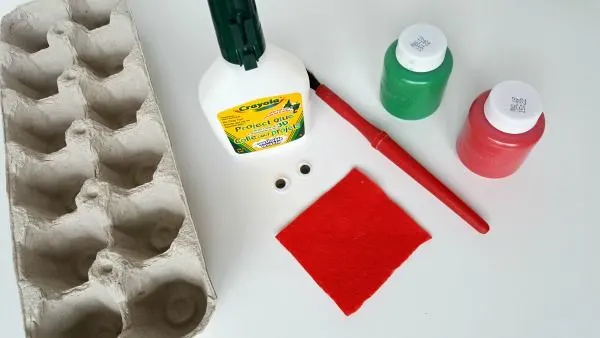 Supplies needed for frog puppet
Instructions for frog puppet
Separate egg cups from the carton and trim rough edges.

Paint with green paint.

Paint the inside portion red to form the mouth.

Glue a small piece of felt inside the mouth for a tongue.

Roll the end of the felt around your baby finger to give it an upward curl.

Glu

e large craft eyes to

the

frog

face.
This activity is perfect for toddlers who are just beginning to handle paint and paintbrushes. The egg cups are easy to paint and the paint dries fairly quickly.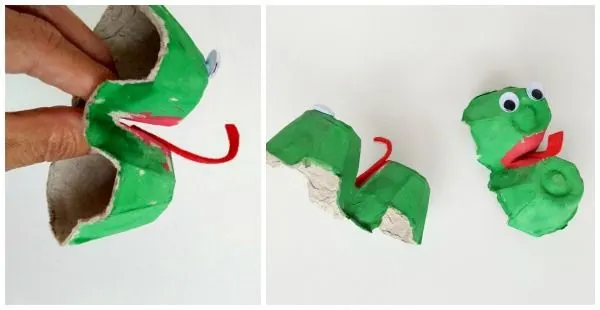 The egg cups do not have to be painted perfectly or covered completely. Kids may want to use other colors to paint the frogs. Allow your child to engage in the process in his own way, choosing colors and accessories from materials provided.
It's always fun to see how creative kids can be!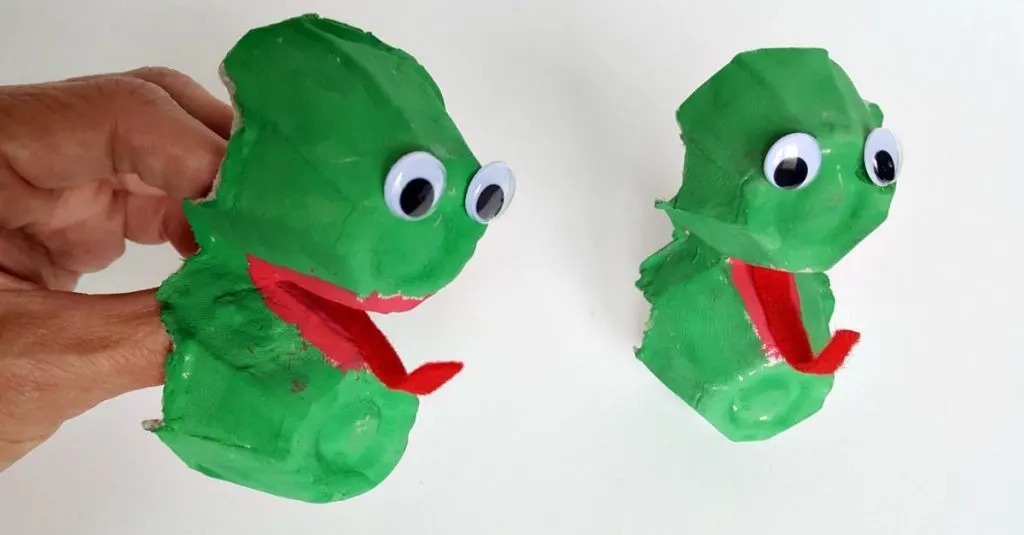 Opportunity for pretend play
Spread a blue cloth on the floor or table to create a pretend pond. Add pieces of green felt or other green fabric for lily pads. Place some small pillows around the pond for large rocks, and paper tubes in the pond for logs.
Alternately, you might like to hang a blue sheet across the backs of two chairs, facing each other with a space between, to make a simple puppet theatre.
Let the fun begin!
There are lots of learning opportunities in this activity as kids engage in fine motor, language, and creative skills along with gross motor movements.
Your toddler will love hopping and croaking around the pond with this cute little frog puppet!
If you enjoyed this frog finger puppet activity why not share a picture in our Facebook group or over on Instagram – follow @myboredtoddler and use #MyBoredToddler so we can all see!
SOME MORE FUN TODDLER ACTIVITIES YOU MIGHT ENJOY ARE: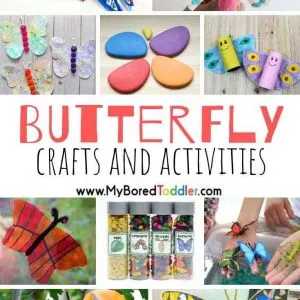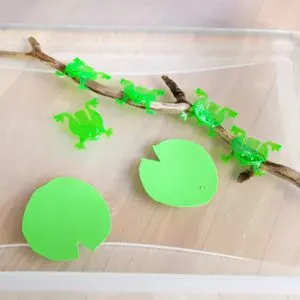 About the Author
Heather is a former preschool teacher and founder of preschooltoolkit.com, a website providing early learning resources for teachers and parents. She focuses on creating fun crafts and activities that engage developmental skills while promoting hands-on learning through play. Follow her on Facebook, Pinterest, Twitter, Instagram