A simple fine motor activity is easy to provide with playdough and a variety of household keys. The textures and colors of the materials offer interesting sensory and creative play along with the fine motor opportunities.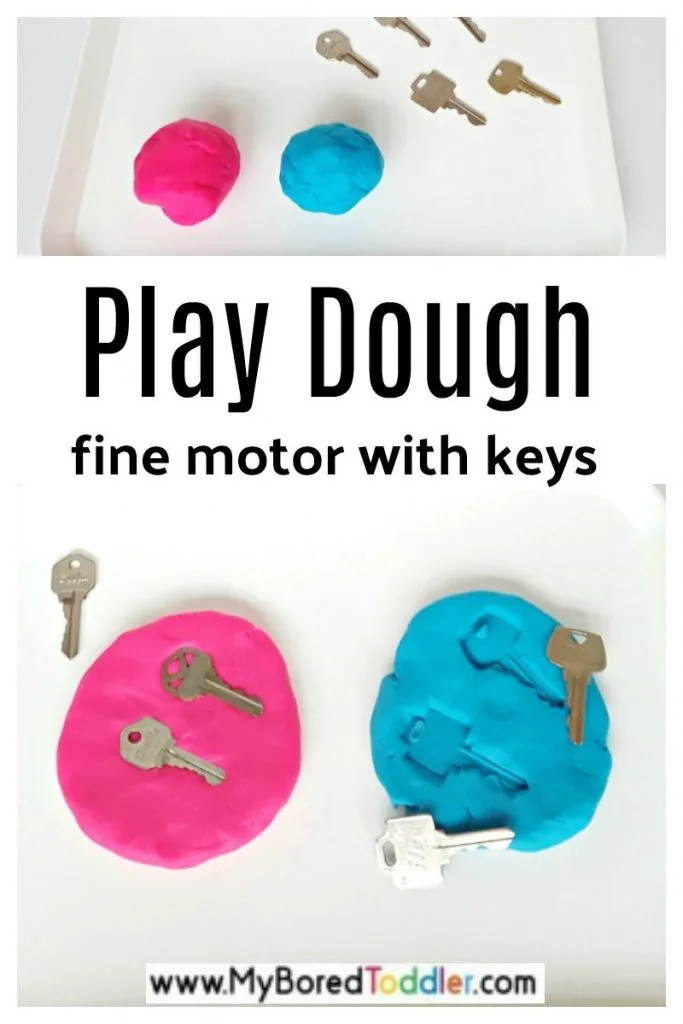 Play Dough Imprints with Keys
Play dough provides lots of learning opportunities for toddlers as they play: strengthening hands and fingers with fine motor work; exploring interesting texture and color in sensory play; engaging with soft and pliable clay for creative opportunities. While you can make your own I find that a big pack like THIS ONE lasts a really long time.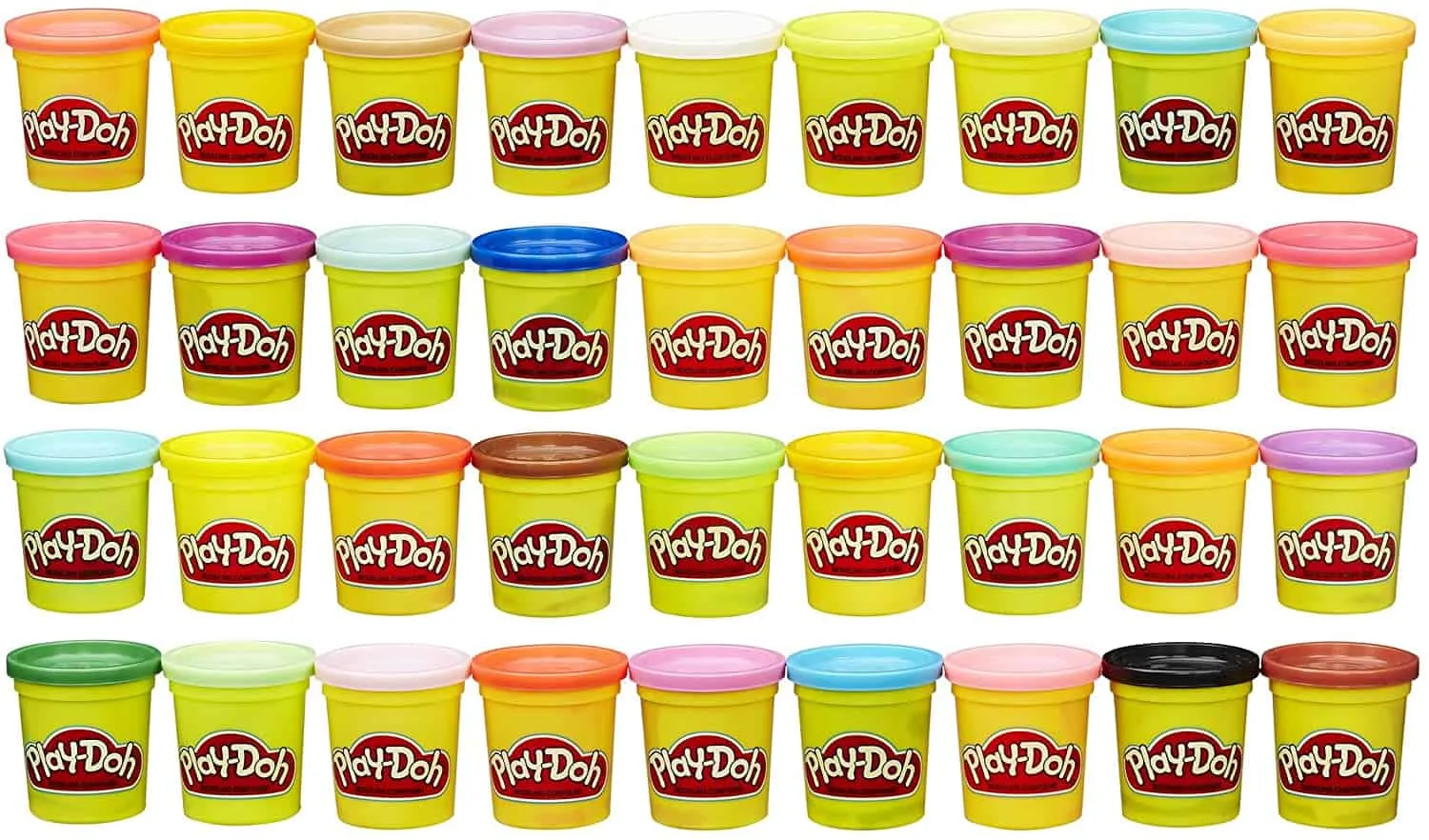 Your toddler will love exploring with the colorful squishy play dough and household keys in different shapes and sizes.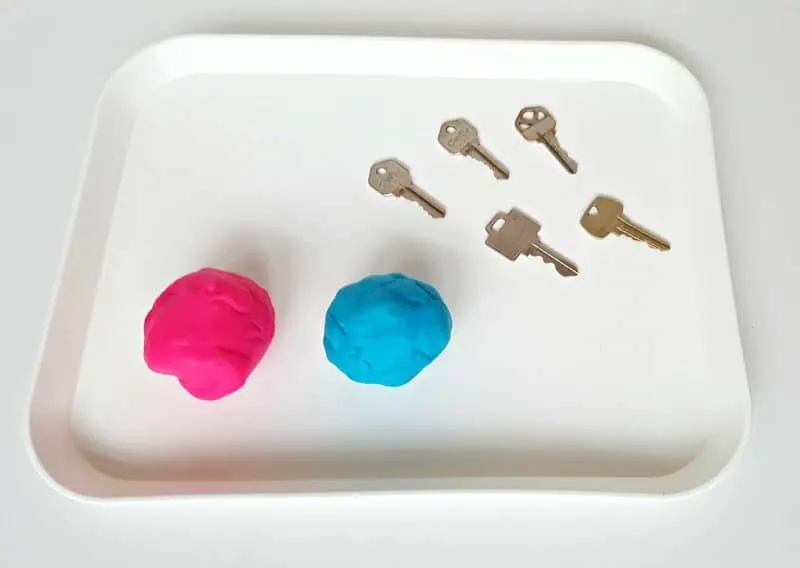 This activity is easy to set up with just two materials.
The play dough you use can be homemade or store-bought. Either one provides the canvas needed for creating key impressions.
Provide a couple of different colors of play dough if possible to add to the sensory play. This activity is perfect for recycling keys no longer used but tossed into a drawer just in case.
Include as many different sizes and shapes of keys as you can to support early math skills.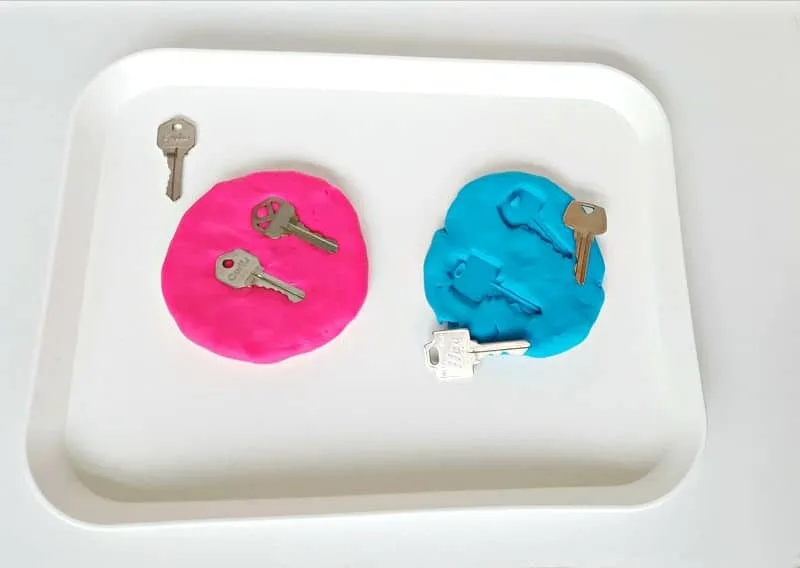 You can begin the activity by introducing the materials. Explore the keys and play dough separately: line up the keys from smallest to biggest; feel the teeth on the keys; squish the play dough in your hands; flatten play dough with a roller or the palms of your hands; roll a ball of dough in your hands.
Encourage your toddler to press the keys into the play dough. Lift the keys to reveal the impressions in the clay.
How many different shapes can you make? How is one key different from the other? Can you see the keys' teeth?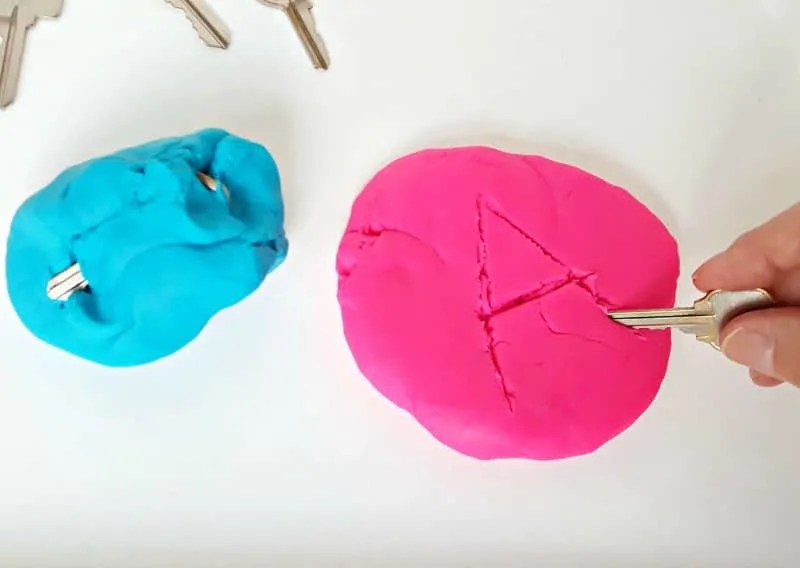 There are lots of options for this activity. Use your imagination to explore with the materials.
More ways to play:
Hide a key inside a ball of play dough.

Stand keys up in the play dough

Draw with keys in the play dough.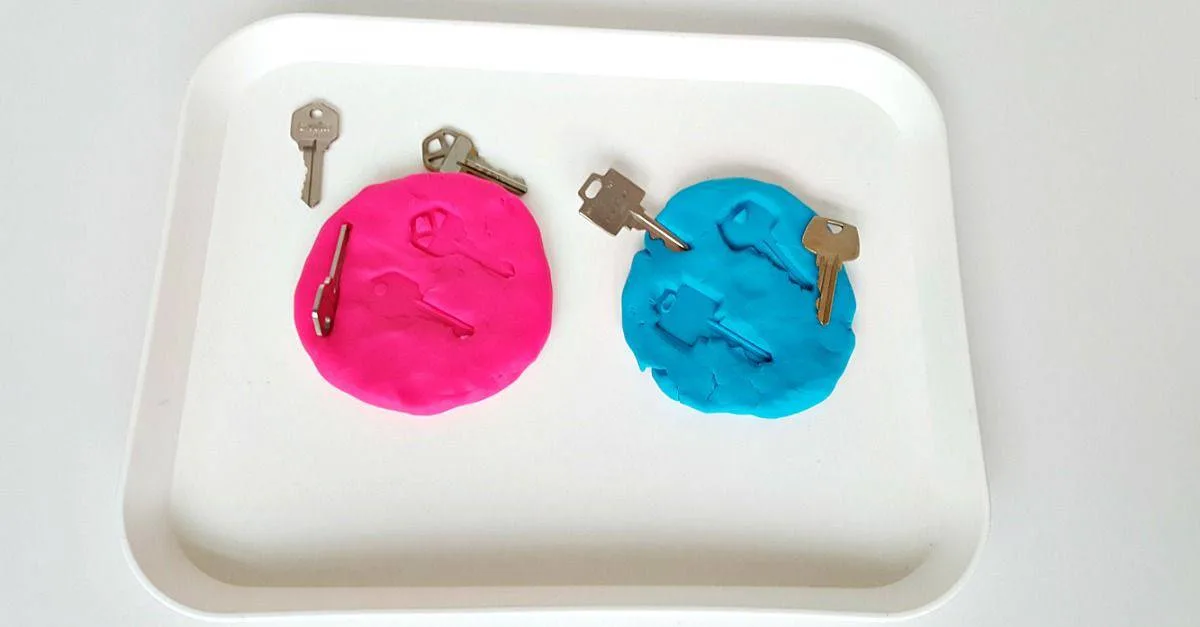 This simple activity is easy to provide for your toddler. You'll love that it's mess-free while providing early development support for your child. This activity is child-led and suitable for independent learning but you can easily join in the fun to stimulate conversation and show different ways to explore with the materials.
If you enjoyed this playdough activity why not share a picture in our Facebook group or over on Instagram – follow @myboredtoddler and use #MyBoredToddler so we can all see!
SOME MORE FUN TODDLER ACTIVITIES YOU MIGHT ENJOY ARE:
PLAYDOUGH ACTIVITIES FOR TODDLERS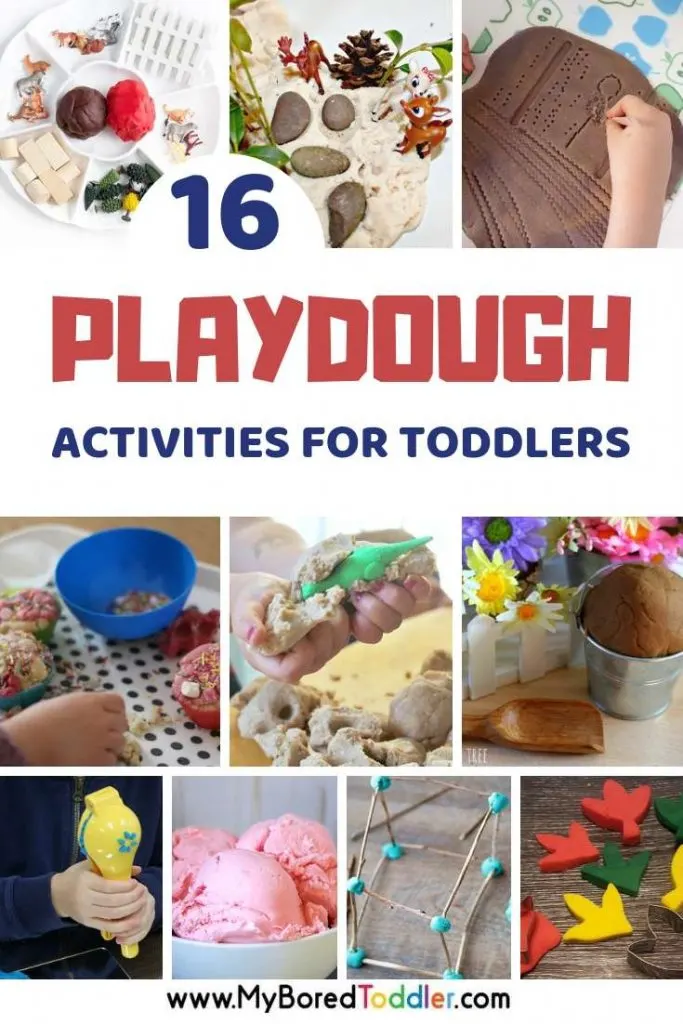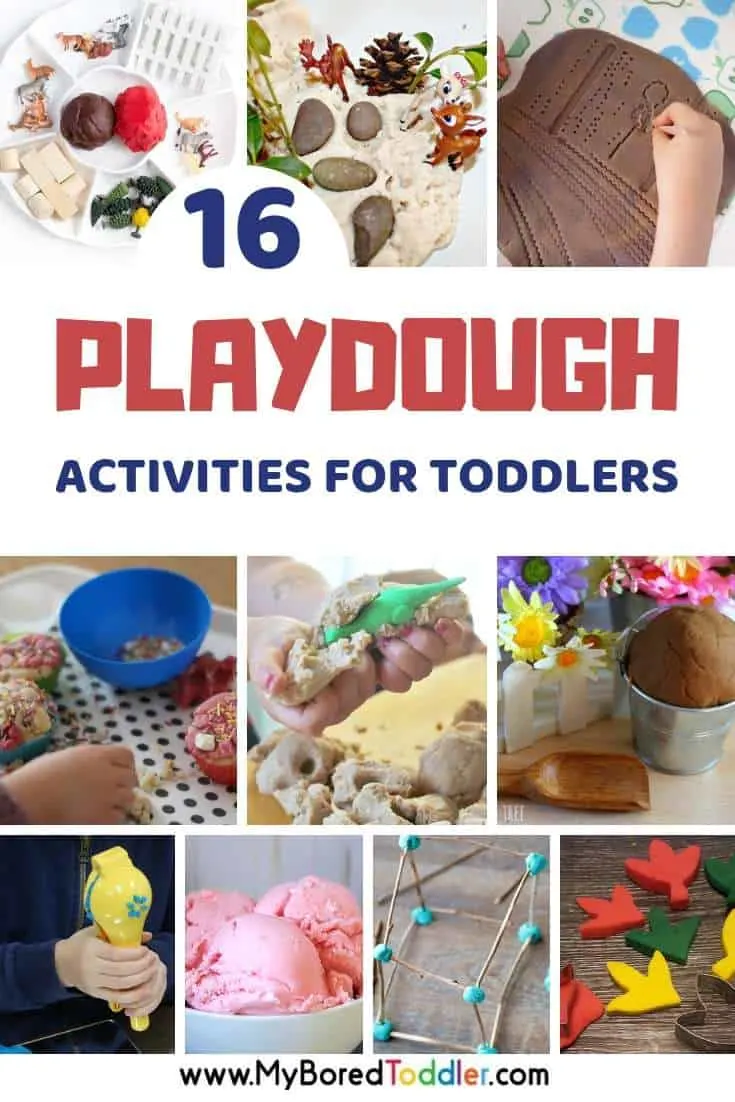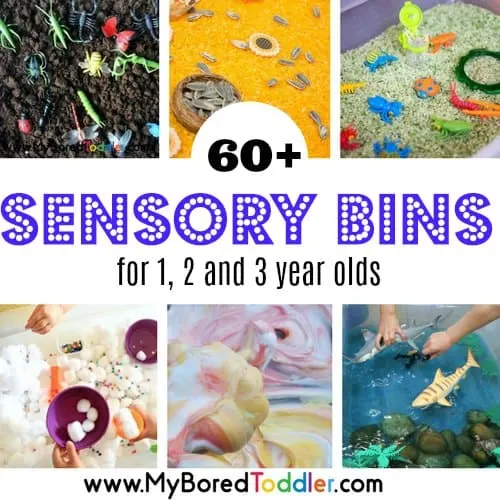 About the Author
Heather is a former preschool teacher and founder of preschooltoolkit.com, a website providing early learning resources for teachers and parents. She focuses on creating fun crafts and activities that engage developmental skills while promoting hands-on learning through play. Follow her on Facebook, Pinterest, Twitter, Instagram