If you're looking for an easy Christmas ornament craft for toddlers or preschoolers this activity is perfect! It's a nice easy Christmas toddler Christmas craft that doesn't require a lot of items and is easy to set up too.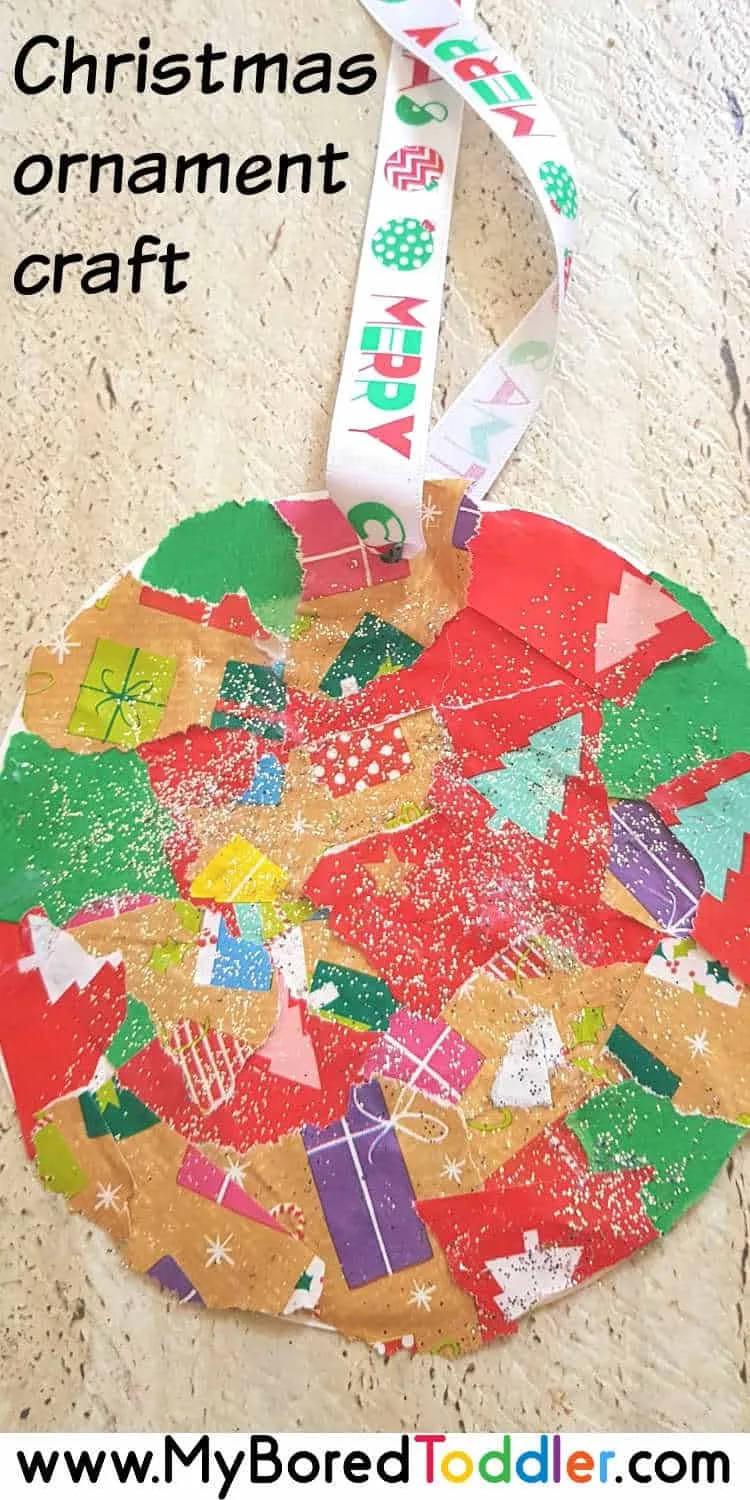 Easy Christmas Ornament Craft for Toddlers
This easy Christmas sticker wreath craft is perfect for toddlers and preschoolers and is a nice easy toddler Christmas craft to start off your Christmas crafting!
This easy ornament craft is part of our 12 Day Christmas Craft Challenge. It's a free and inexpensive challenge designed to get reluctant crafters making things with their toddlers and preschoolers this Christmas.
If you would like to join in you can sign up HERE and start at the beginning.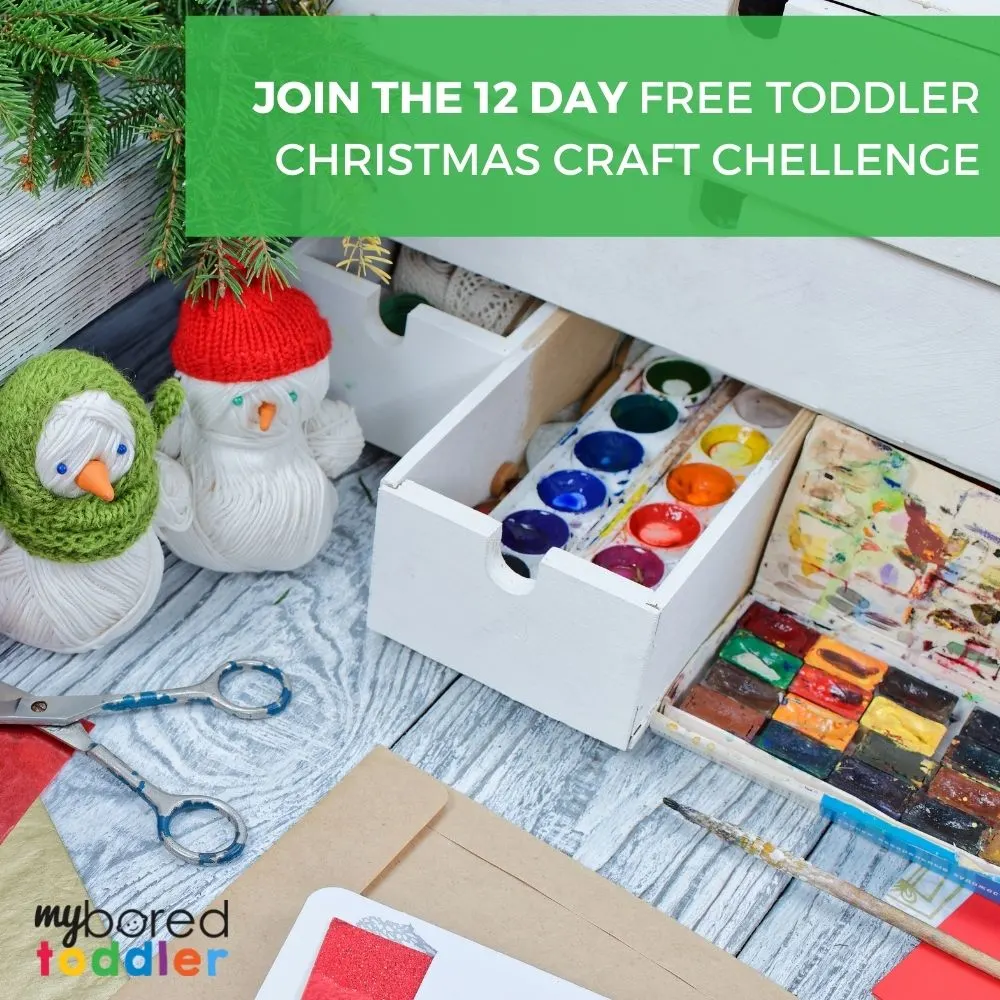 Don't forget that we are sharing our photos in our Facebook group and over on Instagram (use #MyBoredToddler ) so we can see what your kids create! I'll repost some of my favorites.
What you need to make your easy Christmas Ornament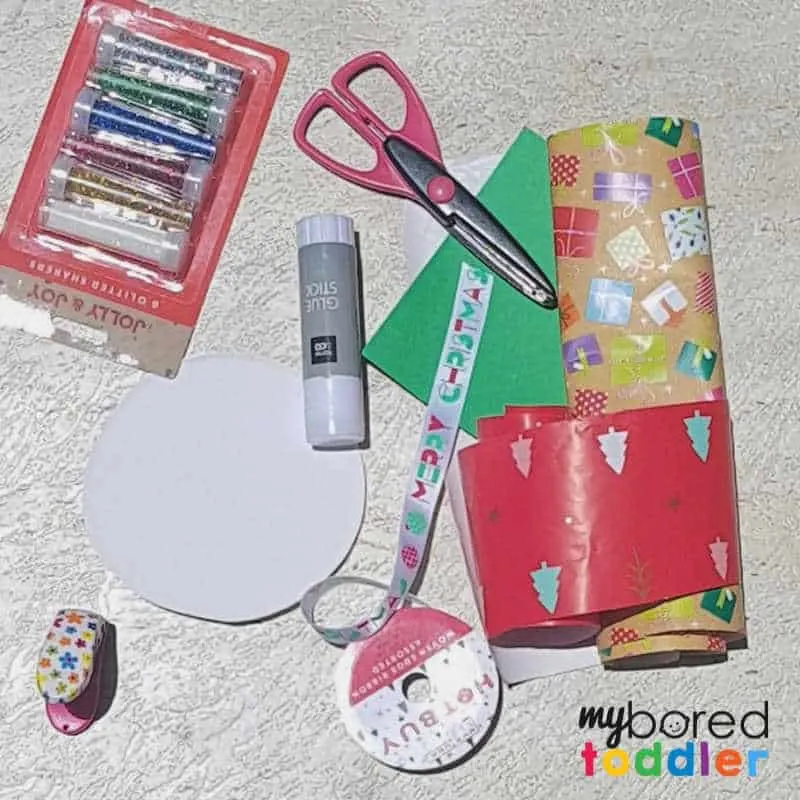 One of the reasons I like this activity is that it requires very little craft supplies. If you've made our sticker Christmas wreath already then you can use the inside of the paper plate as your ornament. If you haven't done that activity yet, cut out your paper plate carefully and you can do the sticker wreath tomorrow!
For this activity you will need:
Paper Plate (just the inside circle of the paper plate). You can substitute this for cardstock or any kind of cardboard if you prefer.
Old wrapping paper or Christmas card scraps. Any red or green scrap paper.
Glue Stick
Hole Punch
Ribbon
Glitter (go on, let them have glitter - it's Christmas!)
How to make your easy Christmas ornament craft for toddlers
Rip up the Christmas paper. This activity looks better if it's ripped rather than cut up, and I strongly encourage you to let your toddlers try to do the ripping (help them if they need it of course). Ripping paper is a great fine motor activity and they'll have lots of fun doing it too!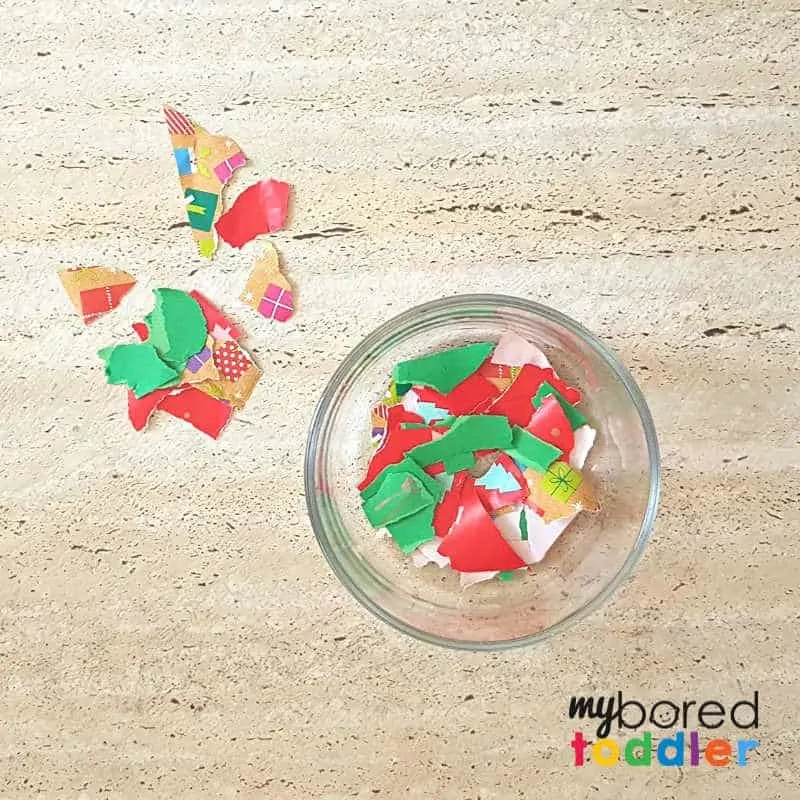 Set up the ripped paper and the round paper plate so that they are ready to glue. Glue sticks are always easier for the younger toddlers to use. If they're having trouble, spread the glue on for them and let them do the sticking.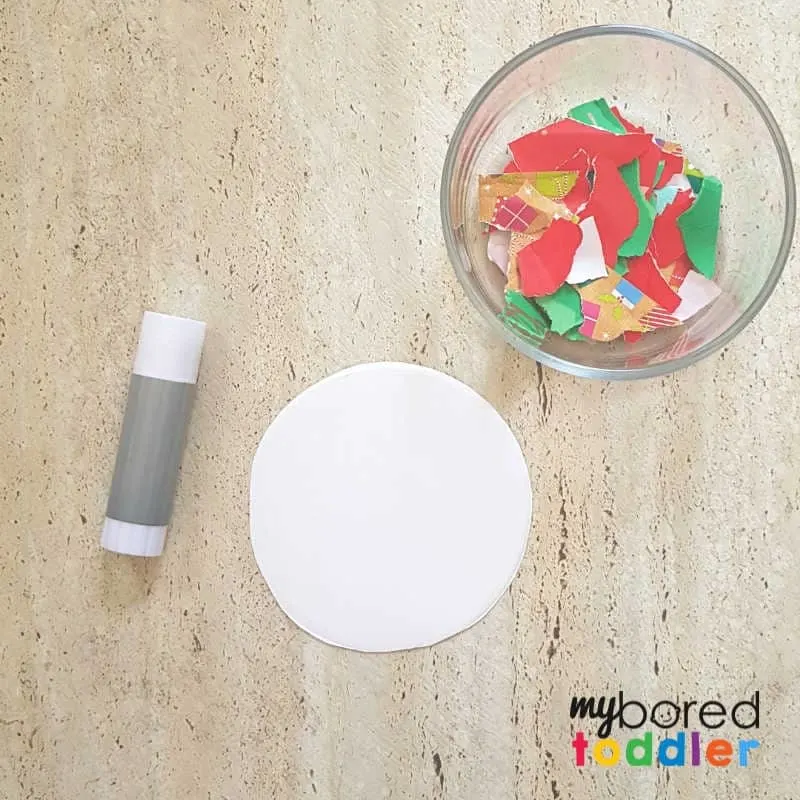 Try to encourage them to do as much of this as they can themselves.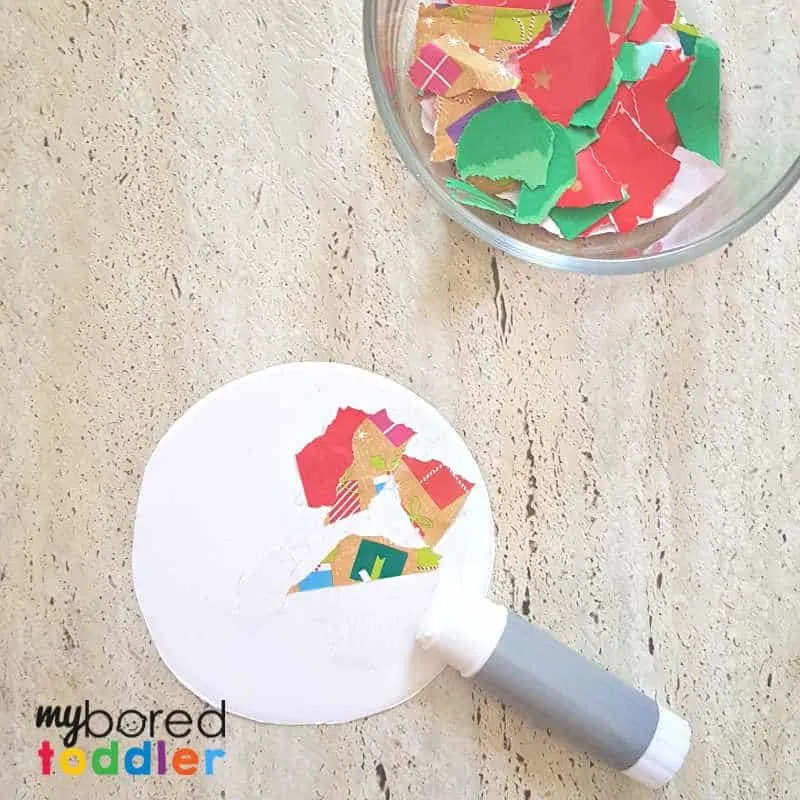 Keep covering the paper plate or cardboard until it is all finished. It's fine to have them overlap each other and it doesn't matter if there are gaps. It's their ornament so let them go for it!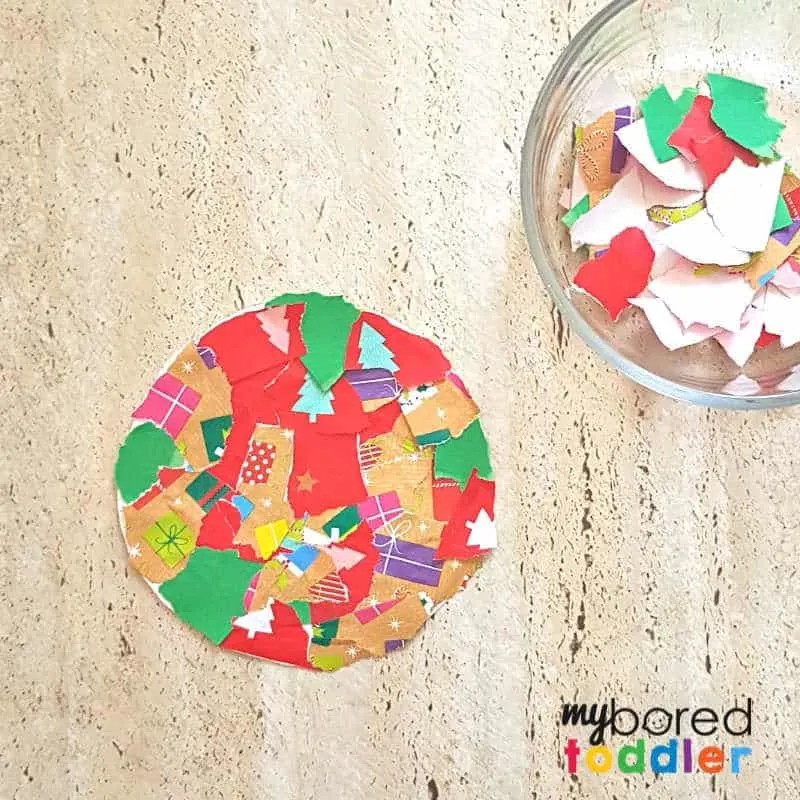 Add some glitter to the ornament. I always recommend that an adult supervise any glittering but I'll leave that up to you! I say that after I have spent the afternoon cleaning up a LOT of glitter! Punch a hole in the top of the ornament and thread through some Christmas ribbon.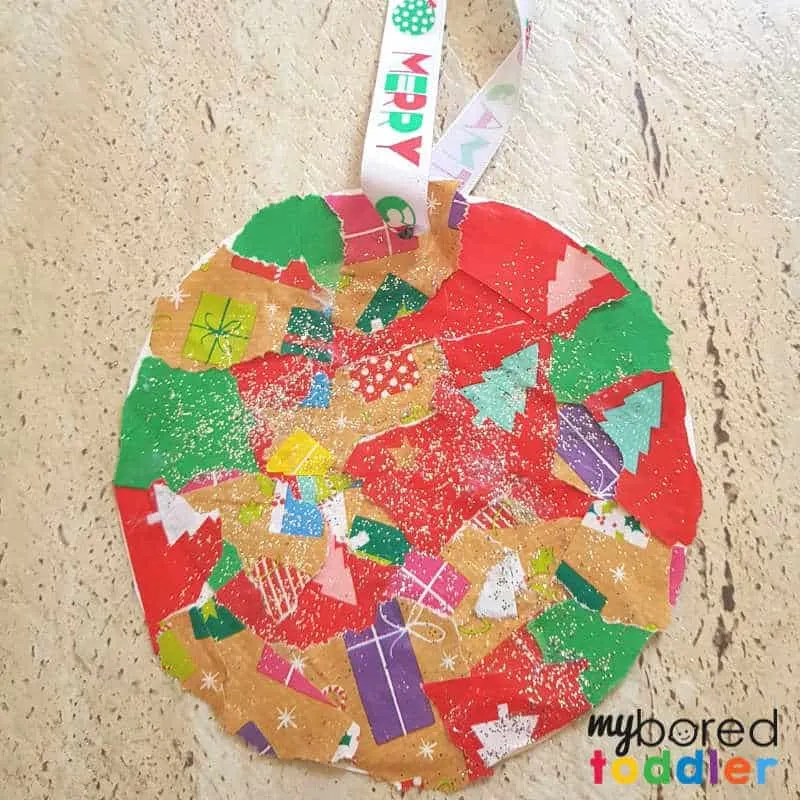 I always like to write my child's name and the year on the back of these as they make great keepsakes.
For more fun toddler ideas why not join our Facebook group or follow us on Instagram – use #myboredtoddler to share your pics so we can see!
More Christmas toddler activity ideas you might enjoy are: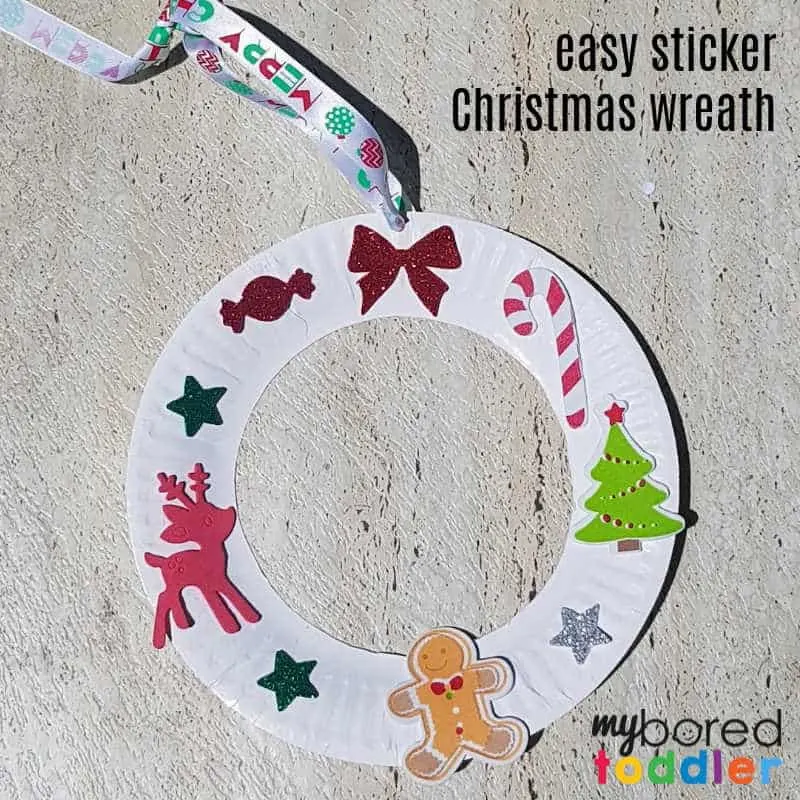 Easy Christmas Crafts for Toddlers