This easy toddler Christmas craft is easy to set up with this simple collage idea. Recycle holiday gift cards and wrapping paper to provide a fun open-ended art experience for your toddler.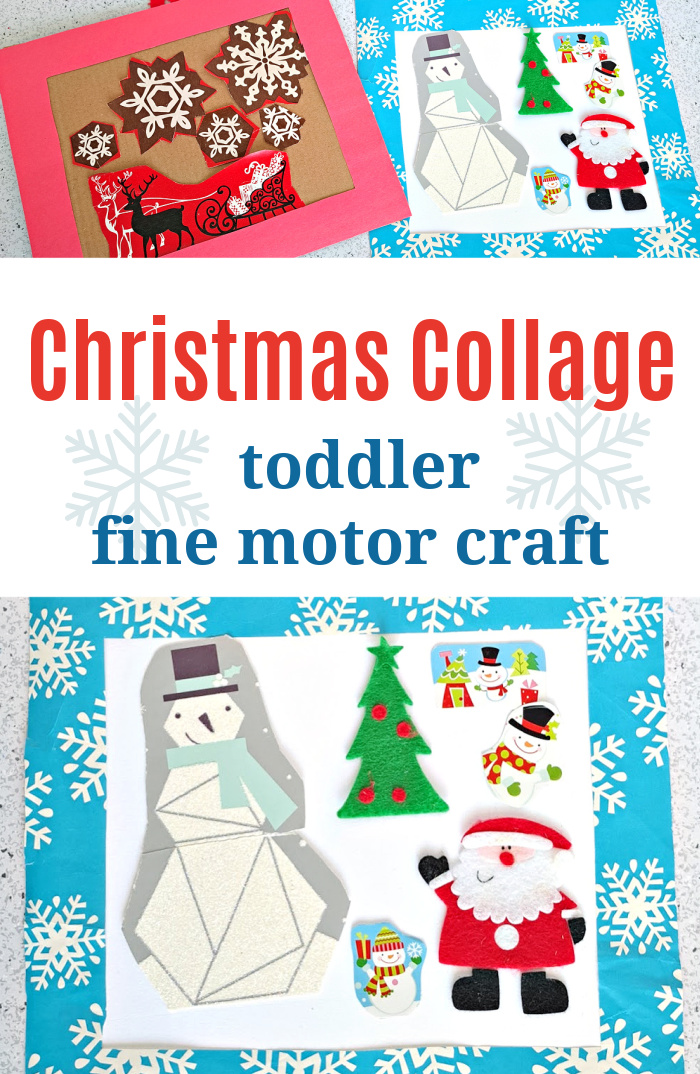 Easy Christmas Collage Craft for Toddlers

Easy Christmas activities are a must during the busy holiday season with your toddler.
This collage activity is a great way to provide an art experience with easy set up, using materials you have around the house.
It's an open-ended activity, meaning it's all about the process and not the product.
Your toddler can experiment independently with the materials, and make choices as to what to include in the picture he's creating.
This simple art activity keeps supplies to a minimum, and supports process art to the max!
What you need for this Christmas collage craft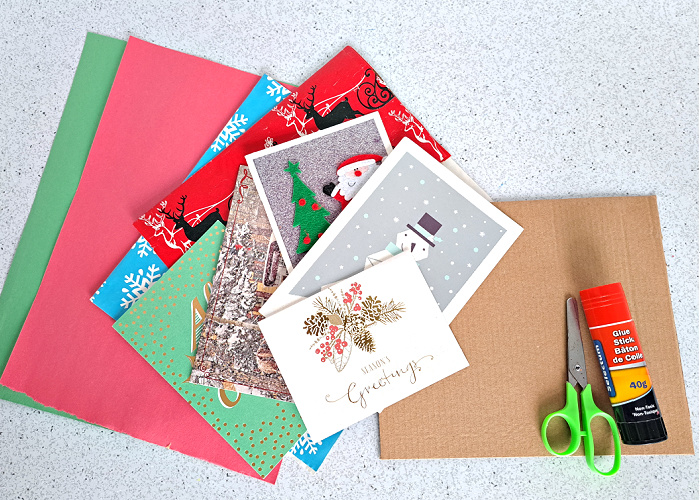 Recycled greeting cards, gift tags, wrapping paper
Construction paper - a pack like this is great to have in your craft box.
Cardboard or cardstock canvas
How to make your Christmas Craft Collage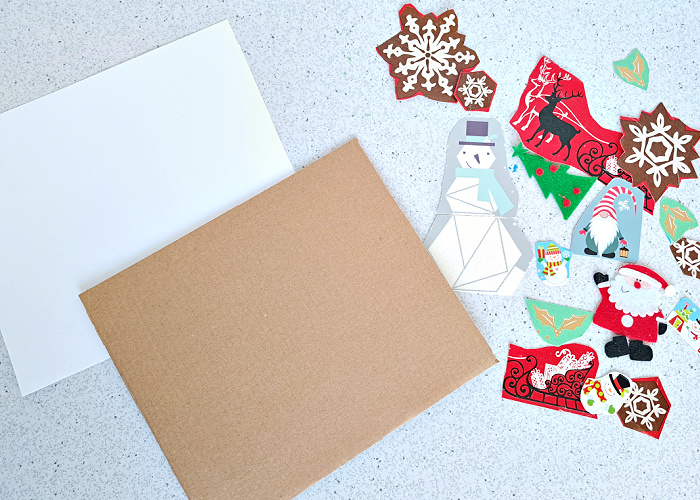 A Christmas collage is a perfect way to start the holiday season. Your toddler will be excited to explore the colorful cutouts, and add his favorite ones to his picture.
Set out a variety of Christmas themed materials, along with a cardboard or cardstock canvas, scissors and glue.
Your toddler can practice scissor skills cutting out images, and you can precut some images as well.
Encourage your toddler to experiment with the placement of the cutouts before gluing to the canvas.
This supports critical thinking, and creative input. She'll also be using fine motor skills to position the cutouts.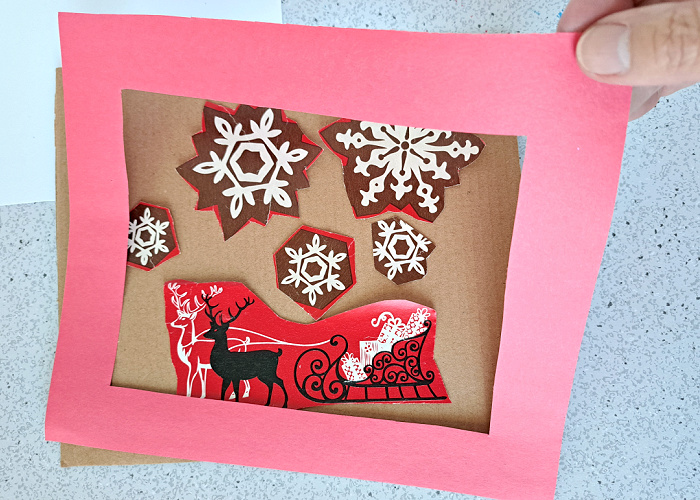 Once the cutouts are in place, you can frame the picture with construction paper or cardstock.
Cut out the center of a piece of paper, leaving a border to frame the picture.
Glue the frame to the canvas.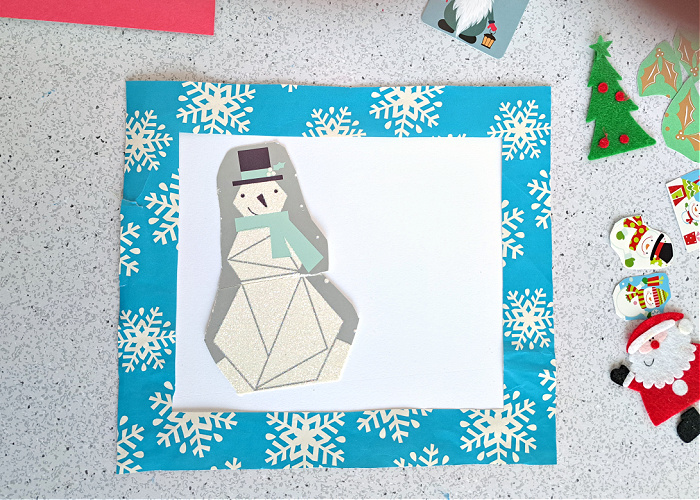 Alternatively, you can frame the picture before your toddler adds the cutouts to the canvas.
Because the process is open-ended, there is no right or wrong way to complete the project, and no two collages will look the same.
Cut-outs can overlap.
Spaces can be left unfilled.
Drawings can be added with crayons or markers.
Each craft will be unique depending on the materials you have on hand, and the choices your toddler makes as he plays.
Process art activities are best for supporting learning through play. The fun is in creating, the learning is in handling materials, making decisions, and talking about the process.
Parents and caregivers are always close by to provide guidance and input as the activity unfolds.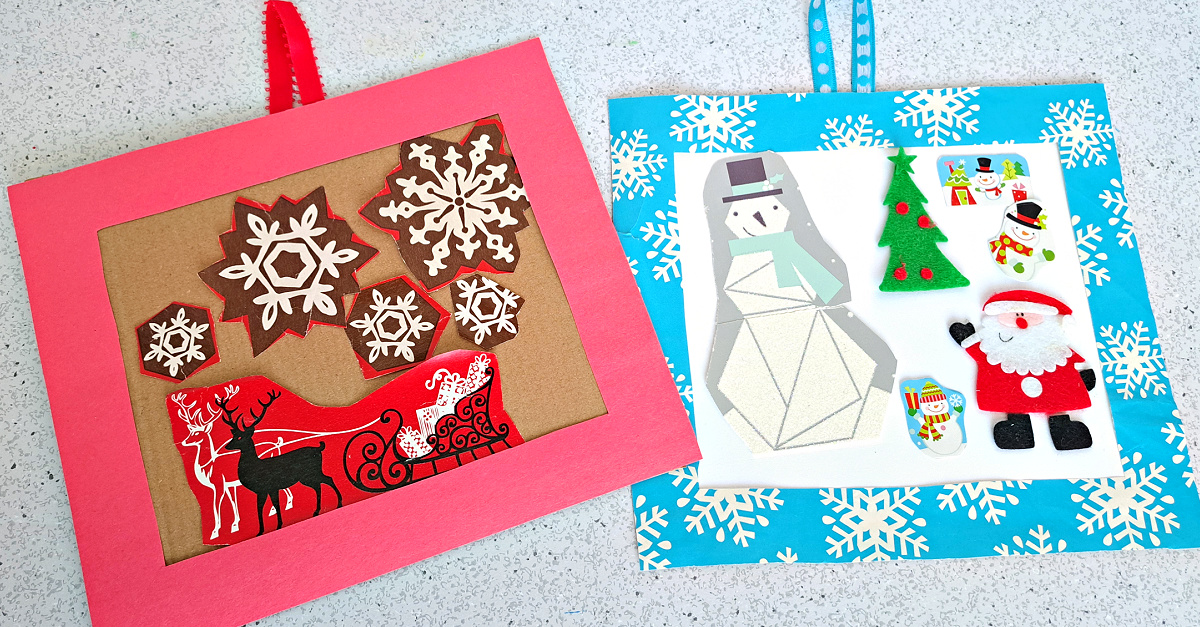 Christmas art is always fun to display.
Place the collage on a mantle or refrigerator, or add a ribbon hanger to display the picture on the wall of your home or classroom.
It's heartwarming to see what your toddler has created, and it's a great way to decorate for the holiday.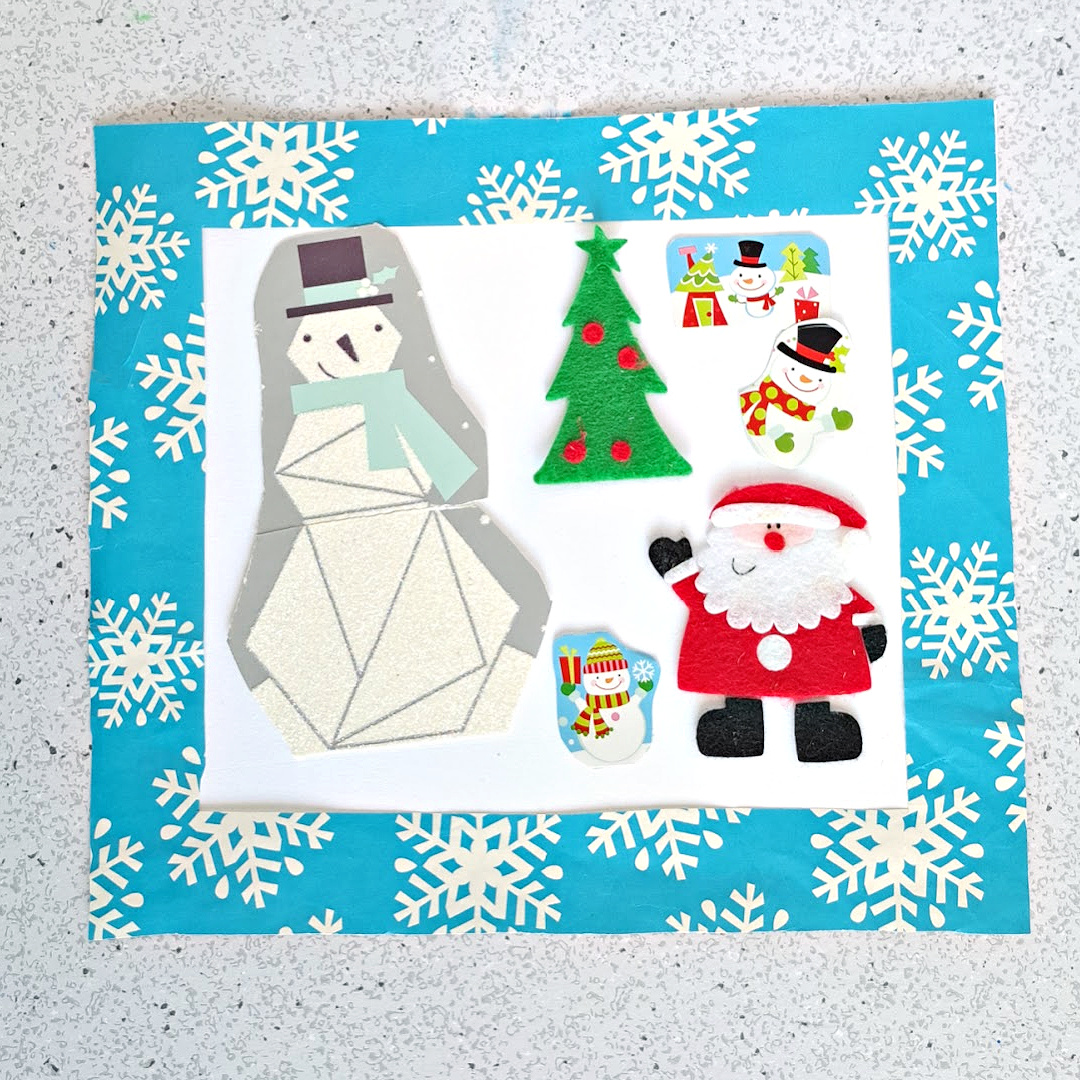 Christmas activities with toddlers help make the season merry and bright.
Keep it simple on even the busiest day with this collage art activity.
We would love to see your Christmas crafts - join our Facebook Group or follow us on Instagram - use #myboredtoddler so we can all see.
Some more toddler Christmas activities you might like are:
Easy Christmas Activities to Do at Home with Toddlers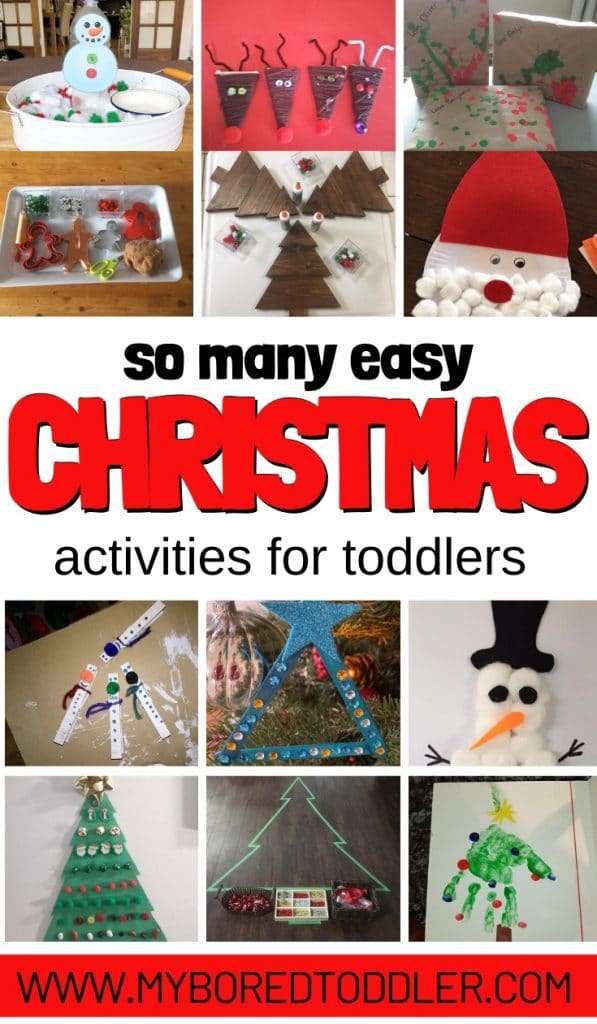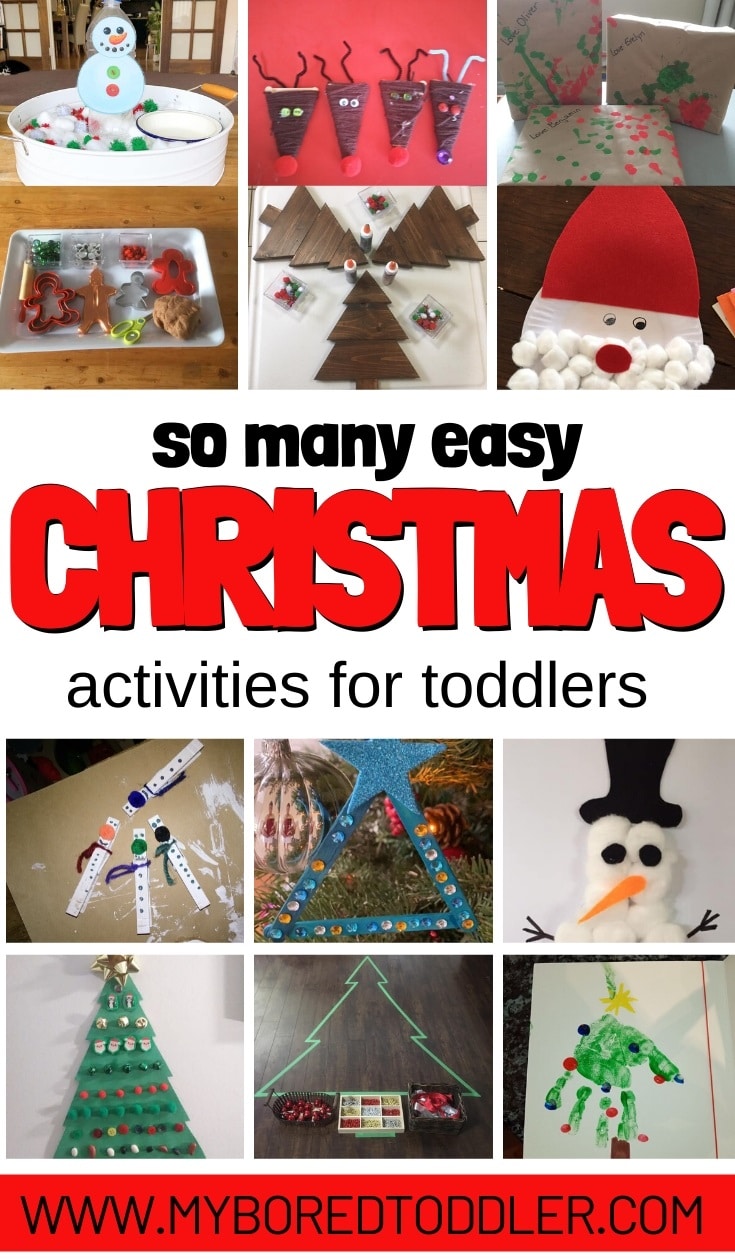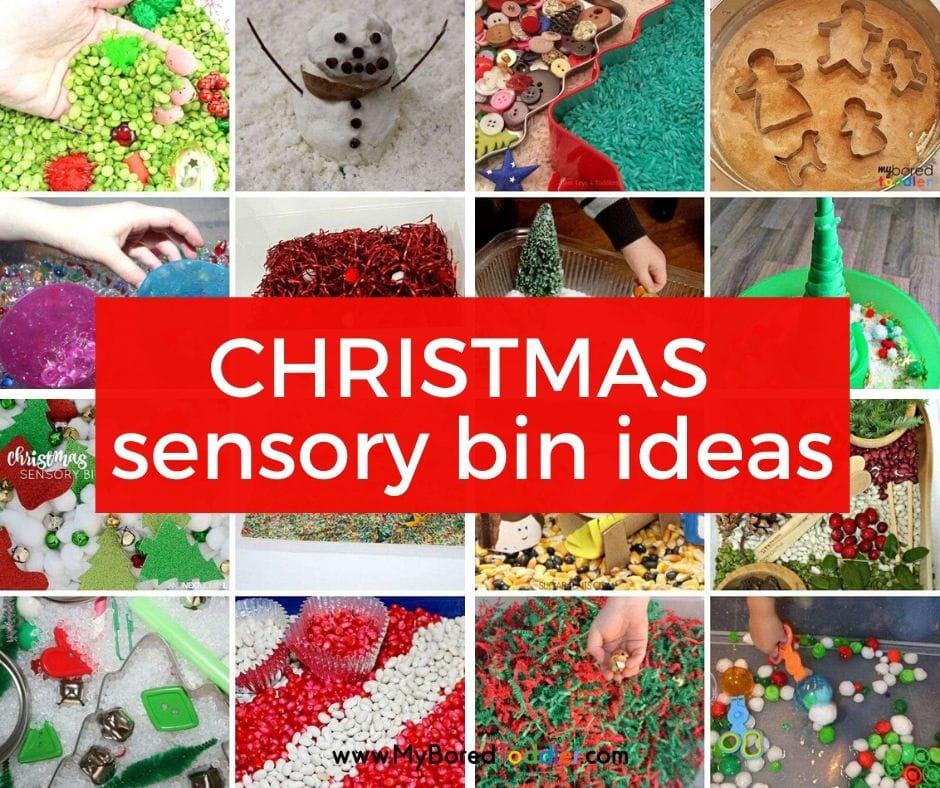 About the Author
Heather is a former preschool teacher and founder of preschooltoolkit.com, a website providing early learning resources for teachers and parents. She focuses on creating fun crafts and activities that engage developmental skills while promoting hands-on learning through play. Follow her on Facebook, Pinterest, Twitter, Instagram