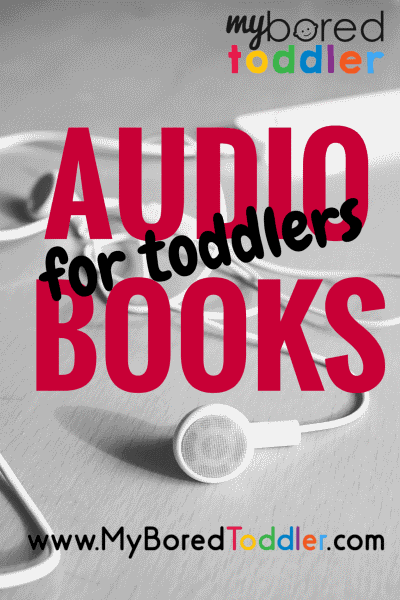 Does your toddler ever listen to audio books? This was something that I remember doing all the time as a child (books on tape – wow that shows my age, and then progressing to books on CD) and I've recently started letting my toddlers listen to audio books too.  They love it!
Listening is such an important skill, and one that often gets overlooked now that everything is so interactive. While listening to stories, your toddler is learning about the structure of texts, increasing their vocabulary, identifying language patterns (rhyme, repetition etc), and most importantly, learning to love books.
We've been using Audible.com (they have a 30 day free trial) and I download them to my phone using the free Audible app. Our favorite place to listen to them is in the car, but I'll often put one on when we have quiet time, or just before nap time. If we happen to have a hard copy of the book as well, they like to follow along.
By signing up for a 30 day free trial here you are eligible for 2 free audio book downloads to get started.
Our favorite audio books so far have been:
1. Brown Bear, Brown Bear, What do you see? By Eric Carle

2. Walking through the Jungle By Stella Blackstone
3. The Wheels on the Bus By BBC Audiobooks
I'd love to hear what audio books you think your toddler would love to listen to with their Audible free trial (comment below).
This has been shared on: