*This is a sponsored post from cars.com
We're currently looking at buying a new family car and it's made me realise that there are a lot of things to consider now that it's a car for four of us instead of just two (well one really - pre kids it was my car and my husband had his own, now my car is the family car). I've spent quite a bit of time researching and here are some things to consider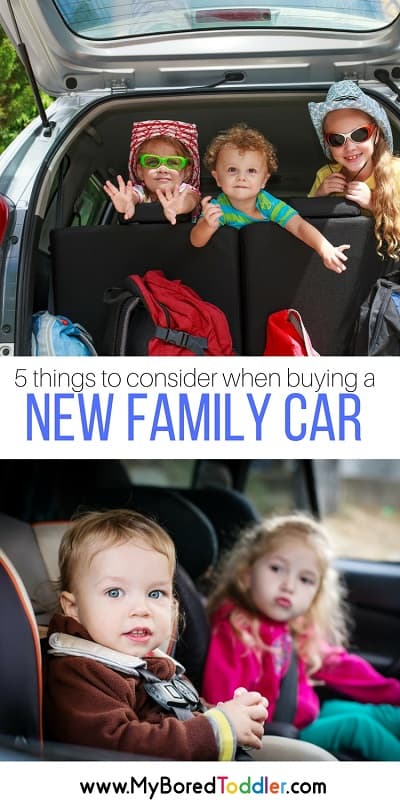 5 Things to Consider When Buying a New Family Car
Will the car seat or seats fit?

If you are expecting a newborn, the newborn car seats often don't fit well in certain cars. The front passenger seat will often have to be pushed so far forward that it's mighty uncomfortable for anyone to sit in there. If you have, or are planning to have more children then you really need to do your research. Most cars will easily fit in two car seats, but often you will not be able to fit anyone in the middle seat of the car. That essentially takes your 5 seater car to a 4 seater. There are some cars that will fit 3 car seats across the back (with the right car seat) so make sure you plan this well.

Does it have enough space for everything?

Have a think about what you will need to put in your car on a regular day. This could be prams, scooters, bikes, backpacks or shopping - and sometimes all of the above at once. If you have a big pram take it with you and see if it fits! Many of the larger prams don't fit in the smaller cars and this is definitely not something you want to discover after you've made a purchase.

What features are essential to YOU and YOUR FAMILY?

With so many options in cars these days, it's important to work out your priorities. I like to make a list of 'must haves' and 'nice to haves'. I live in a hot climate so good air conditioning is on my 'must have' list. So is bluetooth and sat nav. If you go to a site like www.cars.com it makes it really easy to see what features a car has.

What will you be using your car for?

This is similar to the last one, but I'm thinking along the lines of people who buy off road SUV's and never take them off road. Or they buy a mini van and only ever have 3 or 4 people in it. Think about the lifestyle you ACTUALLY have, not the one you wish you had. Plan ahead a little, but be realistic. If your vehicle is mainly used for driving the kids around then get one that's suitable for that.

What is your budget?

It's so easy to get carried away once you start looking for cars. I recommend setting your budget BEFORE you start looking and making sure you stick to it. An easy way to do this is to put your maximum budget into the search feature on cars.com so you don't get tempted by more expensive choices! Remember that buying a second hand car will save you a lot of money and will often mean that you can upgrade to a better model with more features while staying in your budget.
If you are on the market for a new car, www.cars.com is a great place to start your search.
If you liked this post you might also like:
Make sure you join our Facebook group or follow us on Instagram 🙂