When to introduce solid foods + Organix review & giveaway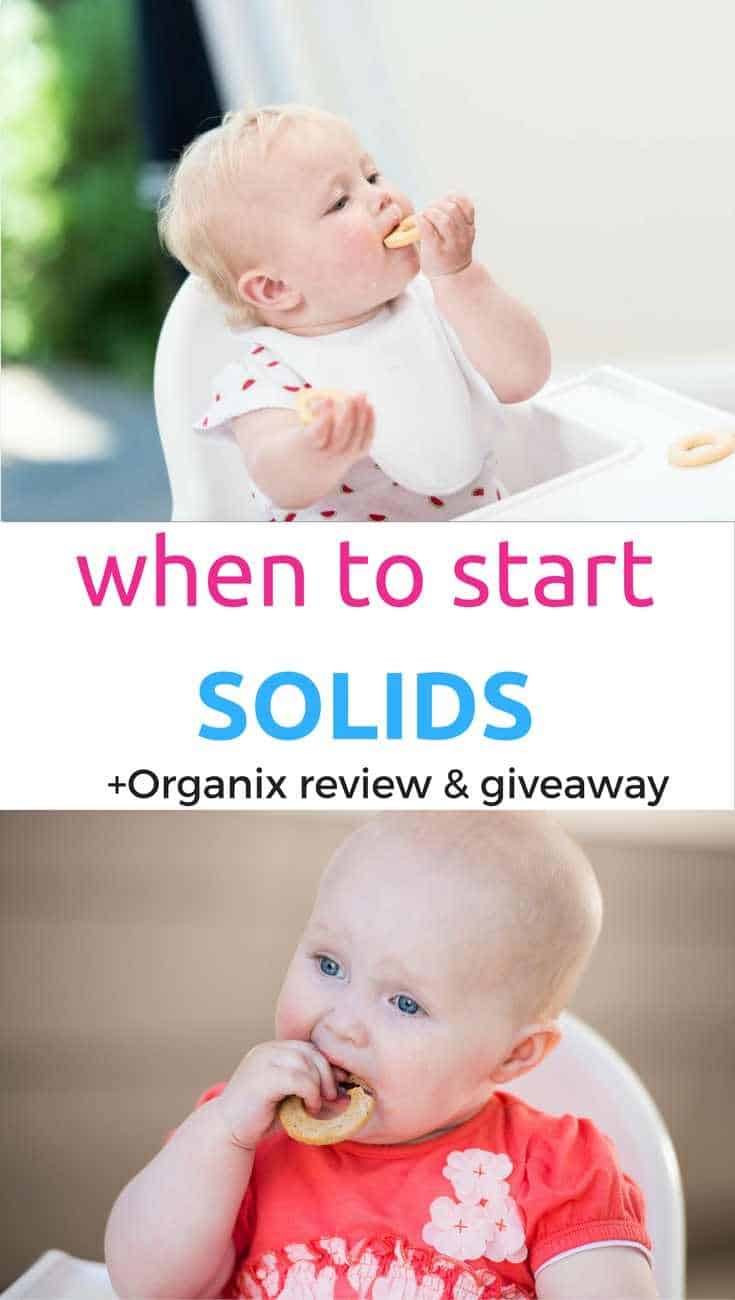 "When to introduce solid foods?" is one of the most common questions asked in parenting forums and groups, and it is one that often has differing opinions. It only adds to the confusion that expert opinions frequently change as well, and different countries often offer conflicting advice. It is always recommended to seek proper medical advice when it comes to issues like this, and I really like these fact sheets from the Queensland Department of Health and the Australian Department of Health.  The facts in this post are taken from the above articles.
At the bottom of this post is a great giveaway for our Australian readers from Organix  – perfect for babies and toddlers at the early stages of solid foods, so make sure you get your entries in!
What age should solids be introduced? 
It is generally recommended that babies begin an introduction to solid foods between 4 and 6 months old. The child should be able to sit up with limited support and be able to control their head and neck before being given solids.  Breast milk or formula should still be the main source of food at this age, with solid foods being more of a 'taster' to start with

What are some of the first foods I should give my baby?

 
Experts recommend starting with single pureed food and waiting a few days between the introduction of each new food. Rice cereal is often a common first food, or pureed fruit or vegetables. There are no strict rules on what foods need to be given first and the Australian Breastfeeding Network recommends that "a variety of foods should be given and the type and order do not matter".  No added salt, sugar, or other additives is also part of the guidelines.
Pureed, Lumpy or Finger Food? 
Autralian Health Guidelines recommend that between ages 6-7 months, food should be pureed or finely mashed. From 7 months, mashed or chopped foods and finger foods can be introduced, and then cheese, yoghurt and custards are recommended from 9 months old. By the age of 1, your child should be able to eat all of the normal healthy family foods (taking care to make sure they are not choking hazards).
Do I have to make the food myself? 
Making your own baby food is a great option – it allows you to ensure that you are giving your baby or toddler fresh, healthy food with no additional nasty ingredients added. While I often make my own food,  I don't always have the time (or the energy!) to do this consistantly. That's why  it's great to have healthy options that are easily available at the supermarket.
With two kids, I am always on the go, so finding the time to make my own food is not always possible. I'm often caught short while we are out, and it's great to be able to quickly run into the supermarket and grab something that I know is nutritious and healthy for my child. I was amazed when I had my daughter at how much of the products that are marketed to babies and toddlers actually contain added sugar and other nasties – it's certainly worth reading the packets and knowing the brands you can trust.
How do I know that a brand contains the best ingredients? 
One of the best ways you can compare commercially made food is to read the ingredients. It's a real eye opener. So many products that are marketed to babies and toddlers include added nasties (often sugar and flavours) which they don't need.
This month we have been testing out the Organix range of baby and toddler food, a relatively new addition to the Australian baby and toddler food market. I'm pleased to say that the Organix range comes with a no junk promise. Their food is always organic and includes no unnecessary ingredients.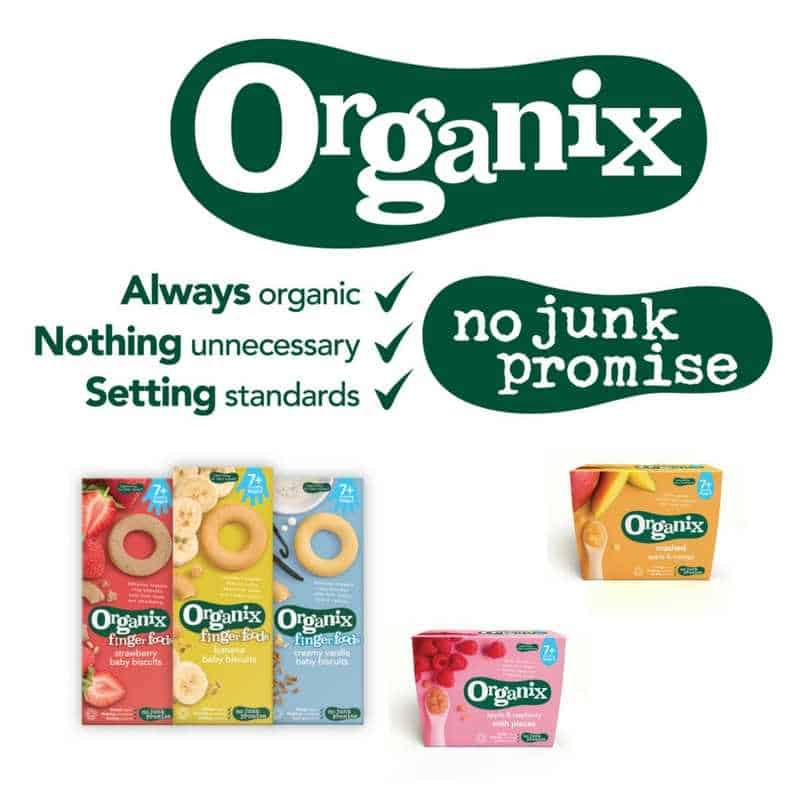 The two item ranges that we have been trialing are the Organix fruit pots and the Organix baby biscuits from their finger food range. Both of these products are recommended for babies and toddlers 7 months and older.  As my children are now a little older than 7 months, I had some friends take them home and give them a try as well.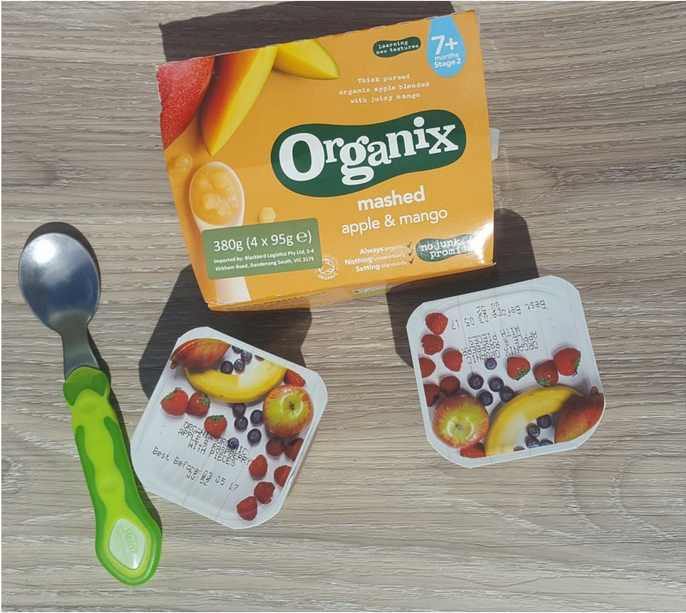 For the children who were still on the mashed/soft lumpy food, the Organix fruit pots were a hit with both mums and bubs. We trialed the Apple & Raspberry with Pieces and the Mashed Apple & Mango. The mums were impressed with the inclusion of ONLY natural ingredients  Each pot contains only organic fruit and makes up one serve of the recommended 5 a day. These come in 95 gram pots, in packs of 4, and do not need to be stored in the fridge until they are opened.   After that, they can be kept for 24 hours in the fridge. If you have any leftovers in a container, you can freeze them to make ice blocks. Great for teething!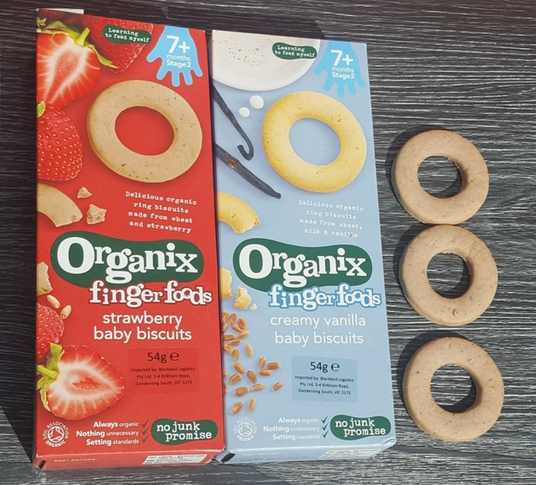 We also trialed the biscuits and these were very popular. They are ring shaped making them really easy for small hands to pick up. We tested out the banana, strawberry and vanilla flavours (strawberry was the most popular), and these didn't last long at all. We took them to a play group morning tea and they all disappeared very quickly – always a good sign! The biscuits were great for snacks while we were out and about. Just like the fruit pots, the Organix biscuits also come with the No Junk Promise.
The Organix fruit pots and biscuits have definitely received the tick of approval from the kids and the mums.  The Organix range is available in the baby aisle at Coles and Woolworths.
You can find out more information at www.organix.com 
WIN an Organix prize pack
Would you like to win an Organix prize pack? One lucky reader will win a solids starter pack valued at $26.50  including
1 x Vanilla Baby Biscuits
1 x Strawberry Baby Biscuits
1 x Banana Baby Biscuits
1 x 4 Pack of Apple & Mango Fruit Pots
1 x 4 Pack of Apple & Raspberry Fruit Pots
To enter, tell me in the comments below why you want to try the Organix biscuit and fruit pot range. Entries close Sunday 13th November. Australian residents only.