Rubbish Free Lunchbox Tips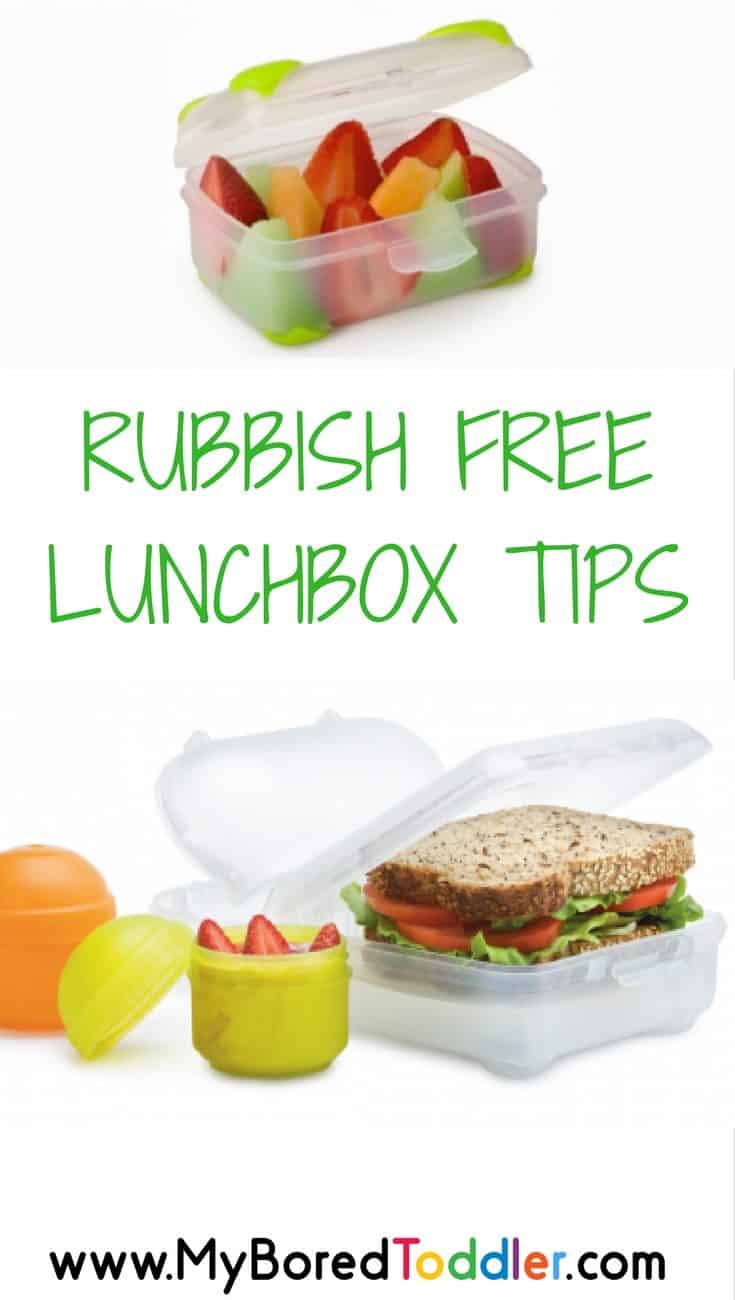 Did you know that the average Australian throws away 200 kilograms of packaging rubbish each year. That's 200kg of wrappers, bottles, foil and other items that are not always needed. Have you seen the fruit departments at the supermarkets lately? Bananas on a plastic tray, wrapped in plastic. Pre cut fruit and vegetables in their own packaging. Lettuce leaves in individual plastic bags. Not only is our processed food coming in individual packets, but so is our food that has its own natural packaging.
I took note of the amount of packaging we used as a family of four for a week and it was staggering. As a family we try to avoid too much processed food and eat reasonably healthy and yet we still accumulated so much packaging. It was an awakening task to see how much rubbish we used, and it has been great to combat that with a challenge.
Did you know that October is Nude Food Month? It's the month where Nude Food Movers challenge everyone to have a rubbish free lunch box. This year over 4 million Australians are taking part and over the last week we have made a huge effort to have rubbish free snacks and lunches. If you follow us on Instagram you will have seen some of our rubbish free days.
I have to confess that I am often a bit slack with the rubbish free lunch idea, even though I love the concept. My eldest daughter's kindy has always encouraged a rubbish free lunch, and she is always reminding me to reduce, reuse and recycle. Don't get me wrong, I'm all for doing my part for the environment, but I'm also a busy mum and sometimes convenience gets in the way. Once I came across the statistics about the amount of packing litter that Australians produce each year, it really made me stop and change my behaviour. We have jumped on board the Nude Food Month challenge. This month has encouraged us to focus more on the ways we can achieve our rubbish free lunch and snacks and we've discovered a few tips along the way.
Buy quality lunch boxes and containers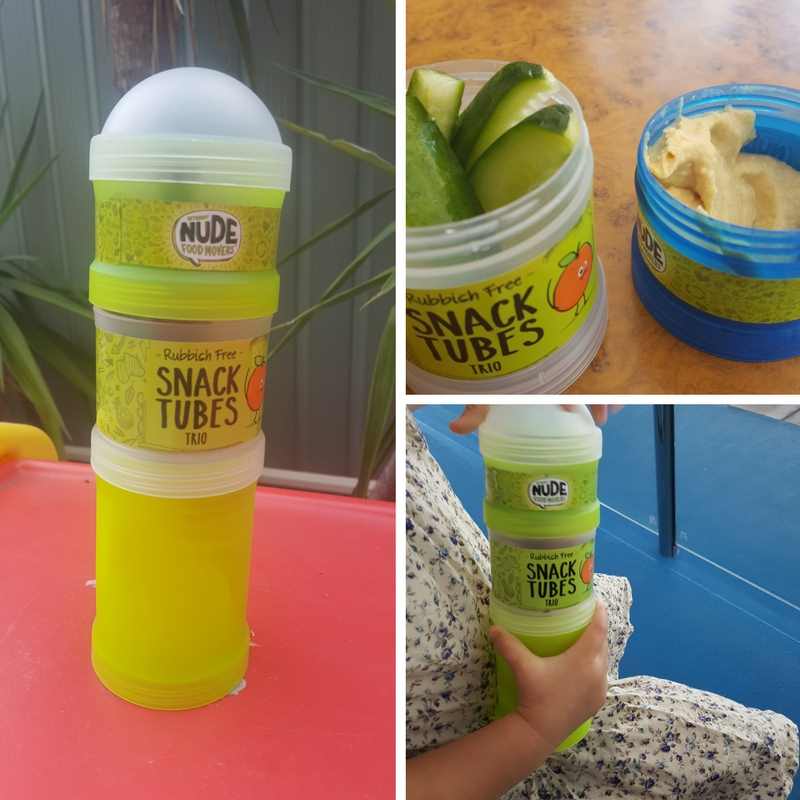 One of my downfalls was using zip lock bags because we didn't have any suitable containers. We'd end up with a few strawberries in a huge container, or trying to fit a lot of crackers in a large one. Since Nude Food Movers is running the Nude Food Challenge, we've been testing out their range of products and it has made things so much easier. One of the items I have really loved using are the snack trios and duos. I love that I can add crackers or cucumber in one part and dip in the other. We've also used them to have crackers, strawberries and blueberries in them. These are the perfect size to take on short outing or to places like swimming lessons.
Buy in bulk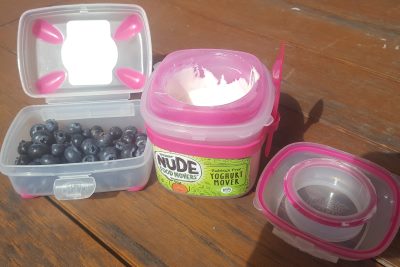 Lately I've fallen into the terrible habit of buying those convenience size packets of things and as well as being a ridiculous waste of money, they are creating so much rubbish. This week I've gone back to what I used to do and have started buying in bulk and portioning out items. I've been buying a large tub of greek yoghurt and mixing them with berries to make a healthy snack that is so much cheaper than the small containers and pouches. We've been using the Nude Yoghurt Mover containers, which stay cold with the freezable gel inserts and have been very impressed with them - so far no leaks or spills! I've even been using these for my own lunches.
Pre Pack your Snacks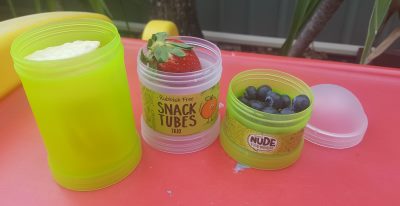 Another one of my downfalls is buying lots of snack items and then forgetting about them. This week I've been portioning out the strawberries, crackers and other snacks into smaller containers ready to grab and go in the mornings. This is saving lots of time (and money) and eliminating the need to buy food while we are out.
Use Refillable Bottles and Cups
While the kids lunches may account for a lot of the packaging rubbish, it's generally the parents that are responsible for contributing to the estimated 1 billion coffee cups thrown away in Australia each year and the staggering number of plastic drink bottles that end up in land fill each year. A good quality reusable drink bottle and coffee cup easily solves this.
Get Your Kids Involved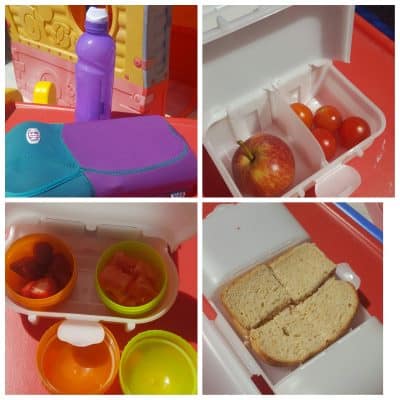 Kids are the first people to correct you when you make a mistake. By telling the kids about our Nude Food Challenge they have been policing our lunches and snacks all week. I've been involving my girls in the lunch and snack packing and talking to them about why we are doing this challenge. They have loved being involved and now are actively thinking of ways we can reduce the amount of rubbish we use.
Nude Food Movers believe in saving the planet one lunch at a time. Reduce, re-use and recycle with a handy range of products to help you on your 'nude food' adventures. Available at Coles, Big W, Officeworks. Product and colour availability will vary by retailer.
For more information on the Nude Food Movers range by Smash visit www.nudefoodmovers.com.au | Facebook: Nude Food Movers | Instagram:@Nudefoodmovers
Nude Food Movers is the brand behind Nude Food Day, an educational program and event held in primary schools nationwide during the month of October. Whether you are a parent, carer, school or simply want more info on how you can do your bit for the environment sign up today at www.nudefoodday.com.au or on Facebook.
Win a $100 Nude Food Movers Pack
We would love you to take part in the Nude Food Month challenge too! To get you started Nude Food Movers are giving one lucky reader a $100 Nude Food Movers prize pack. To enter, comment below with your best rubbish free lunch box tip. Winner drawn October 30 and notified via email. Australian residents only.