Simple Sensory Bin Challenge Day 7
I hope you are all enjoying the sensory bin challenge! I know a different sensory bin each day can seem a bit much, but after the challenge I encourage you to keep these out for days or weeks at a time. My kids are still playing with the rice sensory bin from earlier in the week, and keep going back to the colored water that is up set up outside too.
Make sure you check our Facebook Group and on Instagram (use the hashtag #sensorybinchallenge ) to see what everyone has been getting up to. If you missed day 6 of the challenge you can catch up HERE. If you haven't signed up to the challenge yet you can still join in HERE.
Today we're going to use cloud dough (you can use sand if you don't have cloud dough). Cloud dough is super simple to make. All you need is flour and oil. Many people make it with baby oil, but I find that if the children are going to put it in their mouths (let's face it, most will!) then using cooking oil makes it taste safe.
You can find the recipe for the cloud dough HERE.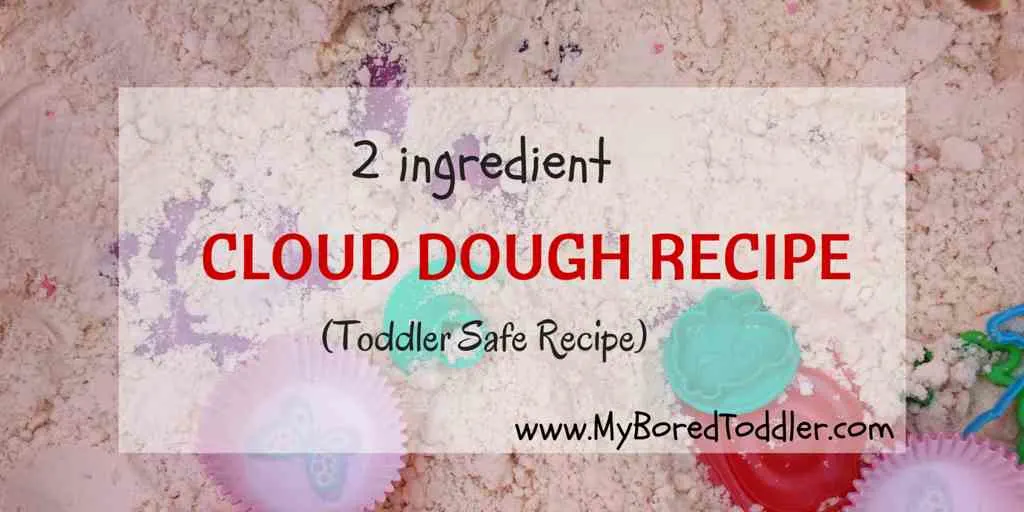 You can play with cloud dough the same way that you play with sand. Use your scoops, buckets and cups.
Other fun ways to add to the sensory bin:
add cars and trucks
add dinosaurs or farm animals
hide 'treasures' and have your toddler find them
I can't wait to see photos of your toddlers and preschoolers (and big kids too - they love to join in as well) having fun today. Make sure to share photos in our Facebook group and use #sensorybinchallenge on Instagram. I'll repost them throughout the day.
If you want to keep your toddler busy makes sure you subscribe to our weekly newsletter and follow us on Facebook, Twitter, Instagram and Pinterest.
Some other activities you might enjoy are: