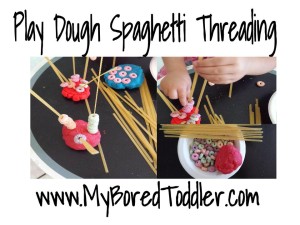 Fine Motor activities are important for toddlers, and this super easy activity is always a hit. Threading the cheerios onto the spaghetti or fettuccine is an excellent fine motor activity. Your toddler can arrange them in random colors, sort them into color specific strands or just stick the cheerios in the play dough. There are no set rules, but I guarantee this will keep your toddler busy for a while.
What do you need?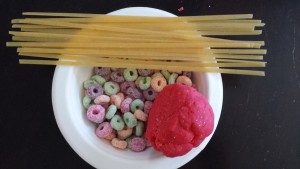 Play dough (you can easily make your own - see our recipe here)
Spaghetti or fettuccine
Cheerios or similar cereal (I used a store brand version)
What to do
Place the play dough on the table.
Add the spaghetti
Thread the cereal onto it
You can make it harder by sorting into colors, asking them to count out a certain number etc. I normally do a set activity to start with and then let them have free play with the items afterwards.