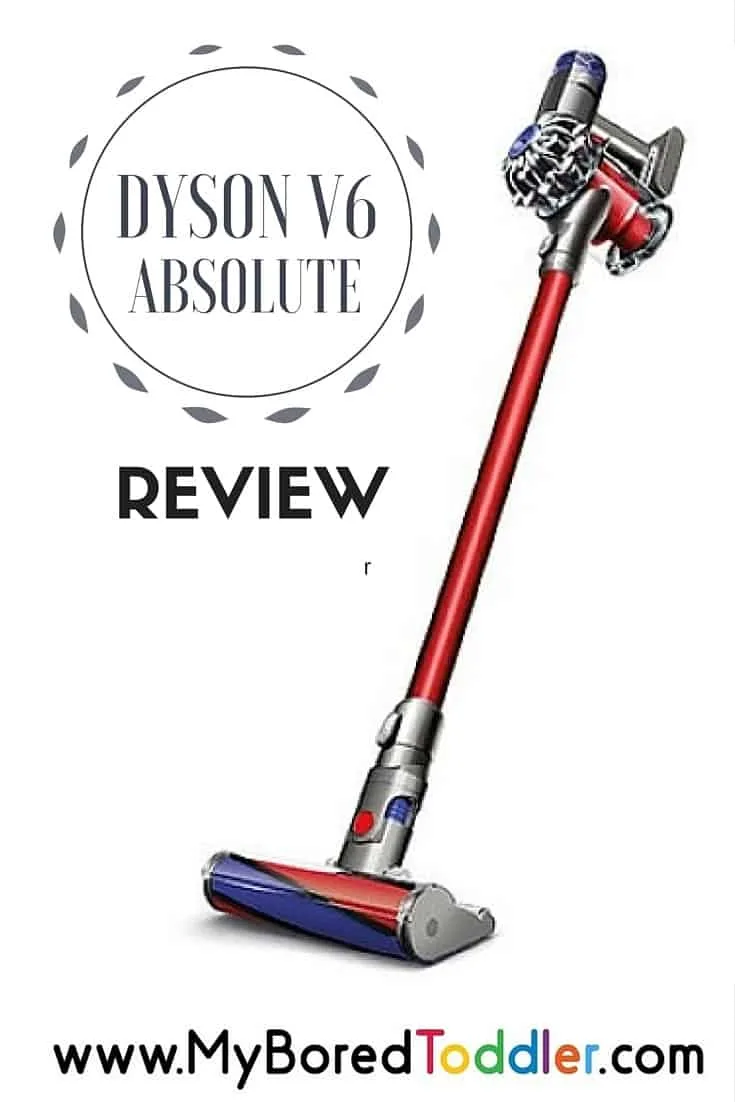 Have you ever watched those ads for vacuum cleaners where a salesperson tips cereal, dirt and sand on an immaculate white carpet and then proceeds to show you how easily their vacuum will pick it up? Well I don't have an immaculate white carpet (I have 2 dogs, 2 toddlers and live near the beach!) but I definitely don't need to 'stage' a dirty house to test out a vacuum.
When I was offered the chance to review the new Dyson V6 Absolute, I jumped at the chance. Without even trying I knew that I could test it out on dog fur (so much dog fur!), cereal, sand, glitter (I do a lot of craft so there is always glitter) and everything else that a 1 and 3 year old manages to drop on the floor. It's also Christmas time so there are those annoying bits of tinsel that seem to magically appear each morning.
Our current vacuum is a cheap old one that does an OK job, but the floor never really looks clean after. I have always wanted a Dyson, as I've heard nothing but good things about them, so I was excited to test the new Dyson V6 Absolute. I was not disappointed!
You can read about all of the great features on the Dyson website, and I've highlighted what I loved about it below.
The Dyson V6 Absolute ticks some very big boxes.
It's Cordless - with young kids this is great. It also saves a lot of time and hassle as I can quickly run the vacuum around before guests arrive or when the kids spill something (this morning it was a whole bowl of dry cereal on the floor (my one year old likes to eat dry cereal while drinking a glass of milk - I have no idea why!)
Hand Held Attachment - The vacuum easily converts to a smaller hand held vacuum which is great for cleaning the car. It was a little embarrassing how messy the inside of my car was, but the Dyson did a great job. It also made cleaning the car seats easy.
Long Battery Life - I've looked at cordless vacuums before but have always decided against them due to the short battery time. The Dyson gives you up to 20 minutes. I have a small house and am able to vacuum my whole house in this time. It comes with a handy storage system as well so it can be stored out the way while recharging.

Light Weight - I know that I struggled with the vacuuming when I was pregnant and while recovering from a c-section and this would have been perfect. It is much lighter than a traditional vacuum and really easy to maneuver.
Great for pet hair - Dog fur drives me crazy and it gets everywhere. I have bought all kinds of vacuums in the past that claim to be especially designed for pet fur but they have really been any good. The Dyson V6 Absolute did a great job with the dog fur, especially on the couch. The hand held attachment made this really easy too.
If you are looking to invest in a good quality, reliable vacuum cleaner then I definitely recommend the Dyson V6 Absolute. It is one of the more expensive choices out there, however it comes with a great warranty and I believe that I will be using this device for far longer than any of the cheap vacuums that I have owned in the past.
*I was not paid for this review, however I was given the product to review and keep. All opinions are my own.