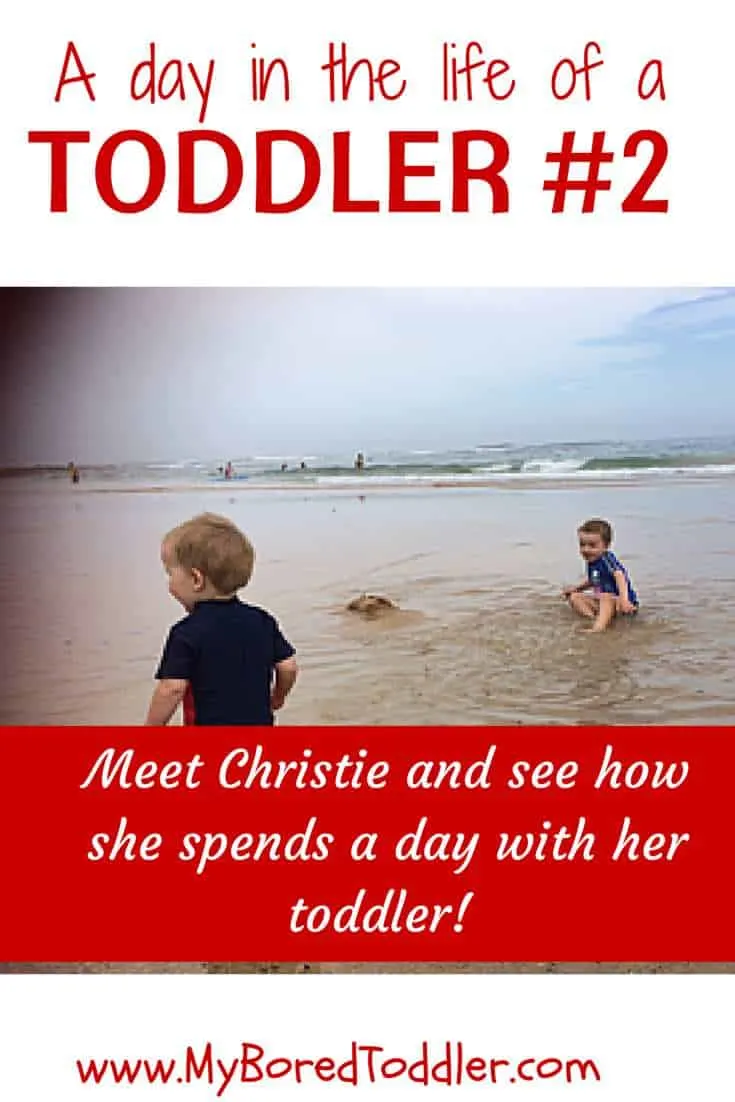 Our first 'A Day in the Life of a Toddler' series was such a success, and everybody loved reading Alison's story. We are excited to bring you the next installment. This week we take a look at how Christie from My Mum, the Teacher spends her time with her 2 boys.
Here's Christie's story:
Hi everyone, my name is Christie from My Mum, the Teacher and it is wonderful to be part of a series that focus' on what everyday mums and families get up to on a daily and weekly basis.
To properly introduce myself, I am a proud Mummy to two wonderful boys, Lachlan, aged 4 and Will, aged 2 (21 months apart), our gorgeous border collies Max and Lilly, and Sooty our black and white – elusive - cat! My husband and I have been married for nearly 5 years. We live in the Illawarra region of NSW, Australia and are fortunate enough to live within 5 minutes of some beautiful beaches, parks and bushland!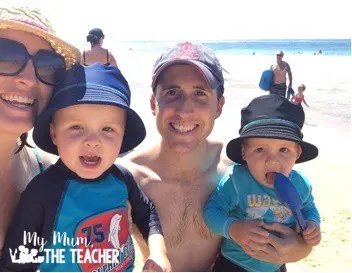 I am a Primary Education trained teacher who completed a Masters of Education in Special Education last year and is also focusing on becoming a top Netball Sports Coach. My husband is part owner in a local physiotherapy practice and is also an elite sports Physio, mainly with Rugby Union teams. We are both animal lovers, beach-goers and mad sports fans.
Hubby works long days (8am-7pm) Tuesday, Thursday, Friday and Saturday mornings (generally, until sport season and this can change with him travelling locally & interstate, national and internationally for work). On his days off I can pick up some causal work or we do family things.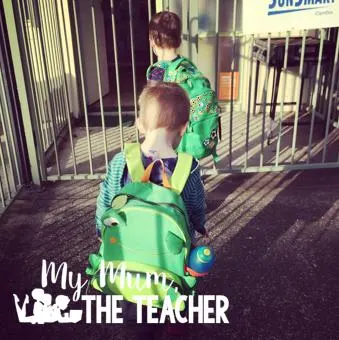 Lachlan attends a local Preschool Tuesday – Thursday. We drop him off between 8-8:30am and pick him up around 4pm (all things being equal). Luckily we got him in to a school that is only 5 minutes drive away (we can even walk there in around 40 minutes) and he has loved every minute of it since he started! They have some wonderful programs that keep him engaged and eager to learn – something that I was unable to do, despite my many teaching degrees and qualifications! Will has recently started as well, just attending on a Thursday and is loving it!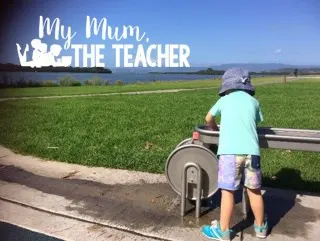 This year I have been fortunate to enjoy some quality time at home with Will – something I missed last year. On our days together we will read books, play with Lego, Duplo, do drawing or painting, go for long walks to local parks and catch up with family and friends.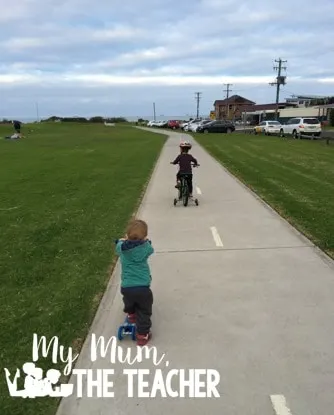 Our daily routine is typically the same (I have had a strict routine with both boys since the week they were born!), which goes something like this:
6:30-7:00am – Wake Up, Will has a bottle of milk
7:30am – Breakfast, lunches and bags packed
8:00am – Boys are dressed, teeth cleaned, hair done etc.
***We're generally ready to be out the door by 8:30am, unless we have something on or are required to be somewhere earlier or later (I love a lazy morning every now and again too!!!).
10:00am – Morning snack
12:00pm – Lunch
1:00-1:30pm – Afternoon for both boys (which could last from 1-3hours)
3:30pm – Will has a bottle/cup of milk and both boys have an afternoon snack before we head out to for a walk to a park/afternoon errands.
5:00-5:30pm – Dinner
6:00pm – Bath, boys changed into their pyjamas
6:30pm – Will has a bottle of milk and the 3 or 4 of us read a couple of books together.
7:00pm – After cleaning their teeth they go to bed.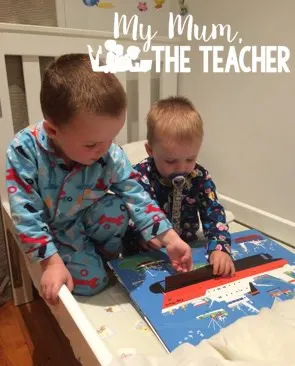 Generally, this is what our week looks like:
Monday – Family day at home (unless I get called up for work or my husband has been called in to his work for meetings etc.).
Tuesday – Daddy works. Will and I drop Lachlan at preschool before heading to our local Woolies for the weekly grocery shop. We come home, unpack and tidy the house before heading down to Daddy's work so I can do my Pilates class. Will entertains the secretaries and patients then has lunch. We head home for an afternoon nap. Once Will wakes and has his milk and a snack, we pick up Lachie, head home to collect the dogs and the bikes or scooters and head to the local park to run out any leftover energy! After about half an hour to an hour of play we head home for dinner.
Wednesday – Daddy & I are at home with Will (unless I get called up for work). I usually get some housework done in the morning, so Daddy & Will drop Lachie at preschool then head to a park or local play centre. We try and go for a big walk in the afternoon as a family (dogs included) along the cycleway or we head to the local soccer oval and kick a ball around.
Thursday – Daddy works. Lachlan and Will go to preschool. I head to work at the Illawarra Sports High as a LAST (Learning & Support Teacher) and Head Netball Coach for their Talented Sports Program. I pick up Lachlan and Will up, head home and take dogs for a walk to park before coming home for dinner.
Friday – Daddy works. I sometimes takes Lachlan and Will to KindyGym at Beaton Park, Wollongong to play and meet up with friends and have a picnic in the park after, or we have a playdate at our house or at our friend's house. The boys both sleep in the afternoon, then once they wake up we either play in the yard or head out for a walk.
Weekends: In the winter I play netball on a Saturday afternoon so if hubby isn't home in time they go to my parents. If I don't have any appointments or errands to run then we play at home, go to one of the many parks in the area or take a drive down the coast with family or friends. Sunday is usually a family day so we either do stuff around the house, go out for the day to a local attraction or catch up with family and friends.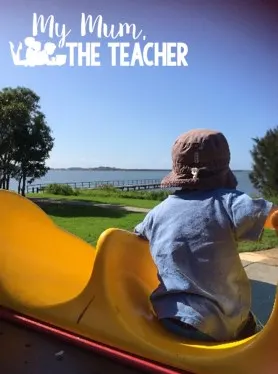 *** Rainy days or inclement weather will see us do indoor activities that could include play-dough, train sets, Lego Duplo, drawing and craft, sensory play or my personal favourite, baking! But if all else fails, I do revert to DVDs – both boys LOVE Disney Cars and Disney Planes, traditional classics like Disney's 101 Dalmatians, Disney's Lady & the Tramp as well as the ABC's Postman Pat, Hairy McClarey, Fireman Sam, Octonauts etc. etc. etc.
*** In summer we are down at the beach almost every morning and afternoon. It's great FREE entertainment and the boys wear themselves out and it's a great way to spend time as a family – dogs included (we have two dog friendly beaches near us).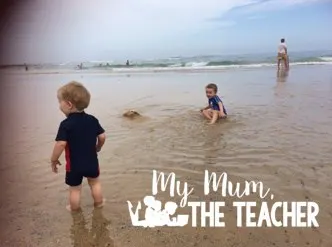 I love my family and all the experiences that come as our boys grow and develop. I'm slowly finding the balance of what it means to be a mum and also a professional – whilst I love teaching and netball coaching, I really love being at home and spending quality time with my boys. The time with them is precious and short which was why at the end of last year I made the decision to only be a casual teacher. We are in a fortunate position that allows me to do this, which is I am truly grateful for! I have the rest of my life to develop my profession and am happy to see my hubby chasing his professional dreams so for now, I am trying to raise happy and healthy boys and provide a happy and stable home for them!
Christie blogs at My Mum, the Teacher and you can find her on Facebook, Twitter, Pinterest and Instagram.
If you missed our first post in this series you can read it here.
If you want to keep your toddler busy makes sure you subscribe to our weekly newsletter and follow us on Facebook, Twitter and Pinterest.