With only half an hour before school pick up, we needed a toddler activity idea that was quick to set up and fun. It only took a few minutes to set up this Sensory Pom Pom Rescue - a fun fine motor sensory tray which filled the gap perfectly!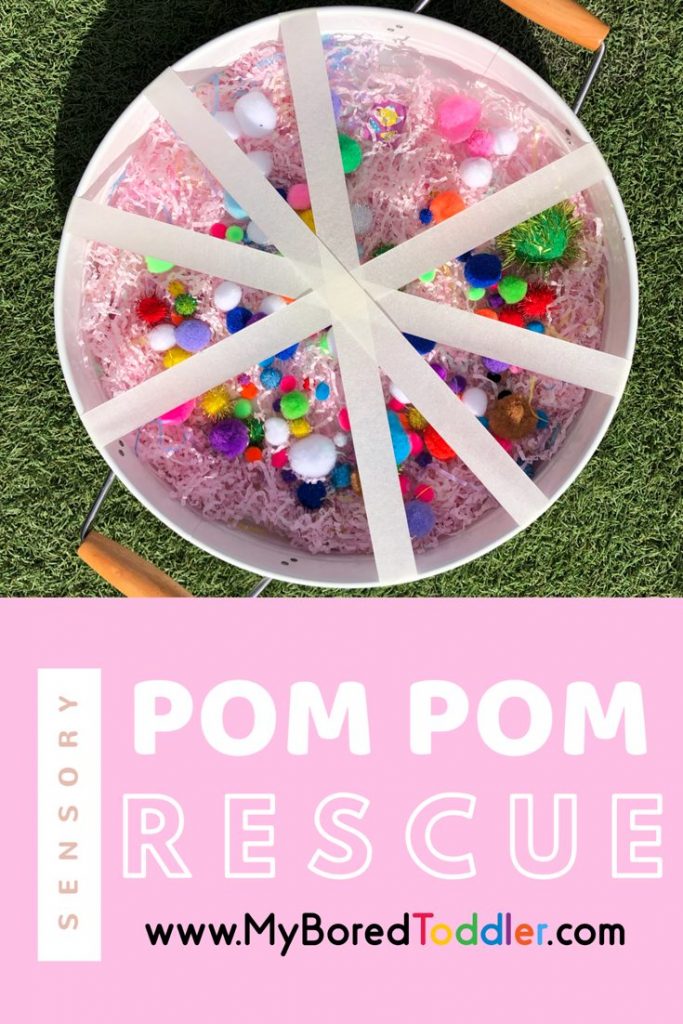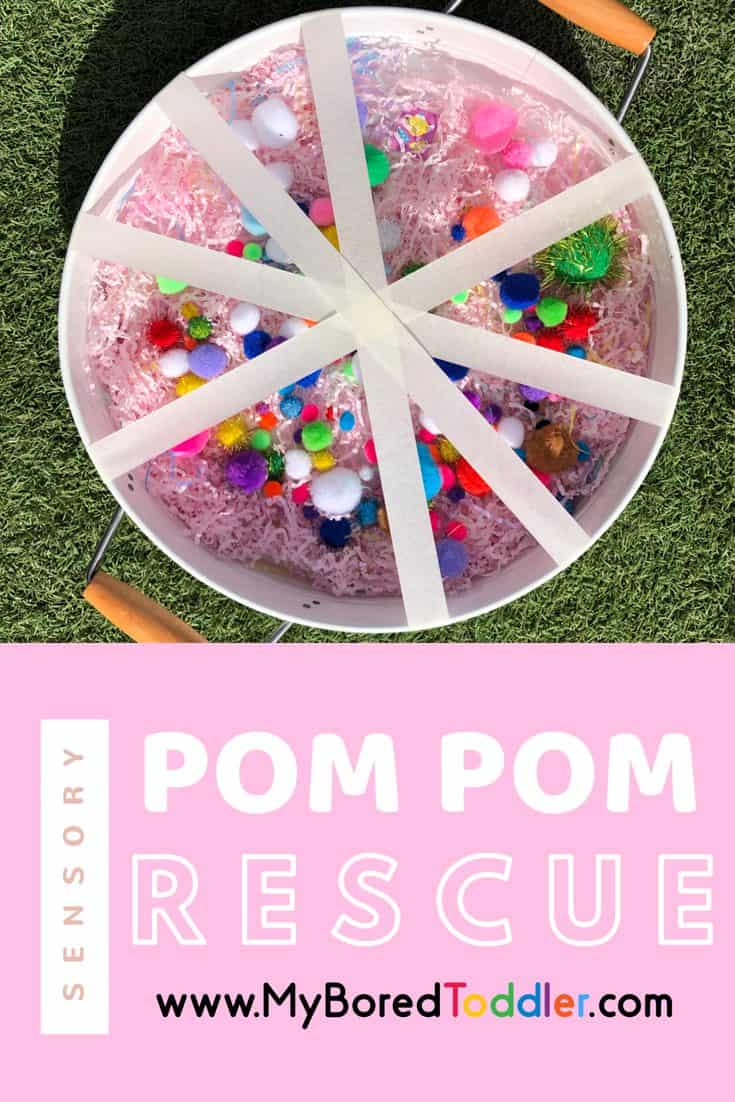 Sensory Pom Pom Rescue
Miss 2 loves using tongs. I am often in a situation, scrambling through my utensil draw in search of one of the six that I (apparently) own only to come up short. With minimal interrogation, Miss 2 will then proudly present me with some that had been stashed in her toy kitchen.
It occurred to me the other day that we had not set up an activity using tongs for a little while so they were a must on setting up this engaging activity. Tongs are great for building fine motor strength, dexterity and hand eye coordination.
What you need to make your Sensory Pom Pom Rescue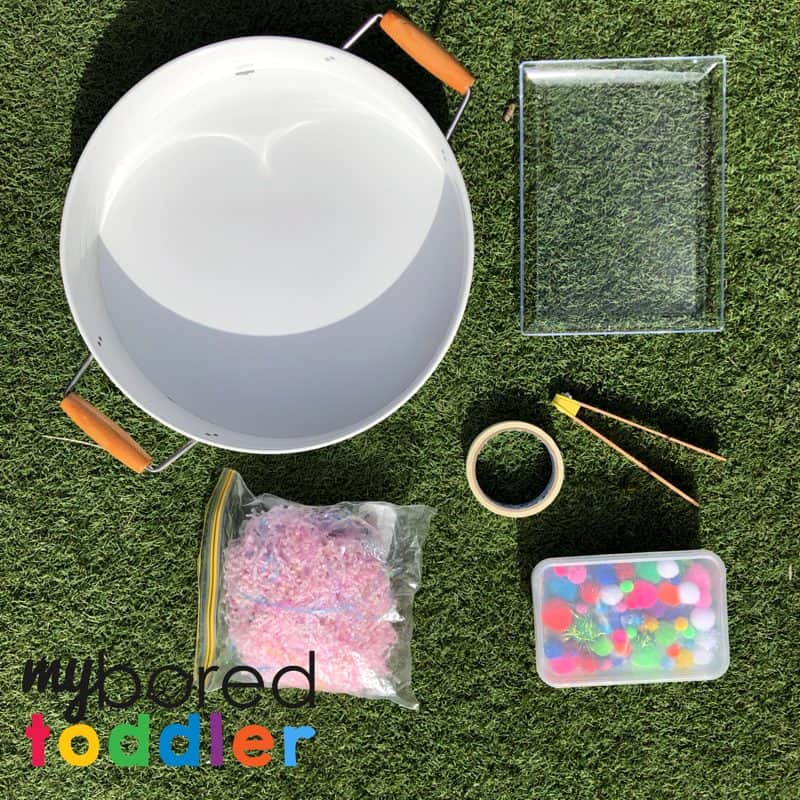 How to set up your Sensory Pom Pom Rescue
It certainly makes life easier to place your paper and pom poms into your play tray before creating your web over the top.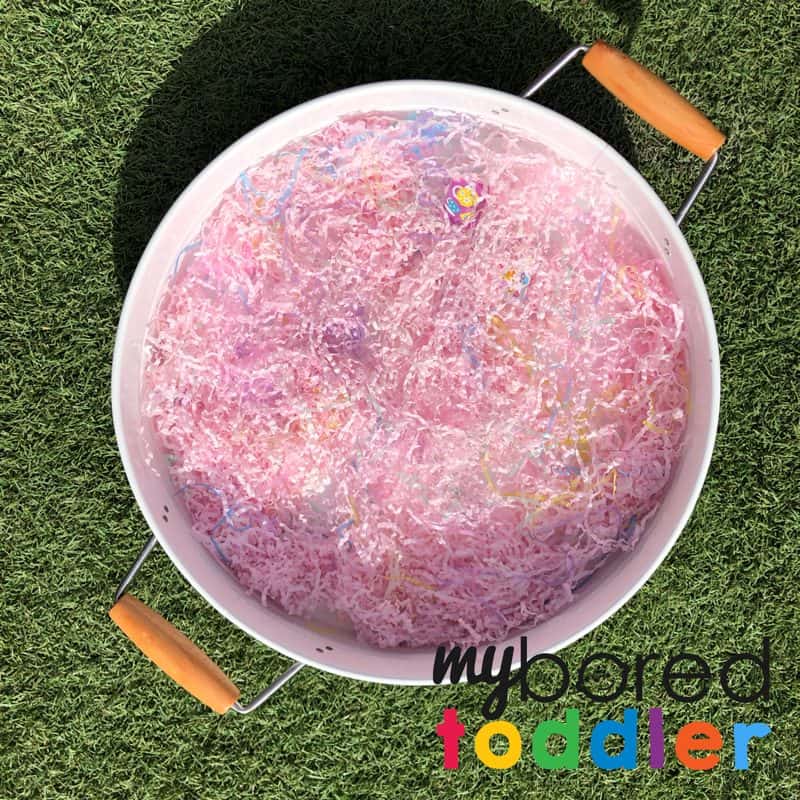 Spread your shredded paper across the bottom of the tray so the base is concealed. Scatter your pom poms across the top of the paper. I was mindful of distributing the colours and sizes evenly across the tray rather than grouping them together.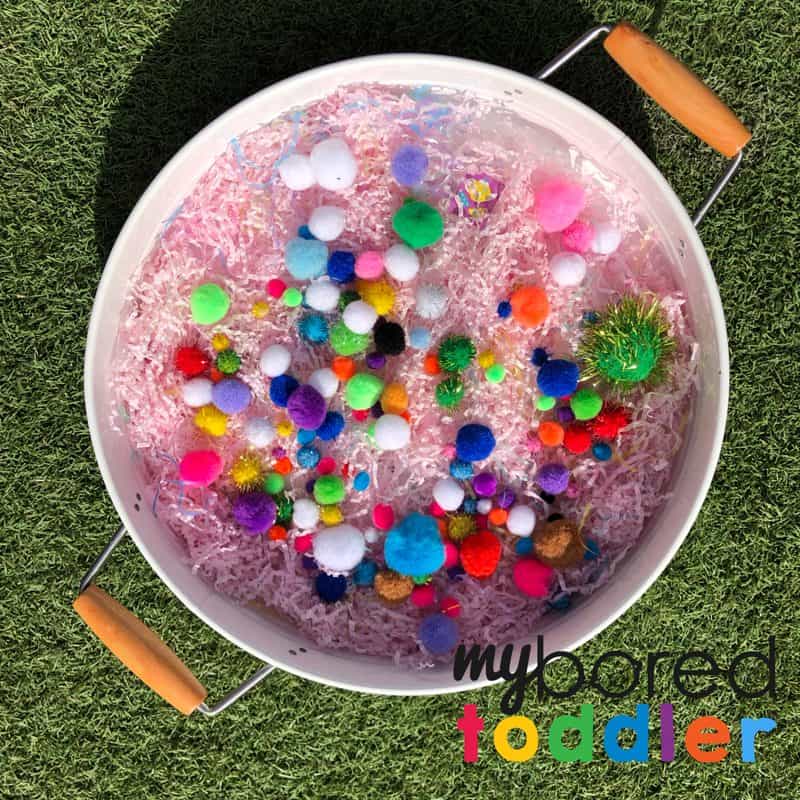 Create your web by taping strips of your masking tape across the centre of the tray. The number of strips used can be determined by what you think your child can manage. The more tape strips added, the more difficult it will be for your child to navigate around them to rescue the pom poms.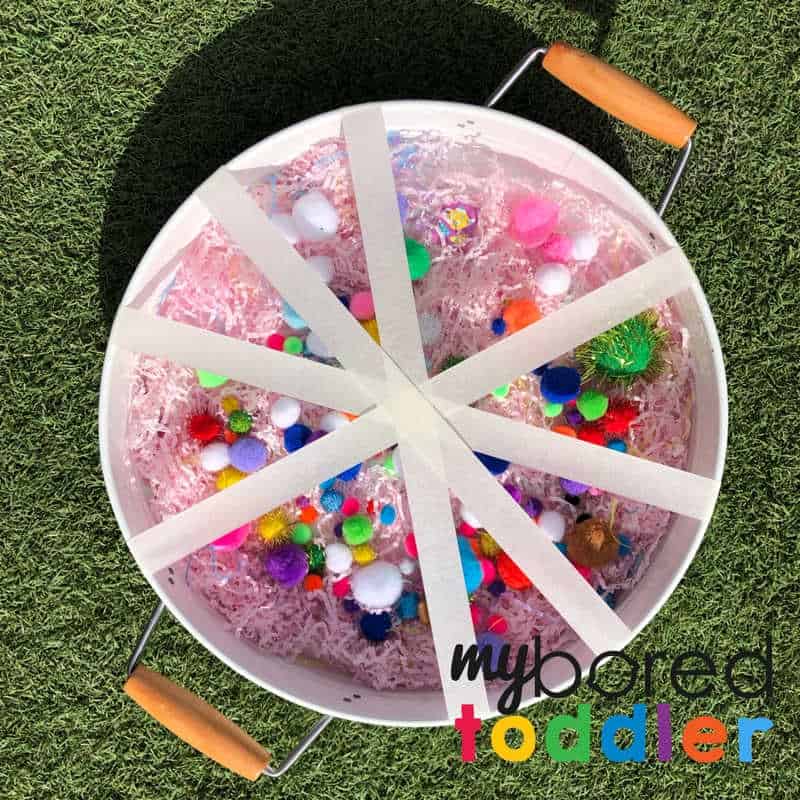 You could always start with a few and then add more to make it more challenging if you aren't sure how this activity will be received.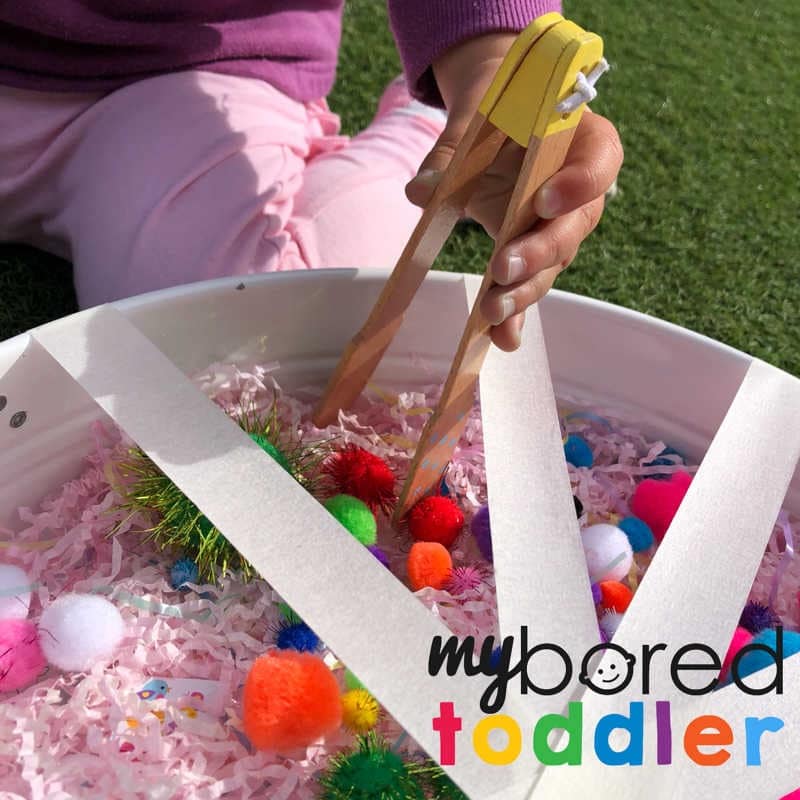 My Miss 2 is right handed so I placed the tray for the rescued pom poms on her left. This is to encourage her to cross her right hand over to the left side of her body – bilateral coordination!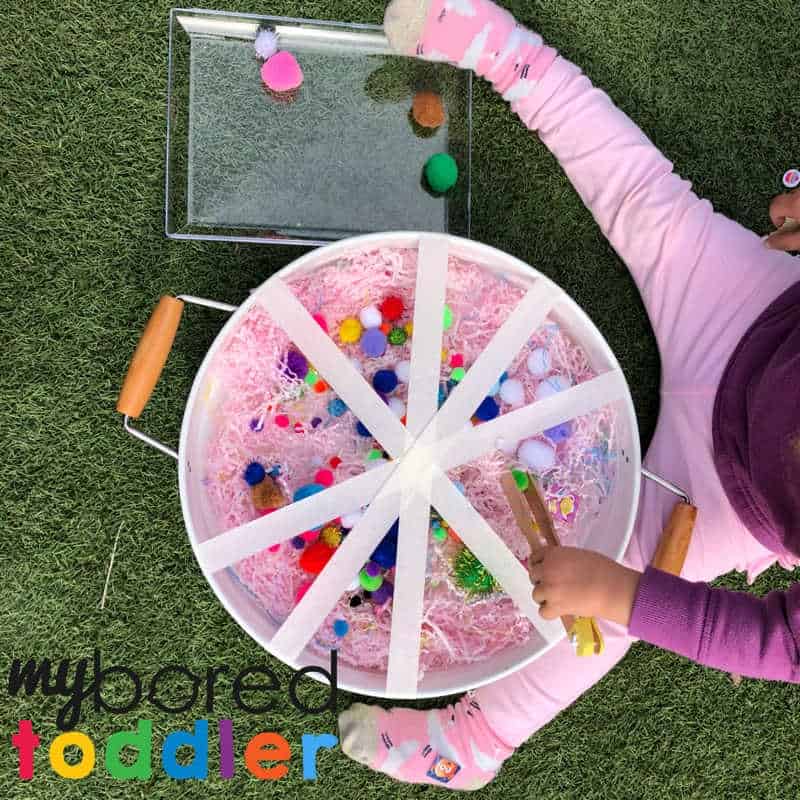 This activity opened up lots of conversations around the different colours and sizes of the pom poms along with directional instructions. We spoke about the way the pom poms felt in contrast to the shredded paper and Miss 2 enjoyed exploring them with her hands and toes.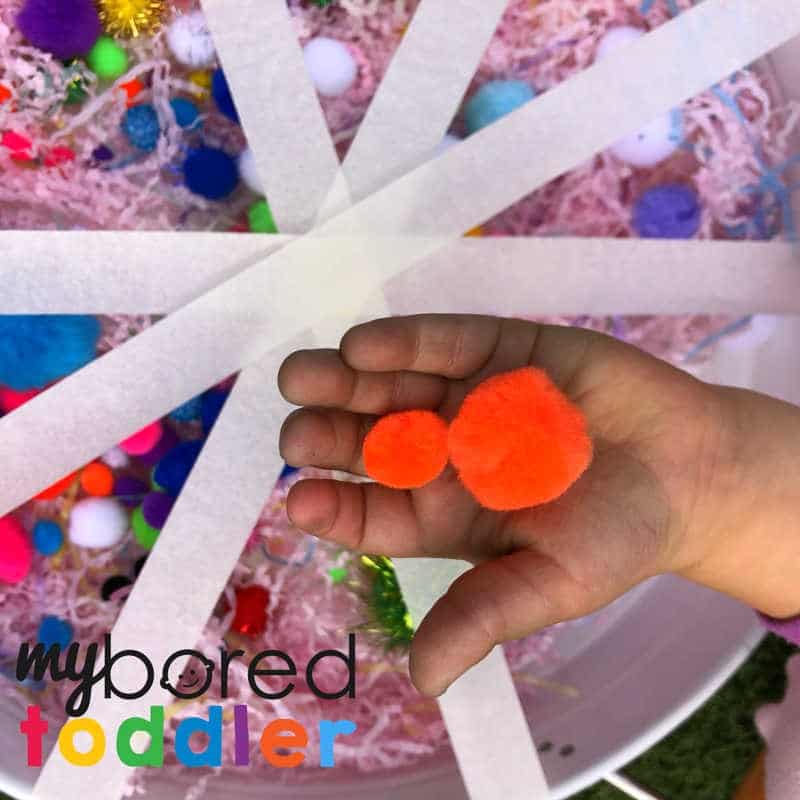 The stickiness of the tape proved to be an unexpected obstacle that Miss 2 loved exploring. She loved adhering them to the tape only to pull them off again leaving a trail of fuzz in the stickiness.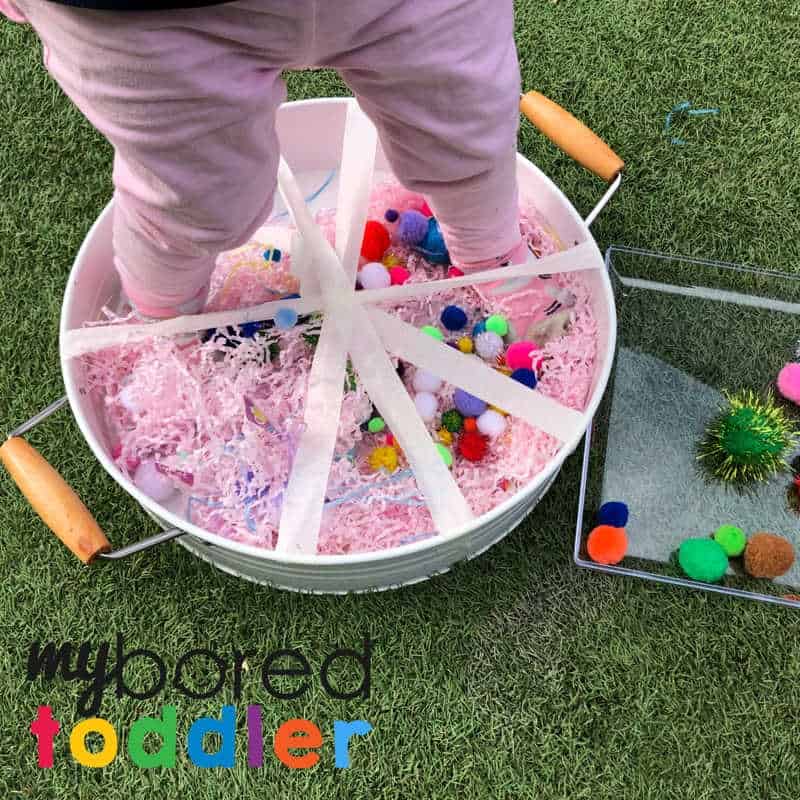 Your Sensory Pom Pom Rescue is a great toddler activity that opens up so many learning opportunities for your toddler to practice and refine through play. So easy to set up and so many benefits!
We would love to see pictures of you taking part in this activity with your toddler. Make sure you share a photo in our Facebook Group or over on Instagram. Follow @myboredtoddler and use #myboredtoddler so we can all see!
Some more fun toddler activities to do at home are:
Fine Motor Activities for Toddlers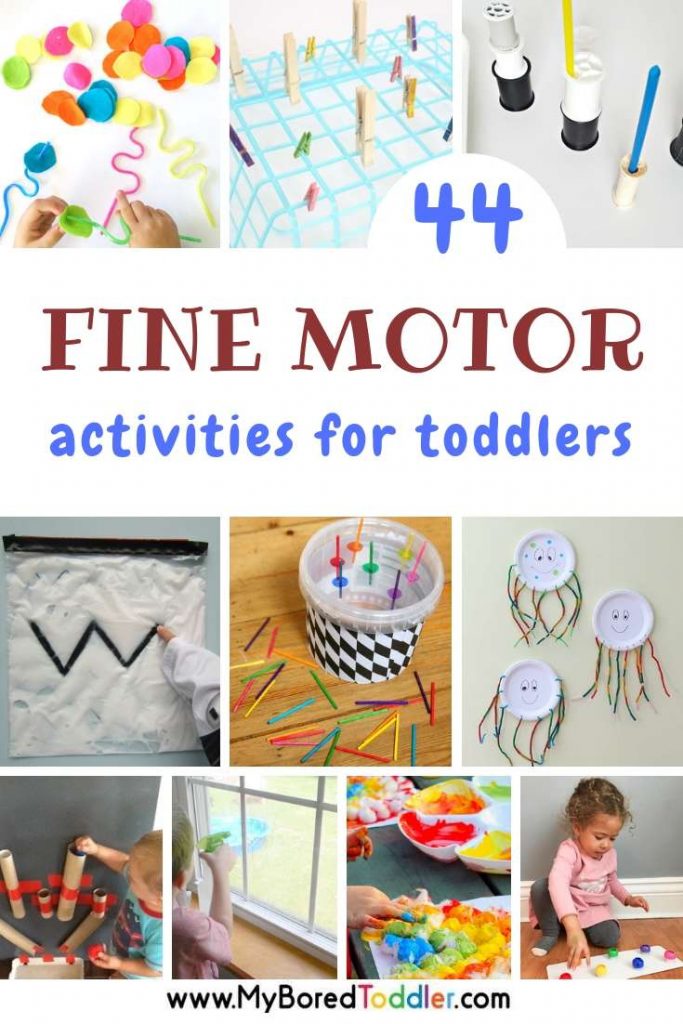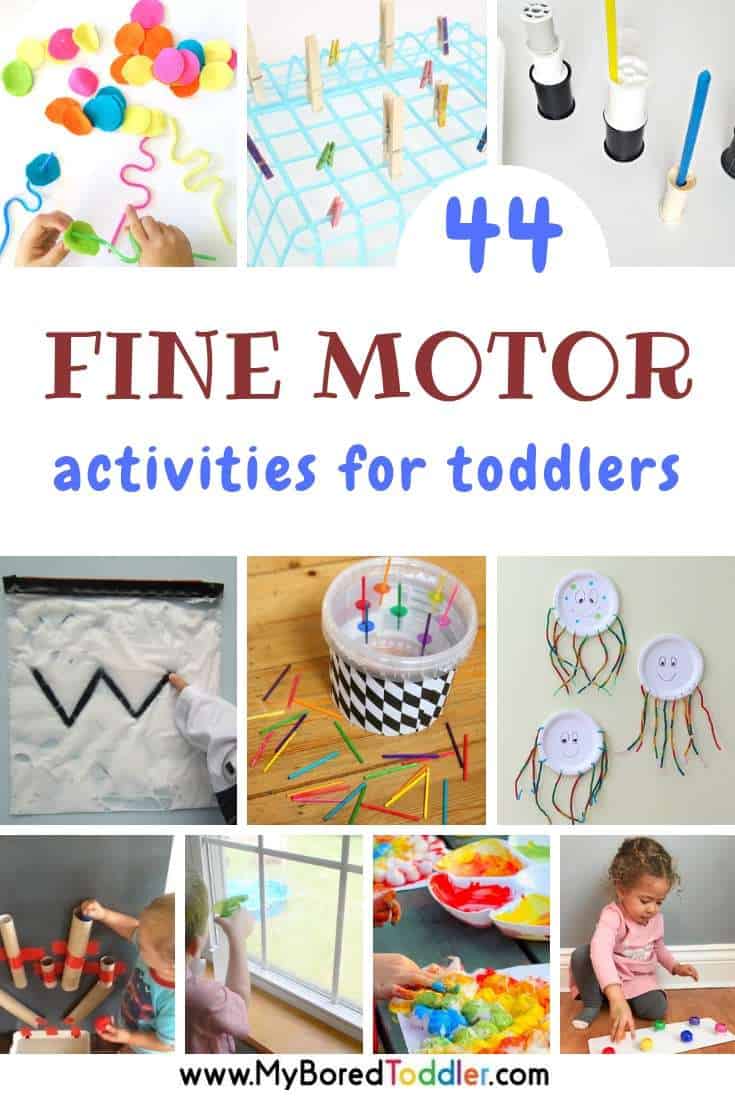 Colour Activities for Toddlers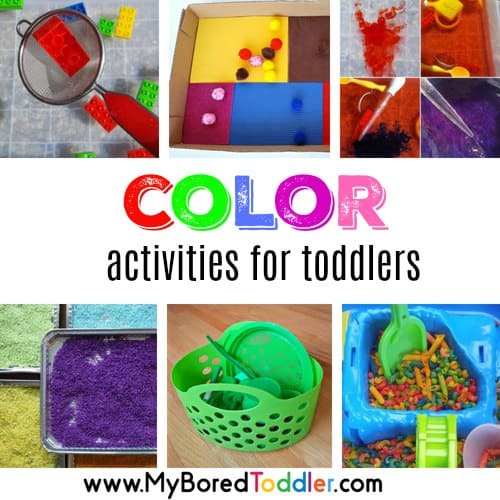 About the Author:
Dani is a busy stay at home Mum of 3 and early childhood teacher in training who is passionate about play based learning throughout early childhood. For educational play ideas that you can do at home and parenting tips visit Play Inspired Mum Check her out on Instagram andFacebook